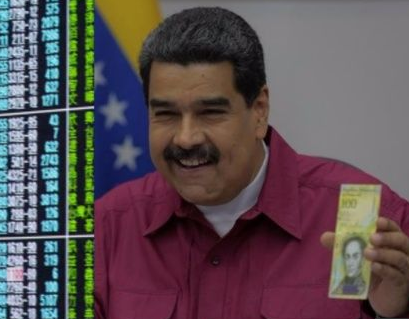 Image from telesurtv
I have read many articles on this specific announcement and I realize that it was a few days ago, but most of the information I have read has been simple fake news and mis-information. Let's clear something up, first, the crypto currency is not meant to directly make the country richer in anyway, they are not going to start selling cryptocats to the world, etc. If you recall in August of this year, President Trump took what he called "swift economic action" on Venezuela and initiated further sanctions. As a punishment for Maduro undermining the countries democracy, US regulated institutions are banned from trading Venezuelan debt products.
This has crippled the country, as it is broke and cannot afford to pay for services, trade, etc outright and has been issuing Venezuelan bonds instead as payment. The bonds (the promise of the govt) of course backed by the fact that the country is so rich in natural resources. They plan to back the crypto currency the same way, I suppose redeemable for a certain unit of natural resources. How this will all work has yet to be announced.
The Petro would allow Venezuela to transact with US regulated intuitions therefore allowing it some semblance of economic sovereignty. Since the sanctions, the country has been transacting mostly in Yuan and Rubbles, as these are the largest purchasers of their debt or bonds. In addition, the US has sanctioned certain Venezuelan political figures as well. An international digital currency; while it will still be a process for these people to get to where they once were, will enable them to make transactions without Washington looking over their shoulders.
Maduro's history of fiscal policy and financial regulation is extremely poor. He could not even bring himself to reform the monetary system when it was going down the drain. There is very little faith that Maduro could bring any type of monetary good to the people of Venezuela. There has been much doubt about this proposal, that it is a shot in the dark, a cross your fingers, close your eyes and jump situation. And while, it will not bring immediate relief to main street, it could ease the flow of assets and traded goods back into the country.
What does this mean for the crypto world? We know that Russia and China are building their own national cryptocurrencies. I suppose that this would make a good trial balloon run, with a country that is smaller and the currency is actually backed by physical goods.
One question that should be on a crypto collector's minds here is, what does a national cryptocurrency backed by physical goods mean for the current market? Currently, cryptocurrencies are not backed by anything physical, nor are they represented by any single nation. Right now each currency defines itself through differences in coded attributes, which result in changes in things like processing times, the maths behind solving blocks, privacy, etc.
The main issue with cryptocurrencies for WallStreet is that they are unable to place valuations on them. They are a result of a transaction on the blockchain, nothing more, nothing less. They produce no cash flow, they hold no assets, they produce nothing. If Venezuela goes ahead with this and directly ties their digital currency with natural resources held within their country (assuming they can report on them properly), there will be a cryptocurrency out there that can be assigned a valuation.
This, in my mind, is dangerous for all the other cryptos just hanging out here attached to nothing of value other than a group of people's opinions and perceived differences. As far as I am concerned, that type of valuation makes it a collector's item and therefore susceptible to fad, fomo and bubble behavior. Everyone keeps talking about tulips, but beanie babies, Elvis collectibles, even baseball cards come to mind. They come in and out of fashion as the crowd desires.
I am not saying that it's all a fraud or anything of the sort, I am saying that I don't think that people have sufficiently thought about what this could do to current crypto markets and crypto portfolios. Let us not forget, it is completely legal to print your own money. The trick is getting people to use it and believe in it as much as you do. For example, coupons are essentially currency, a business decides that if a customer comes into their store and makes a transaction with a coupon, it will be treated as government issued money for goods in that particular store. Right now, cryptocurrencies are privately, digitally printed currencies that people use because they believe it to be so different from government issued currencies.
Cryptocurrencies are created in more or less a decentralized manner, but each currency is developed from the same block of code. Depending on how you want to look at it, these currencies are in fact decentralized because they are born at and approved by different IP addresses, or they are centralized because they are born from the same rules.
You get the point, as the crypto world becomes more developed; feeling its way around to find where it best fits into our current reality, there will be many experiments. Be sure to educate yourself before throwing your cinema or pub money at it. You may wish you had gone for that beer instead, a week or two later!
Disclosure: I/we have no positions in any stocks mentioned, and no plans to initiate any positions within the next 72 hours.
I wrote this article myself, and it expresses my own opinions. I am not receiving compensation for it (other than from Seeking Alpha). I have no business relationship with any company whose stock is mentioned in this article.