I've had my eye on Facebook (NASDAQ: FB) for a long time now, eying the stock warily as it keeps going up but afraid to chase after its gains. I owned Facebook previously and sold too early in the mid-$130s - a huge regret. Now, as I start thinking about how to position my portfolio going into 2018, Facebook comes top of mind. It's no secret that Facebook, as well as every other FANG stock, has done tremendously well this year. Facebook's late-November dip has done virtually nothing to set back its year-to-date gains of ~50%, but even though the stock has appreciated so much this year, I think this small pullback is the best opportunity to pick up shares before they resume rallying.
Facebook is taking a breather for two well-known reasons. The first is the "fake content" business that's plastered headlines for months now. More than just a drag on Facebook's brand, the company is also committing to tremendous spending to combat false content and is projecting 45-60% expense growth in 2018, much higher than the 35-40% expense growth it's expecting for 2017. The company is planning on doubling its headcount for staff focusing on safety and security, from 10k heads this year to 20k next year. With revenue growth decelerating (which is absolutely normal for a company of Facebook's scale - at a $40 billion revenue run rate, this is to be expected), accelerated expense growth points to margin contraction. However, Facebook's growth initiatives should still be able to produce strong top-line growth in 2018, and while margins might contract and earnings expansion might not be as strong as in 2017 (the company grew net income by 80% in its most recent quarter!), earnings will still expand, making Facebook's trailing P/E of ~32x seem fairly cheap.
The second bogeyman is the Republican tax plan that's also dominated headlines for months. The Senate version of the bill included a surprise provision that forced an alternative minimum tax on corporations - setting a minimum tax rate of about 20% and removing some of the anticipated benefits of tax reform. As Facebook projected its FY18 tax rate would be in the "mid-teens," per the CFO's earnings call remarks, it would definitely get penalized if the Senate provision came to pass.
This combination of distasteful news has knocked Facebook off course about 5% in recent weeks - from the $180s to the $170s. However, I think it's foolish to sell off the stock on the basis of such hazy external circumstances - we still don't know exactly how much investment Facebook will drive into content assurance (in FY17, the company had originally forecast 40-45% expense growth and later lowered that range to 35-40% - so there's precedent for the company to ratchet back its spending expectations), and we also don't know what the final tax bill will look like.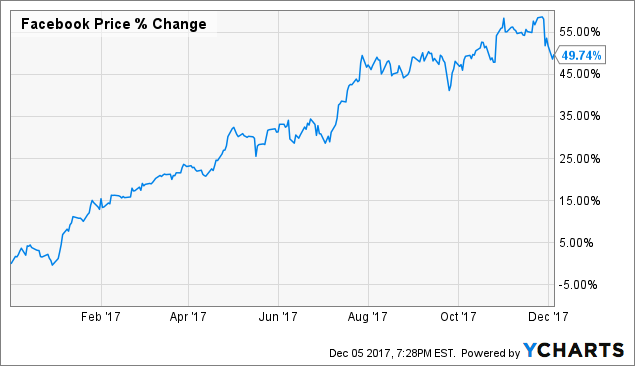 FB data by YCharts
So the best thing for investors to do right now is to ignore the noise and focus on fundamentals. At the time of the IPO, I had assumed Facebook would eventually suffer the fate of most fads - but I was wrong. The company has built a diverse portfolio of internet assets and a massive, loyal user base that is addicted to its services - its growth trajectory is still very much alive, and provides plenty of support for a $1 trillion market cap.
Broad range of offerings, both organic and acquired
You might think you know Facebook and what it does, but you probably don't know exactly how vast and various its assets have become. The company has grown substantially beyond the news feed that we all interact with daily. Even as ad load slows down (the term for how many ads are posted onto a page, which is one of the primary drivers of revenue growth for the company), Facebook can still drive massive ad revenue growth by accumulating new users and increasing their engagement with the many facets of the Facebook portfolio.
Here's a few examples:
Facebook Marketplace. Launched in early 2016, this P2P buying platform positions Facebook to nudge into Craigslist and eBay's (NASDAQ: EBAY) territory and leverage an already-massive user base to drive GMV.
Workplace by Facebook. A personal favorite of mine. With the launch of Workplace in late 2016 (originally called Facebook at Work), Facebook is now technically also an enterprise software company. A recent TechCrunch article counts 30k paying organizations on the platform. Like other SaaS companies, Facebook charges a per-seat monthly fee between $1-$3 per user, per month, with the per-seat price dropping to lower tiers as the headcount scales. With Workplace, Facebook expands its total addressable market into the enterprise chat and collaboration realm once owned by Slack, Atlassian (NASDAQ: TEAM), and Microsoft Skype (NASDAQ: MSFT). The screenshot below shows the desktop and mobile UI for the Workplace application: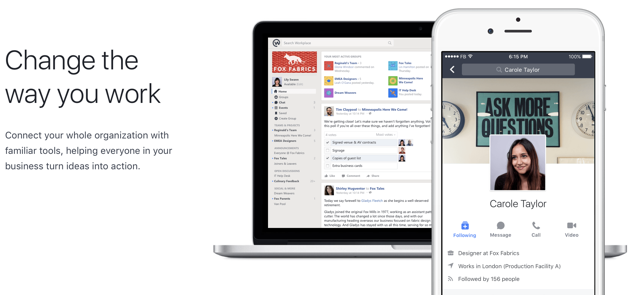 Source: Workplace by Facebook website
Facebook Sports Streaming. This service is yet unnamed. As reported by SA News, Facebook is planning to offer live sports, following in Twitter's footsteps (NASDAQ: TWTR) - though with 5x Twitter's user base, Facebook is infinitely more likely to be successful. Facebook is also well positioned to capture spend from cord-cutters who are ditching ESPN, a huge concern for network revenues at Disney (NYSE: DIS), which derives a hefty portion of its earnings from cable subscribers.
This is just a small subset of the newer offerings that Facebook has laid out on the table. Let's also not forget about the acquired assets that Facebook has in its portfolio. Instagram has become a social media juggernaut in its own right (crossing the 500 million DAU mark this quarter), and Instagram Live combined with Facebook Stories together are taking on Snap's (NYSE: SNAP) user base, which showed massive signs of deceleration last quarter and caused the stock to sell off. WhatsApp, in conjunction with Facebook Messenger (as well as the just-released Messenger Kids platform), makes Facebook the largest messaging service in the world, with WeChat particularly helpful in grabbing audiences in Asia. And though not much has come out of Oculus yet, Oculus gives Facebook a foothold in the VR/AR space as well as a gaming hardware segment - though insignificant now, Facebook is now positioned to be a true tech conglomerate - with internet advertising, enterprise software, and consumer hardware divisions.
This last bit illustrates something else that is not usually credited to Facebook - it's an extremely smart acquirer, which actually isn't too common in the large-cap tech space. Unlike Microsoft, which blew its $8 billion Nokia acquisition; or HP (NYSE: HPE), which blew $12 billion on Autonomy, Facebook has a stellar track record for marquee acquisitions. Facebook's $1 billion purchase of Instagram seemed insane at the time, but now Instagram is a major driver of DAU growth (comprising more than a third of Facebook's DAUs) and Facebook's biggest weapon against Snap - which, coincidentally, Facebook also offered $3 billion for - also an offer that seemed ridiculous at the time, but extremely wise in hindsight.
Zuckerberg, despite having no true corporate finance background, has probably proven to be one of the shrewdest M&A dealmakers in technology. With Facebook's $32 billion war chest and its incredible track record for both in-house product development and external acquisitions, there's plenty of justification to believe that Facebook's growth trajectory can continue. Growing revenues at ~50% y/y at a $40 billion run rate, after all, is a truly impressive feat. The key message here: ad load is just one piece of the puzzle. Sure, Facebook's advertising revenues on its core social media platform won't be experiencing lightning-fast growth anymore. But the company has a bunch of other advertising venues, as well as non-advertising revenues, to count on in the future.
User trends are still humming along
Facebook's DAUs (daily active users) and MAUs (monthly active users) each grew 16% y/y to 1.37 billion and 2.07 billion, respectively, in its most recent quarter.
There's a couple important points to note here. First, the fact that Facebook's DAU count is nearly 70% of its MAU count signifies extremely high user engagement - nearly every Facebook user is also a daily user. Second, Snap's own DAUs also grew 16% y/y in Q3 - despite being the much smaller platform, at only 178 million DAUs (about one-eighth of Facebook's user base). There was a lot of swagger coming out of Snap's IPO period that Snap was the cooler, more popular social media platform and would gradually sap away at Facebook's user base. This inclination has proven false. Facebook keeps upping the ante with products that directly compete against Snap, and with its much larger user base matching Snap's growth rate point-for-point, its strategy seems to be working.
The slide below, taken from Facebook's Q3 earnings deck, shows its DAU growth over time. In the past two years, Facebook has grown DAUs by ~360 million - or twice Snap's current user base - despite worries that the platform had become saturated.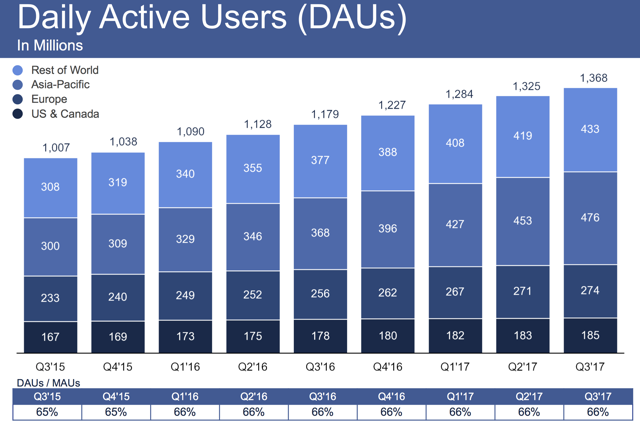 Source: Facebook Q3 earnings release
Average revenue per user has also increased as shown in the chart below, providing a powerful lever for Facebook's revenue growth. Despite the slowdown in ad load, Facebook is still increasing its per-user monetization rates, and off a much larger user base, driving its 50% y/y revenue growth rate.
Financial overview
In Q3, Facebook grew revenues by an astonishing 49% y/y to $10.3 billion, smashing analyst forecasts of $9.8 billion (+40% y/y). Speaking of analysts, Facebook has a nearly spotless track record of beating quarterly expectations. As shown in the chart below, compiled by Seeking Alpha, the last (and only) time that Facebook missed revenue expectations was by a mere $20 million in 1Q15, and even in that quarter, the company beat on EPS. Every other quarter, Facebook's results have beaten consensus by a wide mile.
Figure 1. Facebook earnings history since 2015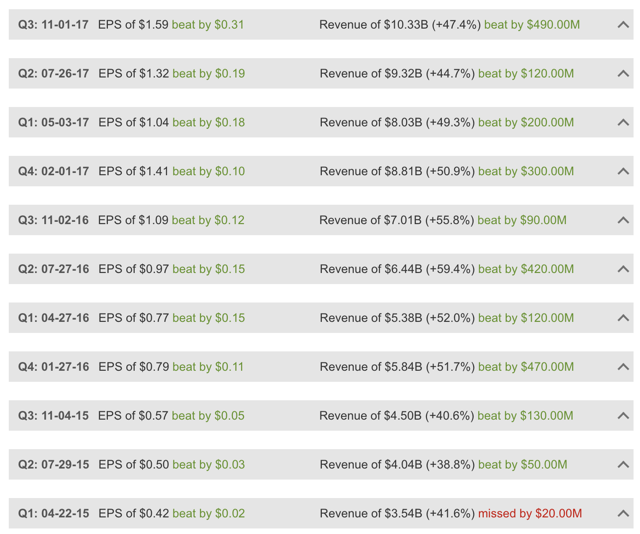 Source: Seeking Alpha
Q3 was no different. The chart below shows Facebook's immense growth trajectory for the past two years. Breaking down Facebook's revenue components, Ad revenues grew 49% y/y to $10.1 billion and Other revenues were down 5% y/y to $186 million. It's important to note that while Facebook's other product revenues might seem small in context of the entire company, its nearly $1 billion run rate puts it on par with a mid-to-large cap software company, further illustrating Facebook's sheer scale in even its side businesses.
Figure 2. Facebook revenue trends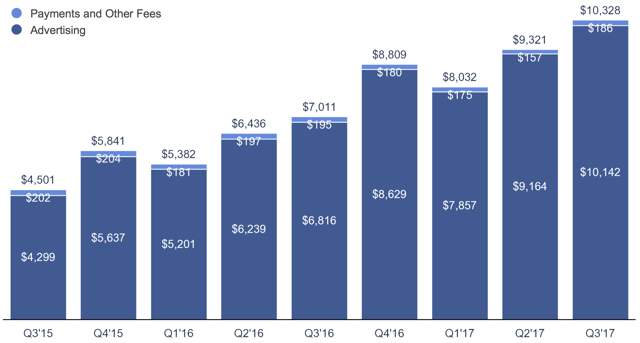 Source: Facebook Q3 earnings deck
Profit growth is the other lynchpin behind the Facebook bull thesis. Facebook's operating margin clocked in at a sky-high 50% this quarter (up 6 points from 44% in 3Q16). All components of Facebook's operating spend saw increased efficiency: research and development decreased two points to 20% of revenues (was 22% in 3Q16), sales and marketing decreased two points to 11% of revenues (was 13%), and general overhead decreased one point to just 5% of revenues (was 6%). Though Facebook's cost growth guidance and security initiatives might put a damper on future margin expansion, at an industry-leading 50% operating margin, Facebook still has plenty of buffer to work with.
Driven by both strong top-line growth and operating efficiency improvements, Facebook posted $4.7 billion in profit for the quarter - up an astonishing 79% y/y. In the trailing twelve months, Facebook has posted $15.2 billion in net income - note that's within spitting distance of Alphabet's (NASDAQ: GOOG) (NASDAQ:GOOGL) $21.0 billion in TTM profits, despite the latter being six years older and having a 40% greater market cap. With Facebook's profit growth of ~80% far outpacing Google's (about 30% in its most recent quarter), it's more than likely that Facebook will overtake Google's profits within the next few years.
Figure 3. Facebook net income trends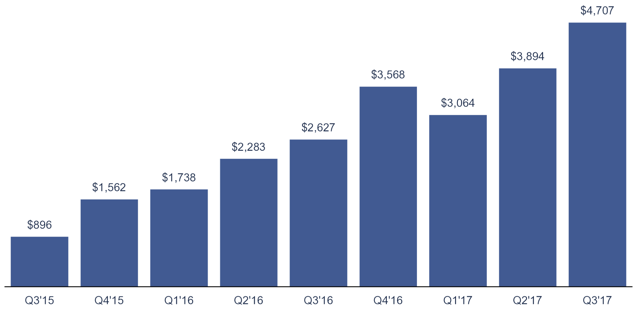 EPS in Q3 clocked in at $1.59, up 77% y/y and also showing 24% upside to analyst consensus of $1.28. With fundamentals like these, it's a small wonder that Facebook continually outperforms in the market. Note also the company's crystal-clean balance sheet with $32 billion of cash and no debt - and this is also supported by free cash flow to the tune of ~$4 billion per quarter. Free cash flow has been in a strong uptrend lately, growing 49% y/y to $4.4 billion as shown in the chart below (also taken from Facebook's Q3 earnings materials):
Figure 4. Facebook free cash flow trends

Valuation
Facebook is very clearly a growth stock - there's no other label for a company growing EPS at 79% y/y - but with a fairly low P/E in relation to its growth, the company also shows some elements of value as well.
Facebook trades at ~29x analyst consensus EPS of $6.63 in FY18, as reported on Yahoo Finance. This is in-line with Alphabet and far better than Netflix (NASDAQ: NFLX) and Amazon (NASDAQ: AMZN) - though the latter two are more commonly valued on a revenues basis, given their primary focus is still on growth and not shareholder returns.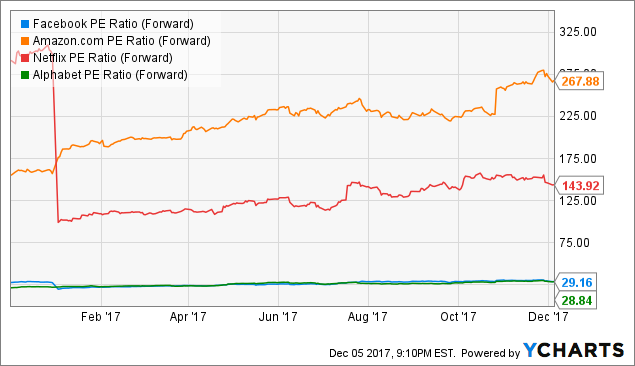 FB PE Ratio (Forward) data by YCharts
Given Facebook's earnings growth premium relative to Google (80% to 30%), Facebook's P/E makes the stock seem almost like a no-brainer. Valuing Facebook by its PEG ratio - dividing P/E of 29 by EPS growth of 77 - yields a PEG ratio of just 0.38x, a classic indicator of an undervalued stock. It's rather clear that Facebook is the best deal among the FANG stocks.
Even if we take into account Facebook's increased expense growth guidance and dramatically cut the company's expected FY18 EPS growth to, say, 40% - we still get a PEG ratio below 1x. With such massive profits and revenue growth that continues in the high 40s/low 50s despite reaching a $40 billion scale, it's clear to see a path to $1 trillion in market cap - a 20x multiple on a very realistic annual profit target of $50 billion, about 3x greater than Facebook's current profit run rate. Though this might be an unreasonable target, it's indicative to note that if Facebook grows its profit at 45% y/y for each of the next three years, it will hit $50 billion in annual net income.
Final thoughts
No company at a $500 billion market cap and $40 billion run rate grows its profits at Facebook's rate. Already one of the largest companies in the world, Facebook somehow manages to grow its top line by ~50% y/y and its profits by ~80% y/y. While it's true that Facebook's cost investments in FY18 might slow down its near-term profit growth, the company is still a cash harvesting machine that will be delivering outsized earnings and cash flow for many, many years.
Investors have shown signs of backing away from high-flying tech companies in recent days - away from money-losing momentum stocks and into more stable, profitable names. Facebook, luckily, sits on a trove of cash and keeps funneling billions of profits quarter after quarter. Its valuation, in-line with Alphabet, massively discounts the company's premium growth potential. With so much product innovation at the company and its sheer dominance over social media, messaging, and internet advertising, Facebook is a stock to bet on for the long haul - $1 trillion is just a stone's throw away.
Disclosure: I/we have no positions in any stocks mentioned, but may initiate a long position in FB over the next 72 hours.
I wrote this article myself, and it expresses my own opinions. I am not receiving compensation for it (other than from Seeking Alpha). I have no business relationship with any company whose stock is mentioned in this article.