With an extremely large balance of core deposits, and after reporting its 162nd consecutive quarter of profitability, it's hard to find anything not to like about CVB Financial (CVBF). Efficiencies are in check, assets continue to slowly grow while quality is at an all-time high, and one could argue that, with enough time, management could surprise to the upside if and when the portfolio starts to advance by a more meaningful amount.
A lot of its peers are still charging forward by trying to add assets at a blistering pace, but in contrast, we find CVBF willing to wait for the type of quality growth that its name has come to represent. With that said, quality in this market is being valued at a significant premium, but shares have earnings support and the capacity for them to continue to advance throughout 2018.
Assets And Growth Profile
After suffering from construction lending losses during the financial crisis, loan growth slowed and it wasn't until 2014 that the YOY total advanced by more than 5%. Most growth in the past few years has come from nonowner-occupied commercial real estate (CRE), that as a percentage of the portfolio has increased from ~30% at the end of 2009 to just under 50% today.
With the exception of nonowner-CRE, and multifamily lending that has tripled to 7.5% of the portfolio, most other lending types have held steady or fallen as a percentage of total loans - residential and home equity loans combined have consistently accounted for ~10% of all loans, while owner-occupied CRE loans account for 20% of the portfolio.
Earlier this year, CVBF completed its acquisition of Valley Commerce Bancorp (OTCPK:VCBP). The Valley purchase added approximately $400 million in assets, but more importantly, it helped open new markets north of the company's main footprint. For an $8 billion-asset company this wasn't a revolutionary purchase, but it could point to future expansion.
Looking back, slow loan growth between 2012-2016 pushed the portfolio down to 50% of assets, while at the same time deposits increased to 80%. There is a ton of capacity to grow loans and increase earning power, but statewide CRE growth has slowed and production in legacy markets has been unimpressive.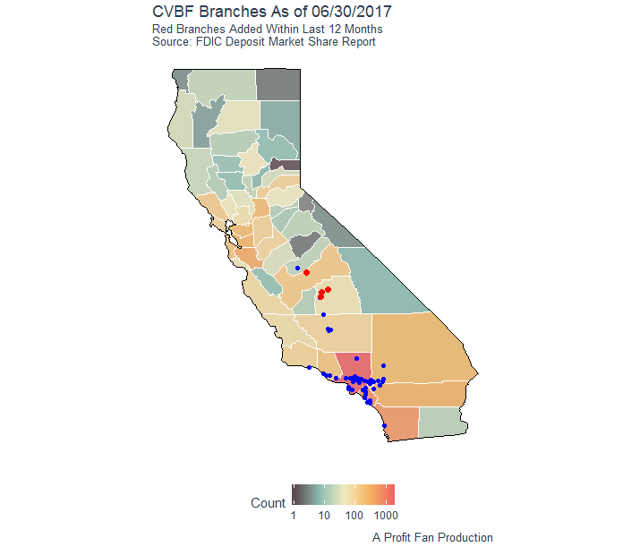 As a cautionary note, without meaningful loan growth, a lot of incoming deposits have been allocated to the security portfolio that was last reported at $3.02 billion (36% of assets). CVBF has been staying away from mortgages in the loan portfolio, but mortgage-backed securities (MBS) have increased from 60% in 2013 to more than 80% of all securities when last reported. There is a lot of liquidity, but FDIC reports show just under 75% of all securities mature between 5-15 years.
The upside for shares depends on increasing higher yielding loans from where they are now at 70.8% of total deposits, but a 70.8% L/D ratio here isn't as liquid as one in a company holding short-dated securities. The bank's deposit base provides for a unique advantage (discussed in next section), but in a rising rate environment, the value of MBSs can fall fast because higher rates affect relative yields AND duration (prepayment rate assumptions fall as rates increase).
At the end of September, a +200 basis point rise in rates was estimated to lower net interest income by 1.15%. The same increase is expected to improve the economic value of equity by 1.4%, but while positive note that this year's rate increases have pushed the fair value of the held-to-maturity portfolio below book value. I'm not too worried about CVBF's MBS holdings, but with rates near historic lows, this is a risk that investors should monitor.
These assets are long-dated and rising rates could push values even lower, and pressure management to hold to maturity to avoid registering losses (avoiding losses is why they are in the held-to-maturity portfolio) - both of which negatively affect available assets that could be converted into higher yielding loans.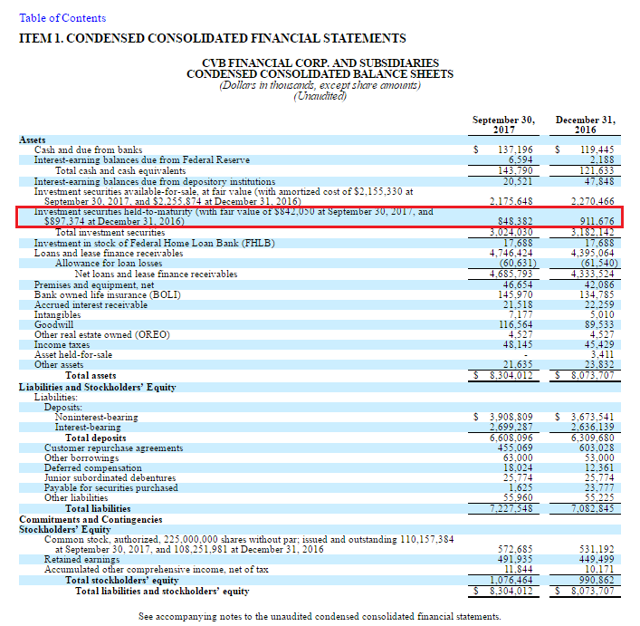 Market Share And Cost Of Funds
On the deposit side of the equation, aggregate growth has slowed (up 1.9% YOY) as the company has allowed for 'temporary' relationships to run-off. Core deposits remain the main focus, and a low loan to deposit ratio allows for the bank to be picky about what type of accounts are pursued. With this in mind, the most recent FDIC deposit share report shows the company falling behind in its 3 largest counties (Los Angeles, San Bernardino, and Orange) while posting modest gains in 5 of the other 7 it services.
The rate paid on liabilities is a major contributor to the bank's success, and it's not hard to understand why when the cost of deposits is only 0.09%, and when the cost of all funds is equally low at 0.12% (~20% of similar-sized peers). Noninterest-bearing accounts at $3.89 billion support 46.6% of all assets and 82% of gross loans. I said in the last paragraph that CVBF has allowed for 'interest-seeking' accounts to runoff, and the balance sheet reflects this with total liabilities gaining $13 million YOY while during the same time noninterest-bearing deposits increased $176 million.
There's no telling how long this trend can continue, but while it does the bank extends the 'margin advantage' that it has. I've been surveying a lot of West Coast financials this quarter, and it's not out of the ordinary to find peers in this area reporting cost of funds growth in excess of what CVBF currently pays on all of its accounts.
Earnings And Valuation
While I'm cautious on CVBF's security portfolio, and its ability to write a material amount of new loans at this point in the business cycle, it would be crazy to bet against the company's shares. Core deposits continue to advance, and even with moderate portfolio growth the bank can realize above average returns.
Consider that in the past 4-quarters, a 10% increase in gross loans improved quarterly interest income earned from the portfolio by 17.2%, or $8.2 million. Loan interest income wasn't the only revenue stream that grew during this time, but even if it were, $8.2 million easily covers a $500 thousand YOY drop in provision benefits, a $121 thousand increase in YOY interest expenses, and a $1.7 million increase in YOY quarterly noninterest expenses.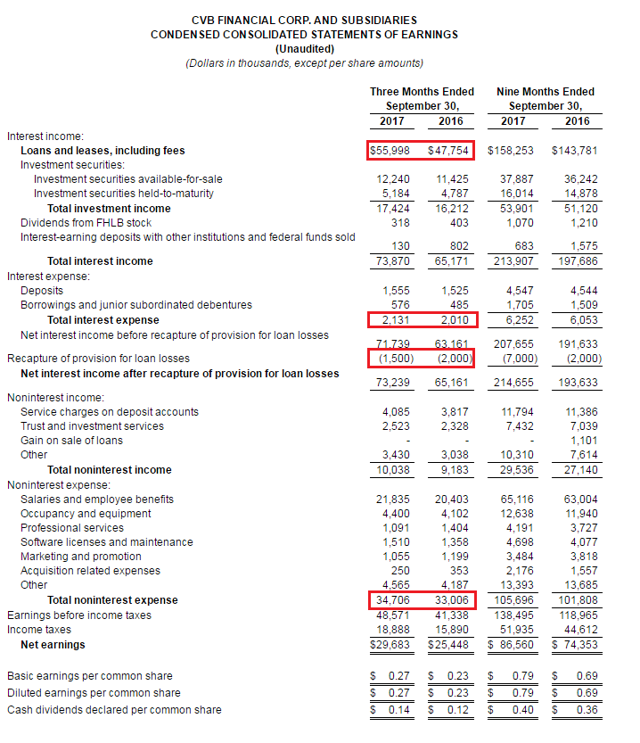 Without this year's $7 million provision benefit, YTD pre-tax income falls 5% to $131.4 million, which is good for a 12.4% increase when compared to adjusted pre-tax income earned during the first 9-months of 2016. But, note that with help from its acquired loans, 3Q17 adjusted pre-tax income was 20.7% higher than 3Q16 adjusted pre-tax income. Due to the bank's favorable cost structure, I don't think it's hard to believe core earnings could continue to grow by 20% in 2018, but without another acquisition this number will more than likely fall to 12-14%, which assumes 5-6% portfolio growth.
Shares trade at a premium (trailing P/E of 23.59X), but even without another acquisition CVBF's organic growth rates provide significant support - the P/TBV is equally high at 2.83X. Banks, in general, are all trading above 2016 valuations, but at 2.83X TBV I would expect that most acquisition candidates would immediately add to equity per share (because there would be less dilution due to its higher multiple). This is an extra incentive for a team that's having trouble finding new loans, but CVBF is measured in approach and not likely going to do any deal unless it checks off every box on its list.
With that said, I like what I've found but I look to invest in companies where predictable balance sheet changes could move shares immediately higher, and at this price point, CVBF needs incremental earnings for valuation support. For me that means I will check back with CVBF on a market correction or dip, but this is still a great sleep-easy option for current holders.
Just beware that higher valuations tend to come with higher volatility - shares today trade ~20% higher than they did at the beginning of September (and beginning of May).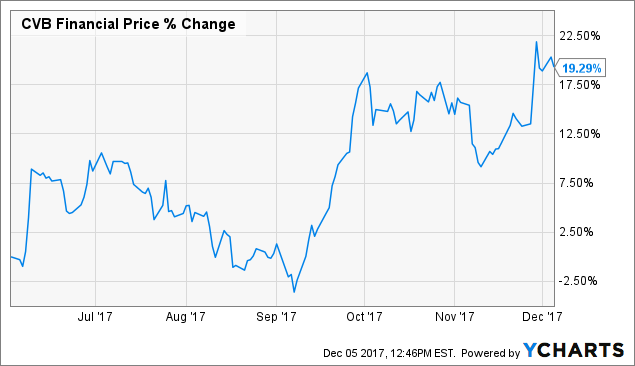 CVBF data by YCharts
Thank you for reading this Seeking Alpha PRO article. PRO members received early access to this article and get exclusive access to Seeking Alpha's best ideas. Sign up or learn more about PRO here.
Disclosure: I/we have no positions in any stocks mentioned, and no plans to initiate any positions within the next 72 hours.
I wrote this article myself, and it expresses my own opinions. I am not receiving compensation for it (other than from Seeking Alpha). I have no business relationship with any company whose stock is mentioned in this article.
Editor's Note: This article discusses one or more securities that do not trade on a major U.S. exchange. Please be aware of the risks associated with these stocks.