The iShares Nasdaq Biotechnology ETF (NASDAQ:IBB), which tracks the Nasdaq Biotechnology Index (NASDAQ:NBI), has been in and out of bear market territory, defined as a drop of 20% or more from its peak, since September 2015 when then-Presidential candidate Hillary Clinton sent out a tweet about "outrageous" price gouging by Martin Shkreli, former-CEO of Turing Pharmaceuticals. In fact, IBB was in a deep bear market for almost the entirety of 2016 because the hot issue of high prescription drug prices was an attention-getting campaign topic.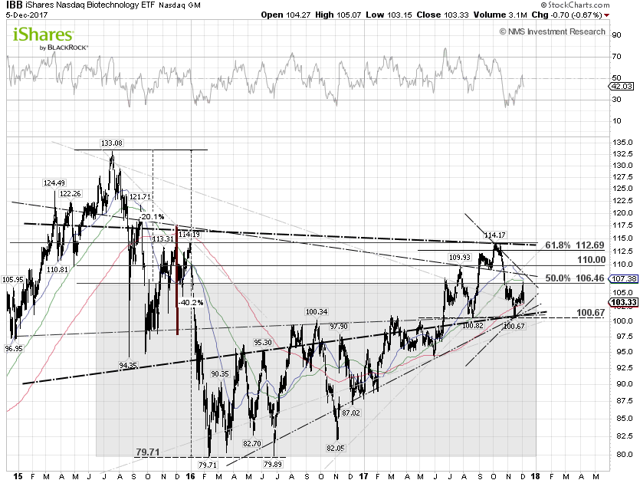 According to a recent study by Blue Cross Blue Shield, generics accounted for 82% of the prescription drugs filled by their members in 2016, compared to 66% in 2010, while brand or patented drugs accounted for 78% of total spending, roughly the same proportion it held in 2010. Since generic drug companies only develop and sell off-patent drugs, the increasing market share of generics could signal that fewer new and advanced drugs are being developed and approved. Amid pricing pressures from politicians and pharmacy benefit managers, or PBMs, the brand drug companies have cut back in R&D spending to save costs and are refocusing their strategies towards personalized therapies, which are expensive and harder to copycat.
In our view, there are no quick solutions for the increasing prices of prescription drugs as long as the costs for developing FDA-approved drugs continue to rise multiple times faster than the rate of inflation. In addition, the break-even point for drug companies, or the number of prescription drugs that need to be sold at a given price before the biopharma company can make a profit, is unclear.
A study in 2014 by the Tufts Center for the Study of Drug Development, or CSDD, pegged the average cost to develop and gain marketing approval for a new drug excluding post-approval R&D costs, at $2.56 billion, an increase of over 200% when compared to the pre-approval total cost estimate from the CSDD study conducted using similar methodology in 2003. Both CSDD studies show that the development costs for advanced drugs rose at a compounded annual growth rate, or CAGR, of about 11% over the 11-year period, compared to the U.S. inflation CAGR of 1.6%, based on the core personal consumption expenditures, or PCE, excluding food and energy, the Federal Reserve's preferred inflation measure, during the same period.
With all that said, it could be up to Congress to decide if the U.S. government should start buying a certain number of prescription drugs from biopharma companies, up to the break-even point while the drug is under patent protection, to eliminate any pricing model that might include "unjustified" price hikes. Finger-pointing and pharma-bashing can't go on forever, as biopharma companies are adapting to the new reality when it comes to drug pricing.
From our technical viewpoint, IBB bounced off the 100.67 support level in November and is about to retest the resistance at 106.46, or 50.0% Fibonacci retracement, for a breakout. Top IBB holdings, including Celgene (NASDAQ:CELG) and Regeneron (NASDAQ:REGN), are expected to have strong Q4 2017 earnings reports, while their valuations are now attractive, due to a sell-off starting in early October. There could also be potential tailwinds if the correction in the semiconductor sector continues.
Valuations of Celgene and Regeneron, Top IBB Holdings, Are Becoming Attractive
Shares of Celgene Corp., 6.38% weight in the IBB, have climbed about 8% from a multi-year low at $94.55 in late October after being hit by a sell-off that began in early October when the stock was at its all-time high of $147.17. Reasons for the sell-off were a combination of mixed Q3 2017 earnings results and a downward revision of its 2020 long-term financial targets from their previous guidance that was issued back in January 2015. A week prior to their Q3 2017 earnings announcement, Celgene said that they would discontinue the GED-0301 (mongersen) phase 3 trials for Crohn's disease, following an October recommendation of the Data Monitoring Committee, which assessed the overall benefit/risk during a recent interim futility analysis.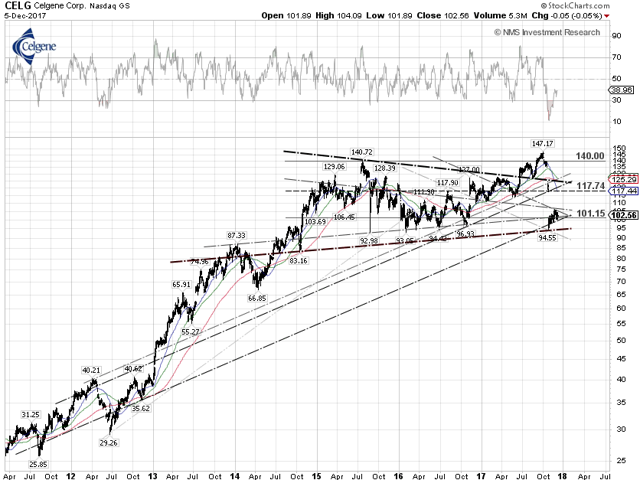 Wall Street might be overly bearish though, as Celgene raised their 2020 revenue guidance for its hematology business to a range between $15.4 billion and $16.1 billion, from the previous guidance of more than $14.8 billion, and gave new guidance for 2017 total revenues of approximately $13.0 billion, or the low end of their previous range between $13.0 billion and $13.4 billion, while it kept the 2017 guidance for Revlimid sales unchanged, between $8.0 billion and $8.3 billion.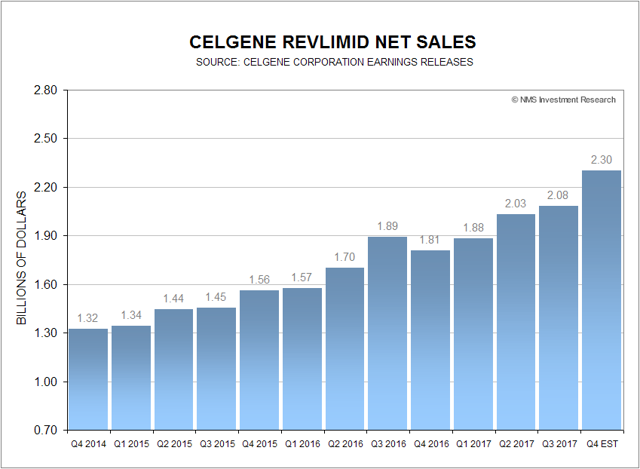 Based upon the latest financial guidance, our estimate for Revlimid sales during Q4 2017 is between $2.18 billion and $2.30 billion, or up 20.76% to 27.20% year-on-year, while the total net product sales should come in at $3.51 billion, which is a 17.95% increase on a year-on-year basis. The stock has a forward P/E ratio of 12.08 as of December 5, 2017, meaning there could be significant upside potential, considering the current trailing P/E is 24.35.
Shares of Regeneron, 5.99% weight in the IBB, have fallen over 31% from its 52-week high on concerns about AbbVie (NYSE:ABBV)'s mid-stage trial eczema drug candidate, oral selective JAK-1 inhibitor ABT-494 (upadacitinib), and Novartis (NYSE:NVS)' investigational eye drug, RTH258 (brolucizumab), despite that Wall Street has no or little information about when either of the two drugs will be entering the market or how they will be priced. AbbVie's ABT-494 (upadacitinib) will be competing with Regeneron's injectable drug Dupixent (dupilumab), which is priced at $37,000 per year.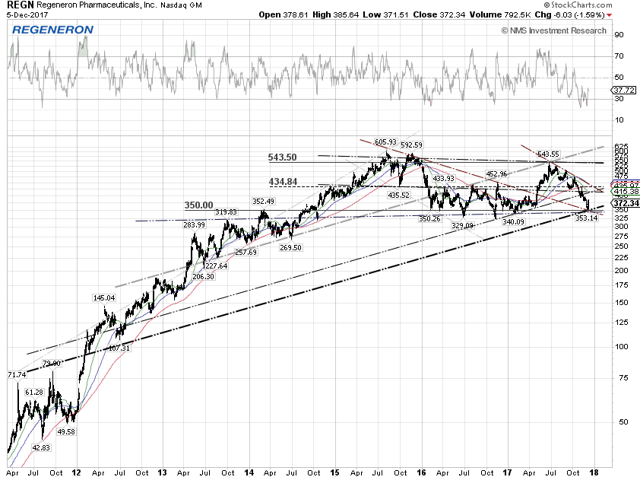 According to BioPharmaDIVE, Cowen & Co. analyst Steve Scala acknowledged in a November 13 investor note that nearly half of the patients in the Novartis brolucizumab Phase 3 trials were on 8-week dosing rather than 12-week dosing, and that there was no data on 4-week dosing. If Novartis only seeks an indication for the longest of those three regimens, or that dose is the only one that payers agree to reimburse, "brolucizumab will struggle," he said.
In fact, Novartis' RTH258 will be the fourth drug in the market for the treatment of wet age-related macular degeneration, or AMD, behind Avastin (bevacizumab), from Genetech, a subsidiary of Roche (OTCPK:RHHBY), Eylea and Genetech's Lucentis (ranibizumab). According to the American Academy of Ophthalmology, or AAO, the differences between the three therapies are considered clinically insignificant by many ophthalmologists. Thus, in our view, RTH258 must be priced somewhere between $1,850 for Eylea, and $1,950 for Lucentis, in order for Novartis to be able to compete.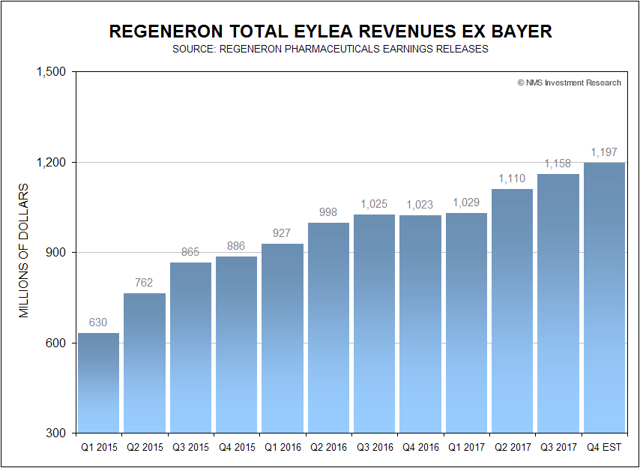 The Regeneron press release in November for its Q3 2017 financial and operating results reaffirmed Eylea's full year 2017 U.S. net product sales growth of approximately 10% over 2016, which could be about $1 billion. From our model, we see the Q4 total revenues for Eylea, excluding sales outside the United States from Regeneron's collaborative partner Bayer AG (OTCPK:OTCPK:BAYRY), of $1.2 billion, or a 17% increase year-on-year. REGN stock has a forward P/E ratio of 21.69 as of December 5, 2017, meaning there could be significant upside potential, considering the current trailing P/E is 33.81.
Fundamentals May Be Weakening In The Semiconductor And Semiconductor Equipment Sector
The semiconductor and semiconductor equipment sector is showing signs of weakening after not-so-encouraging news last month from a monthly report by North America-based manufacturers of semiconductor equipment, or SEMI, saying that October worldwide billings were $2.02 billion, the fourth consecutive monthly decline after the record spending posted in June. On a year-over-year basis, billings may grow just 18.3% during Q4 2017.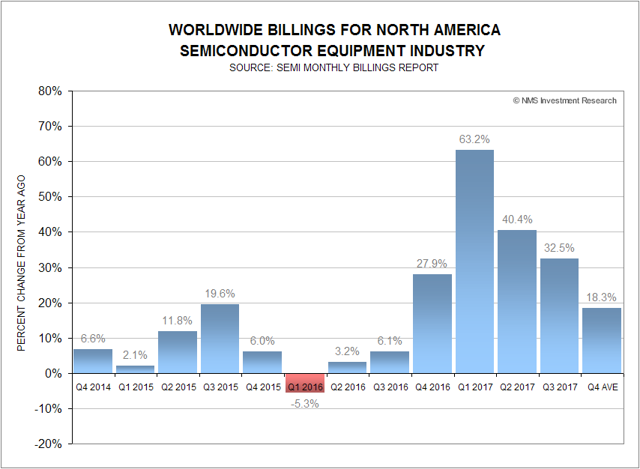 Back in early August, Stamford, Conn-based Gartner was expecting worldwide semiconductor capital spending to increase 10.2% in 2017, to $77.7 billion, followed by declines in both 2018 and 2019, of 0.5% and 7.3% respectively, citing weaker-than-expected end-user demand in key electronics applications.
This week, the Semiconductor Industry Association, or SIA, issued their monthly report showing that October 2017 global sales of semiconductors came in at record $37.09 billion, up 21.9% year-on-year. We would caution investors, though. Strong Q4 sales could be a result of semiconductor vendors, downstream distribution channels and end-market customers rushing to pile up inventories by the end of 2017 on concerns about higher prices and tight supplies of silicon wafers next year, as reported by Digitimes.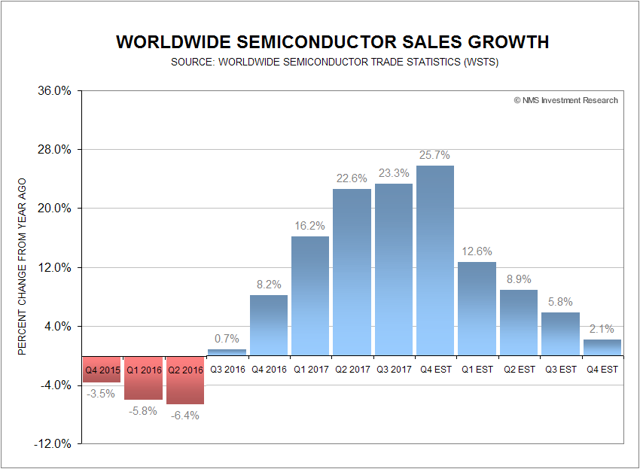 The latest forecast by the World Semiconductor Trade Statistics, or WSTS, suggests that worldwide sales growth could start decelerating in the Q4 2017. Sales growth, which has been supported by skyrocketing DRAM and NAND flash prices, may be about to slow down as both IHS Markit and Samsung Securities Co. have forecasted a decline in the price of memory semiconductor sales, which might happen as soon as the middle of next year.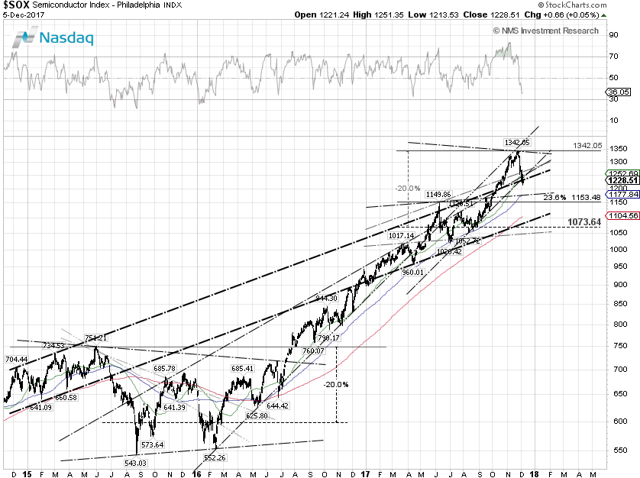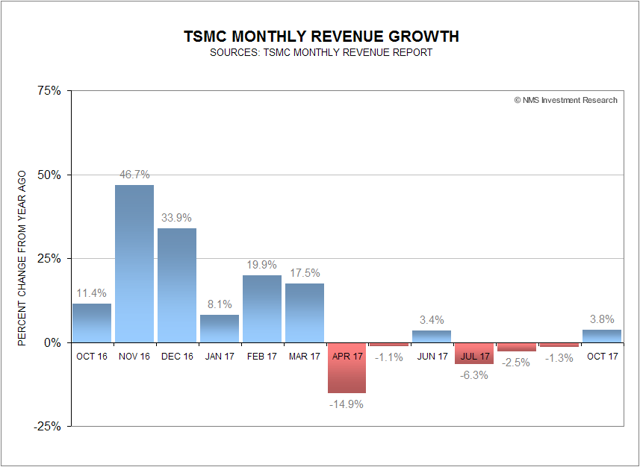 Investors have been selling the iShares PHLX Semiconductor ETF (NASDAQ:SOXX), which tracks the PHLX Semiconductor Sector Index, or SOX, since late November after Morgan Stanley (NYSE:MS) downgraded Taiwan Semiconductor Manufacturing Company, Limited (NYSE:TSM), and other chipmakers, citing the stocks had risen too much. Morgan Stanley also cautioned investors that the so-called "super-cycle" in chip demand could be coming to an end. In fact, TSMC's revenues have been negative-to-flat since last April, while the company is about to enter its yearly slow sales season that begins in January.
Conclusions
The Biotech ETF IBB remains in a bear market while the debate about high prescription drug prices is still ongoing. IBB may however, be about to exit bear market territory as investors begin to realize that there are no quick solutions for the increasing prices of prescription drugs. Finger-pointing and pharma-bashing can't go on forever because biopharma companies are adapting to the new reality when it comes to drug pricing.
The valuations of Celgene and Regeneron, top IBB holdings, are currently attractive if investors can overcome fears of uncertainties in the highly competitive biopharma business. The biotech sector could have some tailwinds to get out of its bear market if the correction in the semiconductor sector continues.
Disclosure: I am/we are long IBB, CELG, REGN, ABBV. I wrote this article myself, and it expresses my own opinions. I am not receiving compensation for it (other than from Seeking Alpha). I have no business relationship with any company whose stock is mentioned in this article.