BioTelemetry Inc. (BEAT) is the main strategic partner for Apple Inc. (AAPL) in a brand new Apple Heart Study launched at the end of November in conjunction with Stanford University Medical Center. Apple's Heart Study not only will engage cutting edge medical personnel, it will use cutting edge cardiac telemetry monitoring from BioTelemetry, a recognized market leader in the field. This study will include the use of a new dedicated "Apple Health Study" app in conjunction with Apple's Watch to not only discover irregular heart rhythms, such as atrial fibrillation, but also as a potential warning system for individuals who are unaware that they may be at risk for serious health issues.
BioTelemetry's inclusion in the study will very likely help reduce the costs of the study as remote cardiac data gathering is one of its main areas of strength. Instead of clinicians gathering data only when a patient is hooked up to monitors at the University, they can potentially record and gather near real-time data remotely that is accurate and extensive. BioTelemetry also recently entered into a collaboration with Onduo for remote monitoring in upcoming diabetes studies. Cost effective health monitoring is becoming more and more of a hot topic as healthcare costs continue to rise and early detection, monitoring, and prevention look to become more and more important to insurers as cost saving initiatives.
According to Apple's last earnings call, the company's Watch has had unit growth of 50% for the third consecutive quarter, establishing itself as arguably the best selling smartwatch in the world. Apple describes its watch during the call as "the ultimate device for a healthy life" and is doubling down on its statement by collaborating not only with leading health physicians, but also a cutting edge cardiac monitoring company like BioTelemetry for its upcoming health study. For Apple to maintain its premium pricing strategy across its ecosystem, only the best will do. Apple has had great success at building its ecosystem of products that are indispensable and "sticky" for its customers as it provides not only hardware, but also great software and services. Apple Watch's growth has been tremendous over the past few quarters, and progressing in the future to advanced real-time accurate cardiac monitoring along with other features will only serve to make the device even more indispensable to users.
Cardiac arrhythmia monitoring is a fast growing segment of the healthcare market with monitoring devices expected to grow at a compound annual growth rate (OTCPK:CAGR) of 6.6% through 2025. The market for these devices is expected to grow to $8.5 billion globally from a base of approximately $5 billion in 2017.
| | | |
| --- | --- | --- |
| Cardiac Monitoring Device Market by 2025 | Valuation | CAGR |
| | | |
| North America | $2.9B | |
| Mobile Cardiac Telemetry Monitors | | 8.4% |
| Ventricular Fibrillation Segment | $2.5B | 5.8% |
| Hospitals Segment | | 6.9% |
Table by Trent Welsh
Market researcher IDC figures Apple has sold 2.7 million watches during its Q3 quarter, grabbing a littler over 10% of the wearables market. With the wearables market growing 7% during the quarter in worldwide unit volumes, Apples 50% Watch sale growth for the third consecutive quarter should continue to grab noticeable market share from other wearable companies such as Fitbit (FIT) and China's Xiaomi. Apple's wearable business now, including wireless headphones, achieved approximately $6.7 billion in fiscal 2017, with a lot more growth possible if it continues to be a leader in innovation and technology. Apple's Heart Study is a key development for the company keeping its Watch cutting edge with real-time accurate usable healthcare information that its competition can't match. Keeping Apple a step ahead of the competition, with the most technologically advanced product on the market, will help Apple maintain its pricing strategy in the face of cheaper wearables that face being commoditized over the long run.
The Apple Heart Study is a nice step for Apple's future growth in the healthcare sector featuring its devices and apps. This study should help the company's Watch continue its impressive double digit sales growth rates as more and more people might start wearing watches again, especially if it can offer tremendous value to customers. This is a huge step for BioTelemetry, as this partnership helps firmly establish the company as a recognized leader in cardiac monitoring. The market is recognizing the potential long term benefits of the partnership, especially for BioTelemetry, by outperformance of the stocks on the day the news was announced.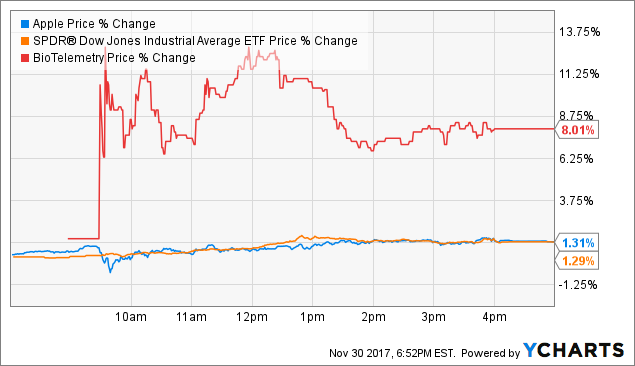 AAPL Price data by YCharts
My recent stake in BioTelemetry keeps looking better and better as new partnerships and collaborations continue to spring up in new transformative growth opportunities for the company. Apple continues to impress with its innovations and services, and I am currently looking for an opportunistic re-entry point into the stock after selling my position earlier in the year after a great run. Best of luck to all.
Disclosure: I am/we are long BEAT.
I wrote this article myself, and it expresses my own opinions. I am not receiving compensation for it (other than from Seeking Alpha). I have no business relationship with any company whose stock is mentioned in this article.