The Australian Dollar rose on Tuesday December 5th to the one month against the USD as better than projected economic data (retail sales up 0.5% m/m against consensus estimate at 0.3% m/m) fueled expectations that the Reserve Bank of Australia could tighten monetary policy in 2018. However, the AUD gave back some of the gains the following day after weaker than forecasted GDP growth (0.6% q/q, consensus 0.7% q/q). The main source of concern for Australian economic perspectives is the weak contribution on GDP growth from consumer spending (0.1%) and net trade (nil).
At the end December 5th monetary policy meeting, the reserve Bank of Australia held its cash rate target at 1.5%, in line with economists' predictions.
RBA governor Philip Lowe noted that while both the consumer price index and underlying inflation were running below two per cent, the bank maintained its forecast for inflation to "pick up gradually as the economy strengthens". Mr. Lowe said "forward-looking indicators continue to point to solid growth in employment over the period ahead" following strong employment growth in 2017. He added that low wage growth is "likely to continue for a while yet, although the stronger conditions in the labor market should see some lift in wage growth over time". The RBA expects Australia's gross domestic product to grow at around 3% for the next few years.
Despite being well below the highest level against the USD touched in 2011 at 1.1, we hardly consider the AUD as a BUY opportunity at the current level. The main reason is that the AUD is still 10% overvalued against the USD according to OECD' PPP, as indicated by the following chart. While this is not a short-term trading tool, the index is useful to catch long-term buying or selling opportunities.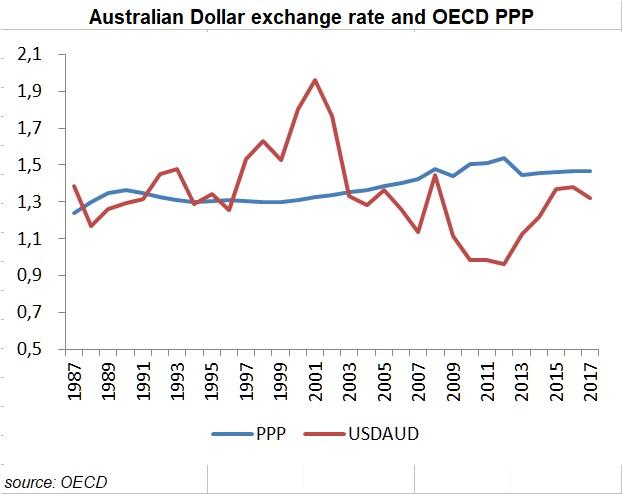 Moreover, in the short-term we think that interest rate differentials will be favorable to the USD. Indeed, we estimate that the US 2 year yield could continue to be supported by expectations that the Fed could extend tightening monetary policy in 2018. Latest Fed projections are for a 25bp rate hike to 1.25/1.5% on December 13 and 3 more rate hikes in 2018. On the contrary, we see only 50% probabilities of a 25% rate hike in 2018 as economic growth could be below expectations. For example, the IMF projected a 2.9% growth rate for Australian economy in 2018 that could be hardly achieved if the latest softening of consumer spending and net export will be confirmed.