Soon-to-be former Federal Reserve Chairwoman Janet Yellen and soon-to-be Federal Reserve Chairman Jerome Powell have made millions of dollars of investments in a variety of stocks and bonds that reflect their expectations for future economic growth. A close look at those investments tells us a lot about what they expect to happen in the future.
While I think analyzing Fed chairpersons' holdings reflect their worldviews as investors, I don't believe such an exercise can predict monetary policy or really tell us much about these people as monetary policymakers. I do not believe that a Federal Reserve chairperson could or would make decisions that would be of personal financial benefit; there are too many checks and balances in the FOMC system and the marginal benefit of a slight percentage point gain is far offset by the risks of such corrupt actions. When a hedge fund trades options on insider information, for instance, the benefits can be measured in many millions of dollars and secondary benefits such as attracting greater assets to manage. When a reserve banker front runs the interest rate curve, the benefit is probably measured in a few percentages of gains and that's about it. And since changes to Federal Reserve policy often have unpredictable results (the higher 10-year yield in 2013's QE days was the opposite of what many predicted, including macroeconomists at investment banks, the IMF, and many pundits), the risks of the front running going against the banker also diminish the benefits of such corrupt investing.
That said, Yellen and Powell have significant financial and economic knowledge and experience (although, as many have pointed out, Powell is not an academic economist) that creates a worldview and an expectation for what will happen to world economies, currencies, and assets over a long time horizon. It would only make sense to invest according to that worldview—especially since there would be no reasonable ethical issues with those investments and the chairperson's monetary policy decisions.
So when we look at disclosure reports for Janet Yellen and Jerome Powell, we get an insight into how they see the world's economies evolving in the next several years. And the picture we got of both monetary policymakers as investors is extremely telling and a bit surprising.
Primary Holdings of Yellen and Powell
First, let's do a quick examination of the holdings of both investors.
For Janet Yellen, I have excluded her spouse's investments and cash accounts, money market accounts, and annuities. These are a very small portion of her total portfolio. Excluding those, we find that her investments are primarily in a mixture of bond and equity funds with a few individual stock positions that make a small portion of her total portfolio:
Jerome Powell is significantly wealthier than Janet Yellen, whose estimated net worth is around $10 million. Powell's portfolio (which is estimated to be worth as much as $112 million) is extremely diversified, with a significant amount in index funds and a large number of small investments in municipal bonds (I discuss these holdings in more detail below). An exhaustive list of his holdings in various iShares and SPDR ETFs would not be terribly instructive, so I have limited myself to listing just those holdings whose disclosed amount exceed $1 million:
I will now discuss the bond and equity holdings separately.
Bond Holdings
To start with Powell, he is clearly the much bigger bull on municipal bonds. While Yellen owns no municipal bonds or funds focusing on munis, Powell has a few six-figure investments in revenue and general obligation bonds and several more five-figure investments in other munis. These are issued in the most popular muni bond states: California, Maryland, New Jersey, New York, Texas, and a few other states. He has the least exposure to Illinois.
In addition to these holdings, he has invested between $1 million and $5 million in the Goldman Sachs Short Duration Tax-Free Fund (GSDUX), which yields 1.37% in tax-free income. Of course, short-term bonds will be less sensitive to an interest rate hike than long-term bonds, making them a good investment if you are looking for tax-free income but you expect interest rates to increase in the near term. Sadly, Powell's disclosure does not list the duration of his individual municipal bonds, and we can't infer from the large range of disclosed income what duration these bonds are. Nonetheless, such a large holding in a short-term fund indicates an expectation that interest rates will rise in the future.
Yellen, on the other hand, has a particularly large position in two bond funds: the Vanguard Fixed Income Security fund High Yield Corporate Fund Admiral Shares (VWEAX), which is in her IRA, and the University of California Bond Fund. Interestingly, corporate bonds are more sensitive to interest-rate hikes than municipal bonds, and high yield corporates are even more sensitive than investment-grade corporate bonds.
That isn't to say that Yellen is betting against a higher yield curve. The average duration of VWEAX's portfolio is 4.1 years, which is on the short-end of the medium term. The fund has 80% of its holdings in Ba to B-rated bonds—in other words, a pretty typical high yield bond fund.
This and Yellen's equity holdings both surprised me quite a bit. The Fed Reserve Chairwoman speaks carefully and meticulously, but also has a decent chunk of her investments in junk bonds. What's also interesting is that 13.2% of VWEAX's holdings are in the energy sector, reflecting her stock choices (discussed below).
Unfortunately, getting data on the University of California Bond Fund is not easy. A fact sheet from 2015 shows the fund has about a third of assets in government bonds and 42% in "credit", and while the duration isn't disclosed, the fund's average duration is supposed to come close to the Barclays U.S. Aggregate Bond Index, which is tracked by the iShares fund (AGG). That fund's effective duration is 5.79 years, or on the high end of intermediate.
Since this bond fund is part of Yellen's retirement fund, I don't think that holding says too much about her worldview or investment strategy. If the fund is one that Yellen chose when she started working at Berkeley in 1980, which I believe is quite likely, I think it says nothing about Yellen's world view now.
I do think the junk bond holdings represent Yellen's most aggressive credit-side bet on future U.S. growth. Her junk bond holdings have reached a value of over $250,000 and are in her IRA. That suggests to me that she has been investing in this fund for a very long time, and it may be more indicative of her view that long-term bankruptcy rates for perceived "high-risk" firms will remain below market expectations. Such a market view would recommend a passive high yield corporate fund like VWEAX (if she believed that market participants could find ineffeciencies in the junk bond market, she probably would have put some money with Pimco, Blackrock, or another major player in junk bond markets). This, then, seems to reflect more her confident view in the long-term creditworthiness of U.S. firms as a whole than any perspective on the yield curve.
At the same time, her biggest bond investment does indicate an expectation that the yield curve is going to rise for quite some time. Yellen has between 500k and $1 million in the Vanguard Short Term Bond Index Fund (BVIRX), which significantly lowers her portfolio's average duration due to its 2.7 year average duration. This is mostly a Treasury/Federal government bond (64.1% of the portfolio), with some short-term finance and industrial bonds and an 8% position in foreign bonds.
This is a significantly more conservative bet, and a prudent bet that interest rates will rise for a long time in the future. It is also another "efficient market" bet, since it's a low-cost index fund that does not seek to find hidden value in the market. Rather, this is a fund for investors who want to hedge against market volatility and a rising interest rate environment.
Considering this is a large bet in a taxable account and Yellen's junk bond holding is in an IRA and may be a hangover from younger days, I wonder if that junk bond fund is part of Yellen's more risk-taking days in her youth.
Equity Holdings
Powell holds $1 million to $5 million in the Goldman Sachs US Equity Dividend and Premium Fund (GSPKX), which, in addition to his iShares Russell 3000 Index ETF (IWV) holdings and GSDUX, means that Powell is most heavily exposed to American stocks and bonds. His international diversification comes from the iShares MSCI EAFE Value ETF (EFV), which is arguably the lowest risk approach to foreign stocks.
I say that because the index is a market-cap weighted index that focuses on developed nations (21 in total, with most in Europe and only Hong Kong, Japan, and Singapore in Asia). The fund also focuses on large cap stocks (the index is 70% composed of large-cap stocks).
EFV's strategy is to focus on stocks that, according to the prospectus, "tend to have higher book value to price ratios, higher forward earnings to price ratios, higher dividend yields and lower forecasted earnings growth rates than securities representing the growth style of investing." In other words, typical and quite conservative value investing principles.
In a way, Powell's portfolio can be seen as "America first". His portfolio represents a belief that equity gains will be felt in America more than elsewhere, and exposure to the rest of the world should be limited to developed markets and to best-of-breed companies that exhibit the characteristics of a deep moat. This is not a portfolio of a person who expects exponential growth from emerging economies—it is the portfolio of someone who believes America will provide the best risk-adjusted returns, for whatever reason.
Yellen is similarly invested in favor of developed markets over emerging markets, but to a much greater extent (relatively speaking) than Powell. Her largest equity position is the Vanguard Developed Markets Index Admiral Fund (VTMGX), at $500k-$1million. At anywhere between 5%-10% of her portfolio, it seems to me that Yellen is much more focused on foreign stocks long-term performance, especially when we observe her Fidelity Diversified International Fund (FDIVX) position at $250k-500k. While VTMGX is, like Powell's EFV position, a developed-nation and Europe-focused fund, FDIVX has significant positions in India (4%), China (2.1%), Taiwan (1.5%), and South Africa (1%).
Since this is in a 403b, it may be more of a hangover from riskier days in the past, as with her junk bond fund. Yellen's equity portfolio is quite interesting, in part because of the several rather concentrated positions in traditional value investing sectors that again reflect a conservative approach even when it comes to individual stocks.
At most, her stock positions come to $275,000, or less than 3% of her total portfolio. Furthermore, those positions are in high yielding dividend stocks like AT&T (T), ConocoPhillips (COP), and Office Depot (ODP). The focus on industrials, energy, utilities, and telecommunications and absence of financial, pharmaceutical, and technology stocks also indicates a risk-averse value investor that is not focused on companies with strong revenue growth or innovative products.
Conclusions
Can any conclusions be made from this in-depth look at Yellen's and Powell's holdings? I think so.
Neither Yellen nor Powell are stock pickers or have much faith in activist investing. While both investors clearly believe in asset allocation as a means to achieve personal financial goals, neither have made significant bets on professionals being able to outperform the market on a long-term basis.
Both Yellen and Powell believe in value over growth. Large investments in value-investing approaches and a lack of growth stocks in both portfolios indicates that neither see growth as an important component for long-term market performance. This reminds me of Yellen's 2014 comment that social media and biotech stocks are "overvalued", a call that was half right: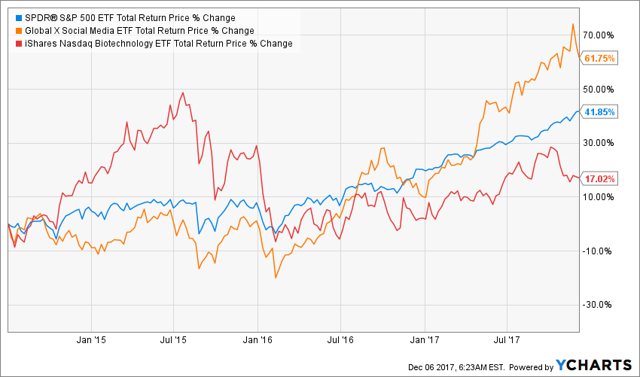 Both Yellen and Powell seem to expect interest rate hikes in the future, although investments in short-term bond funds could be more a risk-averse positioning for late-stage investors than an aggressive bet on the yield curve
Yellen is more bullish on the rest of the world than Powell, whose America-first investments are surprisingly reminiscent of the rhetoric of the president who appointed him
Both central bankers invest in a very traditional and low-risk manner, indicating a temperament that is more cautious than aggressive
While I do not think these observations tell us much about future Federal Reserve interest rate hikes or monetary policy decisions, I do think they tell us something about the kind of central banker we can expect in Powell. If anything, there is ample evidence to indicate that Powell is less of a maverick than Yellen when it comes to making aggressive bets. When we compare this to Powell's rather conservative voting record in the FOMC (he did not dissent with Yellen once since his 2012 appointment), it seems that we can expect in Powell a sobriety similar to Yellen.
The key difference, however, is in their global perspective. Powell's investments suggest to me that he is more confident in America's long-term market returns than the rest of the world than Yellen. If there is any read through for monetary policy, it is that Powell may be more confident in America's abilities to adapt to interest rate hikes than the rest of the world. Furthermore, if Powell's "America first" attitude is not just an investment position but also an ideological one, we may find Powell more willing to disregard the impact of monetary policy decisions on the rest of the world when casting his vote as Chairman. That very small change in perspective could have enormous implications for Treasuries and stocks in the future.