Over the past few weeks, Zynga (NASDAQ:ZNGA) has been receiving a lot of media hype about its potential entry into the online gambling market due to recent changes in United States law as well as its launch of its own platform for social gaming. In the company's most recent quarter, it reported earnings of:
2011 net loss of $435.0 million or $1.22 on revenue of $311.2 million (up 59% from last year)
Non-GAAP net income of $37.2 million in the quarter (down 41%)
EBITDA in the fourth quarter 2011 of $67.8 million, which is down 34% year-over-year
Total revenue of $1.14 billion (up 89% from last year).
These earnings are very impressive, but so is the company's valuation. The company is currently valued at 38.81 times its forwarding earnings. This is met with a PEG value of 2.37, which does not point to an undervalued company. The stock skidded nearly 5% on Monday in trading, but had a 12% rally over the previous two trading sessions. This morning, J.P Morgan lowered its rating to "neutral" on the stock because of fears that much of the company's upside is priced into the stock at the current level. Though ZNGA may be able to capitalize on the opportunities brought by gambling and its own social-networking platform, the company's upside is limited due to its high valuation. Be cautious and take note of the company's stock performance alongside its fundamental performance. If fundamentals stay strong, but the stock sells off, it may be time to join J.P. Morgan in being neutral and awaiting ventures that have not yet built into the stock price.
Entry Into Online Gambling:
ZNGA has been buzzing about whether it will enter the online gambling market if U.S. legislation is passed in the coming months that would allow the company to capitalize on websites like Facebook for gambling. The opportunity would be exceptional if the company can play its cards properly. ZNGA COO John Schappert gives us this:
I think it's actually a very interesting opportunity, because we're in an unique position. We have the world's largest online poker game and the most social online poker game we've been running for four years. We had record results last quarter. And it's one of the top six games on Facebook. So I think we're in a very good position and it's a category that's interesting to us.
With this being said and with the company's apparent willingness and plan to enter the online gambling market, the markets and investors are aware of this upcoming opportunity. Though it may represent incremental revenue increases that may not be directly tied to the stock price performance because of the company's current valuation, unless opportunities like this come to fruition, the company will experience stock price declines due to the high expectations that Wall Street has set for ZNGA.
The Company's Own Platform:
With the launch of the company's own social networking platform for gaming expected to come later this month, the company and analysts will be closely monitoring the increased traffic to the company's games. Currently, Facebook represents nearly all of its revenue, says Barbara Ortutay. Along with the company planning to enter the internet with its platform, it will likely enter the mobile market in hopes of both driving incremental gamers and separating itself from Facebook slightly. Doug Anmuth of J.P. Morgan states,
We attribute the recent move to increased investor focus on social gaming, the potential for legalization of online gambling, and optimism in the soon-to-be launched Zynga platform.
Though the results from these efforts by ZNGA may drive revenue, the company is expected to drive revenue and profit with its current valuation. Even if ZNGA's platform proves successful, the stock price may stay stagnant due to the company's major growth for this year being in the rearview mirror.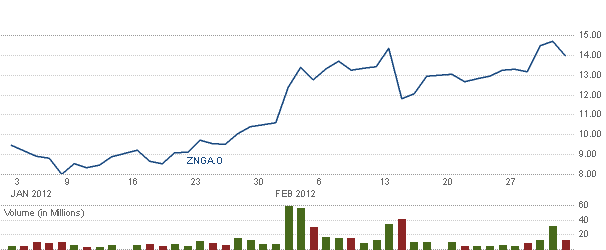 (NASDAQ:CNBC)
Conclusion: Due to ZNGA having a valuation of nearly 40 times earnings and a PEG ratio of 2.37, the company is expected to deliver incremental sales and diversify as much as it can away from Facebook in creating other streams of revenue. Even if the company's online gambling venture is successful and its platform attracts a substantial amount of gamers, the stock price may not see the growth the company's financials do. Doug Anmuth says, "we believe some of the potential upside is now being factored into the stock and it will likely take some time for both online gambling and Zynga.com traction to materialize." ZNGA will need to be successful at online gambling, its new platform, and ventures not yet buzzed about for true stock price growth. For now, the upside may be limited...
(All financial metrics within this article were obtained from Yahoo Finance)
Disclosure: I have no positions in any stocks mentioned, and no plans to initiate any positions within the next 72 hours.