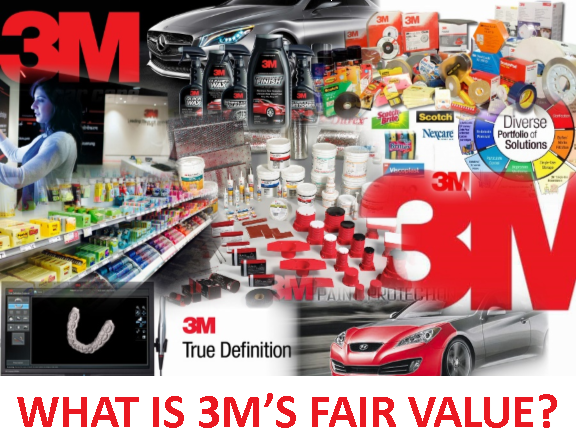 Apart from being competitors in certain segments, there's only one other thing that 3M (MMM) and General Electric (GE) have in common at the moment. That one thing is that both are rated a sell by JPMorgan (JPM). Apart from that small difference, GE and MMM are heading in opposite directions. GE is struggling while MMM is increasing its guidance range and toping forecasts. MMM is expected to increase its dividend in February while GE recently cut theirs. MMM also has gained nearly 34% this year. As some investors seek for alternatives to GE, the question now remains whether investors can find a margin of safety in MMM or whether the stock price is overvalued.
Where are we at?
To answer that question, let's take a look at some of the current valuation metrics and how the company compares to its peers. MMM's current price to earnings ratio is 26.3. YCharts reports that the five-year average is 20.7 while Gurufocus.com shows that MMM's 10-year median PE ratio is 16.5. The industry median is 23.1x while the market is 19.5x. These indicators suggest that MMM is currently overvalued compared to its historical norms, the industry and the market.
In one of Chuck Carnevale's articles, he uses the earnings yield to quickly determine the valuation of a stock. The earnings yield is calculated by taking the current earnings divided by the stock's current price. Chuck feels that any value below 6% means that the stock is overvalued. In the case of MMM, the TTM EPS is $8.16 and the current price is $239.26. The earnings yield is 3.74% which suggests that MMM is overvalued.
The infographic below further shows that MMM's PEG ratio is 6.0x which is considered poor value based on next year's expected growth and that its price to book ratio which is 11.8x is overvalued based on its assets when compared to the industrial conglomerates industry average and the market. Furthermore, the P/FCF is 27.98 which is nearly three times what investors typically consider as fair value.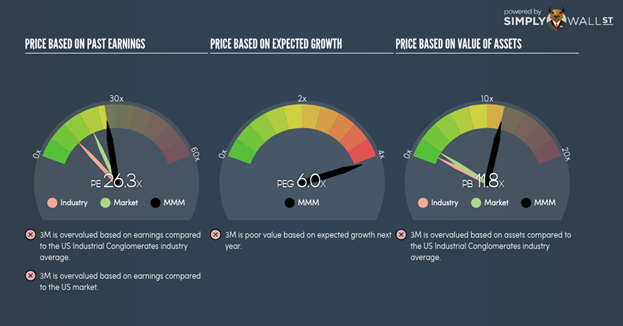 Source: SimplyWall.St
I have selected GE, Siemens AG (OTCPK:SIEGY) and Honeywell (HON) as MMM competition peers. Below is a comparison of some common valuation ratios and where each company compares.

Source: Old School Value, SimplyWall.St, Morningstar, table created by the author
The red cells make it obviously clear that MMM is overvalued compared to all of its peers while SIEGY has most of the lowest valuations in the group.
At present, there are four analysts with buy or outperform ratings, nine with a hold rating and four with a sell or underperform rating. The current consensus among the 17 analysts is to hold MMM and this rating has been in place since at least April 2017.
Based on the above findings, MMM appears to be overvalued on all fronts.
Where are we going?
The infographic below shows what analysts are predicting as MMM's earnings per share over the next few years.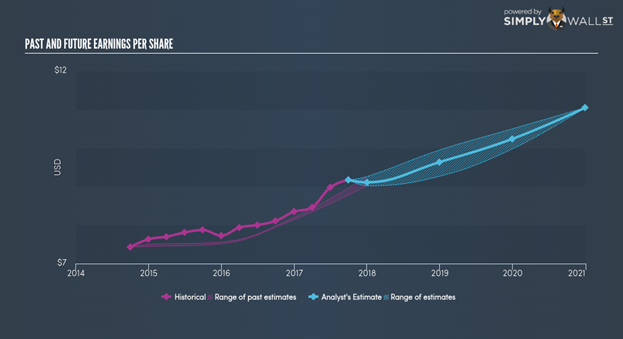 Source: SimplyWall.St
The company reported an EPS of $8.16 in FY2016 and estimated its FY2017 EPS to be between $8.45 and $8.80. The company has since twice revised its guidance upwards, first to $8.80-$9.05 to the most recent revision of $9.00-$9.10. This represents a growth in EPS between 10.29% and 11.52%. The company will host its 2018 outlook meeting on December 12.
Analysts are estimating a FY2017 EPS of $9.04 (range of $8.60 to $9.26), FY2018 EPS of $9.59 (range of $9.28 to $9.95) and FY2019 EPS of $10.24 ($9.98 to $10.50). This represents year-over-year growth of -10.78%, 6.08%, and 6.78%, respectively. MMM's future five-year growth estimate is 10.17% which is considerably greater than its past five-year growth rate of 6.30%. The company's future growth rate is slightly below the industry's long-term growth rate estimate of 10.90%. Although it would appear as though MMM's growth is expected to slow I perceive this more as the result of conservative guidance. However, we will have more information in one week's time.
Based on these estimates, MMM is currently trading at 26.5x FY2017 earnings, 24.9x FY2018 earnings and 23.4x FY2019 earnings. These PE ratios remain well above the five-year average and 10-year median which may suggest that MMM as a company should be measured using a different PE multiple but his would depend on whether the company can continue to grow annually by 10%-plus. If I use the five-year PE ratio, based on MMM's EPS estimates, the stock would be trading around $187.13 in FY2017, $198.51 in FY2018 and $211.97 in FY2019. This suggests that MMM's current stock price is considerably overvalued and possible exceeds two years worth of earnings. Although I'm tempted to try and identify what MMM's PE should be, it may truly be the result of investors over extending the stock price since from 2015-2016, the PE near breached above 23x. Only in 2017, has the PE shot up to these levels and in June through July retracted back to about 22x for a brief period of time before returning to these heights.
Over the next 12 months, analysts are estimating that MMM's median price estimate will be $229.00 which represents 3.9% downside from the current price. The range runs from a low of $180.00 (24.4% downside) to a high of $262.00 (10.0% upside). This shows that the risk vs. reward is unfavourable because there is more downside risk than upside potential. This kind of situation lends itself to suggesting the MMM is overvalued.
Is 3M trading at fair value?
I used a reverse DCF to determine how much the market expects MMM's growth rate to be. With shares trading at $239.26, the market is pricing in earnings to grow at 12.79%. This is above analyst's estimates as well as the five-year growth average. If the company grew its earnings by 12.79%, then MMM's FY2017 EPS would be $9.20 which is above management's guidance for this year and would represent quite the surprise. This suggests that the market has great expectations for MMM and appears to be ahead of itself.
What is my fair value estimate for MMM? To answer this question, I calculated the fair value of MMM using three models: Discounted cash flow, Graham's Formula, and EBIT multiples.
The inputs I used for the DCF was a growth rate of 10.21%, a discount rate of 5.56% based on the work of Prof. Damodaren's rates for each industry, a terminal rate of 2% and a starting free cash flow value of $5.24B. This provided a fair value estimate of $200.50.
The inputs I used for the Graham's Formula include a growth rate of 10.21%, an EPS estimate of $9.04 and a 20-year AAA corporate bond rate of 3.57%. This provided a fair value estimate of $191.75. Please note that the Graham Formula is not the same as the Graham Number and that the formula has also been modified. The explanations of each can be found here and here, respectively.
The inputs I used for the EBIT model has a conservative, normal and aggressive case. Based on MMM's past five-year EV/EBIT history, I chose a multiple of 15.1x for the conservative case, 16.1x for the normal case and 21.4x for the aggressive case. Revenue estimates were $31B in each case. This resulted in fair value estimates of $163.64, $175.77 and $237.21, respectively.
The table below provides a summary and calculations of the estimated fair value of MMM.
| | | | | | | | |
| --- | --- | --- | --- | --- | --- | --- | --- |
| Current Price | DCF | Graham | EBIT (Normal) | Historical PE | Analysts Estimate | Average FV | Median FV |
| $239.26 | $200.50 | $191.75 | $175.77 | $187.13 | $229.00 | $196.83 | $191.75 |
Source: Old School Value
Based on these calculations, the average fair value estimate is $196.83 and the median fair value estimate is $191.75. Based on today's stock price, MMM is currently overvalued by 17.73% to 19.86%.
Below you will find my risk/reward chart based on the long-term growth rate (10.21%) and the average and median fair value estimates. The red and green lines in the price action chart below represent the trading range of MMM based on that growth rate. Obviously, when the stock is near the top line, it is not the time to buy and when it is near the bottom line, it is time to consider buying.
Source: Freestockcharts.com (daily view)
Source: Freestockcharts.com (weekly view)
As you can see in the daily view chart, MMM is not in the buy price box. I also noticed that there appears to be an ascending wedge that has formed since the end of 2011. This wedge has it that the stock has higher highs and lower lows. At some point, usually in and around where the top red line and the ascending wedge meet is where either the stock makes a new push up or crashes. It will be something to monitor but may help investors obtain the stock at a fair value.
Finally, here is a quick table to show various margins of safety based on the estimated fair value.
Margin of Safety

Average FV

$196.83

Median FV

$191.75

5%

$187.46

$182.62

10%

$178.94

$174.32

15%

$171.16

$166.74

20%

$164.03

$159.79

25%

$157.46

$153.40
Conclusion
The market appears to have fallen in love again with MMM and have driven the stock price to new highs. Investors can't be blamed because it is rare for a dividend champion blue-chip company to be pumping out double-digit growth and mid single digit dividend growth particular from within the industrial sector. Unfortunately, this leaves investors looking to buy MMM with no margin of safety and more risk than reward. My recommendation is to wait for a considerable pullback in order to also take advantage of a higher dividend yield since it is the lowest its been in 10 years and whose average is typically 2.5%.
I hope you enjoyed this article. Please consider following me as a Seeking Alpha author by clicking the "Follow" button at the top of the article beside my name Accelerating Dividends if you want to be notified when my future articles are published. Thanks for reading.
Disclosure: I/we have no positions in any stocks mentioned, and no plans to initiate any positions within the next 72 hours.
I wrote this article myself, and it expresses my own opinions. I am not receiving compensation for it (other than from Seeking Alpha). I have no business relationship with any company whose stock is mentioned in this article.
Editor's Note: This article discusses one or more securities that do not trade on a major U.S. exchange. Please be aware of the risks associated with these stocks.