The Greek banks (National Bank of Greece S.A. (OTCPK:NBGIF), Piraeus Bank SA ADR (OTCPK:BPIRY), Alpha Bank S.A. ADR (OTCPK:ALBKY), Eurobank Ergasias SA ADR (OTCPK:EGFEY)) have all published their Q3 2017 results. As is tradition by now, let's have a look at their two major challenges: liquidity and non-performing loans.
Liquidity
The overall liquidity situation in Greece has improved again this quarter. A loan/deposit ratio in the range of 90%-110% is quite normal and the Greek banks are getting close to that (with the exception of Alpha Bank). In a European perspective, the Greek banks do quite well as the average L/D in the whole Eurozone was 118% in Q2-2017 (source: ECB statistics).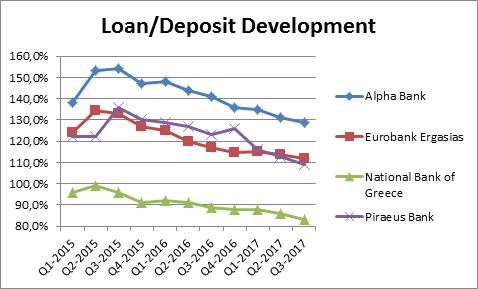 Source: Q3-2017 reports
Despite the fact all Greek Banks are still on Eurosystem life support, the situation is improving quite rapidly. I expect this trend to continue in the foreseeable future because (1) deposits are returning, (2) the banks free up cash by selling international non-strategic assets and (3) new regulations will ease capital controls even more (As of December 2017, Greek residents can withdraw 100% instead of 50%).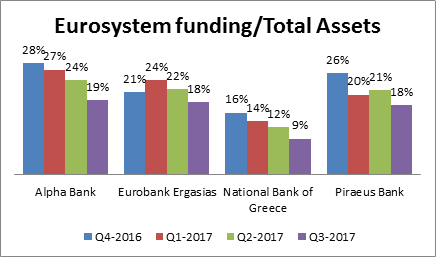 Source: Q3-2017 reports
Non-performing loans
Bad loans are still the Achilles heel of the Greek Banks. Unfortunately, there has not been any significant progress in the NPL ratios this quarter. From a European context, these Greek NPL ratios are staggering as the average NPL ratio for the Eurozone was ~5.5% in Q2-2017 (source: ECB statistics). However, coverage ratios are still standing strong. Any more 'good' news? Well, a bit.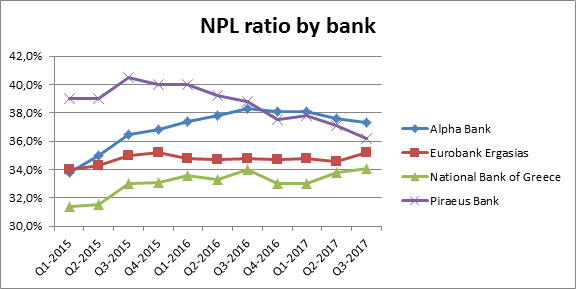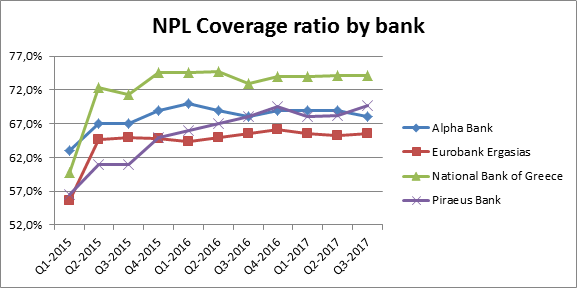 Source: Q3-2017 reports
The banks have been able to reduce the volume of their non-performing loans in the third quarter. The reason the NPL ratios did not improve is that the overall loan books shrunk with the same amounts (or more). However, the Greek economy is growing again and a growing economy is normally correlated with loan growth. Therefore, it's not weird to expect the loan books to grow in the future and this will naturally lower the NPL ratios (like always, expect a delay!)
At the same time, the Greek Central Bank published a progress report on the targets for Non-Performing Exposures with the following expectations: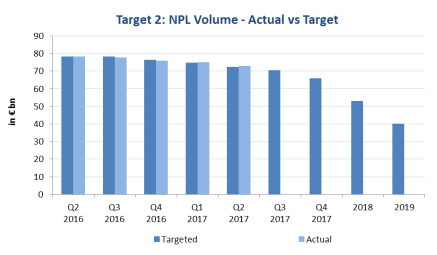 Source: Bank of Greece.
Although I am not into 'projections', the explanatory notes in the report reveal that the reductions are mainly driven by the curing of loans (meaning: unhealthy loans becoming healthy again).For a loan to be classified 'performing' again, it has to go through a probation period of 1 year. This means the 2018 projection are not really a 'guesstimate' but have a high probability of being right. I also like this type of NPL reduction is not directly dependent on the reforms of the foreclose laws/processes. Time will tell, but I expect the NPL ratio to improve in the coming quarters because of these 2 reasons (new healthy loans and curing of bad loans).
Stress test
It is expected that the Greek banks will be stress tested in May 2018 and the markets have been quite turbulent as a result. Do you need to worry? Well, in terms of coverage and liquidity ratios the Greeks banks are doing just fine in relation to Eurozone banks. In fact, looking at capital (CET1) ratios the Greek banks do better than average (Greece: 17.15%, Eurozone 13.88%) according to ECB statistics. The problem, of course, are the non-performing loans.
The way a stress test works is that the EBA creates a test scenario and banks will subsequently model the impact on their balance sheets. For example, last November the UK banks were stress tested with a scenario in which GDP fell by 4.7%, unemployment rose to 9.5% and property prices fell by 33% etc. (find results here).
The problem is that the final methodology for the stress test in Greece is not yet known. So it's not really possible to say something useful about it just yet. In my next quarter update, I hope to update you accordingly!
Disclosure: I am/we are long EGFEF.
I wrote this article myself, and it expresses my own opinions. I am not receiving compensation for it (other than from Seeking Alpha). I have no business relationship with any company whose stock is mentioned in this article.
Editor's Note: This article covers one or more microcap stocks. Please be aware of the risks associated with these stocks.