FNB Corp (NYSE:FNB) has seriously underperformed its peer group over the last five years, and much of this lag has occurred since July 2016. This leaves the stock at the cheaper end of the P/E spectrum while promising comparable growth in EPS.
In the chart below, FNB is the white line, the KRE regional banks index the magenta line. The underperformance of FNB is now in the order of 30% since July 2016, the period shown in the chart.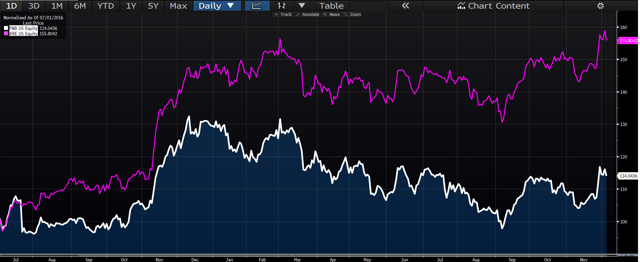 Source: Bloomberg
Investors should consider long positions in FNB. The prospective EPS growth envisaged by the sell side consensus is attractive and, as we shall see in this article, realistic. If the stock can maintain its current year P/E ratio, it will provide attractive total returns from here. There is additional upside if the stock can re-rate.
First, let's check in on the consensus P/E ratios for 2017-2019, the EPS growth the market expects, and the yield. The sample stocks in the comparison are from FNB's most recent investor presentation. This is FNB's peer group in its own eyes.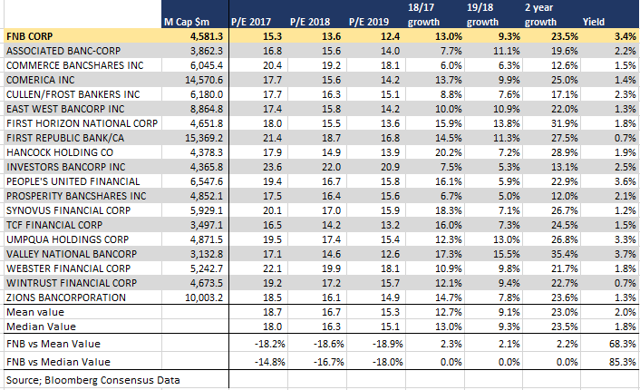 So FNB comes in materially cheaper than peers and with a markedly better yield. Anticipated growth is modestly better than the mean value and the same as the median value.
This initial screen should put the stock on the radar. If FNB can trade at 15.3x EPS out in 2019, investors would enjoy 23.5% price appreciation and nearly 7% of dividends over this two year time frame. That is a competitive two-year return profile. Investors should also note that the above numbers maintain current effective tax rates, so whatever rates prevail after Trump's tax reform is concluded may bring further upside to forecasts. FNB current has an effective tax rate of around 29%.
How should we understand the weak performance of FNB? It comes from two factors.
(1) Yadkin. In July 2016 FNB announced the acquisition of Yadkin Bank, and the transaction completed in March 2017. Yadkin was the first dilutive acquisition in FNB's history (by 8.5% to TBV with a 4-5 year earn back period forecast), and it engendered concern that FNB posed greater acquisition risk than the market had assumed. In essence, would FNB now start paying too much for growth?
(2) Wobbles in recent earnings announcements. 2Q17 saw an estimates downgrade for 2017 due to timing issues with the closure of the Yadkin deal. That will not repeat. Then, 3Q17 saw a surprise core NIM contraction at a time of generally stronger NIM performance among regional banks.
Let's take a look at each of these in turn:
Yadkin was likely a one-off
I think it is likely that the dilutive Yadkin deal was a one off. FNB is a growth company, and its management like to acquire portfolios of loans and deposits when the price is right for them to deploy capital. This strategy gets materially more difficult when a bank's PE ratio is lower than its peer group as in effect its acquisition currency is weaker. However, as well as the lesson being learned in terms of the market's reaction to a dilutive acquisition, there is a practical reason for investors to relax about a repeat of Yadkin.
Yadkin was a significant acquisition that increased FNB's balance sheet by one-third, and there is a concerted business integration effort underway. While this goes on, one would not expect FNB's management to be eyeing other acquisitions, and management has confirmed this is the case.
More importantly, now that the cost of Yadkin has been absorbed by the stock in terms of its absolute and relative performance, investors should be asking another question. Why did FNB do it? What does Yadkin bring to FNB? The answer is access to South Eastern banking markets, and this is meaningful in two respects. It should give FNB higher natural growth, given SE bank markets have fairly rosy demographics. And, second, it could be argued that this should warrant a higher longer term earnings multiple for FNB, which makes a re-rating of the stock a material possibility.
Earnings outlook is solid
Although the headline net interest margin (NIM) increased by 2 bps in 3Q, the core NIM, which is derived by removing accretion and cash recoveries from the headline NIM, was 3.34% vs. 3.39% in 2Q. This caused a negative share price reaction with the stock down 3.5% on the day (18th October) and 7.5% over the next month. The pressure on NIM came from a strategic decision to acquire new deposit accounts, with the campaign being fuelled by FNB's data analytics capability and a goal of a $600m inflow. This generated higher funding costs, but as FNB management pointed out on the conference call, it locked in longer term funding and with new households joining FNB at a healthy clip, should be good for product sales and thus fee income going forward. Here is CEO Vincent Delie explaining the move on the 3Q analyst call.
During the third quarter, we strengthened our ongoing deposit gathering efforts to better position the balance sheet with a more favorable customer base funding mix. Strategically, these efforts are built on driving new household account acquisition and increasing product penetration. We expect this type of deposit gathering will lead to long-term relationships, where we can provide other valuable products and services and further expand our customer base.
And here is CFO Vincent Calabrese on the same subject (my emphasis in bold)
On an annualized basis, average total deposits increased 1% compared to the second quarter, with growth of 4% in non-interest bearing deposits and 3% in interest-bearing demand balances, partially offset by decline in savings balances. However, on a spot basis, total deposits increased 17% due to efforts during the quarter dedicated to attracting new relationships and growing customer base deposits.
In all, then, I view the drop in core margin as unalarming and not something that is likely to repeat, while the move behind it has longer term benefits anyway. As can be seen in the chart below, 3Q17 growth in net interest income was acceptable, and fee income was also solid after very strong capital markets activity lifted 2Q non-interest income untypically high.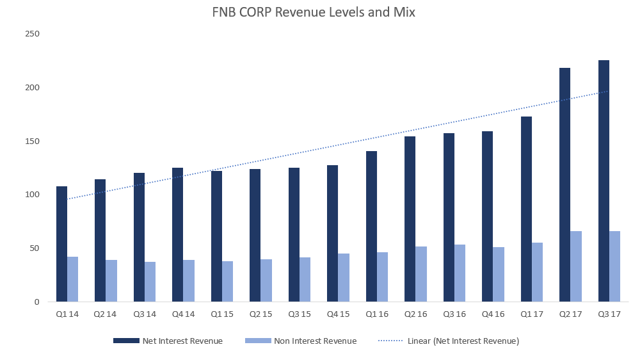 Source: Company Data
A double-digit EPS progression is eminently achievable from here. First, present growth rates of nearly 7% YoY in total loans is sustainable while the growth of 10% in consumer loans is margin supportive from a mix perspective even if the volume was mainly added in residential mortgages. After all, Consumer loans are over 1/3 of the total loan book at FNB, so a materially higher growth rate in this book is impactful.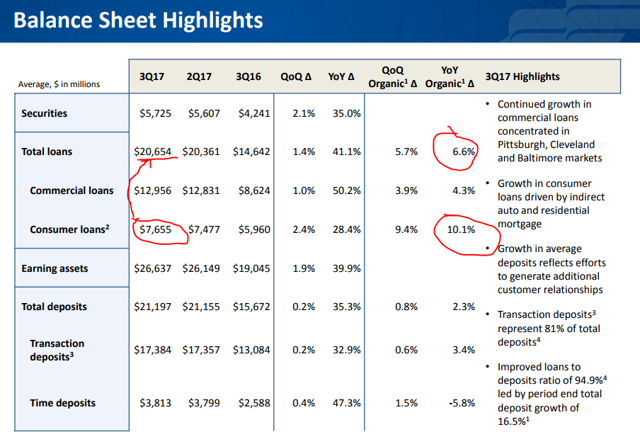 Source: Company Data
Investors will also note that commercial loan growth was strongest in Pittsburgh, Cleveland, and Baltimore. Yadkin (the branches of which were in North and South Carolina) is not yet firing in terms of its contribution to loan growth.
If interest earning assets are moving at the mid-high single digit range, then revenues should broadly follow this with upside from higher rates and the development of the fee income mix over time. As we can see in the income chart above, net interest income is much the largest revenue line and the 3-4% growth I think we can expect from an expanding NIM (on 100 bps of higher rates) should lift revenue growth to 9-10%.
The funding mix has a material and growing component of non-interest bearing deposits which account for funding of around 20% of the total asset base, as can be seen below. This should help mitigate the short-term repricing impacts as interest bearing liabilities and loan pricing rolls in response to rate hikes. I believe FNB is positively geared to higher rates.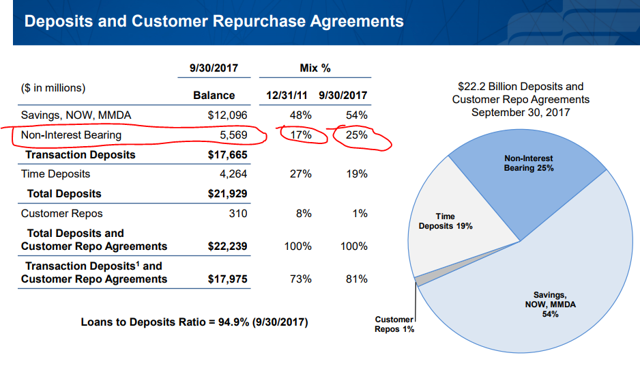 Source: Company Data
To this picture we need to add improved operating leverage.
FNB has already embarked on its post-Yadkin efficiency program with 25% of cost savings already attained. The current YTD 2017 efficiency ratio (operating costs/operating revenues) is 54.7%, down from 55.4%. This includes merger related expenses of close to 1% of total costs. Longer term, FNB targets 53%, which would put it in the same league of efficiency as the mighty US Bancorp (NYSE:USB).
As we see in the chart below, FNB has raised its operating margin to 44.8% (operating margin is simply the inverse of the efficiency ratio). Revenues are now growing faster than costs.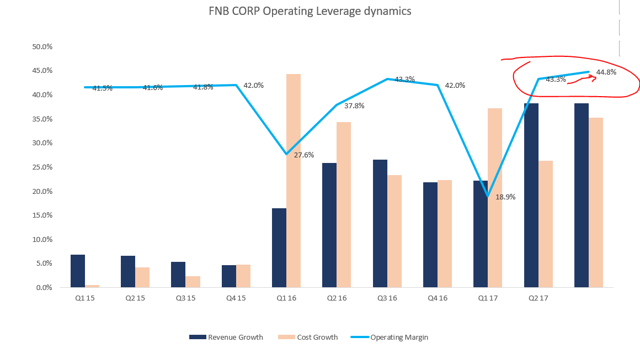 Source: Company Data
The 53% target for the efficiency ratio appears reasonable. Targeted efficiency savings from Yadkin amount to around 260 bps of total reduction in the efficiency ratio and approximately one quarter of this initial target saving has already been achieved. From here, were revenue to grow 10%, an 8% growth rate in costs would take the efficiency ratio to 53.7%, well on way to the target level. A number of US banks are posting this kind of "jaws" (the difference between income and cost growth) at the current time.
The progression of the efficiency ratio to 53% over the next couple of years will add 3% to operating income before other income effects such as fee growth, balance sheet volume growth, and NIM expansion are considered. And this will drop to pre-tax profit assuming constant rates of loan loss provisioning, which is a reasonable assumption given the improving growth of the US economy and contained state of inflation.
On this basis the sort of growth consensus is looking for appears realistic and the value case for FNB is confirmed.
Conclusion
The catalyst for FNB is simple is delivery. As the benefits of the Yadkin purchase come through and FNB produces peer comparable growth, its lower P/E will prove attractive and the stock should provide alpha over its peers and benchmarks like the KRE. The downside protection is that the discount already prices in a more sluggish EPS outlook. FNB is a buy. I am adding the stock to the Financial Sector Opportunities US Financials Portfolio over the coming days.
Thank you for reading this Seeking Alpha PRO article. PRO members received early access to this article and get exclusive access to Seeking Alpha's best ideas. Sign up or learn more about PRO here.
Disclosure: I/we have no positions in any stocks mentioned, and no plans to initiate any positions within the next 72 hours.
I wrote this article myself, and it expresses my own opinions. I am not receiving compensation for it (other than from Seeking Alpha). I have no business relationship with any company whose stock is mentioned in this article.
Additional disclosure: I have made the decision to add FNB to the FSO US Financials Portfolio but am not yet long.