Extended Stay America (NYSE:STAY) was enjoying a strong start to 2017 until its Third Quarter Earnings Report on Tuesday, November 7th, which sent shares almost 20% lower in trading later that day.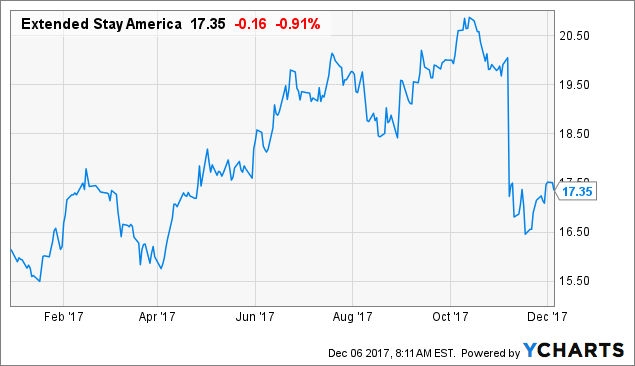 STAY data by YCharts
The hotel operator missed estimates on both the top and bottom line during that report in addition to lowering full year revenue guidance. While those three things in conjunction will obviously (and usually deservedly) cause a stock to fall precipitously, was the sell-off overdone in the case of STAY?
3Q 2017
CEO Gerardo Lopez kicked off the Quarterly Earnings Call by describing his company's results as a "mixed bag". The industry's main revenue metric, revenue per available room (revPAR), was flat year-over-year for STAY compared to expectations for growth between 1%-3%. It's dangerous for investors to excuse under-performance too easily, but Extended Stay faced several revenue headwinds that extended far beyond its control and are transient in nature:
Movement of Independence Day, Rosh Hashana, and Yom Kippur to less favorable days of the week
Difficult year-over-year comparables stemming from the Republican National Convention and Democratic National Convention attracting large crowds around the nation while campaigning for the 2016 Presidential Election
Impact of a ruthless hurricane season
The combined negative revenue impact of these events alone is estimated by the company to be between 120 and 170 basis points. With those headwinds backed out, STAY's revPAR would've been within its guidance range, albeit towards the lower end. Operating expenses were up 120 basis points but on a year-to-date basis remain flat. It should also be noted that operating margin expanded 60 basis points year-over-year in the Third Quarter. Last year, STAY had several one-time cost cutting measures that have provided a difficult comparable for expenses in 2017 but have bore fruit in the form of a slimmer operating model. Expenses may be flat year-over-year but the company is operating in a more efficient manner. There is also a gradual hotel renovation program underway at STAY. Recently renovated hotels posted an impressive 12% revPAR growth in the quarter, confirming management's belief that this initiative will deliver value. While most of what I have just mentioned is by no means representative of a glowing performance, it is also far from justifying the stock losing nearly 1/5 of its value in a single day. The year-to-date performance of STAY affirms that view: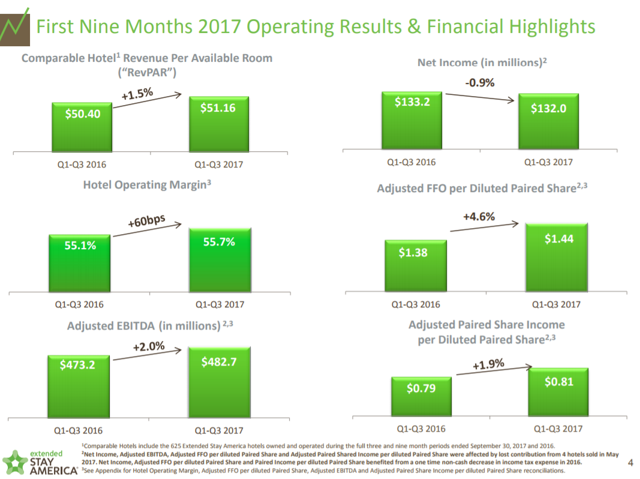 Source: Extended Stay Third Quarter Earnings Presentation
I would like to reiterate that my positive view of STAY is a relative one. The figures above are not immediately making me pound the table and buy, but when put in the context of the huge drop in the stock, Extended Stay is beginning to appear misvalued by the market.
Guidance Revision and Valuation
The excerpt below details the change in 2018 guidance for some high-level metrics (also found on the Third Quarter Earnings Presentation):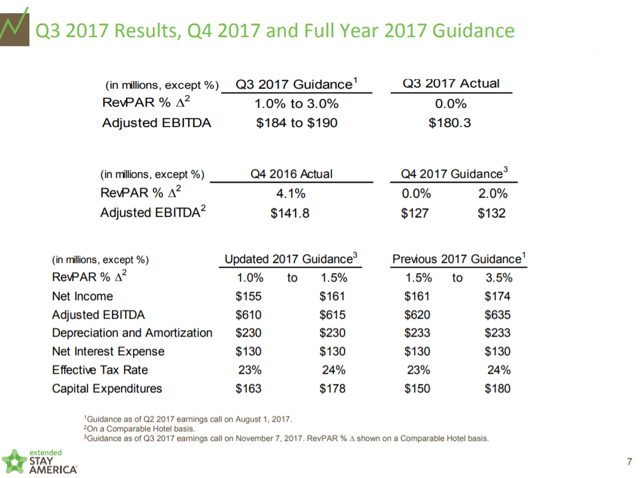 Obviously not ideal as revenue is materially affected but a closer look shows that adjusted EBITDA for the whole of 2017 was revised downward only 2.4%, or $15 million (using the midpoint of both ranges). That decline is something that can definitely be overcome in the short to medium term. Notably, analyst opinion on the stock hasn't changed due to the guidance revision. According to the Wall Street Journal, of the 13 analysts covering Extended Stay, eight have a rating of overweight or buy while five have a hold rating. These figures are unchanged from a month ago and from three months ago. Analyst price targets also indicate that experts view STAY as undervalued. The stock is currently trading just under (at the time of writing) the lowest price target on the street of $17.50. The average price target of $20.13 represents a return of 15.7%. The table below shows EPS estimates for the next two years and what today's stock price would result in on a price to earnings basis:
| | | |
| --- | --- | --- |
| | EPS | P/E |
| FY17 | $ 0.95 | 18.3 |
| FY18 | $ 1.01 | 17.2 |
| FY19 | $ 1.08 | 16.1 |
When the company's almost 5% yield and significant buyback program are factored into these P/E estimates, Extended Stay looks undervalued.
Conclusion
The Third Quarter of 2017 was not a positive one for Extended Stay America and its stock price more than reflects that currently. Missed estimates and downward guidance revisions are rarely welcome news to investors. Shareholders on November 7th were left severely disappointed by STAY and that could be partially responsible for bringing the stock down so much. On the other hand, every major fall in a stock presents an opportunity if the underlying fundamentals remain stronger than the stock price indicates; Extended Stay America falls under that category. The market reacted too strongly to the negative news that Q3 2017 brought and has resulted in a solid company that is being valued too low by investors.
Disclosure: I/we have no positions in any stocks mentioned, but may initiate a long position in STAY over the next 72 hours.
I wrote this article myself, and it expresses my own opinions. I am not receiving compensation for it (other than from Seeking Alpha). I have no business relationship with any company whose stock is mentioned in this article.