I wrote in my last article I Bought A Bitcoin, And Now I Feel Sick that Bitcoin is in bubble; whether you agree with that or not is your opinion, but the Bitcoin bubble argument aside, there is an inarguable cryptocurrency craze that is far worse than just a Bitcoin bubble. It seems that any company having relation to Bitcoin, cryptocurrencies or blockchain technology, is in a bubble. If a company's name includes "Bitcoin" or "blockchain", their stock has been providing returns we haven't witnessed since the Dot-Com bubble.
This is eerily similar to previous bubbles we have witnessed. During the Dot-Com bubble of '99-'00, if a company added ".com" or "e" to its name, the stock significantly increased and became worth more. Nothing material about the business changed, no additional sales were being made, and no positive developments occurred, the business became more valuable for no logical reason. This appears to be happening all over again. As written in The Coin Telegraph, "Adding 'Blockchain' to Name Causes Soaring Valuation," and on Cryptocoins News, "Want to Boost Your Stock Price? Add 'Blockchain' to Your Company's Name."
That being said, blockchain technology is not Bitcoin. Blockchain technology will likely be revolutionary, while Bitcoin is essentially worthless (meaning, it has no value, or its value is undefinable). It is unwise to use Bitcoin as a currency to buy goods or services because the price is rising so rapidly. This price appreciation can cause you to pay over $100 million for two pizzas, as one gentleman did a few years ago by paying for his dinner with Bitcoin. So, if it can't be used as a currency to buy anything, and when you "invest" in it you're not having any ownership in a company, what is it truly worth? What is a fake coin in your electronic wallet truly worth?
In general, individuals that are gambling by purchasing Bitcoin do not know the separation between blockchain technology and Bitcoin, causing them to bid up the stock prices of blockchain related companies. A perfect example of this irrational exuberance is Riot Blockchain Inc. (RIOT) – previously known as BiOptix Diagnostics Inc. This is a biopharmaceutical company that has had nothing to do with blockchain technology or Bitcoin. Leading up to the name change, they saw their stock price gain almost 100% in just a few days. After the name change, the stock price soared another 17%. Many people hear about their friends and family making a lot of money of Bitcoin and want to join the craze in any way they can. Sounds a lot like what occurred during the Dot-Com days, doesn't it?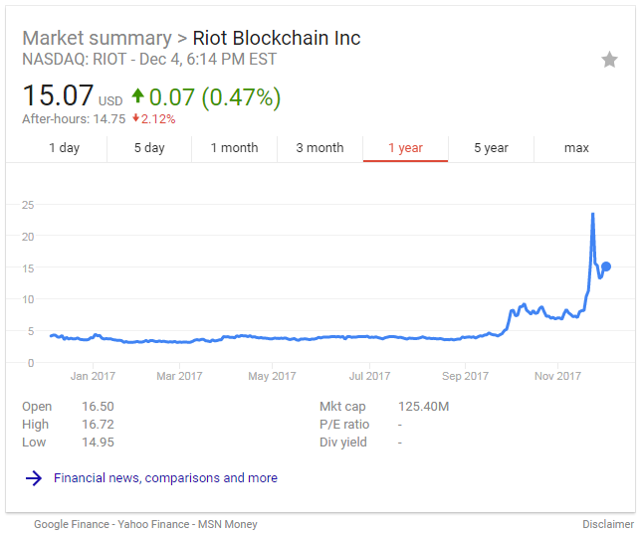 Unfortunately, It doesn't stop there. A company that has been publicly traded for over 20 years, On-line Plc (ONL), saw its largest stock price appreciation ever when it decided to change its name to "On-line Blockchain Plc". It rose over 390% in one day! Another firm changed their name from "Grand Pacaraima Gold Corp." to "First Bitcoin Capital Corp." (OTC:BITCF). The SEC had to halt trading in OTC:BITCF after it rose over 6,000%.
It's not limited to having "Bitcoin" or "blockchain" in the company name, just by having any relation to Bitcoin, an organization is able to raise significant capital and rapidly increase in value, for no logical reason. Take Bitcoin Investment Trust (OTCQX:GBTC) for example. In 2016, they had $0 in revenue, $0 in cash flow, $85,164,000 in net income and $166,246,000 in net assets, yet this company is worth $3.11 billion. Do these financial fundamentals equate to over a $3 BILLION valuation? I don't think so.
In 2016, Bitcoin Services Inc. (OTCPK:BTSC) had net ordinary income of $69,217, $89,652 in cash, $117,677 in total liabilities (the company is just $11,430 from be insolvent), and their CEO/CFO/Director, Joel C Schneider, had recently been debarred from practicing law in the state of New York. The company also had a creditor file a complaint against them, in which they reached a settlement agreement by issuing more stock. They have changed their name six times in the last 20 years, and it appears many of these name changes were in a similar effort: take advantage of the current bubble. By aligning name changes with the dates of corresponding bubbles, the company was able to significantly increase its value. Directly from the BTSC 2016 Annual Report:
"Bitcoin Services, Inc. (the "Company") was domesticated in Florida in February 2016. It was originally incorporated in Nevada in 1997 under the name "JLL Miami Enterprises, Inc." until January 2002 when its name was changed to "BMX Holdings, Inc.", until February 2003 when its name was changed to "Direct Music Group, Inc." until April 2004 when its name was changed to "Cell Bio-Systems, Inc.," until June 2006 when its name was changed to Tulip Biomed, Inc, and lastly until February 2016 when it changed its name to Bitcoin Services, Inc. On December 21, 2015, under Nevada NRS 78.347 an Order of Appointment of Custodianship was entered appointing Hamo Enterprises, Inc. to comply with NRS 78.180 to reinstate the Company with the Nevada Secretary of State in accordance with Nevada statutes. Accordingly, on January 6, 2016, the Company reinstated its business license with the State of Nevada. On February 11, 2016, the Company filed its Certificate of Amendment with Nevada Secretary of State changing the name from 'Tulip Biomed, Inc.' to 'Bitcoin Services, Inc.' Starting February 12, 2016, the Company became aware of certain information from giving rise to a state based Judgment by Confession, dated February 10, 2010, against the Company involving certain U.S. Patents, then Patent Applications, and trademarks not utilized by the Company, along with its corresponding state based lien."
Yet Bitcoin Services Inc. is worth $281.50 million. Again, this valuation does not seem deserved. Organizations with these characteristics, poor business practices, and no business model, should not be valued at these inexplicable levels.
If individuals who were taking part in this craze took the time to research the companies they are "investing" in, they would see that many of these companies have been sued by the creditors, and have stated bluntly in their 10k Annual Reports that their day-to-day operations could be ceased at any moment. Most people are not spending the time researching these firms and are blindly throwing in money due to the common fear in investing, "The Fear of Missing Out". No one wants to be on the sidelines while your friends, family and colleagues boast about their incredible returns and new riches. This has fed into the self-fulfilling prophecy of this craze.
Other organizations are simply profiting through Initial Coin Offerings ((ICO's)) by taking advantage of unsuspecting "investors" and the unexplainable bubble in cryptocurrencies and related markets. The image below is a screenshot of an advertisement on Facebook for a new coin being released. "More than 161% ROI expected for token-holders – with exponentially growing dividends by re-investing into mobile mining units." Wait…what? Did this ad just promise 160%+ returns on an investment? That statement alone speaks volumes to the cryptocurrency craze we are currently witnessing.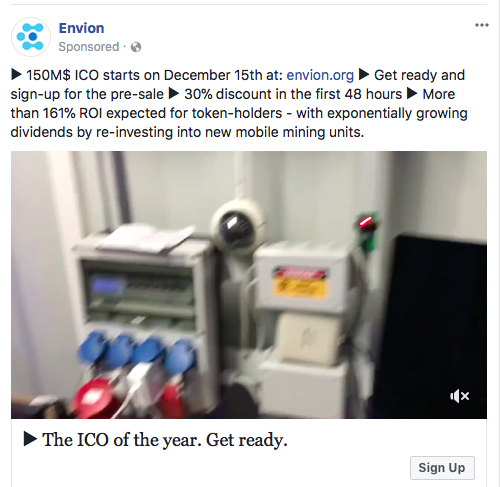 Below is another example of an ICO, this ad was listed on Instagram. There is no shortage of these ads, and similar ICO's, being offered all over the web. Normal IPO's (Initial Public Offerings) in real companies are inherently risky and usually a poor investment for individual investors; what could possibly make ICO's seem like a worthwhile "investment"? These ICO's people are participating in are pure gambling; they are relying solely on the hope that someone will buy it from you at a higher price later.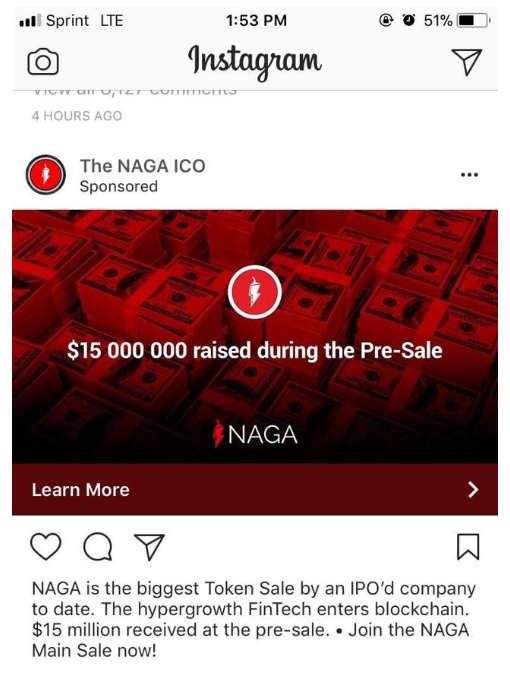 Other companies that have operated a successful business for years have also seen a significant increase in their value by adding blockchain ventures to their portfolio. Take Overstock.com (OSTK) for example, they announced their investment into blockchain technologies through their new blockchain subsidiary. In 2017 alone, the stock has risen over 300%.
On top of this incredible anomaly we are witnessing with cryptocurrencies and blockchain technology, the US stock market is also considered to be fully priced by many Wall Street professionals. The overall US stock market is fetching valuations never seen before, and has many investors on the edge of their seats. Below is one of Warren Buffet's favorite market valuation tools: the Wilshire 5,000 Total Market Cap Index vs. Gross Domestic Product of the US. The current valuations of the market dwarf the valuations of the most catastrophic bubbles in US history.

Source: St Louis Fed
You can argue there is, or is not, a Bitcoin bubble almost indefinitely. However, it is much more difficult to argue there isn't a cryptocurrency/blockchain craze plaguing the markets currently. Companies with no business plan developed, no future business prospects, minimal earnings, no assets and questionable management teams do not deserve the extreme valuations being placed on them by the market. These companies are not sound investments, they are essentially worthless, yet they are being valued at millions, and even billions. This craze has reached the point where individuals are just throwing money into it, hoping they can find someone to buy it from them for more at a later date. As people have been lucky to find others to buy at a higher price, many believe this will continue for the long haul. However, the prices can only go so high. When the peak is reached, as it inevitably will be, there will be no one to continue buying. At the peak, someone will be left holding the bag and suffer defeating losses. As this craze continues on, individuals should continue to educate themselves on the companies and "assets" in which they are investing. Between the cryptocurrency craze, and current US stock market valuations, now is a crucial time to make sure your investment goals align with your "investments". It is often better to miss out a little on the run-up, to save yourself from disastrous losses. As Warren Buffet, the world's most successful investor, has said, "Rule No. 1: Never lose money. Rule No. 2: Never forget rule No. 1."
When you have everyone from the mailman to your grandmother pitching stock and cryptocurrency "investment" ideas, you know you are entering dangerous territory.
Disclosure: I/we have no positions in any stocks mentioned, and no plans to initiate any positions within the next 72 hours.
I wrote this article myself, and it expresses my own opinions. I am not receiving compensation for it (other than from Seeking Alpha). I have no business relationship with any company whose stock is mentioned in this article.
Editor's Note: This article covers one or more stocks trading at less than $1 per share and/or with less than a $100 million market cap. Please be aware of the risks associated with these stocks.