On Wednesday, December 20th, before the bell, BlackBerry (NASDAQ:BB) will announce its fiscal third-quarter results for the three months ending in November. The stock has been one of this year's winners, thanks to a huge financial award levied against Qualcomm (NASDAQ:QCOM), with the associated payment helping to strengthen the balance sheet, and thus, potentially promising a bright future. As the company continues its transition to a business based on software and services, this quarterly report is likely to be the first real glimpse into BlackBerry's future.
Even though the decision was made to end internal hardware development more than a year ago, legacy revenues from the phone business and service access fees still contributed a fair share to the company's top line. That situation has dramatically changed over the past year, as seen in the chart below. In the company's fiscal second quarter, the software and services segment provided almost 78% of GAAP revenues.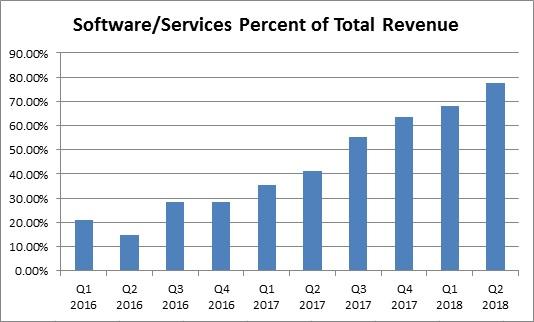 (Source: BlackBerry financial documents page)
For the third quarter, management has guided to hardware (or mobility solutions) revenues of up to $5 million and service access fees revenues of about $20 million. With analysts currently looking for $216.6 million in total non-GAAP revenues, that implies the Street expects about $192-197 million in non-GAAP revenues. In many recent quarters, GAAP revenues have been about $10 million less, implying that the software/services segment could be around 90% of GAAP revenues.
In the first half of the fiscal year, results were very messy. I say that because the huge Qualcomm award made the bottom line look tremendous in Q1, but that was obviously a one-time item. In Q2, there was a big collection of service access fees, as well as a huge IP deal that seemed to be very secret. Without that IP deal and other licensing revenues, the rest of the software and services segment showed zero non-GAAP revenue growth over the prior-year period, as seen in the table below.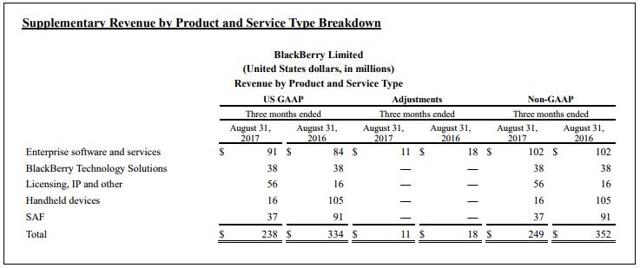 (Source: BlackBerry Q2 2018 financial information document)
For those that talk about BlackBerry with a huge automotive gem in QNX, or the future of logistics in Radar, or about all of this strength in enterprise, it is time to show some growth. With management guiding to little IP revenues during the back half of the year, the first two segment lines detailed above will need to show decent growth moving forward. Management can talk about "wins" as much as it wants, but if they don't eventually lead to revenues, what's the point?
For BlackBerry's turnaround to continue, the company must also show it is on some sort of path to real profitability. In fiscal Q2, the business had an operating loss of $34 million if we subtract out one-time items like the debt adjustment and impairments of long-lived assets. With that being on a GAAP revenue base of $238 million, it seems hard to move the needle toward the flat line with Q3 GAAP revenues likely to come in below $210 million. That's especially true if gross margins decline sequentially with the expected fallback in service access fees revenue.
It would also be nice for the company to not reduce/weaken its guidance for the full year at this report. Already during the fiscal year, management has taken down its software/services revenue growth forecast twice. The initial expectation for above market growth was one of the reasons why investors have been so giddy, but now the company just expects to grow at a rate similar to the market. Also, cash flow guidance has been adjusted in a negative way to exclude restructuring costs.
Another big question is where the cash pile will end up. Did management make any acquisitions in the period to help with future revenue growth, and was the company actively buying back stock under its share repurchase program? BlackBerry ended Q2 with $1.876 billion in net cash (using the face value of debt), but that number could easily go down, especially if the Nokia (NYSE:NOK) award was paid out before the quarter's end.
BlackBerry shares have traded between $6.99 and $11.77 during the fiscal year, and closed Wednesday at $10.21. We are just two weeks away from the Q3 earnings report - one that will show a clearer picture on the future of the business. Software and services revenues could be 90% of the company's total, which is also likely to show us if this business can be profitable anytime soon. I'm most curious to see if the company finally put some cash to use, along with what management might be thinking about growth prospects for fiscal 2019. This report will bring the company to an interesting calendar year end. A good report could send the name towards new highs as 2017 ends, while a disappointing one likely will reduce the non-Qualcomm gains seen in the stock this year.
Disclosure: I/we have no positions in any stocks mentioned, and no plans to initiate any positions within the next 72 hours.
I wrote this article myself, and it expresses my own opinions. I am not receiving compensation for it (other than from Seeking Alpha). I have no business relationship with any company whose stock is mentioned in this article.
Additional disclosure: Investors are always reminded that before making any investment, you should do your own proper due diligence on any name directly or indirectly mentioned in this article. Investors should also consider seeking advice from a broker or financial adviser before making any investment decisions. Any material in this article should be considered general information, and not relied on as a formal investment recommendation.