Continuing our weekly series, Open Insights, we'll take a look at the EIA's Weekly Petroleum Status Report ("WPSR") for the week of December 1, 2017.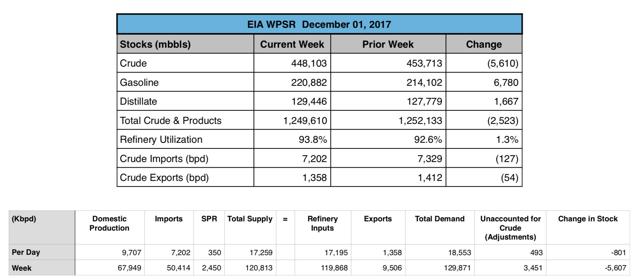 EIA today reported a crude draw of 5.6M barrels, which included another SPR release of 2.4M barrels. Combined with the SPR, total crude inventories drew by almost 8M barrels. Crude exports held relatively steady from the prior week, and higher refinery utilization, now coming in at 93.8%, increased refinery crude demand by 1.2%, or 1.7M barrels, for the week. We again parrot the line that WTI and LLS/Brent spreads remained healthy last week, and we continue to anticipate US inventories to be drawn out of storage for export.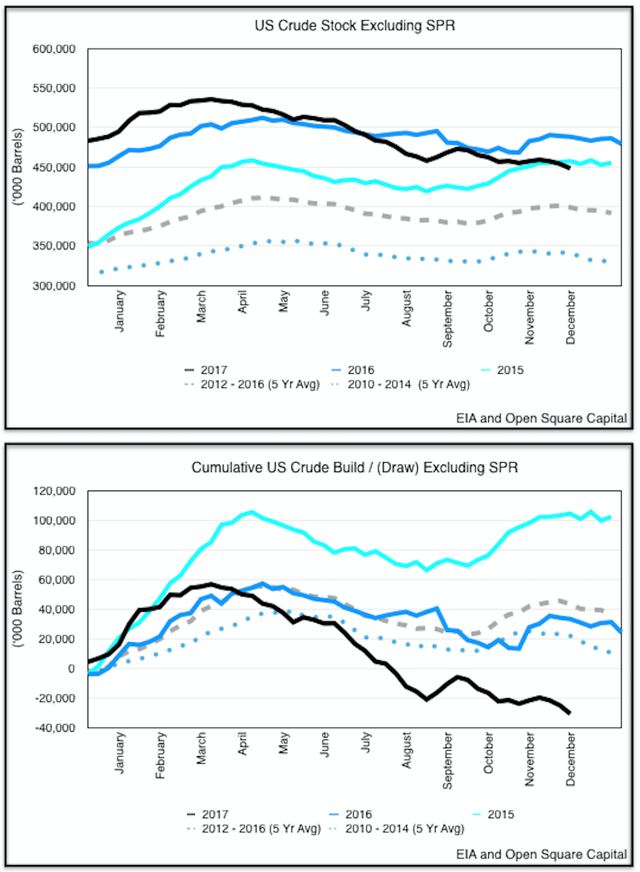 Gasoline inventories increased by 6.8M barrels and distillates increased by 1.7M barrels, both substantial given prior weeks, but not altogether unexpected because of the time of year. The 5-year average for this week is a 2.8M barrel gasoline build, while distillates typically increase by 3.3M barrels, so while the gasoline figure was bearish, the distillate stock was bullish.
Here's our updated chart for total US crude and products.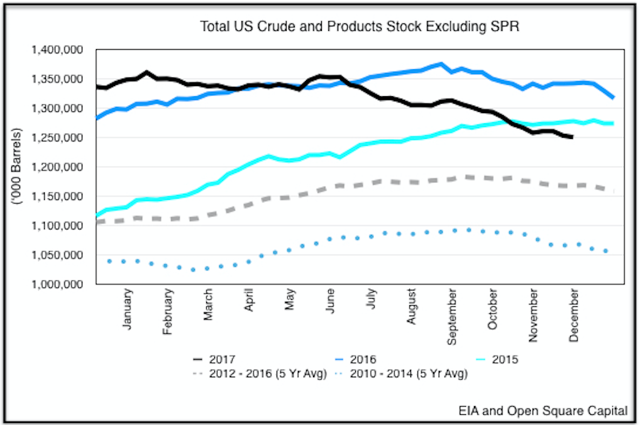 As always, we'll leave you with some food for thought.
Let's chat about refinery utilization. In the WPSR, the EIA surveys the top 90% of refiners by volume, and then estimates the remaining 10%. For this time of year, the 5-year average is 92.1%, whereas this week refinery utilization came in at 93.8%. Now, 1.2% doesn't sound like much, but keep in mind that the 92.1% for the 5-year average was an input of 16.4M barrels per day ("bpd") over a total refinery capacity of 17.9M bpd.
For this week's WPSR, the input was 17.4M bpd over a total refinery capacity of 18.6M bpd. Refinery capacity has increased by over 700K bpd (or 2.1M barrels per week) in the past 5 years. If the EIA is estimating 10% of refinery production (i.e., 1.8M bpd), even a 5% error rate would increase/decrease demand by close to 100K bpd, or 700K barrels per week, and this error rate increases as refinery capacity increases.
Put another way, the accuracy of that estimate needs to get tighter as refinery capacity is added. Hurricanes only complicate this analysis, and we noticed that the adjustment factors have been elevated since Hurricane Nate struck. Perhaps the large adjustment is both a factor of underestimating production and overestimating refinery demand, but based on what we're seeing for US production, we highly doubt the adjustment is being caused by underestimated US production.
Lastly, for SPR draws. In the next two weeks, we believe you should expect to see a 2.4M barrel release for the December 7th week and a remaining 700K released for the December 14th week. Thereafter, we'd expect to see a build of 3.5M barrels due to hurricane barrels borrowed being returned (from late December to January), which should serve as a tailwind. On the SPR front, there will likely be more releases once the 2018 FY federal budget is finalized (and the Republican tax plan is passed), as both have SPR-specific releases as revenue raisers, so stay tuned for more information on that as it become available.
As always, we welcome your comments. If you would like to read more of our articles, please be sure to hit the "Follow" button above.
Disclosure: I/we have no positions in any stocks mentioned, and no plans to initiate any positions within the next 72 hours.
I wrote this article myself, and it expresses my own opinions. I am not receiving compensation for it (other than from Seeking Alpha). I have no business relationship with any company whose stock is mentioned in this article.