WTI crude oil fell nearly 3 percent on Wednesday, adding to losses since it peaked at $58.94 (WTI Cushing) on November 24. Wednesday's sell-off, its biggest daily decline in more than two months, came in the wake of a sharp rise in US inventories of refined fuel, which suggests (even confirms) that demand is falling. The oil market's concern was further exacerbated by news that US crude production hit another weekly record. Brent crude ended down 2.6 percent. Gasoline futures, RBOB RBc1, dropped 3 percent to $1.6658 a gallon. Lackluster demand will prevail over the next 4-6 weeks.
US gasoline stocks rose by 6.8 million barrels, and distillate inventories were up 1.7 million barrels, according to an EIA report. Gasoline stocks typically tend to build in December until January on falling demand and declining consumption. The market was surprised by 221 million barrels of inventory - stocks are slightly above the five-year average for this time of year. The next likely market surprise should be a significant fall in refinery oil input, following the decline in gasoline production in the past several weeks. But subsequently, usually by February, gasoline consumption will start picking up and gasoline stocks will start drawing again (see chart below). These future developments are illustrated by our simple models of gasoline consumption and of the gasoline stock building process.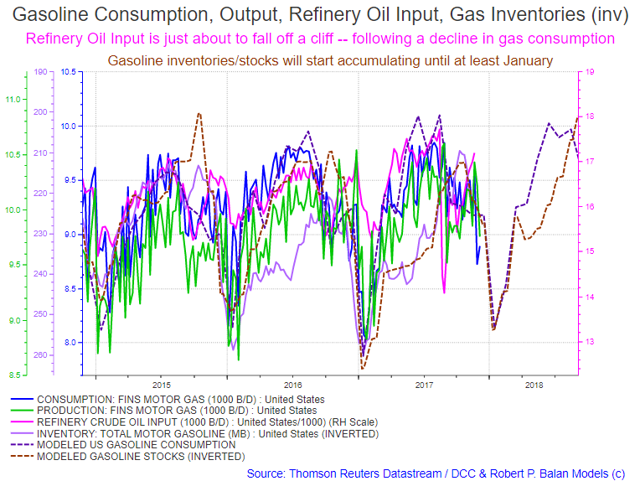 Here is a zoomed view of the last cycle of this seasonal occurrence, showing the intricate links between gasoline consumption and production; as well as the time lag between gasoline production and refiner oil inputs. This zoomed view also underlines how long gasoline stock build/draw lag behind the primary factors of demand and production (see chart below)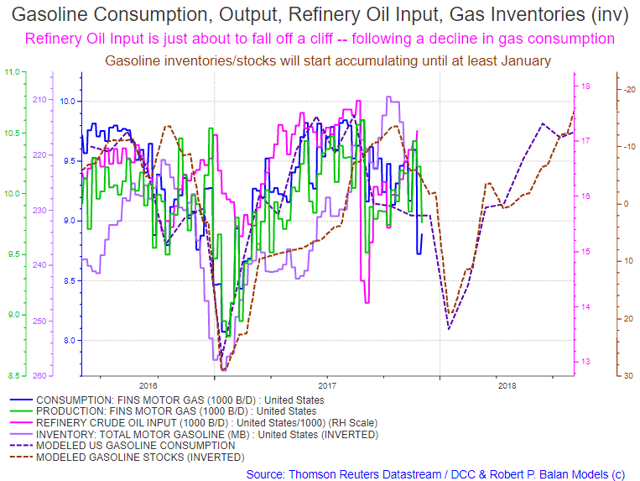 As a corollary to the above developments, the crack spread is starting to narrow again - and that will likely be the case until January at least. The consequence should be gasoline prices being put under further pressure (see chart below). Gasoline prices peaked on November 8, and have been spiraling lower as the refineries gear up for the winter season.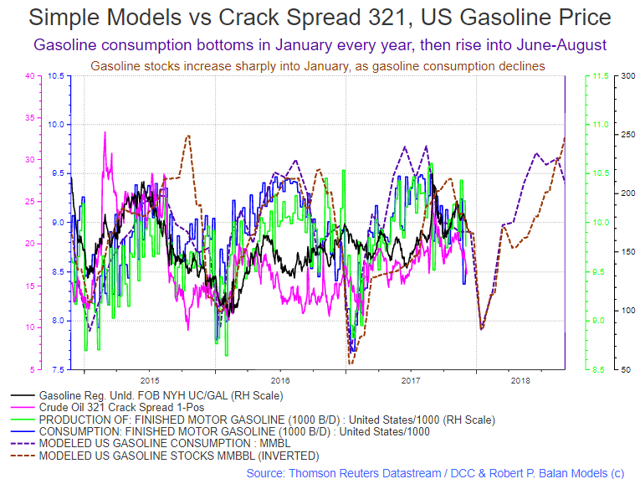 Falling gasoline prices are a concern because falling product prices will, sooner or later, pull down crude oil prices as well. Crude oil prices are not as susceptible to seasonal tendencies that define the behavior of gasoline prices, but crude oil prices cannot ignore falling product prices for very long (see chart below).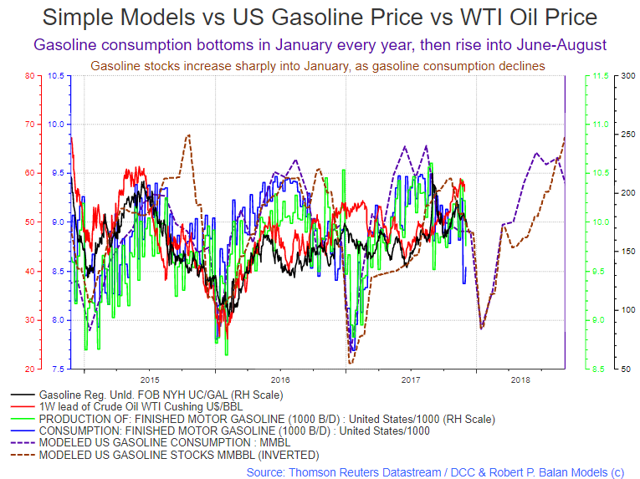 What do these market developments mean for E&P and Refiners equities?
Surprisingly, Refiners equities do not correlate very well with gasoline prices or the price of crude oil. Quarterly changes in Refiners equities (proxied by Valero (NYSE:VLO)) has some good correlation with the changes in Crack Spread 321, and will therefore be subject to the implications of the simple models for gasoline consumption and stock building (see chart below).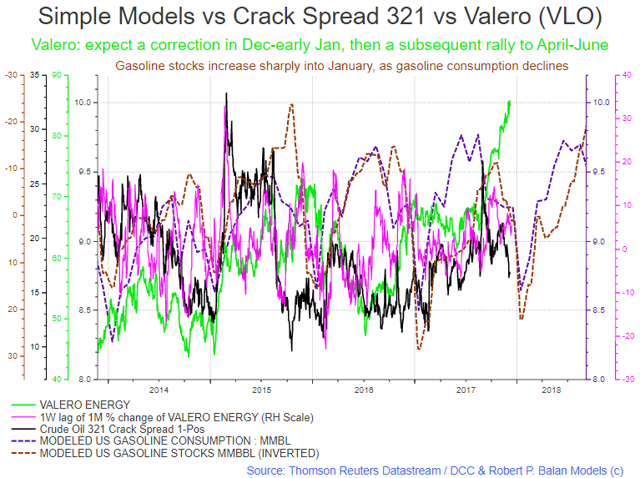 But the best leading relationships one can find for Refiners equities is with global demand and global consumption. (I tried US data, but I get random, and therefore unsatisfactory, results.) Net global oil demand and consumption is expected to fall in December up to early January. Hence, I believe VLO will likely correct to the downside in December, probably even up to January. A recovery from those low points will likely extend its gains up to March-April (see chart below).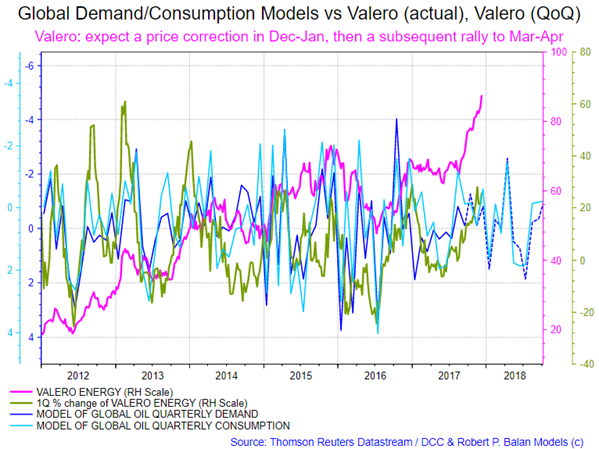 We use the same analytical platform for the E&P companies (proxied by EOG Resources (NYSE:EOG)). I believe (EOG) will pull back during December (may extend weakness to January), and then rally into March-April (see chart below).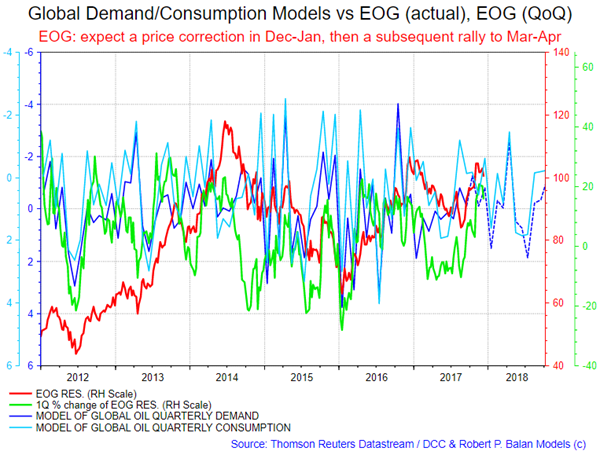 For methodologies used in the above analyses, more information is available in this Seeking Alpha article: "As The OPEC-NOPEC Nov. 30 Meeting Approaches, Global Fundamental Oil Data To Reassert."
For fundamental discussion of VLO and EOG, I recommend these recent Seeking Alpha articles:
"Valero Energy: A Strong Refiner For The Long Term But Too Expensive Now"
"EOG Resources - Impressive Results But Priced Too High"
Disclosure: I/we have no positions in any stocks mentioned, and no plans to initiate any positions within the next 72 hours.
I wrote this article myself, and it expresses my own opinions. I am not receiving compensation for it. I have no business relationship with any company whose stock is mentioned in this article.