By Jason Teed
Last week, at the last minute, the U.S. Senate was able to pass their own version of tax reform, which will now head over to the House for reconciliation with their bill. This has significantly increased the likelihood that the GOP will gain traction with these bills and be able to pass some type of tax reform in the near future.
This was a boon to sectors that will be able to take significant advantage of these reforms, such as Financials. Tech stocks were not particularly affected, being less sensitive to such reform. This has had the effect of keeping the U.S. market elevated versus the movements of other countries this past week.
While the U.S. is enjoying relatively quiet equity markets, the momentum rankings of virtually all riskier countries fell fairly significantly last week. The iShares MSCI China ETF (MCHI) is down more than 5% for the last week (as of this writing), while the S&P 500 enjoyed a small gain. Latin America has also moved further downward in its rankings over the past week, falling from -4 to -18.
Factors also seem to indicate a reduction in the appetite for risk. Growth stocks fell the most, while Value stocks enjoyed nearly reciprocal gains (suggesting market participants are repositioning, despite relatively stable equity markets overall). Additionally, the momentum factor fell, and higher-yielding stocks rose.
While politics can provide a temporary boon to the market, it's difficult to change the course of a barge. The markets are no different: fundamentals steer the ship. It appears that appetite for risk across the globe is deteriorating. It remains to be seen whether the U.S. can keep itself isolated and pull other markets along its upward path.
Sectors: Among Sector Benchmark ETFs, the average momentum score increased from 13.5 to 17.6. Technology significantly decreased in ranking over the week. Cyclical sectors rose the most, followed by sensitive sectors, and lastly by defensive sectors, indicating an increased appetite for risk. Financials led the movement upward with an increase in momentum score of an impressive 20 points. Techs suffered somewhat, but movements out of Tech were coupled with movements into Finance, a more cyclically sensitive sector, indicating that shifts were not due to a change in overall market outlook but on sector-specific performance.
Factors: The leading Factor Benchmark ETFs give a less-clear story than sectors. While overall momentum was up, with an increase in average score from 20 to 23, less-risky factors increased the most, up 7.8 points from last week. Riskier factors fell 4 points on average last week. This was largely due to a 10-point fall in the momentum score of Growth stocks and Value stocks' 11-point rise. Momentum and Small Stocks also fell, indicating that caution may be advised.
Global: Global Benchmark ETF momentum scores also suggest caution. The average score fell from 16.2 to 7.8 last week. Additionally, lower-risk countries (such as the U.S., U.K., and Eurozone) fell on average only 3.5 points, while riskier countries fell over 17 points last week, with China leading the move downward, falling 30 points. Riskier countries tend to lead the world market and could be indicative of a lesser appetite for risk or an upcoming market correction.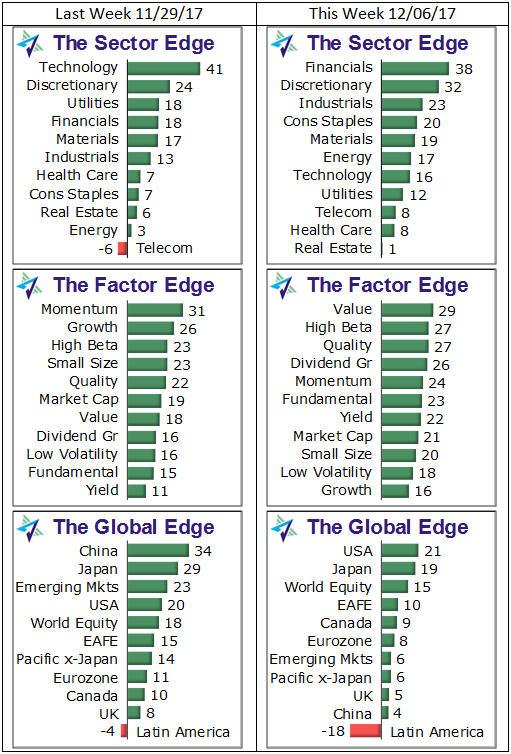 Disclosure: No communication by Dynamic Performance Publishing or our employees to you should be deemed as personalized investment advice. Any investment recommended in this newsletter should be made only after consulting with your investment advisor and only after reviewing the prospectus or financial statements of the company. Dynamic Performance Publishing, its affiliates, and clients may hold positions in the recommended securities. Results are not indicative of holdings for clients of Flexible Plan Investments. Forwarding, copying, or otherwise duplicating this information for the use by anyone other than the intended recipient is expressly forbidden. These results are not representative of those achieved by clients of Flexible Plan Investments, Ltd. (FPI) due to differences in security selection, timing of trades, transaction fees, and FPI's management fees.