Applied Materials: Diversity, Growth, & Value
I made my first investment in Applied Materials (NASDAQ:AMAT) earlier this year at $42/share seeing upside to about $60/share. Since then I've seen my investment thesis play out nicely as the stock peaked at $60/share just last month, before falling to sub-$50 briefly last week. After re-evaluating Applied Materials stock, I believe there is another 40-50% growth in the shares based on improving business fundamentals, revenue growth, and valuation.
Applied Materials business should scale with secular trends in smart technology, home devices, and smart vehicles, but I see value and growth in 2 specific segments of their business, those being OLED display technology, and memory production.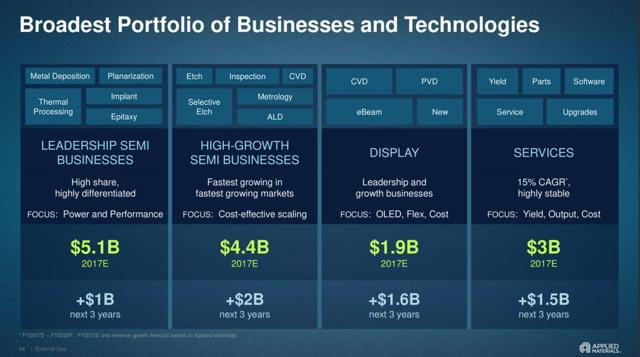 (Source: Applied Materials)
The stock trades at a very low multiple of forward earnings because their business has historically been cyclical as the demand for technology-driven products has been inconsistent and trend-driven. This risk is now well mitigated by a diversified set of demand drivers within their business and a much longer-term trend in technology adoption. Additionally, tax reform will encourage businesses to make investments in improving their technological infrastructure, which will drive growth in Applied Materials' largest business sectors.
OLED As A Driver of Growth For Applied Materials
The sector of Applied Materials' business which gives them an edge over competitors like Lam Research (NASDAQ:LCRX), which is growing at a similar rate and competes in the same sector, is their display business. Their exposure specifically to OLED technology will be a driver of sustained revenue growth in Applied Materials, improving the long-term viability of the investment. These displays have greater vibrancy, darker blacks (due to the ability to shut off and control individual pixels), and better power efficiency. They are more expensive to produce than LCD displays, but as costs begin to steadily decline, even more consumers will purchase their first OLED television.
OLED TV Penetration Rate 2012-2016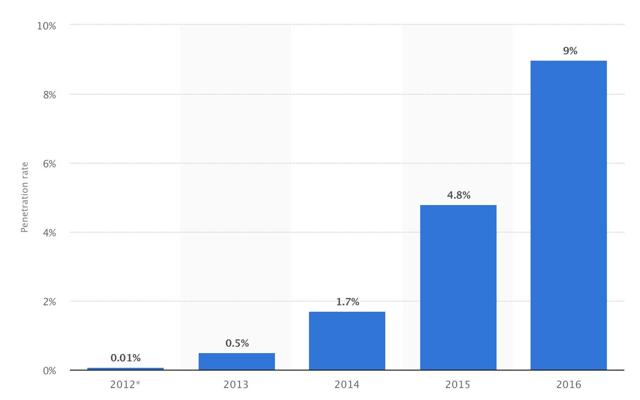 (Source: Statista Research)
OLED technology has improved in quality by a large margin over the past decade. Given Apple's (NASDAQ:AAPL) recent adoption of the technology in the iPhone X, there are indications this technology is maturing and will start to see adoption on a much wider scale. OLED televisions are incomparable to any LCD display and provide a much more enjoyable viewing experience. This is, of course subjective, but the popularity of OLED technology has proven to be strong from consumers over the past 4 years, as adoption rates have grown from less than 0.01% in 2012 to 9% of the total television market in the US in 2016.
Forecasted Global OLED TV Unit Shipments (in millions)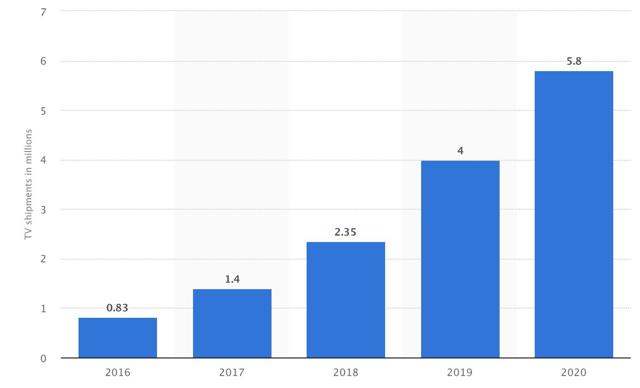 (Source: Statista Research)
Growth is not expected to slow down in the near future. Shipments of OLED televisions are expected to grow 4-fold from 2017 to 2022, and that is likely to grow as the market becomes saturated, more affordable competition enters, and OLED becomes a standard technology rather than a niche, high-end alternative. Right now, OLED is in a similar state that 4K technology was a few years ago.
They had begun developing 4K displays for consumer applications, but the high prices only attracted niche markets of video and photo editors, animation, and other professional markets. As 4K technology found its use outside of the niche markets, it quickly grew market share and prices fell, as they were able to be produced more efficiently and at a greater scale.
The Transition From HDDs To NAND Memory
A large part of Applied Materials' business is in providing memory production equipment to the large and notable memory manufacturers, like Micron Technology (NASDAQ:MU). NAND is functionally superior to its HDD (Hard-Disk Drive) competitors by almost every standard by which the two can be compared. NAND memory, especially NVME memory, can be up to 20x faster than a standard hard drive, and due to hardware limitations in Hard Drives that will continue to expand.
NAND also runs cooler, uses less energy, and are virtually silent. Keeping a server room cool is a challenge given they are a room full of spinning metal disks, but NAND memory has no moving parts, and therefore stays much cooler, and uses less energy.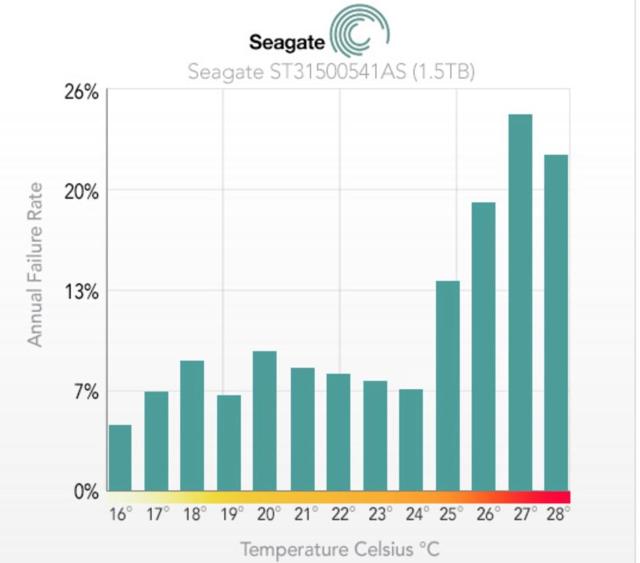 (Source: BackBlaze)
Hard Drives can have severely limited lifespans if they function outside of the manufacturer recommended temperatures, and will see abnormal rates of failure. As NAND memory has improved in quality, speed, and value, businesses are looking to update their server technology with NAND memory that lasts longer, are exponentially faster, and use less energy than standard HDDs.
The relatively slow SATA speeds of NAND drives have had a negative effect on the adoption of NAND. However, new NVME technology allows drives that communicate through PCI-E, allow for adequately faster speeds. Enterprise servers are often slow to upgrade their components as trends in technology can move quickly and will wait for a new technology to mature before choosing to make the move to upgrade their systems to something like NAND. Data, and the need to store it, is growing rapidly. Hard drive technology is still cheaper on a per-gigabyte basis, but the energy and cost to cool are still greater.
Memory Market Trends in Consumer and Enterprise (2013-2020)


(Semiconductor Industry Trends)
Market adoption of NAND in consumer and enterprise devices is still surprisingly low at just 9% of the total memory market. While HDDs still serve a purpose for storage that isn't speed dependent, SSDs will continue to eat into the market share at a rapid pace. There is such a pent-up demand for companies to transition to faster NAND memory, that the supply side of the market hasn't caught up until late this year.
In the past, when NAND prices fell, it was due to a lack of long-term demand, and there was little buying support. When prices start to come down in early 2018, I expect we will see a second large wave of buying that have been waiting for an opportunity to buy at a lower price when demand cools off. Margins will stay safe, and memory companies will have ample cash flow to invest in capital equipment from Applied Materials.
Risks Of Cyclicality Are Well Mitigated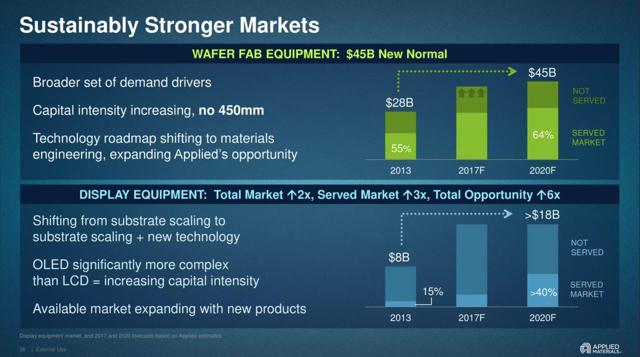 (Source: Applied Materials)
Similarly to what is currently happening with Micron Technology (NASDAQ:MU) stock, Applied Materials is adjusting from being a highly cyclical and unpredictable company in terms of profitability to a company that is cyclical but to a much lesser degree, and with a muted effect on profitability. The diversity of demand drivers for Applied Materials' business will do a good job mitigating the violent swings in profitability and revenue Applied Materials has seen over the past several years.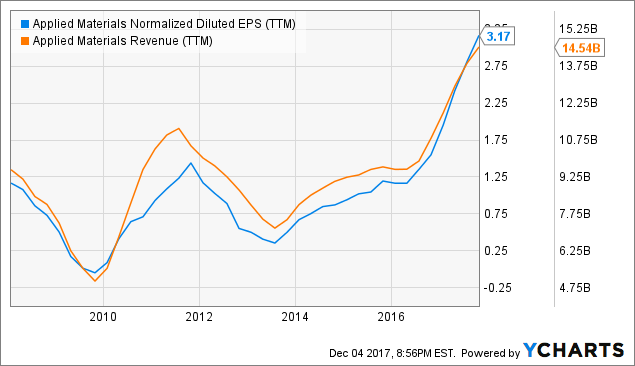 AMAT Normalized Diluted EPS (TTM) data by YCharts
Industry trends such as the "Internet of Things," smart home products and smart speaker systems are diversifying the demand for Applied Materials' products. As vehicles become more intelligent and adopt driver-assistance and advanced driverless technologies, the need for computational power and memory will continue to serve as an entirely new market, further disrupting memory supply and demand balances. Vehicles currently only require about 0.5gb of DRAM, and 16gb of NAND memory, representing a very small market for technology. In the future, cars with driverless and driver assist technology could need upwards of 60-80gb of DRAM and up to 1TB of NAND storage.
Due in part to Moore's Law, as computing and memory technology have advanced, capital expenditures per bit growth in memory have been steadily increasing over the course of the last several years. As capital intensity rises in these businesses, Applied Materials will continue to see strong demand from memory producers, as the need for expanded and advanced capacity push the market forward.
"Stronger For Longer"
There is a common investment thesis for memory and semiconductors that business will stay stronger and immensely profitable for longer before seeing a downturn. In the past, semiconductors served a small number of markets and thus ran into profitability issues when sales slowed, because there weren't many other industries demanding the product in high enough quantities to keep the price support.
Applied Materials has broader applications across many new sectors of the economy in 2017. They are no longer overly dependent on revenues from one or two specific industries, and won't see the same cyclical profit swings that were common in the past. The stock is trading at only 12x forward earnings, despite continued expected growth in the sector through 2019 and most likely until 2021/22.
The semiconductor business is now capital intensive and built on a moat of intellectual property and patents. Small companies and startups struggle to raise enough capital to compete at scale. Applied Materials also has a strong cash position with ample cash flow expected in the coming years that could be used for M&A if the industry is getting too crowded. Given the difficulty to enter the business and a large increase in demand for their products, Applied Materials can maintain pricing power and market share as the market expands.
The main driver of this long-term growth is the importance of AI and machine learning. AI servers have applications in Finance, Hospitals and Medicine, Heavy Industry, Transportation, Video Games, Marketing, and so many more. Although demand from these individual businesses may be cyclical, their growing exposure to countless new industries will mitigate much of the risk that one sector can have a large impact on their total revenues. These stocks are cheap because they price in cyclicality, but if their business really is stronger for longer, then the shares should see a valuation expansion over the next several years.
Discounted Cash Flow Analysis Indicates Shares Are Undervalued
I only felt comfortable projecting revenues for this discounted cash flow model through 2022, as anything beyond those years can be difficult to predict given how commoditized the business is. Despite a lot of this risk, Applied Materials released very positive 3-year earnings guidance, indicating confidence in their ability to deliver cash flows and an optimistic outlook on grow. According to market projections, the global semiconductor market is estimated to grow by 11.24% annually through 2022, and Applied Materials should scale their revenue with those market trends as it has historically.
I modeled revenue growth based on the company's 3-year guidance, semiconductor market forecasts, and demand/supply trends. The company is projected to grow revenues at an annual rate of 11.8%, confirming a close correlation with the broader semiconductor market.
Sensitivity Analysis (WACC = 12.9%)

This sensitivity analysis was created by adjusting various aspects of my discounted cash flow model to display the price sensitivity of shares to growth. I don't think the semiconductor market will underperform or surprise to the downside over the next 3-5 years, so my base price target is $72, which assumes no long-term growth. This stable growth and earnings will support my thesis that Applied Materials' markets are far less cyclical than they have been historically, and deserve to trade at a higher valuation than shares currently are.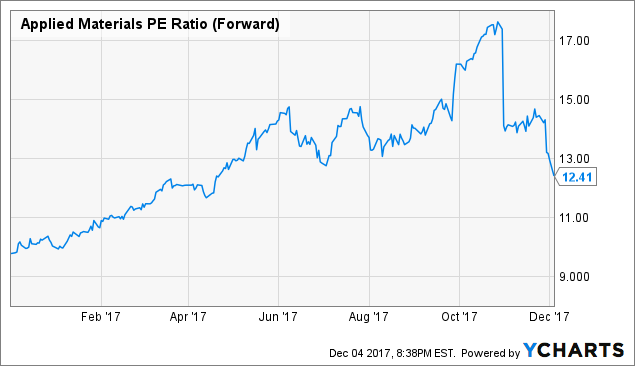 AMAT PE Ratio (Forward) data by YCharts
Forward P/E has fallen to just over 12, which is quite low for a stock projected to grow by a CAGR of 11% over the next 5 years with high profitability. The stock may have been considered fairly valued at 17x forward earnings, but AMAT presents a good opportunity here for those who missed the first leg of the stock's run-up at just 12 times next year's earnings.
Thoughts On Recent Price Weakness
Applied Materials shares have outperformed the general market by a wide margin in 2017, even with the stock price slipping over the past several weeks.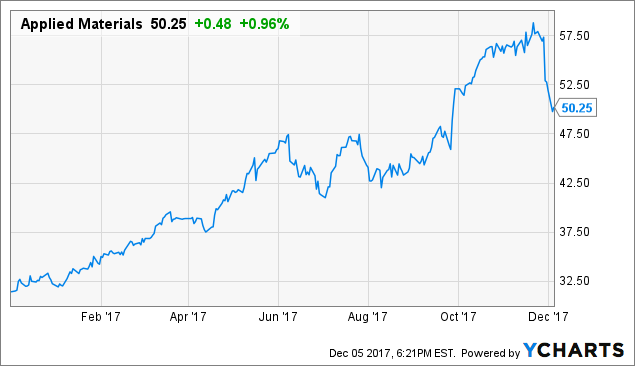 AMAT data by YCharts
The recent wave of selling is exaggerated but semiconductors were hit with a broad wave of selling for several reasons. First of all, stocks like Applied Materials were up over 86% from this time last year at its peak. This means fund managers were likely overweight in semiconductors, as their positions appreciated in value, and wanted to trim their exposure to typically cyclical stocks where there is an opportunity to lock in a return before the end of the calendar year.
To add to this, tech stocks do not benefit from tax reform as much as US companies with less global exposure. It would seem that smart money is taking profits in tech to rotate into sectors like financials, which stand to see a greater increase in earnings from tax reform and the deregulation efforts President Trump has imposed.
To counter this point, tax reform will give American companies greater cash flow to invest in advancing the technology they use and modernizing their servers. These macroeconomic trends in corporate spending and investment are more important than Applied Materials' benefit from tax reform and will drive more top line growth.
Disclosure: I am/we are long AMAT, MU, AAPL.
I wrote this article myself, and it expresses my own opinions. I am not receiving compensation for it (other than from Seeking Alpha). I have no business relationship with any company whose stock is mentioned in this article.