Background
This month's article marks the thirty-third installment in my ongoing series outlining my efforts to achieve dividend growth success. The portfolio is nicknamed the MnM portfolio, which is a moniker for "Minne(sota) 'n Monthly."
Note: The portfolio continues to hold 38 stocks. I am still working towards a target portfolio size of ~40. I feel that at this level, the portfolio holds a sufficient number of stocks such that I can effectively follow them all. I will work towards achieving more equal weightings, as this will provide strong diversification with each stock representing approximately 2-3% of the portfolio total. I also receive 100 free trades each year from my brokerage, so I can trade in small quantities without worry about brokerage trading costs.
That being said, here's what happened in November.
November 2017
I always include a quick highlight on valuation, even though it's not the main objective of the portfolio. The portfolio had a terrific month, increasing by 4.2%. Year to date, the portfolio return continues to trail the S&P 500's ~20.49% return, though this month it outperformed and has shrunk the gap to about 9.25% from 10% last month. As we are all aware, 2017 has been a year for growth stocks, and given that much of my portfolio is in the "value" spectrum, it's not surprising to see such a gap.
I have captured the activity for November and for the year to date in the standard rollforward summary below.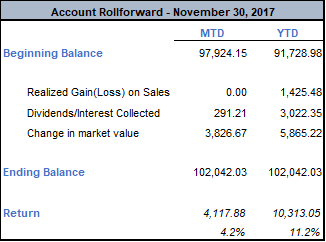 The portfolio collected $291.21 in dividends and interest during the month, all of which was recurring on positions held with the exception $.01 of interest. The portfolio was comprised of the following securities as of November 30, 2017: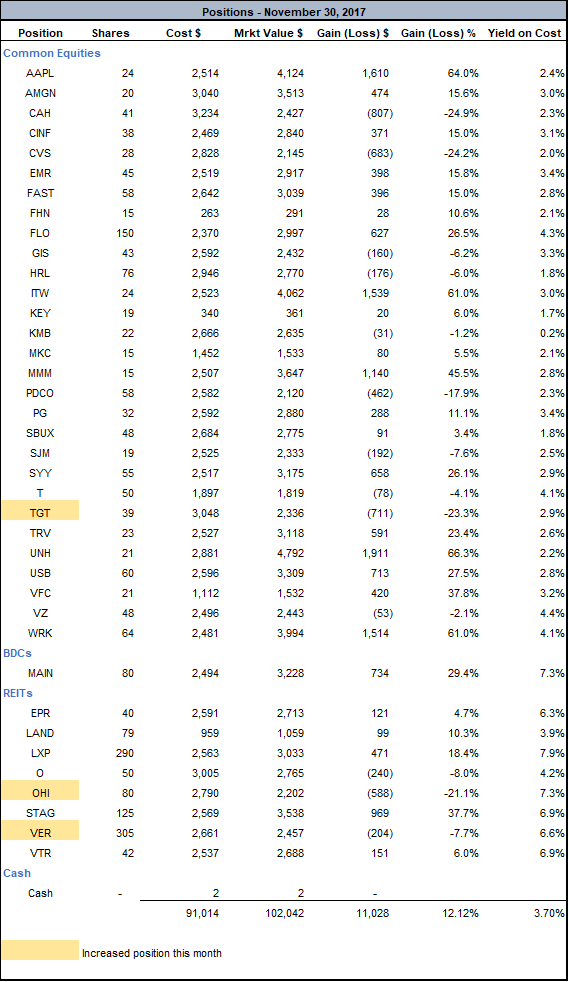 The following sections go into greater detail of the events that have occurred since the end of October.
Sales
No sales this month.
Additions
This month's dividends were largely invested as they came in. At the start of the month, I purchased a couple more shares of Omega Healthcare Investors (NYSE:OHI). The company has had a rough 2017 and is currently navigating some operator difficulties. Despite this, I am confident that it will outperform over a longer term as the demand for senior housing increases. The stock has sold off considerably and now finds itself trading at a P/FFO of less than 8 and a dividend yield of nearly 10%.
Near the middle of the month, when most of the dividends come across, I finally made the decision to add three shares of Target (NYSE:TGT) stock at just over $54 a share. I had missed the earlier pullback this year (when it touched $50 a share) on the Amazon (NASDAQ:AMZN)-Whole Foods tie-up announcement, and I wasn't going to miss this chance. In the near term, I couldn't have timed it much better, as the stock has surged to over $60 a share since I picked it up.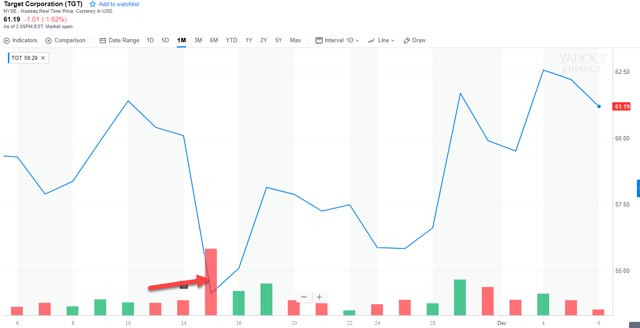 Source: Yahoo Finance, December 6, 2017
At the end of the month, I opted to continue my deep value buys by adding more shares of VEREIT (NYSE:VER). The stock has also seen a recent sell-off, and its P/FFO ratio has been hovering near 12 with a yield of over 7%. The stock isn't without risk, as VEREIT still has to sort out its legal mess, but in the current environment, where everything else is elevated, I feel good about placing some money here. I view it as a solid Buy when it trades below $8 per share.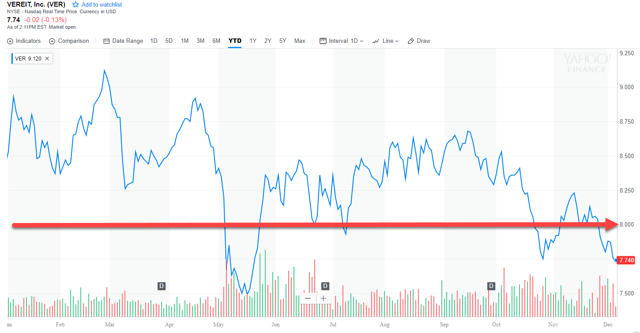 Source: Yahoo Finance, December 6, 2017
Dividends Collected
As noted earlier, I collected $291.21 in dividends during the month. I have updated and included the forward-looking dividend summary as follows: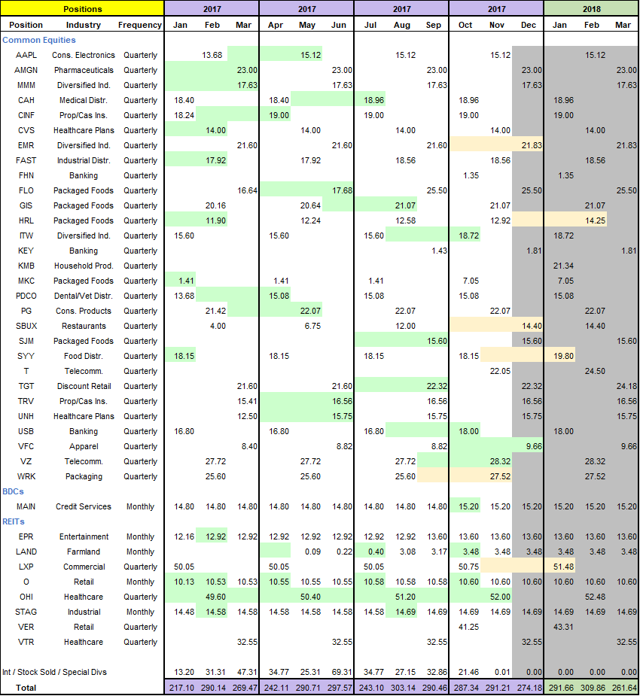 Note: I have highlighted current month dividend raises in a shade of yellow to distinguish from previously reported increases.
If you have read my articles in the past, then you know that I have been actively tracking the income growth in the portfolio, starting by comparing Q4 2016 to Q4 2017's projected income and then measuring each quarter thereafter. The current dividend increases and reinvestment has bumped the Q4 2017 income growth to 11.1%, a pretty solid metric for the year.

Dividend Increases
I love November. This month saw a stellar six dividend increases in the portfolio. I will throw out the caveat that this includes WestRock's (NYSE:WRK) increase from October, which I inadvertently missed when reporting last month. I'm human, it happens.
Starbucks (NASDAQ:SBUX) and Hormel (NYSE:HRL) led the way by passing along double-digit increases, which were followed closely by solid bumps from Sysco (NYSE:SYY) and WestRock. Sysco even surprised me a bit by passing along more than $.01 a quarter, which has historically been its practice.
Lastly, the increase from Lexington Realty Trust (NYSE:LXP) was minor but appreciated, and I am okay with the slight bump from Emerson Electric (NYSE:EMR). From reading recent headlines, it is clear that the company is investing into the business and even looking for acquisitions. I am optimistic it will have a solid 2018.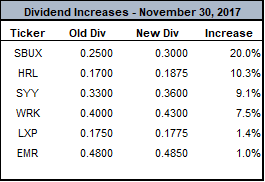 The MnM 401(k)
The 4019(k) keeps growing, adding about $2k this month from contributions and market appreciation. I am paid bi-weekly, which explains why there were three contributions this month. With 26 payrolls per year, there are two months with three contributions.

Closing Thoughts
It's really too bad that not every month is as strong as this month was. And as great as the portfolio appreciation was, I am more talking about the strength of the dividend increases. This month's bumps pushed 2017's growth rate over 11%, and as you know, this is the metric I am most concerned about. It was also nice to see some strength in retailers such as Target. I have gotten a bit sick of hearing about how "Amazon is putting everyone out of business," when frankly that's not the case. Even some of the distributors such as Fastenal (NASDAQ:FAST) finally showed some strength this month.
While everything was peachy in my portfolio, I am cognizant that others, particularly those holding General Electric (NYSE:GE) stock, have faced a setback this past month. While it seems to have been in the works for some time, GE ultimately made the decision to halve its dividend. I feel for those invested in GE, particularly those who were employed there or were long-term shareholders.
I didn't read too many comments on Seeking Alpha, but I am curious to see whether people had sold their shares and moved on or had held them in hopes for a turnaround. Ultimately, cuts like these only serve to show the importance of the diversified portfolio. Had I held GE in my portfolio, and maybe lost $15 a quarter in dividends, my yearly increase would still have been about 9% (versus the 11% I reported). It would have dinged this year's growth a bit, but it wouldn't have destroyed my wealth by any significant measure.
Looking into December, I would like to close out the year by using dividends received to continue rounding up share counts. I'm not eyeing anything in particular, but if VEREIT stays below $8 per share, I will look to continue adding to the position. It feels like a bargain (with some risk), and management has finally gotten to a point where it has sold off enough properties and can begin to grow the portfolio. I am optimistic that VEREIT will have a better 2018 than 2017.
That's it for November. I hope your month was just as good as the MnM's was. If I can find the time, I would like to pick a stock of the year and do a year-end write up on everything I learned this year. It was a good one for learning.
Disclosure: I am/we are long THE STOCKS LISTED IN THE PORTFOLIO. I wrote this article myself, and it expresses my own opinions. I am not receiving compensation for it (other than from Seeking Alpha). I have no business relationship with any company whose stock is mentioned in this article.