Every three months, yours truly here takes a detailed look at the previous quarter's smartphone market -- as measured by IT research outfit Gartner -- with a particular interest in how Apple (AAPL) is faring relative to its peers and rivals. And, every three months, fans and followers (and presumably owners) of AAPL stock are incited when I dare suggest that Apple isn't bulletproof.
Fortunately, I'll be able to somewhat sidestep the quarterly flogging this time around, as Apple's third quarter of 2017 was an encouraging one on the smartphone front. Indeed, had Apple timed the launch of the iPhone X a little differently, last quarter's results may have been even better.
The flipside: As encouraging as Apple's Q3 was with respect to its flagship product and its biggest revenue driver, Apple's chief rivals were allowed to capture even more new market share than Apple did.
There's a footnote associated with that shift, too, however.
Just the Facts
In the third quarter of 2017, Apple's share of the smartphone market inched up from 11.5% a year earlier to 11.9% this time around, fueled mostly by September's launch of the iPhone 8. That's good, especially knowing it was up against the September-2016 debut of the iPhone 7. That's good. The bad news is, Samsung (OTC:SSNLF) saw its market share grow from 19.2% to 22.3% year-over-year.

Source: Gartner
It's information rife with details that aren't readily evident on the table itself. Namely, early in 2016's third quarter, Samsung was forced to recall all 2.5 million Galaxy Note 7 smartphones it sold due to a fire risk, certainly crimping the company's credibility for at least a few weeks. And, for as much buzz as the iPhone 8 created, there's little doubt that loyal Apple fans skipped a purchase of the iPhone 8 because they were more interested in the iPhone X, which launched in early November... well into Q4.
It's also worth adding something I mentioned as a curious concern back in my August look at the then-new numbers. That is, less-recognized brands like Oppo and Huawei are gaining traction, not so much on Samsung and Apple, but on the "others" that fight for the scraps left in the smartphone space. I still contend that these smaller players create a meaningful headwind for the bigger players in this race, even if they're nowhere near as big.
There's more to the story, of course, particularly for Apple, which has turned up the heat on its "services" arm as a profit center. There's not quite as much operating system market share growth as one would hope here.
The short version of a long story: Prior to, oh, the past year or so, Apple was primarily interested in selling hardware, and offered apps and media content as a means of making its hardware do more. Now though, the digital content it's selling is being viewed as a business in and of itself. Though for the quarter ending in September this division only accounted for 16% of the company's total revenue, it's a proportion that's getting bigger all the time, and has no limit on the horizon.
The trick to growing services revenue is, getting more devices with Apple's operating system on it in consumers' hands. Less-than-helpful is existing iPhone owners merely swapping out their older devices for newer ones.
It's not clear if we're seeing meaningful progress in that regard.
Data repository website Statcounter.com estimates that as of November, Apple's operating system market share -- the number of handheld devices with an iOS on it -- was 20.34% of the market's eligible devices, up from 18.85% in November of 2016. It seems like a significant leap by mobile hardware and software standards, and it is indeed respectable progress. Android from Alphabet (NASDAQ:GOOG) (GOOGL) subsidiary Google, though, saw its operating system market share expand from 72.01% to 73.11% during that time.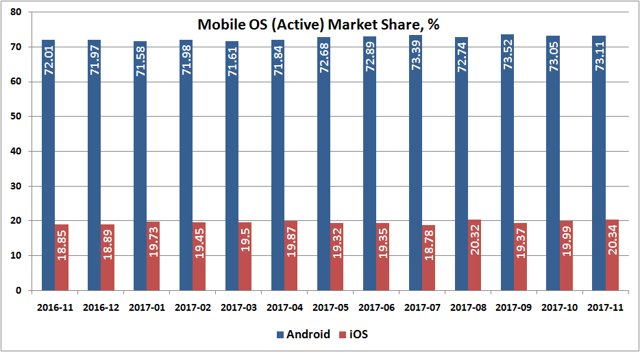 Source: Data from Statcounter, image made by author
Android's absolute change wasn't as extensive as that of iOS, but in light of Android's existing dominance and the hype of the iPhone X (and to some extent the iPhone 8), one would have expected to see Apple's operating system share expand at the expense of the Android OS.
It's still too soon to draw sweeping conclusions about the demand for Apple's iPhone X, as the gift-giving that occurs near the end of this month may well change Statcounter's data in a big way. There's also some suggestion that purchases of the latest iPhone could have been stronger, had more been available. That's starting to change now.
The counterargument, the fact that Apple can keep up with demand is a hint that demand isn't all that strong. Reviews of the iPhone X have also been just so-so, with Consumer Reports suggesting any of the phones in the Galaxy 8 lineup would be a better buy.
Then again, none of the Galaxy phones have the Apple logo on it, and whether they want to admit it or not, that's at least one of the reasons some consumers love to own iPhones.
The truth is likely somewhere in between the two extreme conclusions. Indeed, I'd go as far as to say nobody really has a strong idea what the demand for the iPhone X has really been like... maybe even including Apple, at this point.
Hurry Up and Wait
A quarter ago (and for the past several quarters) I've been trying to gently say that while Apple will eventually become just another company and as a result will be taken off a pedestal, there's nothing in the data above to suggest that's happening yet.
Yes, Apple may have been better off holding off on the iPhone X or skipping the iPhone 8, and not end up confusing consumers. Yes, letting Samsung and Android also gain market on the smartphone and OS front, respectively, is a nagging, annoying overhang. Yes, the lackluster reviews of a shockingly expensive in some regards could signal that Apple's era of quality-driven dominance is winding down. And yes, there will be a point when the smartphone market is saturated and other players are able to catch up.
As it stands right now though, there's no proverbial smoking gun to suggest Apple's flagship product has just jumped the shark. We really need Q4's data to start making that kind of decision. Until then, we have to continue giving Apple the benefit of the doubt, even if it's not driving red-hot growth.
Talk to you in three months, prepared to say Apple may well be bulletproof after all, or to talk about how quickly the iPhone X fizzled. I'm leaning toward the former for the time being, though just to plant a seed, I don't see what Apple's going to do for a meaningful encore next year.
Want to be sure you don't miss my next updated look the smartphone market's market-share breakdown? Hit the "Follow" button above. I'm also planning to launch a premium service soon, but will be sharing some of that perspective in these public posts. Stay tuned for those commentaries as well, which will be chock full of ideas and other insights.
Disclosure: I/we have no positions in any stocks mentioned, and no plans to initiate any positions within the next 72 hours.
I wrote this article myself, and it expresses my own opinions. I am not receiving compensation for it (other than from Seeking Alpha). I have no business relationship with any company whose stock is mentioned in this article.
Editor's Note: This article discusses one or more securities that do not trade on a major U.S. exchange. Please be aware of the risks associated with these stocks.