Stock Pitch: Alibaba Group Holding Ltd (NYSE:BABA)
LONG ("Buy") recommendation for Alibaba Group Holding Ltd based on the results of my market and valuation analysis.
Recommendation
I recommend longing Alibaba Group Holding Ltd, a China-based e-commerce conglomerate, which currently trades at $191.19 per share because it is undervalued by 40-60%, the market has incorrectly overemphasized competition it faces in its domestic market, and there is significantly more upside to its sales growth as indicated by Alibaba hitting its new daily sales record of $25.3 billion on November 11th, a shopping holiday in China called Singles Day.
Key catalysts to increase its share price in the next 6-12 months include the successful role out of its investments into its own digital media and entertainment segments. Additionally, Alibaba must realize positive returns on its investments in its four new data centers built to support the Alibaba cloud in key geographic locations of: Middle East (Dubai), Europe (Frankfurt), Australia (Sydney), and Japan (Tokyo). Furthermore, Since Alibaba has been able to establish a firm foothold in its domestic Chinese market that continues to promise growth as China continues for its push towards urbanization and technological advancement, Alibaba must begin to face its international competitors such as Amazon in key battleground markets including India and other South-East Asian, emerging markets. Alibaba's success in navigating these challenges ahead should likely play a significant role in its share price.
Key investment risks include the depreciation of the Chinese Yuan and the negative stigma surrounding Alibaba's e-commerce products that have had legal issues with retailers on Alibaba's Taobao platform selling fake goods. There is also the hardline rhetoric that President Donald Trump has displayed towards China of which the implications continue to remain somewhat unclear. This and other macroeconomic factors that would devalue the Renminbi against the US dollar could potentially hurt Alibaba, a company with most its revenues denominated in Yuan while most o its debt is denominated in U.S. Dollars. Alibaba has identified these risks as potential threats and have the capacity to take measures to insure itself from some of the possible risks. To mitigate some of these investment risks, it could potentially be beneficial to protect this investment through the use of covered calls and put options.
Company Background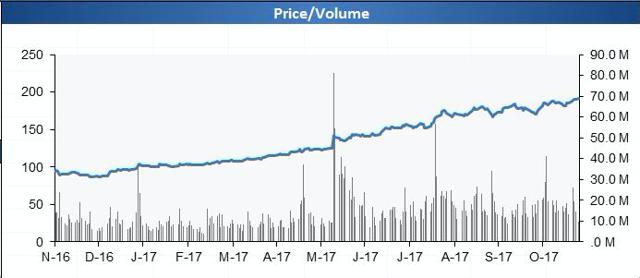 Alibaba Group Holding Ltd is a global e-commerce conglomerate that provides consumer-to-consumer, business-to-consumer, and business-to-business sales services through its web portal. Additionally, Alibaba Group Holding Ltd offers data centric cloud computing services, a shopping search engine, and electronic payment services. Total revenue in FY 2016 was $15.7 billion, with EBITDA of $8.1 billion (52% margin), and the company has grown revenue at 32-54% for the past 2 years, mostly driven by growth in online sales which makes up a majority of Alibaba Group Holding Ltd's business. Alibaba Group Holding Ltd has been able to greatly benefit from more Chinese consumers buying an increasing proportion of items online.
Its Chinese commercial retail accounted for 79% of total revenue in FY 2016, but this percentage is projected to slightly decline to 72% as Alibaba Group Holding Ltd's other business segments, particularly Alibaba's Digital Media and Entertainment and the international commerce retail segments expand further.
Alibaba Group Holding Ltd currently trades at trailing multiples of 11.57x EV / Revenue and 29.36x EV / EBITDA. Forward multiples for the "base case" revenue and margin assumptions are 12.98x EV / Revenue and 29.27x EV / EBITDA in FY 2018.
Investment Thesis
Currently, the market views Alibaba Group Holding Ltd as an internet commerce and technology company that sits at the vanguard of e-commerce in the emerging markets. Led by Jack Ma and Daniel Zhang, the Alibaba Group Holding Ltd is aggressively investing in future growth markets to increase the revenue contributions from international operations. Furthermore, in Q3 2017, Alibaba Group Holding Ltd reported its fastest revenue growth rate of 63% YOY since its IPO back in September 19, 2014. As a combined result of the Alibaba Group Holding Ltd exceeding its earnings expectations and having a projected earnings and revenue growth rate of at least 20%, Alibaba trades at a valuation multiple that is relatively lower than that of its peers.
The stock is priced imperfectly for the following reasons:
There is significantly more upside to Alibaba being able to maintain its dominance of the Chinese market as Amazon (AMZN) had recently run a giant Kindle promotion on Alibaba's platforms, a sign that Amazon has conceded to Alibaba's grip on the Chinese market. As a result, Amazon is seen turning its attention towards India. Beyond e-commerce, Alibaba Group Holding Ltd's cloud business is rapidly expanding. Over the last quarter, the earnings from Alibaba's cloud computing business has doubled. The recent announcement of collaborations and partnerships with semiconductor companies like STMicroelectronics NV (STM) and Red Hat Inc. (RHT) to create the first Chinese cloud-to-node IoT platform are indicative of this. Currently Alibaba only commands 2.6% market share in the global cloud computing infrastructure service market. However, Alibaba is currently the fastest growing cloud platform generating 96% YOY growth and the partnerships will maintain this rapid development and growth. On top of e commerce and cloud computing, Alibaba now can: tap into China's $11.8 billion online gaming market, open and develop large brick and mortar stores, and gain more control over China's enormous logistics markets.
Each of these reasons ties in directly to the company's prospects for growth and will have a substantial impact.
Valuation
I valued Alibaba Group Holding Ltd using public comps and the DCF analysis.
To select comparable public companies and precedent transactions, we have used the following criteria: Peer companies with Market Caps exceeding 10 Billion dollars that operate in the e-commerce and technology space.
Here are the implied valuation ranges from these methodologies: From reviewing Alibaba Group Holding Ltd and its competitors, it is evident that Alibaba's multiples for the most part tend to be less than that of its peer group that I have identified. With P/E, EV/EBITDA, EV/EBIT, and P/BV multiples below the average of its industry peers, Alibaba's current stock price of $191.19 appears to still be undervalued by the market. The only multiple that which Alibaba's multiples exceeds the peer group average is the EV/Rev ratio. However, because revenues vary by the various sectors in which these companies operate, this measure would be better suited for those companies with relatively narrow spectrums of a sector, not a group of conglomerates that sell a tremendously diverse array of products and services in various geographic segments.
Assuming the following:
EPS estimate of $6.63 per share EBITDA estimate of $16,372,000,000 EBIT estimate of $10,870,000,000 Revenue of $37,056,000,000 Book Value of $40,454,000,000 Enterprise Value of $485,190,000,000 Net debt of 747,000,000 Number of shares outstanding of 1,117,400,000
The following multiples imply an Alibaba Group Holding Ltd share price that ranges from $207.85 to $362.40. This indicates that Alibaba remains relatively underpriced as it still has a lot of room for growth with its expansion and shift of focus into new business and geographical segments.

The discounted cash flow analysis uses the following "base case" assumptions:
Projected revenue growth for FY 2018 of 57%, declining to 35% and 27% for FY 2019 and 2020, respectively. As Alibaba establishes its brand and customer base in its target markets, it can be expected that Alibaba Group Holding Ltd's revenue growth rates will plateau at 24% for FY 2021, 2022, and 2023. (based on Alibaba's product pipelines, expected launch dates, and consensus estimates, which I have seen no reason to deviate from) Operating Margin of 61% and Tax Rate of 15%, in-line with historical levels. Although the standard tax rate of Chinese corporates is 25%, the tax rate could be reduced to 15% for qualified enterprises which are engaged in industries encouraged by the Chinese government. These industries include new/high tech enterprises such as Alibaba Group Holding Ltd. 12% discount rate (based on public comps and WACC), 6.2% terminal FCF growth rate, and standard discount periods
Here's the DCF down to the FCF line so that you can see the revenue and operating income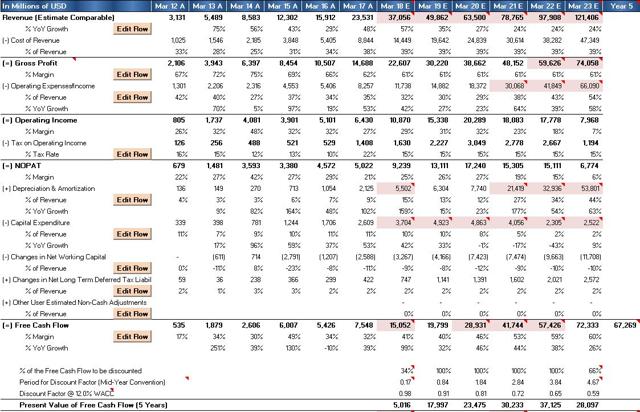 Here are the most relevant sensitivity tables based on key variables in this analysis, such as the discount rate and terminal growth rate: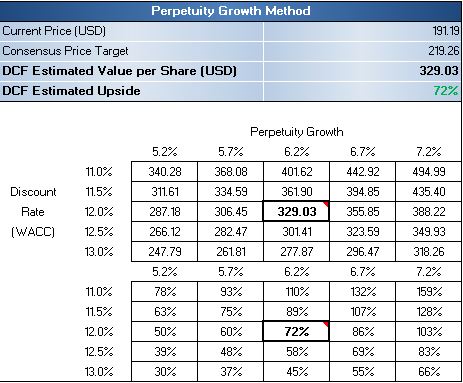 Key Takeaways: The analysis is highly sensitive to both of these assumptions – however, these terminal growth rates may be a little conservative. The bigger question is the whether the discount rate used is appropriate. Our estimated rate is right in the middle of the range. This may require some additional research.
With the Discount Cash Flow Method via the Perpetuity Growth Method indicating an intrinsic share price of $329.03, this appears to fit right in between the range of the share prices that were implied through the relative valuation method. Therefore, it would be very plausible to see an Alibaba Group Holding Ltd's share price fall near $318.84 over time. This was derived from averaging the shared prices derived from the comparable multiples and the share price deducted from the Perpetuity Growth Method.
Investment Risks
The top risk factors for investing in Alibaba Group Holding Ltd include:
Currency/Macro Risks Regulatory and litigation risks Competition Concern over fake or "gray market goods"
BABA Stock's Currency/Macro Risks
Given that nearly all of Alibaba's assets and earnings are denominated in RMB and a significant portion of Alibaba Group Holding Ltd's debt is denominated in U.S. dollars, as noted in Alibaba's Form 20-F filed with the SEC. With the Federal Reserve having already started raising interest rates with the potential for another rate hike in December of this year, the RMB has devalued quite substantially. Deutsche Bank (DB) predicts that the yuan will fall up to 17% over the course of this next year. Furthermore, President Donald Trump's tax cuts could possibly pull more money into the US, further appreciating the U.S. dollar against the RMB. However, at the same time, if the RMB were to depreciate too heavily, this would be counterproductive to President Trump's rhetoric towards China as he has frequently criticized China for devaluing its currency.
China Renminbi Spot Price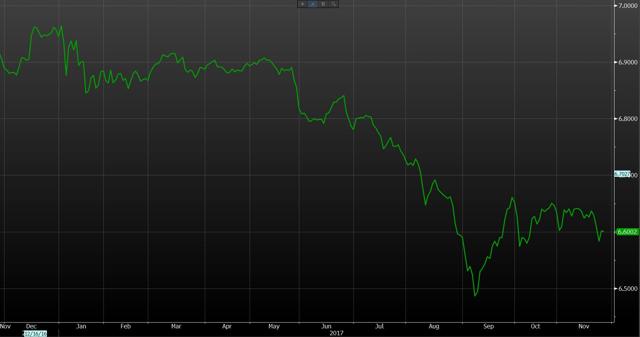 To mitigate the effects of the RMB's devaluation against the dollar, Alibaba can enter into forward contracts. However, with many Chinese firms looking for ways to insure themselves from such currency devaluations, the demand for such hedging contracts will be pushed upwards. Thus, though a RMB devaluation could be very costly to Alibaba and other Chinese firms, the cost of hedging exchange rate risk is also becoming quite costly.
BABA Stock's Regulatory and Litigation Risks
It is important to note that China to this day is still ruled by the Communist Party. Therefore, judges may face limited independence, making it difficult for the enforcement of certain contracts.
Secondly, given that Alibaba is a variable interest entity, as an investor, I would not necessarily be owning stakes in the productive assets of the firm. Rather, because of a Chinese law that forbids foreign investment in Chinese technology companies, as a foreign investor, I would own shares of a Cayman Islands-based entity that contracts with Alibaba to receive a share of profits.
Lastly, the Chinese government has the authority to decide at any point that a specific business arrangement is illegal. Although Alibaba's current PRC counsel views Alibaba's current arrangements as being legal, there is always the possibility that with the substantial amounts of vagueness and uncertainty regarding the PRC legal system since laws are open to interpretation and certain applications. Additionally, the PRC legal system revolves around government policies and internal decisions which are not always published on time and some are not published at all. Therefore, a company could be in violation of these laws and not even know it until the company is penalized for the violation.
BABA Stock's Risks from Competitors
With a projection of there being 1.1 billion new internet users by 2020, driven primarily by India and China, it can be expected that the rapid shift to online retail will further accelerate over the next few years. This increase in internet access will translate to a larger shift towards online retail, meaning that it can be expected that the market will remain very competitive as internet companies of all sizes aggressively invest their efforts into acquiring more market share and rolling out different product selections. While in the domestic market Alibaba will have to continue to compete with their incumbent competitors: JD.com(JD) and Tencent holdings(OTCPK:TCEHY), on an international scale, there are the internet conglomerate companies such as eBay (EBAY) and Amazon as well. Additionally, Alibaba will likely face competition from several other horizontal and vertical competitors as well.
BABA Stock's Risk of Fake Goods
Alibaba's previous penchant for having goods that are considered to be "fakes" or "gray market goods" can be another factor that would potentially hinder Alibaba Group Holding Ltd's growth prospects. An increasingly large number of complaints from brand owners about the proliferation of fakes on Alibaba's sales platform led to American officials adding Taobao, the Alibaba Group's online shopping bazaar to be listed on the list of the world's most notorious markets for counterfeit goods. Such counterfeit goods would turn customers away and could have some severe implications for a company trying to maintain a loyal customer base. In response to being blacklisted and to put down the negative stigma behind products sold on Alibaba, the Chinese firm has filed a lawsuit against those sellers who use the Alibaba platform to sell counterfeit goods. However, to further combat this and rebrand the types of products sold on Alibaba, the company has taken steps to deal with these fake goods by employing 2,000 permanent staff and 5,000 volunteers to help find and remove counterfeit sellers from the platform. Furthermore, Alibaba has also invested in AI technology to sniff out fake items.
Disclosure: I am/we are long BABA.
I wrote this article myself, and it expresses my own opinions. I am not receiving compensation for it (other than from Seeking Alpha). I have no business relationship with any company whose stock is mentioned in this article.