As 2017 is coming to an end, I like to look back on the investments I made and start planning for 2018. One of my favorite things is look back on how I spent the limited amount of funds available to invest inside my IRA account.
Being 35 years old means I'm limited to $5,500 in IRA contributions (those older than 50 can contribute $6,500). What I have done over the last several years is deposit $100 per week into the account and subsequently top the account off at year's end to reach my $5,500 limit.
I like depositing weekly for a number of reasons. One is that it limits the amount of money I can invest at one time, which I've found causes me to really think about how I'm going to spend that money. In other words, it really encourages me to do 'due diligence' rather than just spend somewhat blindly.
The second reason why I like making weekly deposits into my IRA account is that I think about saving money on a weekly basis. I've seen statistics recently that over 50% of the population doesn't have $1,000 in savings. If more people simply put away money each week - they'd develop the habit of saving. Additionally, it allows me to think about investing throughout the year since I always have a steady stream of funds to invest.
2017 ended up being a somewhat light year for purchases. In a roaring bull-market it's somewhat difficult to put new money to use when you've been investing since 1999 as I have. During the course of my investing career, buying when the market 'crashes' has proven to be more profitable and buying at 'tops' can leave you wishing you had been more patient.
So given my somewhat cautious approach, here is how I allocated my cash this year:
Deposits: $5,500
Investments: $2,902.31
Cash Left Over: $2,597.69
Now let's go over the stocks I bought during the course of the year. Most of these names were one's I'm adding to existing positions, but I still managed to add some new names to the portfolio. In general my investment goals with this portfolio is to focus on companies which have a strong likelihood of success over the next 20-30 years, along with being shareholder friendly.
2/7/2017 - Added Starbucks (SBUX) @ $55.63

I'm not a coffee drinker, so I can't attest to the quality/taste of a Starbucks brew versus other options. However, I actually think that could distract an investor from the most valuable asset Starbucks has - and that's the brand.
Starbucks locations are a place to meet, consume the free Wi-Fi, and generally relax while enjoying a Starbucks beverage. It's an atmosphere Starbucks has cultivated and is entirely unique to a food/beverage company of this size. So while other coffee/drink makers could arguably make a better (or cheaper) brew, Starbucks has a wide moat around the brand image that is embedded in their locations.
Another part of Starbucks branding that I really love are the cups. See someone walking down the street or into your office with a Starbucks cup and you instantly recognize it. During the holiday's Starbucks traditionally releases red-cups to celebrate the season. The design of the cups has become so legendary, it's often discussed & dissected on blogs and social media.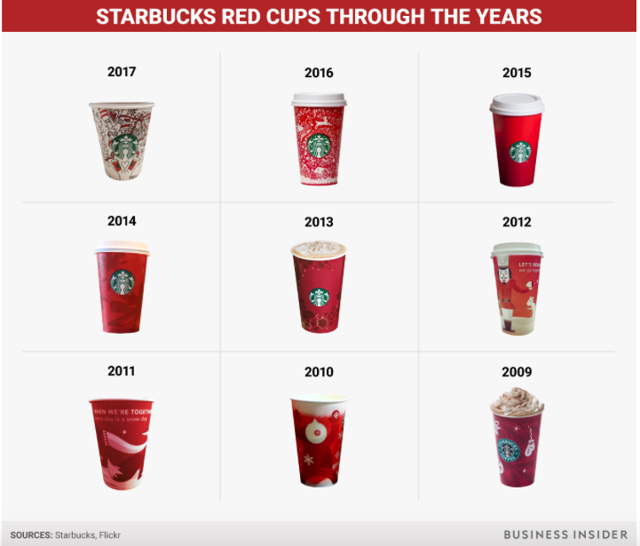 Image: Business Insider
There is so much more to Starbucks than the brew that I actually don't view it as a coffee company. It's really in the business of marketing their brand while serving coffee. I believe this focus on the brand will serve the company well as competition emerges on the high & low-end of the pricing model - but lacks the branding power Starbucks has generated over the years.
Finally, from a portfolio perspective, Starbucks growing dividend makes it a compelling 'buy & hold' investment, which is what I'm seeking inside this account.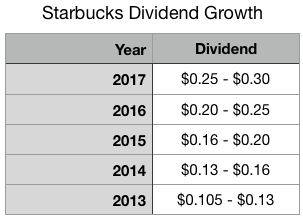 Dividend Data via Morningstar
One of the reasons why I added SBUX in the $55 range is because that price has held as an area of support for the stock for several years. It doesn't take a chart wizard to recognize this by looking at the SBUX 5-Year chart.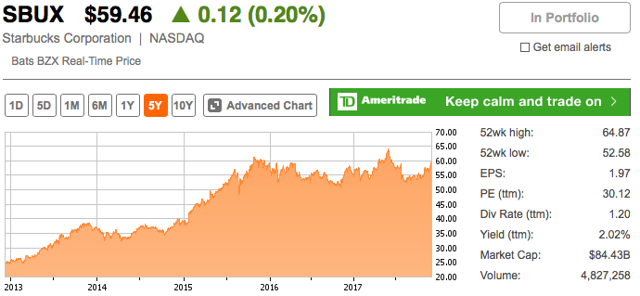 The growing dividend, $55ish providing a level of support, along with the powerful brand image Starbucks has cultivated over the years makes it a solid investment for the long term holder.
2/7/2017 - Added Limited Brands (LB) @ $58.97

Limited Brands was the first investment I ever made inside this IRA account in 2013. At the time, the stock was trading in the mid-$30's and was viewed as somewhat risky at the time.
However, like Starbucks, I really loved the brand Victoria's Secrets had cultivated over the years as the dominant women's intimate appeal leader. The investment thesis was playing out perfectly, as the share price of LB rose to nearly $90/share after I had purchased in 2013.
But what goes up often comes down, and LB fell out of favor with investors for a number of reasons. One of the primary reasons was because the vast majority of LB's locations are inside malls, which have been suffering from anchor tenant closures & declining foot traffic.
In hindsight I totally blew it on this purchase. LB stock declined into the $30's after I made this purchase at nearly $59/share. My timing was off, in part because I held a bias toward the stock/company - and had just recently seen the shares significantly higher.
In the long run, I still feel great about this investment. Despite increased competition since 2013, Limited Brands is still a dominant brand within its niche and I don't see that fading over the years. Much like Starbucks, Victoria's Secrets branding is often discussed & dissected across the internet - and the company's fashion show is shown live on CBS television. How many brands get their marketing shown live on network TV?
Lastly, one of the primary things that attracted me to LB originally was the company's commitment to reward shareholders through dividends (and special dividends).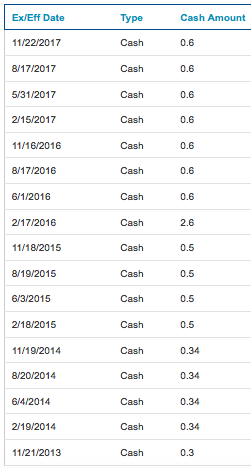 Dividend chart: Nasdaq
So while I might have miss-timed this investment in the short run, over the course of 20-30 years I'll likely earn significant returns on my investment in the form of dividend payments. I feel comfortable holding LB through the rough patches the stock might experience because I feel the brand is one of the strongest in the world.
3/28 - 5/16 - Initiated Bank Of America (BAC) @ $23.47 & $24.00


Bank of America was a brand new position for this portfolio and I was late to the party adding bank stocks to all my portfolios. Savvy investors who telegraphed rate hikes pre-Trump saw their gains compounded once President Trump secured a victory in late 2016 - signaling an era of deregulation combined with favorable interest rate condition for banks.
At the time of initiating this position, I was worried I was chasing the bank trade - but the fundamentals seemed really strong for Bank Of America. Additionally, one of my primary goals with this portfolio is to invest in companies that will be growing their dividends over the years.
Due to financial regulation passed during the last financial crisis, banks like Bank Of America were limited in the ways they could return cash to shareholders. With those regulations being relaxed and somewhat obsolete now that the economy is growing - I believe Bank Of America is well positioned to return cash to shareholders over a long period of time.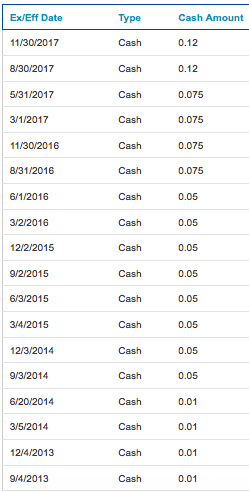 Dividend Chart: Nasdaq
Additionally after years of historically low interest rates, I'm assuming we'll enter an era where interest rates gradually climb back to levels that are viewed as more 'normal' for developed economies. All this added up to me buying BAC twice during the year, something I didn't do with any other stock inside the portfolio.
10/25/2017 - Initiated AT&T (T) @ $33.92

While I own shares of AT&T in 3 other accounts, I decided to initiate a position inside my IRA once the price fell to the low $30's late in the year. At that price, the investment yields 5%+ which makes it an attractive buy & hold investment.
Some of the reasons I like AT&T as a company is because of my own spending habits. I've had AT&T cell-phone service for as long as I can remember, I'm a current DirectTV subscriber, and have always preferred that service to traditional cable providers I've tried over the years. Finally, I use AT&T internet for the consistency it provides, but now that AT&T has so many services under one umbrella, I actually save money as a consumer bundling my services.
However, I try not to let my own experience with a company convince me it's a solid investment. Certainly my Starbucks & Victoria Secrets (LB) investments are a testament to this, as I don't shop with either company. I think this is an important step a disciplined investor must make - as your own experience might not equate to the stock being a buy.
But in this case, AT&T products appeal to me and the stock fits my investing goals within this portfolio to a T. The stock has grown its dividend payout for over 30 years. While I believe the large increases are long gone, I believe AT&T's diversified product offerings and the fact AT&T benefits from a regulated wireless spectrum business model will keep it a strong company for the rest of my life.
11/7/2017 - Added Amazon (AMZN) @ $1,119.90

Every single investment inside my portfolio pays a regular (growing) dividend to shareholders except one stock. Amazon is the rare exception, and it's been my best performing stock since I opened a position in this account in 2016.
While many authors & comments on this site (and others) often point to the fact Amazon trades at a high P/E and the fact they "don't make money" - I believe this analysis to be elementary level.
Amazon is participating in business models that are still in their infancy. Here are just a few:
Online e-commerce
E-commerce fulfillment
Cloud computing
Voice recognition
Artificial intelligence
Machine learning
Online ads
Streaming TV
Streaming Music
Some of the world's largest companies specialize in one of these areas - Amazon has their hand in all of them. One could also argue, Amazon has the potential to be a dominant player in all these industries, along with other ones Amazon dreams up over the course of my life.
If you were on the brink of dominating a dozen different business models - the surefire way to derail your efforts would be to show a profit on a balance sheet so impatient investors could feel comfortable buying your stock.
Amazon is correctly re-investing all available capital into business models which have runways that are at least a decade away from reaching maturity. One day I envision Amazon being more shareholder friendly in terms of dividends & buybacks. It's highly possible the stock becomes less attractive at that point and might lose some of its value. However it's equally as likely I'll be up so much it won't matter.
The lesson I've learned with Amazon is even a disciplined investor can make room in their portfolio for a company that doesn't meet the same financial metrics as others might. I believe it's justified when the company is pursuing market opportunities that are transformative - and where that company has a high probability in being a dominant leader.
Examine all the business models Amazon put significant capital behind, and you will see a company that can dominate for the rest of my life.
Goals For 2018
I have more cash in my portfolios than ever before. Part of me wishes I had just been more fully invested over the last few years because the market continues to defy gravity. However maintaining a goal of achieving wealth over the next 20-30 years keeps me from worrying about a few years where I might have missed some opportunities. Keeping a long term focus is still my primary objective. I think if you find yourself in the same position, keep your eye on your overall investing goals and not focus too much on one small period of time.
With significant amounts of cash on my 'balance sheet' here are the stocks/sectors I'm looking to add. Keep in mind these are sectors/stocks where I might be underweight - so you have to consider if they make worthy candidates for your watchlist based on your own portfolio's composition.
Target (TGT) - Retail is not dead, and I like some of the things I'm seeing Target do with private label brands they sell within the store.
Oil/Gas Sector - I own Chevron (CVX) and ConocoPhillips (COP) inside this portfolio, but I haven't added to the positions in a while, meaning I'm probably slightly underweight the sector. I might consider adding to these names, or finding a new one to add to the portfolio.
Chip Makers - this sector had an incredible run during 2017 but appears to be cooling off a bit. If the pull-back brings valuations in range, I'll probably nibble on some shares of the leading makers.
Finally, it's my goal to continue to spread the word about the importance of saving. I haven't written an article on Seeking Alpha in 2017, in part, because I've been spending more time teaching young people about the importance of investing. I hope if you are reading this it inspires you to start investing more money in 2018 than you did in 2017. Good luck. And if you have any questions or comments, I'd love to hear about them below.