By Parke Shall with Scott Tzu
We wanted to offer up our theories as to why the Greyscale Bitcoin Trust (OTCQX:GBTC) sold off so violently on Tuesday of this week, before rebounding slightly, and what it means for investors in the trust going forward.
A $500 Swing in Under 2 Hours

Most investors in Bitcoin that also follow the public markets probably noticed on Tuesday when the GBTC sold off significantly during the middle of the day from levels near $1850 to $1350, a nearly $500 intraday swing that at one point took more than 30% off of the price of the trust in less than 2 hours.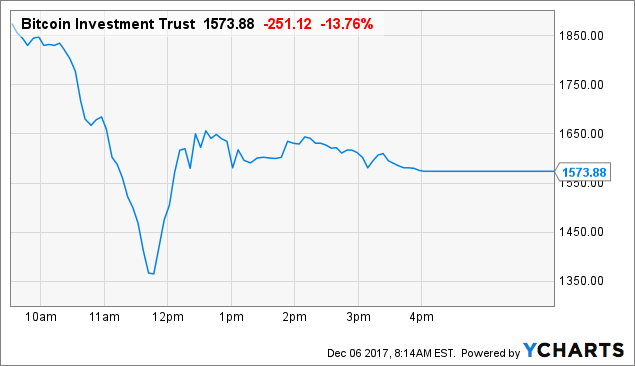 GBTC Price data by YCharts
Sentiment during the day, as the trust fell in price, was one of capitulation that eventually turned into confusion. As the GBTC started to fall, social media lit up with commentary at places like StockTwits where investors were surprised to see such a drastic fall. This initial confusion eventually turned to a little bit of capitulation as it sounded like and looked as though there was some panic selling that was taking place towards the end of the sell off.

Let's quickly run through what some of our theories are regarding the sell off.
The GBTC is Illiquid

First, the security is generally very illiquid. At a trading price that is in the thousands of dollars, the GBTC trades on average just 80,000 shares per day. This means that there isn't a ton of liquidity out there and that moves in either direction are probably going to be exacerbated and more volatile than usual due to the lack of liquidity to balance things out. We addressed this lack of liquidity for Bitcoin and its associated securities in an article that we published just days ago talking about two catalysts for Bitcoin going forward. When considering moves in GBTC, investors must always remember that this is the only real public market security pure play on Bitcoin for the time being and it is because of that, it will have a tendency to whipsaw in one direction or the other.

What we saw yesterday was an exacerbation of this illiquidity. The more illiquid a stock is, the more unbalanced the trading is going to be. When the seller first started yesterday, daytraders and technical traders may have noticed that there was an overwhelming number of offers with very few bids coming in. To say that this was the first time GBTC has moved like this would be inaccurate. This security has a history of large swings both to the upside and the downside and it has a history of making larger than normal bounces after it makes its move. Seasoned investors and those who have been watching GBTC closely would have more than likely understood that yesterday's move was simply an anomaly and not a reason for real panic, especially given the fact that during the course of the sell off, Bitcoin itself wasn't actually moving.
Bitcoin Futures Cause GBTC's Premium to Shrink
One of the other reasons we believe that the security sold off was to bring in the premium to NAV a little bit. With Bitcoin futures about to begin trading, the public markets are going to have a significant amount of new ways to gain exposure to Bitcoin. This is going to speed up price discovery and at the same time it is also going to finally make GBTC not the only way to gain exposure to Bitcoin through your brokerage. To this point, GBTC has really been the only way for some people to gain exposure to Bitcoin through their brokerage accounts. Because of its rarity in being the only listed Bitcoin security, it has consistently traded at a premium to NAV over the last couple of years. This premium has been anywhere from 5% to almost 115% at times. On average, it's usually between 37% and 87%.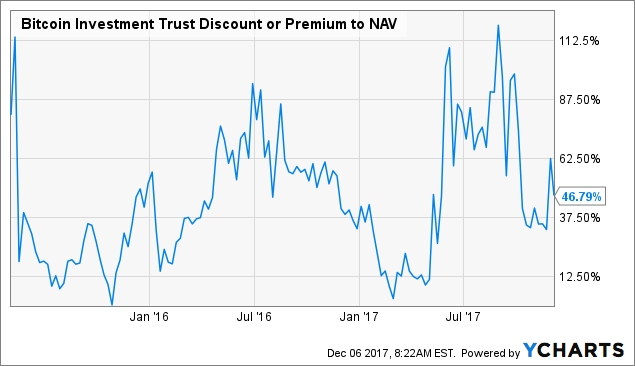 GBTC Discount or Premium to NAV data by YCharts
Coming into the trading day yesterday, this premium was sitting at almost 80%. With new securities being issued in new ways to transact Bitcoin coming online, investors probably determined that an 80% premium to NAV is not going to be sustainable going forward and began to sell off GBTC in order to bring in the premium slightly. What likely happened is that investors who are looking to sell the premium probably also inadvertently started to cause a little bit of panic due to the above mentioned illiquid nature of the stock. This fed on itself and before you know it, we had a point where GBTC's premium had shrunk significantly.

The GBTC promptly rebounded after hitting the $1350 level locking in its premium at between 40% and 60% toward the end of the day, depending on how you calculate it and what Bitcoin exchange quote you are using.
Going Forward

We think investors generally have the right idea in trying to sell the huge premium that is built into GBTC. While we believe that the addition of new Bitcoin securities will likely bring down this premium in the future, we also happened to be bullish on Bitcoin for the course of the long term. For that reason, the premium built into GBTC hasn't really bothered us too much because our expectations are for Bitcoin to rise significantly more over the coming years.
However, if you have the means, shorting the GBTC and going long Bitcoin in order to try and pair trade the arbitrage between the two might not be the worst idea. After all, those who had that trade on yesterday during the day did well.

In short, Tuesday's move in the GBTC isn't something to be worried about as long as Bitcoin itself doesn't crash. We think that over the course of the coming months that the GBTC premium will come down for good but we still see the GBTC trading with a double digit premium going forward. There may be one or two additional trading sessions where the market tries to price this premium correctly and that may continue to lead to volatile swings in GBTC.
As the premium gets closer to zero, we are more inclined to step in and purchase a little GBTC as we believe not only that it will probably trade with the premium somewhere between 10% and 30% going forward permanently, but also that the underlying trust will continue to gain in value going forward.

For us, we're going to do what we have continually suggested since we first started writing about Bitcoin and diversify our Bitcoin holdings. We own some actual Bitcoin in a wallet, we own some through an exchange and we own some of the GBTC as well. We continue to manage our position so that Bitcoin does not become too big of a percentage of capital for us, but we remain long.
Disclosure: I am/we are long GBTC.
I wrote this article myself, and it expresses my own opinions. I am not receiving compensation for it (other than from Seeking Alpha). I have no business relationship with any company whose stock is mentioned in this article.