Although the shares of Allison Transmission Holdings Inc. (ALSN) are up about 18% over the past twelve months, and 10.4% since my latest bullish article on the company, I think the shares still represent good value at these prices. Since my last piece on Allison, they have issued another quarterly report which was quite good in my view. I'll go through the reasoning behind my continuing bullish thesis by focusing in on the financial history, making a prediction about price based upon the likely direction of the dividend, and by comparing this stock to the broader market. It makes sense for long term investors to own this name at these prices.
Although I am less sanguine about future dividend growth than I was in my most recent piece on the company, I feel that owning a reliable dividend payer that trades at a significant discount to the market presents the best risk-return opportunities. The returns may be more muted than I predicted at 10.5%, but the risk is far less. Going forward, I must also consider risk of capital loss in my investments, as I think the market has in aggregate become more risky, as it reaches new highs.
Financial History
Any review of the financial history here becomes obvious that this is a cyclical name. Both the revenue and the net income of the firm have been up and down over the years, sometimes dramatically so. At the same time, though, earnings per share, while volatile, have moved generally higher. In addition, dividends per share have grown at a CAGR of about 22% over the past six years, driven by generally increasing dividends and a reduced share count.
These two points are critical in my view, because they reveal that management is quite shareholder friendly. In the teeth of an admittedly choppy business, management has been heroic in reducing share count and increasing dividends at a reasonable rate. In particular, they have returned a net $1.96 billion to shareholders since 2012, which is quite a feat in light of the underlying choppy business. Just shy of $1.5 billion of this was for share buybacks, and the balance was spent on dividends. In my view this is critical because most businesses are exposed to some extent to the business cycle. How they react to that exposure is what separates quality from also-rans, and in my view, the management team here has demonstrated their quality by their actions over the past six years.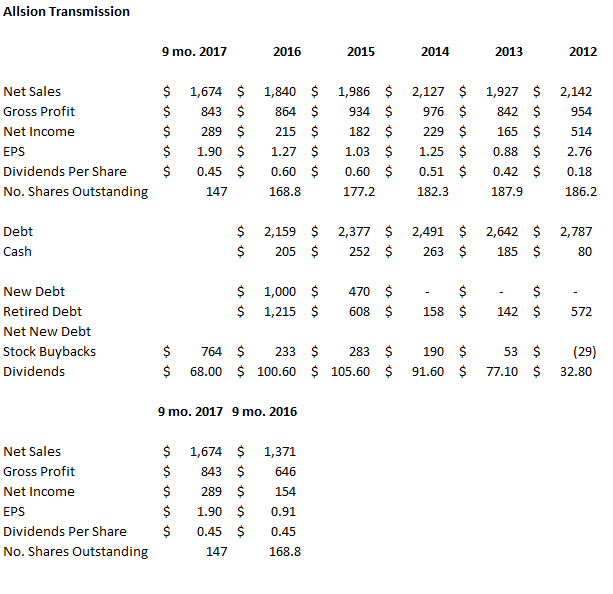 Turning quickly to the capital structure, I like the fact that the company has generally been paying down debt over the past five years. In addition, I'm not that concerned about the level of debt here as the interest rate is approximately 3.62%, which I consider to be very reasonable. Also, 55% of the debt is due in 2022, and 46.5% of it is due in 2024, so there is no worry about a credit or solvency crisis on the horizon here anytime soon.
Finally, comparing the most recent nine month period to the prior period suggests that we're in a strong growth period for the firm. Revenue is up approximately 22%, and net income is up an astounding 87.6%. This is a company with all the earmarks of a "growth" business, but the shares continue to linger at a significant discount to the overall market.
The Dividend
Although management's actions in the face of the financial past are admirable, investors are obviously more interested in the future, so I must spill some virtual ink coming up with what I consider to be a reasonable forecast for price going forward. Whenever I forecast, I engage in a ceteris paribus assumption, meaning that I hold all variables constant but one. I try to "move" only the variable that I consider to be most relevant, in this case the dividend per share.
Although dividend per share growth rate has slowed, over the past five years it has grown remarkably, at a CAGR of about 22%. In my latest forecast for the company, though, I want to be considerably more conservative than I've been to come up with in the past. I will forecast a dividend per share growth rate of 6% going forward. This will obviously be driven by a combination of continued share count reduction and slightly higher dividend payments.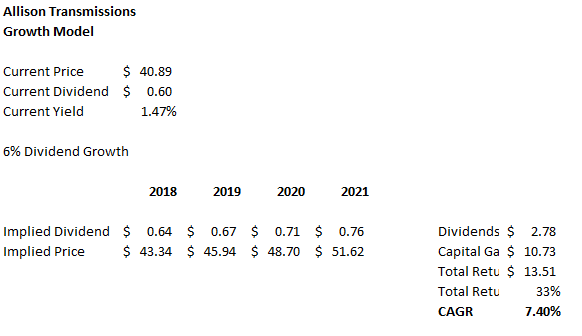 When I perform this forecast on Allison Transmission, I estimate an approximate CAGR return of just under 7.5% from these higher levels. I consider this to be a very reasonable relative return, all things considered.
Technical Snapshot
As per our ChartMasterPro Daily Trade Model, the trend for ALSN turned bullish with the daily close above $41.00 on December 4. This signalled a bullish breakout above the $41.00 resistance level. From here, we see the shares climbing to the $45.50 level over the next three months.
We will buy ALSN call options that will provide us with approximately 12x leverage on our long trade. Our initial stop-loss exit signal will be a daily close below $40.50.
For investors in the shares, we recommend that you hold for three months or $45.50, whichever comes first. For longer-term investors (years, not months), we believe ALSN is a solid addition to any dividend growth portfolio over the next four years.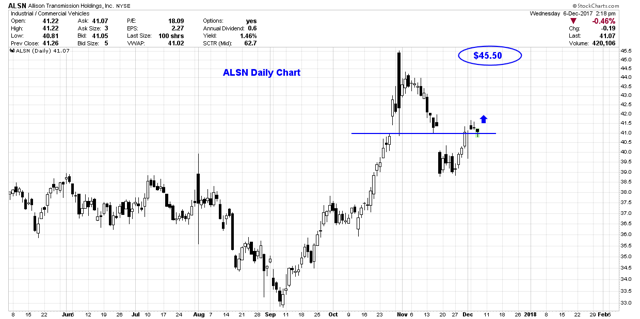 Conclusion
Although my return expectations are somewhat muted relative to my most recent article on the name, I am still bullish on Allison Transmission. The most recent earnings report has simply strengthened my resolve from these levels. Although investors who buy based on my thoughts now won't do as well as those who purchased based on my earlier analysis, they will still do well.
Investing is a relativistic process in that whenever we choose to buy something, we are by definition choosing to not buying many other things. In my view, it has always made the most sense to buy those names that represent both good growth, and that trade at a significant discount to the overall market. The overall market may swoon from its expensive levels, but companies like this one will swoon less, and that's the game at the moment, in my view. We must now consider risk along with reward because the market becomes more risky by definition as it rises, and at some point this game can't continue. We will simply run out of marginal buyers. In spite of the risks in the overall market, the relative risk of this steady dividend payer, with a shareholder friendly management is quite low. Although future returns are more muted than in my earlier analysis (because the shares are up since then), I still consider this to be an excellent investment on a risk adjusted basis. Allison Transmission Holdings Inc. is a buy.
Disclosure: I/we have no positions in any stocks mentioned, but may initiate a long position in ALSN over the next 72 hours.
I wrote this article myself, and it expresses my own opinions. I am not receiving compensation for it (other than from Seeking Alpha). I have no business relationship with any company whose stock is mentioned in this article.
Additional disclosure: We trade options. Sometimes our trades last a few days, sometimes a few weeks, sometimes a few months. Please review our trade history listed in our Seeking Alpha BlogPost to get a feel for our trading style.