On several occasions I have discussed arbitrages that are behaving oddly, and the arbitrage created by United Technologies' (NYSE:UTX) proposed acquisition of Rockwell Collins (NYSE:COL) is yet another one.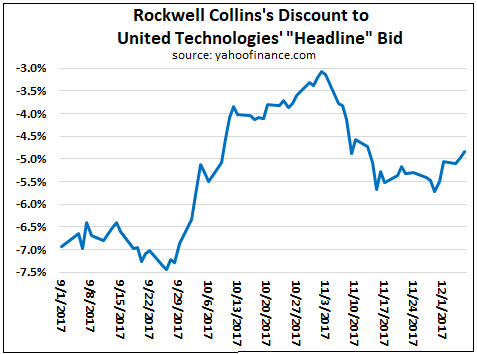 Rockwell Collins is trading at only a 4.8% to the deal's "headline" value of $140 per share. Even apart from the other issues surrounding this transaction, this is surprisingly narrow for a deal that is not expected to close until Q3 2018.
And those 'other issues' are certainly not trivial. The proposal is not universally popular with Rockwell Collins' shareholders, who must approve it. It is anything but popular with Boeing (NYSE:BA) and Airbus (NYSE:OTCPK:EADSY), two of its three major customers, and it is unlikely that the third − the Pentagon − is exactly enthralled with it. Regulatory approval for the deal is likely to be a challenge, especially in the European Union, which will undoubtedly look after the interests of Airbus in any way it can. The surprisingly punitive break-up fee of $695 million that Rockwell Collins would have to pay to United Technologies if it accepted a competing bid is certainly a deterrent, but its size also indicates that United Technologies judges that risk to be quite real. Then there are the issues that accompany any large deal: are the promised synergies achievable, and can the companies integrate quickly and without disruption? With all this going on in the background, a Q3 2018 close is questionable.
However, the deal structure is more complex than the "headline" bid of $140 suggests. The transaction is for cash and shares, but unusually, for a dollar value of shares rather than a specified number of them. If the acquisition closes, Rockwell Collins shareholders will receive $93.33 per share in cash and a fraction of a United Technologies share valued at $46.67, based on the prevailing United Technologies price at the time. United Technologies has placed a collar around that price. If United Technologies' shares are trading at or below $107.01, Rockwell Collins' shareholders will receive 0.43613 United Technologies shares, resulting in a consideration less than $140. If United Technologies' shares are trading at or above $124.37, Rockwell Collins' shareholders will receive 0.37525 United Technologies shares, resulting in a consideration greater than $140.
For example, if, when the acquisition is about to close, United Technologies' shares are trading at $105 (12.5% below current levels), then Rockwell Collins' shareholders would receive consideration of $139.12: if United Technologies is trading at $130 (7.5% above its current price) then Rockwell Collins' shareholders would receive $142.11. The collar is +7.5% of United Technologies' average share price over a short period prior to the announcement of the transaction. So discussion of the deal terms of a fixed $140 value disguises the fact that what Rockwell Collins' shareholders are being offered is a range of prices contingent on the future price of United Technologies.
So talk of a discount to deal value is difficult: the "headline" price is in effect the central price around which the range of prices offered which will be what Rockwell Collins' shareholders receive if United Technologies' volatility over the next year is similar to what it was over the twelve months previous to the deal's announcement, which was rather low at 13.2% annualized. In fact, United Technologies added a little wiggle room.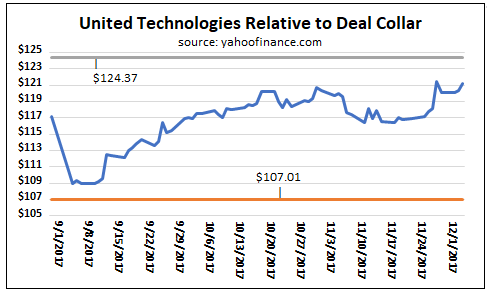 Building an arbitrage trade around such a structure is more difficult, and less hedged, than against more typical transaction models. If United Technologies is trading within the collar, the hedge ratio (i.e., the number of United Technologies shares to short against each Rockwell Collins share held long) is continuously variable throughout the day (although the graph below shows only its day-to-day variability).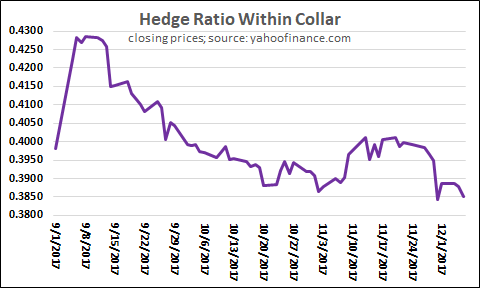 It is by no means impossible for arbitrageurs to accommodate themselves to this novelty, as well as to the need to write an algorithm to flip over to fixed ratios of 0.37525 or 0.43613 if United Technologies' share price crosses one or the other of the collar's barriers. But arbitrageurs must either incur heavy transaction costs or satisfy themselves with an imperfect hedge, in which case they are likely to leverage the trade less than they would prefer. The temptation may be to leave the trade alone - it is not as though there is a dearth of risk arbitrage opportunities available at present. If they are in fact absent from the trade, that would explain its peculiar behavior.
Why would United Technologies establish such a deal structure, and why would Rockwell Collins' Board accept it? For one thing, it is probably a tacit acknowledgement of the length of time the deal will take to complete: it gives an approximate price for shareholders of both companies to consider, while leaving some flexibility for developments in 2018. The collar protects United Technologies' shareholders from ruinous dilution if the company's shares decline significantly, and it allows Rockwell Collins' shareholders to participate in the upside if United Technologies' shares do well.
But the novel structure means that the discount relative to $140 has limited information value. It should not be regarded as an indicator of the likelihood of the transaction's success. There is far more water to go under the bridge for this deal - and probably far more volatility for United Technologies' stock price − than an apparent discount of 4.8% would suggest.
However, United Technologies has been inching toward the upper boundary of the collar. If its price definitively breaks out over $124.37, the deal becomes a more conventional arbitrage and the information value of the discount will rise as arbitrageurs pile in. The two stocks are comfortably liquid and easy to borrow. United Technologies' dividend yield of 2.3% is an inconvenience for its short-sellers, but not an insurmountable one.
Investors should always pay attention to the information value of discounts in conventional and actively-traded arbitrage situations. Since they are typically leveraged 3X-4X, they have a lot at stake. They protect that stake through rigorous research, retaining legal advice on anti-trust issues in numerous jurisdictions and whatever else is necessary to allow them to get an edge on the often random behavior of stocks in deal situations. They also trade actively. So their absence from a deal means that the discount to $140 offers little clue as to the likelihood of the deal's completion.
Disclosure: I/we have no positions in any stocks mentioned, and no plans to initiate any positions within the next 72 hours.
I wrote this article myself, and it expresses my own opinions. I am not receiving compensation for it (other than from Seeking Alpha). I have no business relationship with any company whose stock is mentioned in this article.