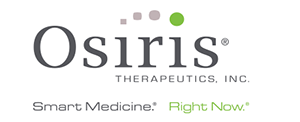 What Is Osiris Therapeutics?
Osiris Therapeutics (NASDAQ:OSIR) spun out of Case Western Reserve University in 1992 to leverage stem cell technology discovered by Dr. Arnold Caplan and his team of researchers.
By May 2012, Osiris received marketing clearance from Health Canada for the world's first approved stem cell drug (Prochymal).
In August 2013, we learned that Grafix demonstrated overwhelming efficacy in a landmark stem cell study for the treatment of diabetic foot ulcers. Grafix closes 3 times as many wounds as standard of care - the largest relative improvement ever reported in a multi-center, randomized, controlled clinical trial for DFU.
In October 2013, Osiris pivoted away from Prochymal through a transaction with Mesoblast (NASDAQ:MESO) to focus Osiris on the areas of greatest commercial value moving forward while strengthening the balance sheet, reduced R&D expense and preserved future value from Prochymal through a series of milestone and royalty payments.
Why would Osiris pivot? Osiris could move Grafix to market quickly and start to help people solve wicked problems like the Dalton Foot case to avoid amputation.
Blue Cross Blue Shield agrees with the efficacy of Grafix.
Shares of Osiris rose when the results of Grafix were announced but were crushed when financials were delayed.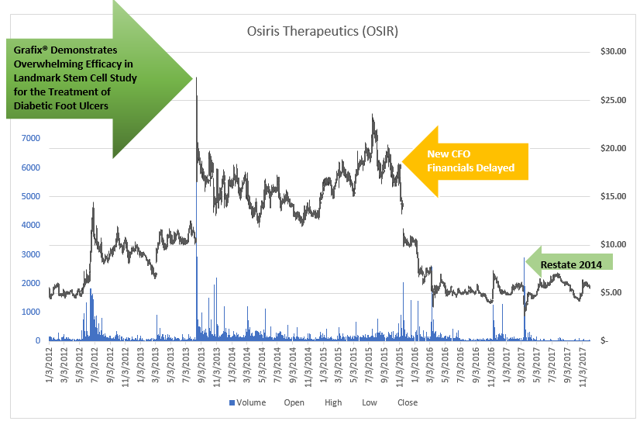 September 2015: New CFO. November 2015: Delay in financials.
In March 2017, Osiris clarified the issue with the control environment stating: In 2014 the former CEO and former CFO either participated in, or failed to take action to prevent, the extra-contractual or undocumented terms of arrangements with distributors. For one sales transaction to a distributor in the fourth quarter of 2014, evidence exists indicating that the former CFO created a document subsequent to filing of the Original Form 10-K in an attempt to support the recognition of revenue in 2014. These actions or inactions led to errors and irregularities in the company's recognition of revenue. Osiris did not have sufficient number of employees to handle financial management and reporting requirements during 2014 while experiencing dramatic growth in product sales and certain accounting and finance positions were staffed with individuals who did not have the appropriate skills, training, and experience to meet their responsibilities.
This accounting snafu is sad because the company is growing. In March 2017, Osiris announced revenue of $89 million to $92 million for 2015 and $110 million to $114 million for 2016.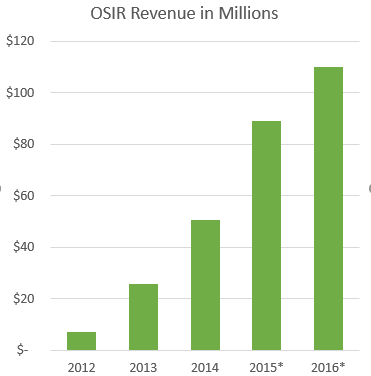 While financials are not current, the last indication we have as of Dec. 31, 2016, Osiris had $27M in cash and no debt and $72-75 million in total assets.

On July 10, 2017, we learned that Mesoblast provided $10,000,000 to Osiris for the Crohn's disease program from the purchase agreement of Osiris Prochymal (mesenchymal stem cell).
Prior to all of this, indications were that the company was headed towards profitability with a minimal burn rate. This suggests capacity to continue operations and manage some extraordinary one-time costs.
The company currently believes that it will be able to get its SEC filings current in the first quarter of 2018. This clears the pathway for relisting on Nasdaq.
Risks
There are various risks to consider with biotechnology stocks, especially with one that is not current in financial reporting.
A key risk is, when will financials become current and the stock relist on the Nasdaq? The company indicates that it is targeting Q1 2018 for getting filings current as described October 30, 2017.
Another risk is what might the outcome of litigation surrounding this accounting debacle be? I offer that the $1.5M settlement with the SEC provides perspective. Further, as of Dec. 5, 2017, we learned that the SEC and SDNY investigations are concluded in regards to the company.
In summary, Osiris is a company with strong science and efficacious products, but with historically weak internal controls.
Last month we were reminded that the internal controls have been strengthened by Osiris when we also learned of a $1.5M settlement with the SEC.
Executive management has been replaced. Now Osiris has a new CEO, CFO, and legal counsel. Remember, prior CFO has pleaded guilty. Independent members have been appointed to the Board including Uwe Sommer, Thomas Knapp, and David White.
This is an important to help Peter Friedli, founder, majority owner, and chairman of the Board, to move the company forward.
While all this has been occurring, impactful science has continued.
In March 2017, Osiris launched Prestige Lyotechnology, a novel method for ambient storage of living cells and tissues.
In April 2017 cryopreserved viable and dehydrated irradiated devitalized placental membranes were compared in wound-relevant models in vitro to determine the effect of two different processing methods on structural and functional properties of placental tissues. Data demonstrates that the cryopreserved viable placental membrane retains intact, native matrix and viable cells comparable to fresh tissue and responds to chronic wound stimuli in in vitro in a manner equivalent to fresh tissue. Dehydration and radiation cause alterations of placental tissue structure and loss of cellular viability that correlates with a decrease in functionality. The study's results conclude that preservation of both structural and cellular integrity of fresh placental tissue is required for full retention of regenerative potential of the tissues.
Osiris also continues to have a robust and diversified product pipeline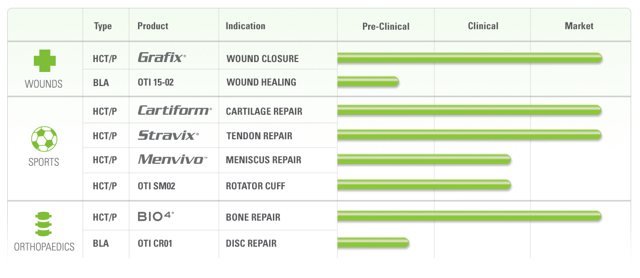 In summary, Osiris is getting better. Products are advancing by decades of thoughtful scientific leadership. Improved internal controls, management and governance should yield better financials in 2018 and hopefully relisting on the Nasdaq.
Disclosure: I am/we are long OSIR.
I wrote this article myself, and it expresses my own opinions. I am not receiving compensation for it (other than from Seeking Alpha). I have no business relationship with any company whose stock is mentioned in this article.