This report covers the week ending Dec. 8, 2017. Daily data for Dec. 2 to Dec. 7 is estimated. Daily data for Dec. 8 is forecast. To read last week's report, please click here.
Total Supply/Demand Balance
We estimate that aggregate demand for American natural gas (consumption + exports) totaled around 630 bcf this week (up 10% week over week, but down 3.0% year over year). The deviation from the norm stayed positive and actually increased from +5% to +12% (see chart below). According to our calculations, aggregate demand for U.S. natural gas (on a weekly basis) has been above the nine-year norm since Feb. 24, 2017.
The number of heating degree days increased sharply across the country, but mostly stayed below the norm. Total exports dropped 7% week over week, due to weaker pipeline flows to Canada, but exports were still up some 20% year over year thanks to stronger LNG demand. According to Marine Traffic data, no fewer than four LNG tankers (total natural gas carrying capacity of 13 bcf) departed from the Sabine Pass over the past seven days.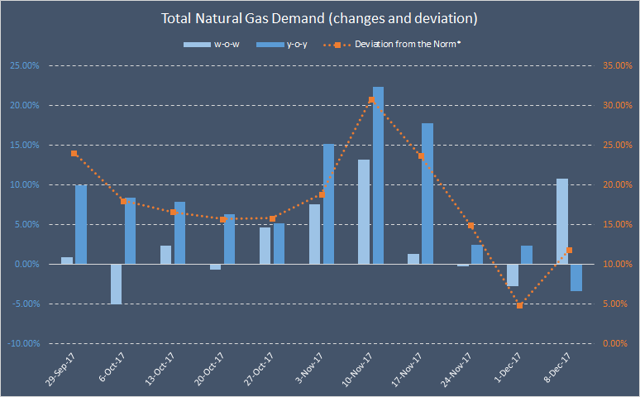 *Norm defined as simple average over the last nine years. Source: Bluegold Research.
We estimate that dry gas production has been expanding in annual terms for 28 consecutive weeks now. Wellhead output remains strong - specifically in the Gulf Coast region, but also in the eastern part of the country. Our three-month dry gas production forecast has been trending down lately, although it still remains robust by historical standards.
Currently, we estimate that dry gas production will average 77.1 bcf/d in December and January. Total aggregate supply of natural gas (production + imports) averaged around 84.6 bcf per day for the week ending Dec. 8 (up 7% year over year). Overall, total supply/demand balance should be negative and is estimated to drop to just under -40 bcf. It is the first negative physical balance since March 17, 2017.
The volume is some 66 bcf smaller than a week ago, and some 30 bcf below the five-year average for this time of the year (see chart below). In absolute terms, and with all other things being equal, this kind of volume is neutral for natural gas prices because it's above last year's level, but below the historical norm. That does not mean, of course, that natural gas prices will stay flat. If you want to know how we are navigating through the current market environment and see our trading exposure, consider signing up for our exclusive content (see link below).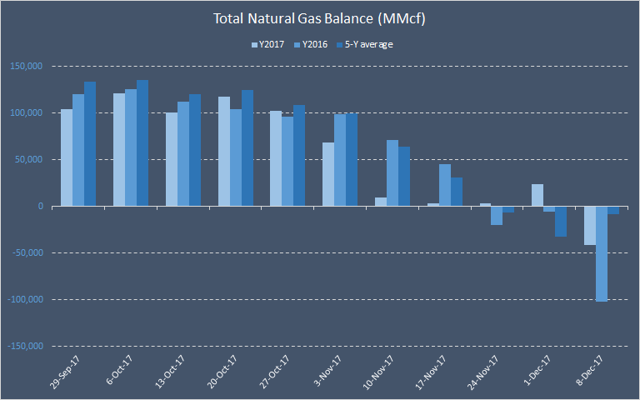 Note that the total supply-demand balance does not equal storage flows. Source: Bluegold Research.
Storage
This Thursday, the EIA reported an injection of 2 bcf. Total storage now stands at 3,695 bcf, which is 36 bcf (or 0.96%) below the five-year average for this time of the year. Currently, we expect EIA to report a draw of (67) bcf next week (the final estimate will be released next Tuesday). Our latest projection is lower than the comparable figure in ICE's latest report for the EII-U.S. EIA Financial Weekly Index, implying the possibility of a bullish surprise.
Overall, at this point in time, we expect storage flows to average -128 bcf over the next three reports. Natural gas inventories' deviation from the five-year average should decrease from -0.96% today to -3.07% for the week ending Dec. 22. We update our forecasts on a daily basis. If you wish to receive regular updates on key natural gas variables - production, consumption, exports and imports - consider signing up for our exclusive content (see link below).
Trading Exposure
Natural gas prices have plunged more than 8% over the past few days. If you are long and losing money, trust us - you're not the only one. We never expected the price to drop so fast and so low. Our futures portfolio is currently in the red. That's why we always remain conservative in our trading. Our usable margin level almost never drops below 80%, which means that we can handle a 20% or even 30% move against us and still be able to open and close new positions. Our conservative approach comes from experience. We have been trading natural gas for more than six years, and we've seen everything in this market.
December is usually the time when short-term numerical weather prediction models are viewed as precursors for the longer-term environment, and therefore the market tends to overreact. It's not uncommon for important lows to be set in mid-December.
Remember the following?
Dec. 12, 2016: Price drops to $3.507 per MMBtu only to rise to $3.930 a few weeks later.
Dec. 17, 2015: Price drops to $1.755 and then rallies to 2.372 over the course of seven trading sessions.
We think that this year, a similar pattern might hold. And if we weren't conservative in our trading, we would never be able to take advantage of the current market environment.
Thank you for reading our weekly report. We also write a daily update of our forecast for key natural gas variables: production, consumption, exports, and imports. Interested in getting this daily update? Sign up for Natural Gas Fundamentals, our Marketplace service, to get the most critical natural gas data.
Disclosure: I/we have no positions in any stocks mentioned, and no plans to initiate any positions within the next 72 hours. I wrote this article myself, and it expresses my own opinions. I am not receiving compensation for it (other than from Seeking Alpha). I have no business relationship with any company whose stock is mentioned in this article.
Additional disclosure: We are long natural gas futures (February, March, and April contracts).