Valeant Pharmaceuticals International Inc. (VRX) recently launched and priced an upsized unsecured note offering due in 2025. The offering was boosted to $1.5 billion from an original offering of $1 billion with a rate of 9%. The proceeds of the offering will primarily be used to pay down 7% senior notes due in 2020, 6.375% senior notes due in 2020, and up to $200 million of the company's 5.375% notes due 2020 (the 5.375% notes have a $200 million tender cap which prevents further pay down at this time).
Valeant will use these funds to bring down its debt due in 2020 from over $4.3 billion to a little under $3 billion, significantly reducing the company's cash needs when 2020 rolls around. With over $26 billion in debt still on the company's books, spreading out payments over time while opportunistically paying down key debt maturities is vital to keeping the company healthy until its debt reaches a more manageable level.
The best thing about this offering, and why the interest rate is so high at 9%, is that the offering is for "unsecured" notes. Unsecured debt refers to obligations that are not protected by a guarantor, or collateralized by a lien on the specific assets of Valeant, in the case of bankruptcy or Valeant's failure to meet the terms of repayment.
What this means for the company is long term optionality. When you use unsecured debt to pay off secured debt, you start to free up assets that were formerly hindered by the terms of debt agreements in what can and cannot be done with those assets by the company. For instance, freeing up secured debt might help Valeant in sales of now less restricted non-core assets to help with further debt reduction. At the very least, Valeant opens up the option of being able to offer future debt secured by assets, allowing Valeant a way to use unhindered assets to get critical financing if things start to turn bad for the company again.
Here is Valeant's current debt maturity spread along with its mandatory amortization payments.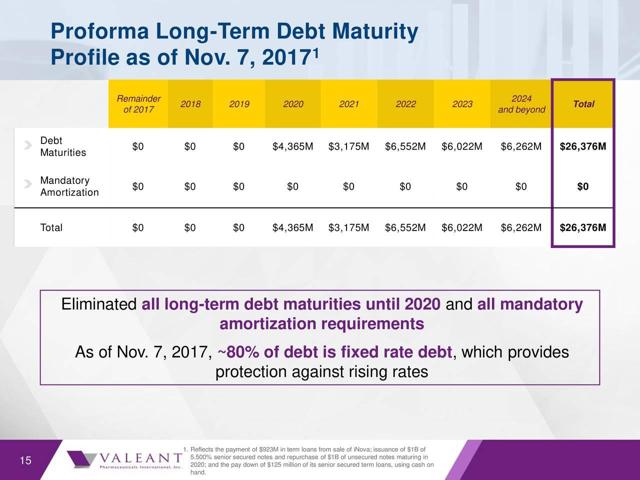 One of Valeant's Q3, 2017 Earnings Call Slides
As you can see, Valeant's note offering should bring its total debt maturities due in 2020 to under $3 billion, which brings it more in line with 2021's $3.175 billion in maturities. With Valeant earning around $2 billion a quarter in revenues, great free cash flow, and promising pipeline drugs such as Vyzulta just entering the market, $3 billion a year in maturities in 2020 and 2021 don't look overly daunting, especially if Valeant can continue to swing a couple non-core asset sales a year at attractive valuations. After this latest note offering, debt concerns now will primarily focus on years 2022 and beyond, when the $6+ billion a year in maturities will definitely be an issue the company will focus on mitigating via free cash flow and future note offerings.
Finally, let's look at how Valeant's CEO Joseph Papa has done in the past with paying down the company's debt. After he was appointed CEO in April of 2016, the company was a complete mess with debt soon reaching approximately $32 billion. Since then, he has managed to shed debt far faster than the market expected with approximately $6 billion in total debt reduction since the first quarter of 2016. Valeant has already far exceeded Papa's original goal to pay down $5 billion of debt from asset divestitures and free cash flows by February of 2018. With the company already ahead of schedule on its deleveraging, Papa has plenty of time to come up with a brand new plan going forward at its upcoming earnings call in 2018. With the company vastly outperforming market expectations of non-core asset sales and free cash flow generation to pay down debt, it will be very interesting to see if Papa formulates any new aggressive goals the market can debate, or if he will instead concentrate on growing revenues and fixing lingering legacy issues.
Valeant has done a terrific job of dealing with its onerous debt load under previous management. The company has been more than capable of delivering on its promises with significant debt reduction over the last couple of years while turning around its core businesses, such as its Salix franchise, from the brink of collapse. Sentiment seems to finally be turning for the company as momentum recently has shown sustained stock gains over the past month as more and more investors are buying into the turnaround story.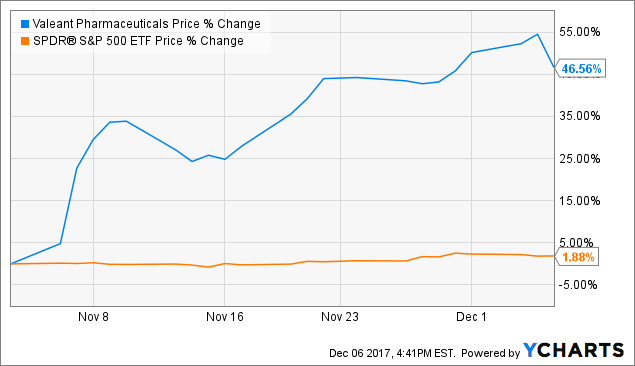 VRX data by YCharts
Valeant continues to take meaningful steps in solidifying its current business segments, while extending out its debt profile, and paying down debt faster than even most bulls could have hoped for. I continue to be long VRX for the long run. Best of luck to all.
Disclosure: I am/we are long VRX.
I wrote this article myself, and it expresses my own opinions. I am not receiving compensation for it (other than from Seeking Alpha). I have no business relationship with any company whose stock is mentioned in this article.