For many years, we have been taught that a portfolio balanced between stocks and bonds is sufficient in tamping down risk. When the stock market has taken a dive in the past, investors have chosen bonds as a safe haven, driving bond prices up to compensate for stock loses. And for several decades, this general rule of investing has held true. However, we are now approaching an era that will likely destroy the current concept of a balanced/diversified portfolio.
Bond yields have been steadily falling (i.e. bond prices rising) for over 36 years. No matter what the stock market was doing over the past 36 years, bonds were a pretty safe bet. The bond market has been so consistent for so long that even many baby boomers have never invested at a time when the general direction of the bond market was down. The next bear market in bonds is fast approaching and will likely redefine investment terms such as "diversification", "balanced" and "moderate."
The theory goes: "diversification between stocks and bonds is a great way to reduce risk." Mutual funds and exchange traded funds often advertise their products with the word "moderate." A moderate risk fund usually has a large portion of bond holdings. We're also told that "balanced" portfolios are safe. It is often said that you should take your age number and put that percentage of your portfolio in bonds. For example, if you are 30 years old, 30% of your portfolio should go into bonds. One of the most popular balanced portfolios is a 60/40 split (i.e. 60% in stocks and 40% in bonds).
All these sayings, theories, and rules of thumb are about to be thrown out the window. As you can see from the chart below, bond bull markets last a very long time, but not forever. Bond bear markets are often longer than bull markets, and one complete cycle can last almost an entire century. Once the bear market starts, the world will likely not see another bull market until the end of the 21st century.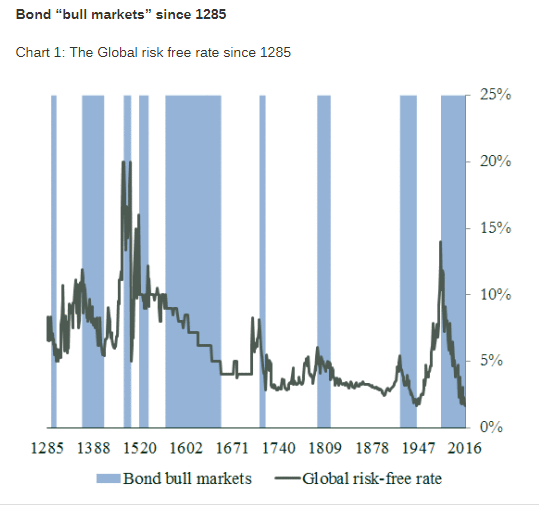 (Source: Paul Schmelzing, Harvard University)
No matter what perpetual optimists might say, bull markets do die from old age. This can be easily seen from the image above. Obviously, every bond bull market has its limits. Over the past eight centuries, only one bond bull market has lasted longer.
The lifespan limitations of bull markets apply to stocks as well. Over the past century, there has only been one stock bull market longer than this one. Although the current stock bull market may turn in to the longest on record, it is most certainly approaching the end of its life. Bond and stock cycles are very different in length (i.e. the bond cycle is a lot longer), but could both bull markets end simultaneously? Maybe not, but the likelihood of this perfect storm is becoming exceedingly possible.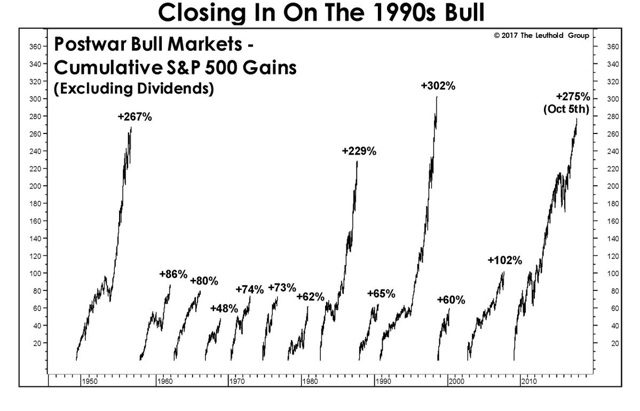 Goldman Sachs recently published research that paints an ominous picture for classically balanced/diversified portfolios. Over the past 117 years, there has only been one longer run in which 60/40 portfolios have not suffered a 10% drawdown. The longest run ended with the Great Depression. Markets are inherently cyclical. What goes up must come down, including balanced portfolios.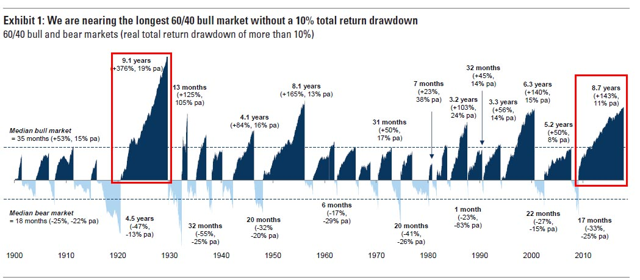 So, what is an investor to do when a classically diversified portfolio no longer sufficiently reduces risk? The whole premise behind diversification is to invest in assets that are not correlated to each other. Luckily for us, the marketplace of financial instruments has provided us with many great options.
Consider selling a portion of your stocks and bonds for a general commodities fund, such as DBC, GSG or DJP. CEO of DoubleLine, Jeffrey Gundlach, recently pointed to the chart below as a reason to load up on commodities. Compared with stocks, commodities are at their lowest valuation in almost half a century.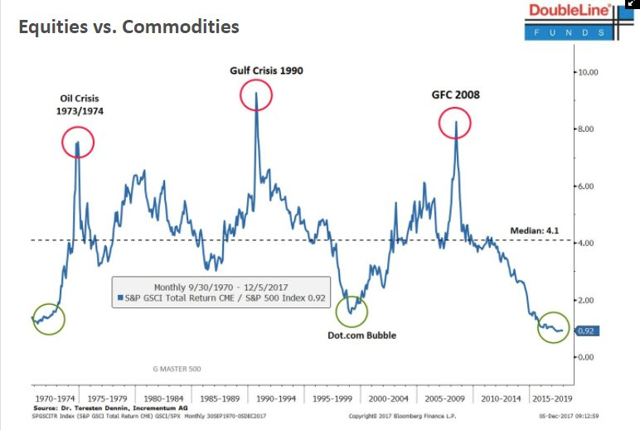 You could also take commodities investing a step further and focus specifically on gold (GLD). It's always good to have at least a small portion of gold in your portfolio regardless of what stocks and bonds are doing. With balanced portfolios becoming more risky, consider selling some of your stock and bond positions for even more gold. The last major inflationary cycle in the US resulted in bond yields rapidly rising (i.e. bond prices falling) along with the price of gold. This is due to investors using gold as a hedge against inflation.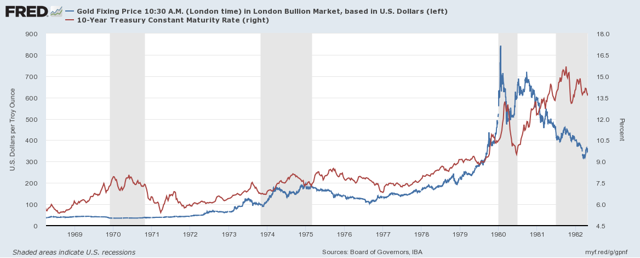 You can also use funds such as TBF, TMV, or PST to directly short the bond market. Because it will be difficult to time the exact end of the bond bull market, use these funds cautiously. Furthermore, I would not encourage you to use short stock funds at all if you are investing for the long-run. They have far too much downside.
There are endless ways to diversify and reduce the risk of your portfolio. Think outside the box. The classic diversification between stocks and bonds is becoming exceedingly risky as we march deeper into the 21st century. A bear market in bonds will shatter the old theories and rules of thumb that have been taught to us about diversification over the past several decades.
Disclosure: I am/we are long GLD.
I wrote this article myself, and it expresses my own opinions. I am not receiving compensation for it (other than from Seeking Alpha). I have no business relationship with any company whose stock is mentioned in this article.