REIT Rankings: Hotels
In our REIT Rankings series, we analyze one of the 15 real estate sectors. We rank REITs within the sectors based on both common and unique valuation metrics, presenting investors with numerous options that fit their own investing style and risk/return objectives. We update these rankings every quarter with new developments.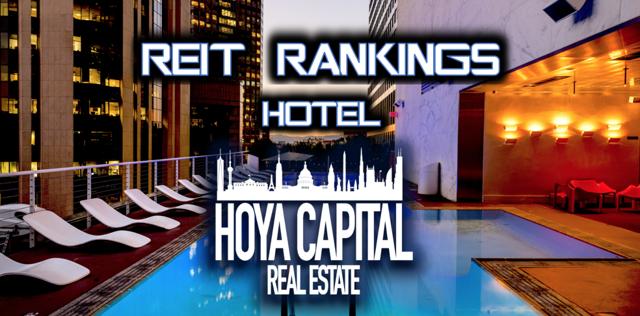 We encourage readers to follow our Seeking Alpha page (click "Follow" at the top) to continue to stay up to date on our REIT rankings, weekly recaps, and analysis on the REIT and broader real estate sector.
Hotel Sector Overview
Hotel REITs comprise 5% of the REIT indexes (VNQ and IYR). Within our market value-weighted hotel index, we track nine of the largest hotel REITs within the sector, which account for roughly $40 billion in market value: DiamondRock (DRH), Host Hotels (HST), LaSalle (LHO), Park Hotels (PK), Pebblebrook (PEB), RLJ Lodging (RLJ), Sunstone (SHO), Summit (INN), and Ryman (RHP). We also track four of the largest hotel operators.

For real estate investors who are accustomed to simple business models, the hotel industry is an outlier. Generally, the companies that are ubiquitous with the hotel business - Marriott (MAR), Hilton (HLT), Hyatt (H), and Choice (CHH) - don't actually own hotels, but simply manage the hotel for the property owners. These hotel operators are typically structured as c-corporations and tend to operate in an asset-light model with higher margins and lower leverage.
Hotel REITs, on the other hand, operate with an asset-heavy model by owning the assets, collecting the revenue, and paying a set percentage to the management company. Hotel REITs tend to be less nimble and have slower growth rates than c-corp hotel operators, but have historically paid a sizable dividend yield to investors. Simplistically, hotel operators are the growth side of the business while asset owning REITs are the income side.
Hotels are typically grouped into segments based upon average room rates: budget, economy, midscale, upscale, and luxury. We simplify these categories into high, average, and low quality. Above, we show the size and quality focus of the nine hotel REITs we track. In general, public REITs tend to be biased towards the higher-quality end of the spectrum and own primarily full-service hotels in coastal urban markets or resorts. More than the average hotel, these REITs generally cater more to transient business travelers and group bookings.
Hotel ownership is a tough business. Despite trading at persistent discounts to the REIT averages, hotel REITs have underperformed the broader REIT index over the prior 1,2,5, and 10 year periods. At just 25-30%, Hotel REITs operate at the lowest EBIT margins across the real estate sector, which averages 65%. These REITs have had some success in recent years controlling rising labor costs, property taxes, and other expenses. As a percent of NOI, hotels also have the highest capex requirements in the real estate space at 30%, well above the sector average of 15%.
National hotel performance has been strong over the past several years, driven by solid leisure and individual "transient" business demand, which has risen nearly 40% since 2007. Group bookings, which account for as much as one-third of revenue at these REITs, have been flat over this time. Average occupancy, average daily rates (ADR), and revenue per available room (RevPAR) reached record highs in 2016 and are currently on pace to reach another record in 2017. While the new supply pipeline essentially shut down after the recession, it has roared back in recent years. Supply growth has averaged 2% over the past couple years, but as much as 6% in the urban markets in which most REITs operate.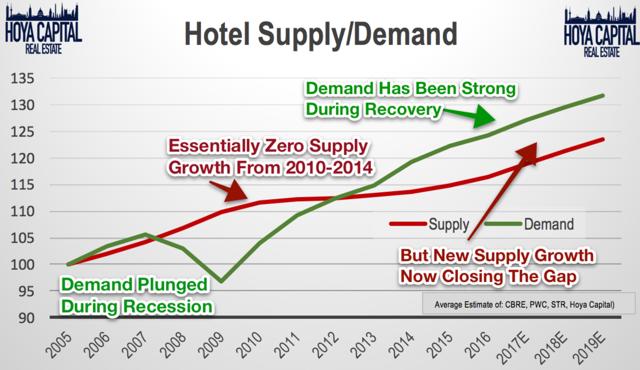 As supply growth has caught up with demand growth, the favorable imbalance has been erased, dragging down RevPAR. Supply and demand are expected to be balanced over the next three years. With a balanced outlook, and with demand expected to be in the 2-3% range, it is reasonable to expect 2-3% growth in RevPAR through 2019.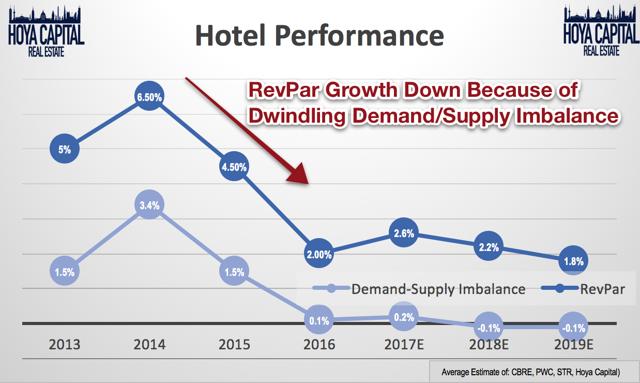 Over the past several years, supply growth has been most acute in the middle and upper-quality segments, the segments most commonly owned by hotel REITs. These quality segments continue to underperform the national averages, and as a result, hotel REIT performance has lagged the industry-wide performance.
Recent Developments and Quarterly Performance
While the asset-lite hotel operators have surged 46% so far in 2017, hotel REITs have risen just 0.4%. While still lagging the hotel operators, REITs have performed well over the past quarter, rising 5% compared to a 2% decline in the REIT sector. Pebblebrook, Ryman, and Host have been the top performers this quarter while LaSalle, Summit, and RLJ have been the weakest.
3Q17 earnings were generally in line with expectations with occupancy, ADR, and RevPAR all improving from the previous record results in 2016. Across the REIT space, occupancy ticked higher by 30bps, ADR improved 0.7%, and RevPAR rose 1%. In line with the broader national trends, results were weaker in the higher-end and stronger in the lower-end.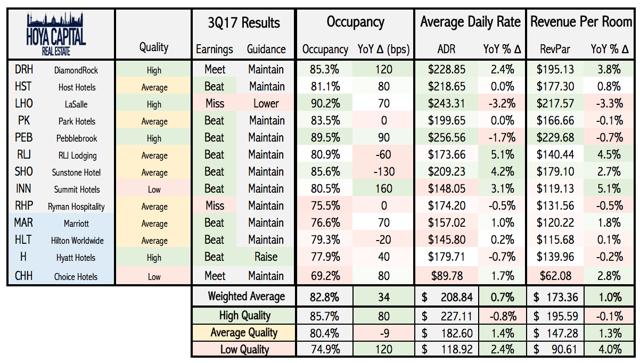 We recap the four most important developments that are moving markets and shaping the path for 2018 in the hotel sector.
Tax Cuts May Spur Business Demand
There is considerable optimism within the hotel industry that the proposed tax reform package will materially increase hotel demand, particularly in the business and group travel segments. The current plan proposes to corporate tax rates from 35% to 20%, equating to a roughly $1 trillion tax cut to US corporations. As REITs are most exposed to the business and group travel segment, we see this as an opportunity for REITs to "catch-up" with the broader industry.
An Oxford Economics report quantified the expected impact of the tax reform plan. Oxford Economics sees a 1.4% boost to hotel demand RevPAR in 2018, followed by a 0.3% rise in 2019, and then gradually tailing-off into 2022. With supply growth peaking in 2018, a resurgence in demand would again create favorable supply/demand conditions and lift RevPar higher by 2% per year over the next five years.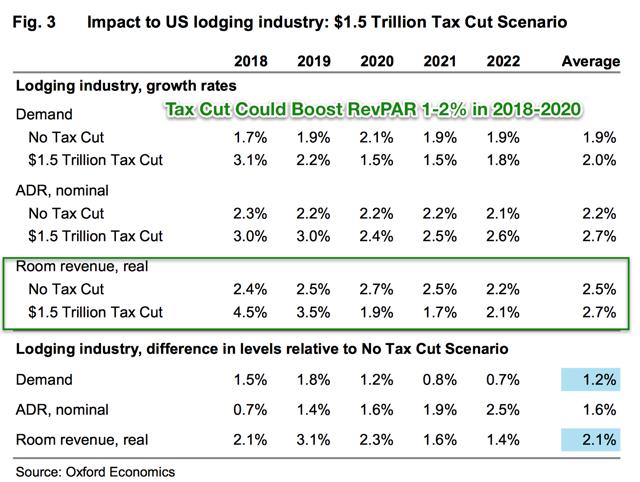 We view hotels as the real estate sector that stands to gain the most from the tax cut proposal and as an effective hedge against the downside risks related to the tax cut proposal. We believe that the downside risk is that the economy enters a period of "overheating" characterized by rising inflation and higher interest rates. Hotel leases are the shortest in the real estate sector (1-2 days per lease) and would serve as a hedge to the potential for rising inflation. As we'll discuss shortly, hotel REITs are the least interest rate sensitive real estate sector.
Hurricane Helped Boost 3Q17 To Record Quarter
Defying the headwinds of oversupply and slow corporate demand, the national hotel industry is on pace for another record year of occupancy and ADR. While the metrics are strong, the rate of growth has slowed considerably amid the overhang of supply growth. According to STR, the 3Q17 occupancy was the best since 1995, rising 0.5% from 2016 while ADR ticked higher by 1.4%. RevPAR rose 1.9%, beating expectations but still recording the slowest rate of growth since 2010.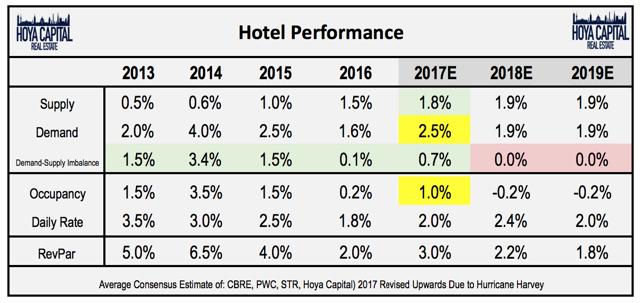 At the start of the year, we estimated that 2017 would be the first year since 2008 that supply growth exceeds demand growth. Demand, though, has been better than expected so far in 2017, and supply growth has been below expectations. The results of the strong hurricane season provided an extra boost on top of it. We now believe that demand growth will outpace supply growth by a slim margin, and have revised our occupancy and RevPAR up 1% from prior estimates because of the Hurricane.
On the demand side, we note that hotel demand correlates closely with GDP growth. We can further isolate the drivers of hotel demand by looking at air miles and vehicle miles. Low energy prices, rising corporate profits, and strong job growth are all positive developments for hotel demand.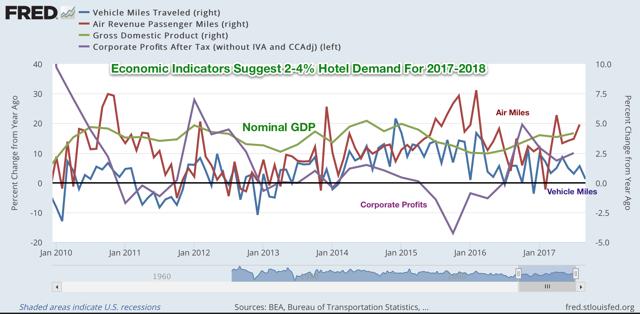 Supply Growth Has Been Concentrated in Urban Markets
The performance of the hotel REITs has underperformed the national average over the past several years. While supply growth for the broader REIT sector has crept towards the 2% historical average, supply in the urban business-oriented sectors has been rising over 5% for the past two years and is expected to remain elevated into 2019.
Strong demand in these segments has been able to keep RevPar in positive territory, but barely. Supply growth has been low in the resort and ultra-luxury segment and nearly non-existent in the economy segment, where demand growth has also been sluggish.

Airbnb Adding Some Supply, But Growth Slowing
One of the first reports we published on Seeking Alpha was an analysis of Airbnb's (AIRB) impact on the hotel sector titled "Airbnb Is No Uber: Hotels Are Not Dying." At the time, there was a belief that Airbnb would do to the hotel industry what Uber (UBER) did to the cab business. We pushed back, pointing out that Airbnb was more "hype" than "threat" because it catered to a small "experience-oriented" segment of the hotel market.
The crux of our outlook is that, given comparable prices, the vast majority of travelers will prefer the certainty, simplicity, and safety of a traditional hotel over an Airbnb listing. It is simply a better and more evolved business model than the barter-style Airbnb.
While this may be true, there is no doubt that Airbnb has added supply to the market at a time when construction of traditional hotels has accelerated, particularly in the New York City, Miami, LA, and San Francisco markets. In our last update, we estimated that Airbnb adds about 1-2% of new supply to the market each year that directly competes with traditional hotel rooms. We are revising this outlook down to <1% of new supply per year, given the newly enacted laws in New York, LA, and San Francisco that limit or expressly prohibit the "illegal hotel" model of commercial use of short-term rental of apartment units.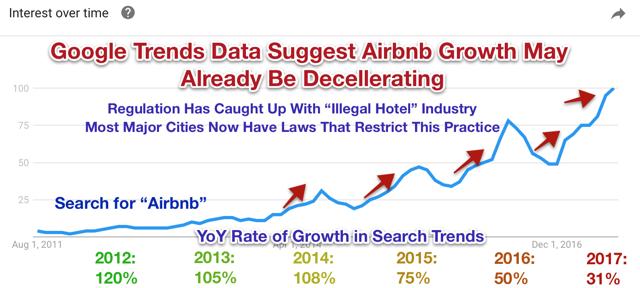 Below, we show the YTD performance of the hotel REIT sector. As discussed, hotel REITs slightly lagged the broader REIT average.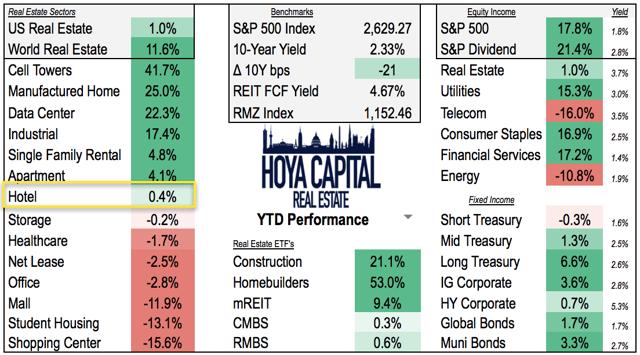 Valuation of Hotel REITs
Relative to other REIT sectors, hotel REITs are among the cheapest based on current and forward free cash flow multiples. At 17x, the sector trades at a significant discount to the REIT averages. When we factor in two-year growth expectations, though, the sector appears less attractive. Expected to grow FCF at just 3% over the next two years, hotel REITs are the slowest growing REIT sector, well below the REIT average of 6%. That being said, the growth rate for these REITs is highly leveraged to economic growth, so upward surprises to GDP could result in far stronger growth rates than our base-case expectations.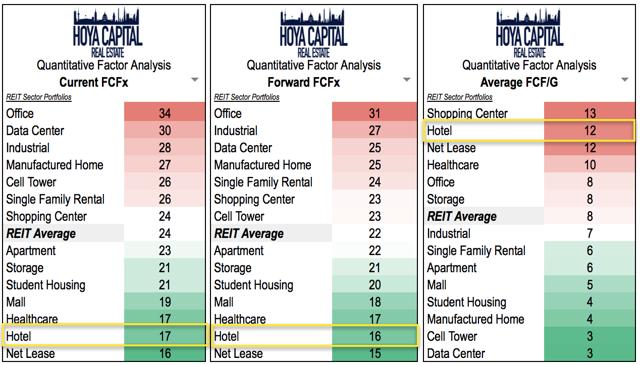 Across the sector, all eight names appear cheap based on free cash flows but expensive based on FCFG.

Sensitivities to Equities and Interest Rates
As a sector, Hotel REITs are Growth REITs and are the single most equity-like REIT sectors. Hotel REITs actually exhibit a negative correlation to changes in interest rates, a rarity among income-oriented investments.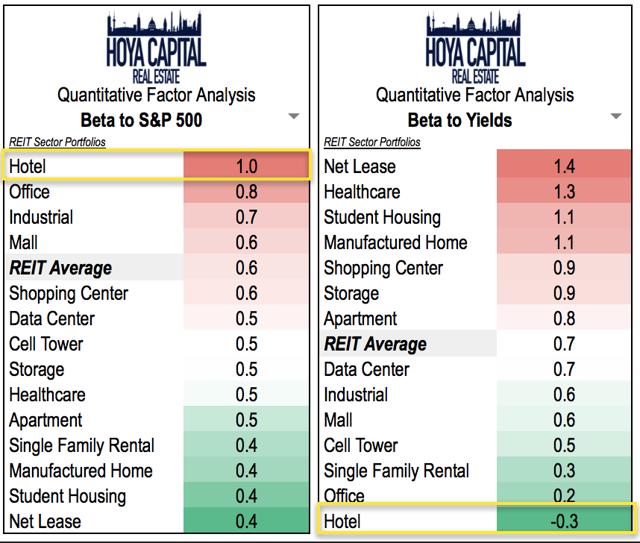 We separate REITs into three categories: Yield REITs, Growth REITs, and Hybrid REITs.

All nine REITs in the sector are classified as Growth REITs and should be used by investors seeking REIT exposure that is leveraged to a growing economy and exhibits low interest-rate sensitivity.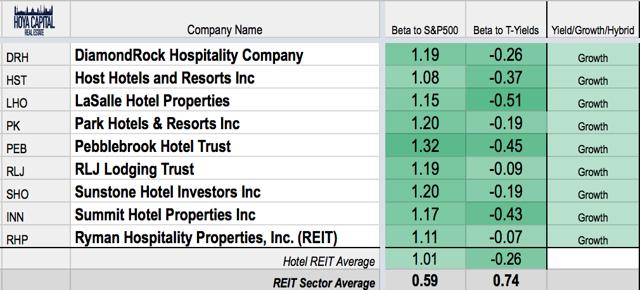 Dividend Yield and Payout Ratio
Unlike most growth REITs, however, many hotel REITs pay healthy dividend yields. Based on dividend yield, hotel REITs rank towards the top of the REIT universe, paying an average yield of 4.0%. Hotel REITs pay out just 76% of their available cash flow, so these firms have greater potential for dividend growth than other sectors.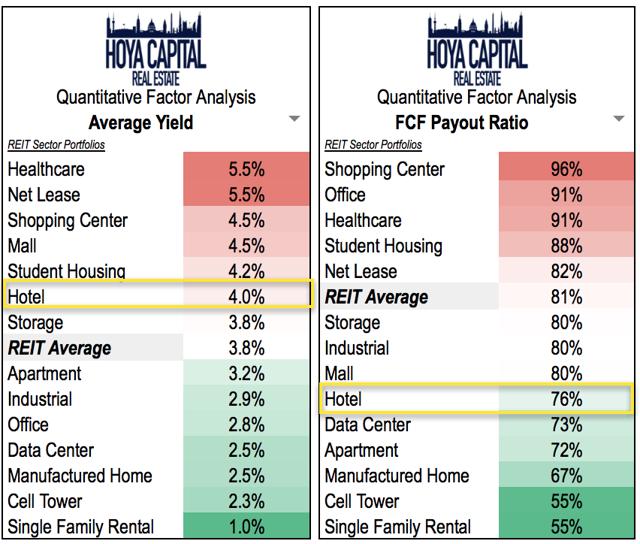 Within the sector, we note the differing payout strategies used by eight firms, which opens an opportunity for investors to be selective depending on their tax situation. Taxable accounts may see a better after-tax return by investing in companies with consistently lower payout ratios.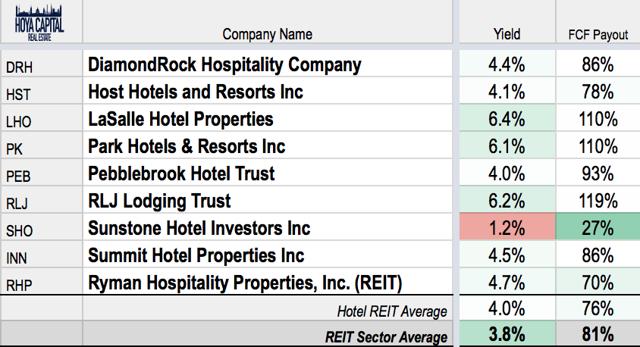 Bottom Line: Tax Cuts May Extend The Rally To Hotel REITs
Defying the headwinds of oversupply and slow corporate demand, the hotel industry is on pace for another record year of occupancy and average room rates. Unfortunately, hotel REITs haven't yet benefited. Hotel ownership is a tough "asset-heavy" business. While the hotel operators are up 45% this year, hotel REITs are flat. These REITs have had success improving margins and capex profiles.
Strong performance over the past several years has been driven by robust individual business and leisure travel. Corporate tax cuts may finally rejuvenate the long-dormant group bookings segment. Supply growth continues to hang over the sector and is most acute in the business travel segments and urban markets. REITs hold a disproportionate amount of hotels in this segment. As expected, the strong hurricane season provided a boost to the extended stay hotel segment but disrupted operations at several REIT properties. Overall, the hurricane was a net-negative for hotel REITs.
Hotel REITs have unique investment characteristics that may be attractive to many investors. First, despite their high dividend yields, hotel REITs are the single least interest rate-sensitive sector. Few other high-yield investments exhibit nearly zero correlation to interest rates. Second, while the REIT sector as a whole is rather defensive, hotel REITs are highly pro-cyclical, which can add balance to a portfolio that would otherwise underperform during good economic times.
We aggregate our rankings into a single metric below, the Hoya Capital REIT Ranking. We assume that the investor is seeking to maximize total return (rather than income yield) and has a medium to long-term time horizon. Valuation, growth, NAV discounts/premiums, leverage, and long-term operating performance are all considered within the ranking.

We currently view Host Hotels as the most attractive name in the sector followed by DiamondRock and Sunstone. To see where hotel REITs fit into a diversified real estate portfolio, be sure to check out our full REIT Rankings series: Single Family Rental, Healthcare, Apartment, Net Lease, Data Center, Mall, Manufactured Housing, Student Housing, Storage, Cell Towers, Industrials, Office, Shopping Centers, and International.
Please add your comments if you have additional insight or opinions. Again, we encourage readers to follow our Seeking Alpha page (click "Follow" at the top) to continue to stay up to date on our REIT rankings, weekly recaps, and analysis on the REIT and broader real estate sector.