Thoughts on Volatility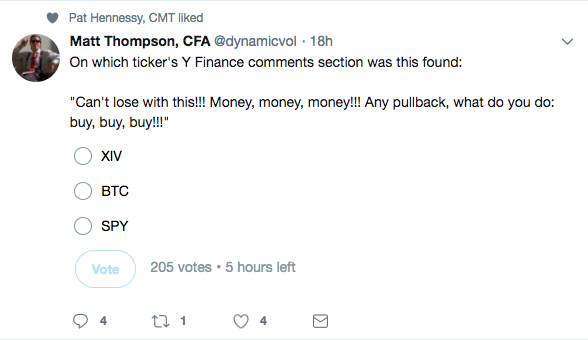 Resiliency has been a key theme for certain investment strategies (SPY, DIA, QQQ, IWM, XIV, BTC) over much of the past 20 months or so. What can very easily be described as a rocky period for these kinds of trades between June 2015-Feb 2016 calmed down and each trade became reliably "buy-the-dip".

We do see subtle changes afoot, largely in patterning on volatility. As discussed in prior MVBs, it appears that vol markets are working to carve out a bottom.

Additionally, there is quite a bit of room for policy shifts (fiscal, regulatory, monetary) in the weeks and months ahead. One might reasonably ask the degree to which some of these changes have been over-anticipated by risk markets: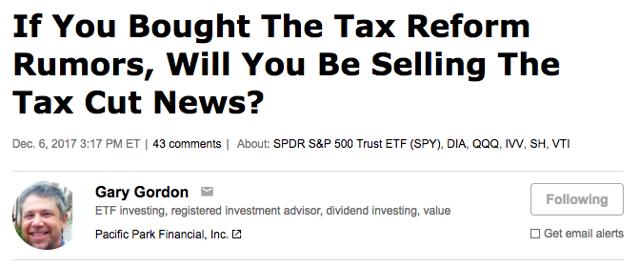 Source: SA
Spot VIX and Thoughts on 2018

IB: VIX Nov29-Dec7
Spot VIX is really sucking wind in Thursday trade. Rather surprisingly, we saw levels not unlike this both last Thursday and even mid-day Monday's sessions. We say surprisingly because the moments where S&P futures whipped around a good deal (particularly last Friday) tend to dominate our recollection of the week.
We are of a mind that this kind of action will dominate much of 2018. We have heard about prognostications for doom and sharp reversals for equities and volatility for next year:
Fixed pic.twitter.com/uUTmyNYBEa

- dorsey.mp4 (@dorseyshaw) December 6, 2017
We think the reality is more subtle than that. We do believe that volatility will pick up, and the steady grind lower is mostly behind us.
But we do not see a sustained explosion higher in the VIX over the next twelve months, at least not from the perspective of absolute figures. We think that there will be a steady move higher, that is punctuated by some pretty screaming spikes and beat-downs for vol.
The spikes are fairly intuitive: people get itchier trigger fingers, especially as they see market conditions heating up and seeing greater levels of responsiveness from markets than we experienced through 2016 and 2017. However, we also see periods, maybe long periods, where markets attempt to "relive the glory days" of low realized and implied vol.
XIV

Last Friday's lower tail on the popularly traded XIV was pretty nasty. Since then the ETP has enjoyed some resurgence, potentially setting a baseline for a strong close into the year.
Readers jyse and zaphod15 shared on last Friday's action: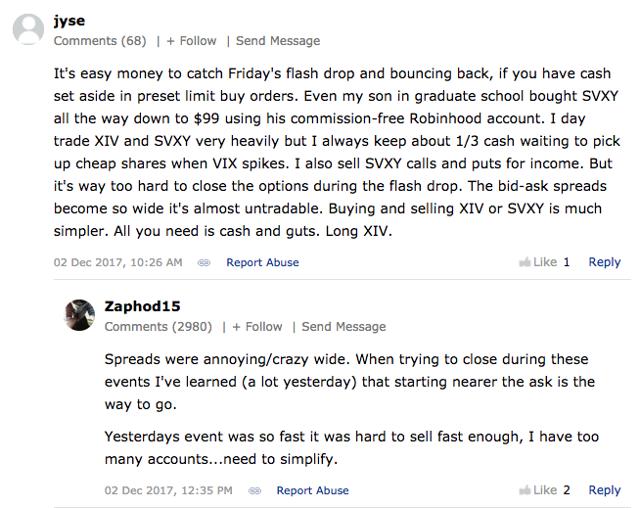 Consider below the speed with which this move unfolded:

IB: XIV Nov 30 - Dec 7, ½-hour candles
Our readers correctly point out that liquidity can dry up very quickly on market plunges like last Friday. We believe this inability to pull off what would otherwise be pretty solid trades is likely to become more of an issue over the next several months as large players shift their belief patterns as to how markets will digest news flow.
M1-M2

IB: VX Dec-Jan futures debit spread
The rather gutsy move of buying the dip on the Dec-Jan VX futures spread was a pretty solid play. But overall the debit has likely been fairly disappointing, as the large gap between Dec and Jan was priced into the spread quite early.
We have three central bank meetings and a jobs number before Dec expires. Frequent MVB reader and commenter Georgy Uspenskiy shared this with our readers in yesterday's MVB:

I tend to agree with the last statement (and that's while spot currently rests at around 10.25), but I will say that if the markets yawn through the central bank meetings next week then I suppose the Dec VX contract could bleed off pretty hard.
Overall, at least for the next couple days, we believe the debit has done a lot of digesting of sector rotation issues and the like, and is probably setting up for an increase to the $1.75-$2.00 range.
Conclusion
If this is your first time reading Market Volatility Bulletin, thanks for giving it a try. If you're a regular, we thank you for your ongoing contributions in the comments section.
Also, we've beefed up our presence on Twitter of late. Not so much from a standpoint of original posts, as MVB largely takes care of that. But we have been retweeting interesting pieces that we come across, and you the reader may find that helpful. We encourage you to check us out at BalanceofTrade1.
Helene Meisler provides some food for thought that we'll leave readers with as we finish out today's Bulletin.

We believe that "nimble investors" as a class (not traders) over-rely on market "tells" in creating their plans of attack. We read very regularly about the yield curve and flattening. We also hear about how the economy is doing well and how the bear market will start once the economy begins to stall out.
Of course, maybe that is when the next bear strikes. And certainly don't misunderstand: we do think that looking into markets and data can be fruitful. We just add the caveat that all this amounts to a probabilistic model of sorts. We can begin thinking of increased or decreased likelihood of XYZ event.
Please consider following us.
Disclosure: I am/we are short SPY.
I wrote this article myself, and it expresses my own opinions. I am not receiving compensation for it (other than from Seeking Alpha). I have no business relationship with any company whose stock is mentioned in this article.
Additional disclosure: We actively trade the futures markets, potentially taking multiple positions on any given day, both long and short. It is our belief that the S&P 500 is meaningfully overvalued. As such, we typically carry a net short position using ES options and futures