Now Is The Time To Invest In Residential REITs
Recently, residential REITs have performed well relative to other REIT sectors. Below is a table showing that that as of October, apartment REITs, manufactured home REITs, and single-family home REITs returned 6.16%, 22.14%, and 12.69% year to date, respectively. On average, residential REITs outperformed equity REITs in general with returns driven by manufactured home REITs.
Exhibit 1: Investment Performance by Sector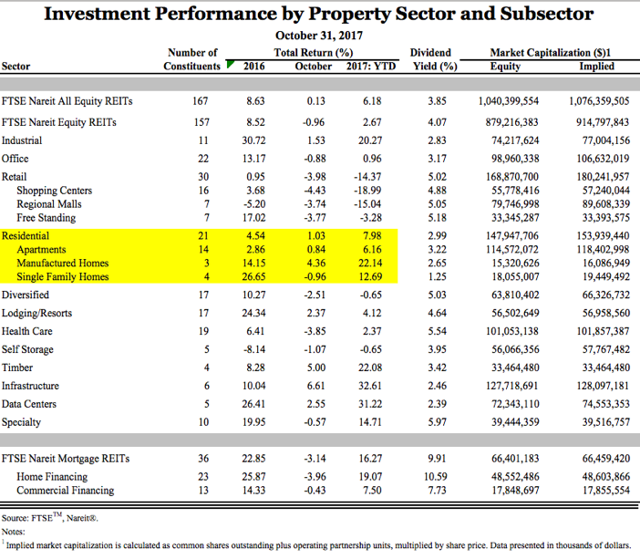 Strong Demand For Residential REITs
Residential REITs will continue to perform well as demand for rentals continues to rise given current market conditions. One catalyst for demand includes rising interest rates. The Federal Reserve Board has recently begun to reverse its quantitative easing policy, which was established in the wake of the 2008 financial crisis. Additionally, the Fed is expected to raise rates by a quarter-point at the December meeting. The Fed has been tightening fiscal policy and looking to raise the federal funds rate. Janet Yellen, the Chairwoman of the Fed, maintains an optimistic view of economic growth. As such, further rate hikes should follow in the coming months.
Market Indicators Remain Favorable
All market indicators of economic growth remain positive. Job growth is strong; the unemployment rate remains historically low at 4.4% (see Exhbit2). Consumer Spending in the United States increased to $11,922 Billion in the third quarter of 2017 from $11,853 Billion in the second quarter of 2017 (See Exhibit 3). More recently, U.S. retails reported record-breaking Black Friday sales of $7.9 Billion, representing a 17.9% increase from last year. Further, Cyber Monday sales are expected to bring in an additional $6.6 Billion in sales. In short, the economy is performing well, and the Fed is signaling for further rate hikes.
Exhibit 2: Civilian Unemployment Rate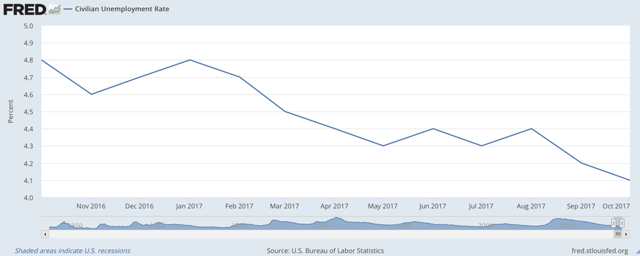 Exhibit 3: Consumer Option Survey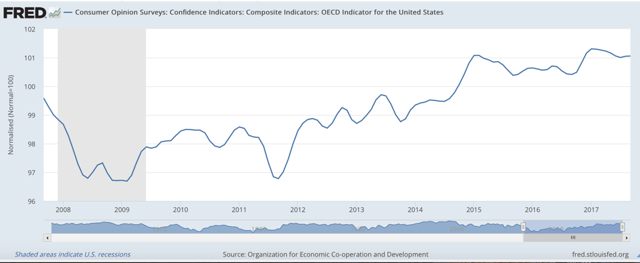 Rising Interest Rates to Make Mortgages
Payments More Expensive
As the Fed raises the federal funds rate, it becomes more expensive for banks to borrow money, which causes banks to pass on those costs to customers. Mortgage rates tend to increase as the Fed raises rates. As short-term rates rise, so do the rates on longer-term instruments such as the 10-year Treasury bond, which influences 30-year mortgage rates. The graph below shows how 3-year mortgage rates have climbed throughout November.
Exhibit 4: Average 30-year Fixed Rate Mortgage Rate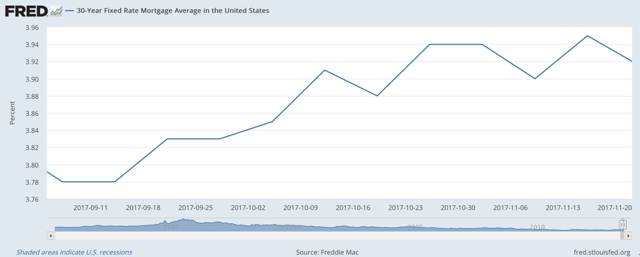 Tax Bill to Cut Mortgage Deduction
Another catalyst for rental demand included the new House-approved tax bill, which will limit the desirability of buying a home. Under the GOP tax bill, the ability to fully deduct interest expense from home mortgages would be eliminated. The bill suggests the maximum mortgage interest deduction would be $500,000 for mortgages, which is significantly lower than the current $1 million amount. While individuals and couples would be able to take a larger standard deduction, most itemized deductions would go away. The result would be that homeownership would look less attractive compared to how it looks under the current tax code. Another quality of the tax plan that would decrease the desirability of home ownership is the elimination of the moving expenses deduction, which would disappear in 2018 for all non-military individuals. Moreover, state and local tax deductions would be cut, which would increase the cost of living for many Americans, possibility limiting their ability to afford a downpayment and monthly mortgages payments on a house. Homeownership rates have continued to decline since the financial crisis, and this trend is likely to continue.
Exhibit 5: U.S. Homeownership Rates

Lack of Housing Supply to Benefit Residential REITs
Yet another catalyst for rental demand includes the lack of housing supply. There are less than 4 months of housing supply available right now. Such low levels of supply are unusually low, given historical trends. (See Exhibit 6). As supply wanes, prices continue to rise (See Exhibit 7). Individuals will look to rent as the price of owning a home continues to increase.
Exhibit 6: U.S. Home Inventory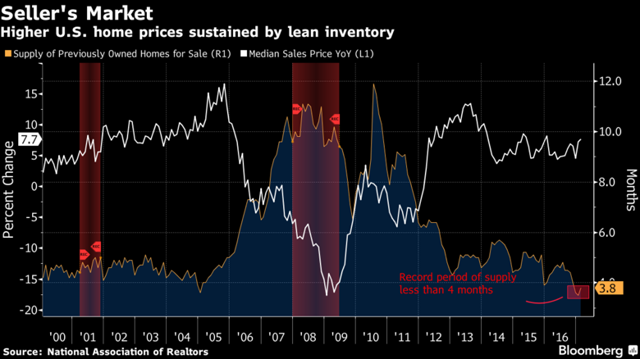 Exhibit 7: National Home Price Index

Millennial Preferences will Drive Growth
Demographic trends will also drive rental demand growth. Millennials prefer to live in urban, transit-oriented, amenity-rich locations. Many apartment REITs offer rentals that fit that mold. Increasingly, millennials are adopting a "rent-by-choice" attitude as the unaffordability of homeownership continues to rise.
Time to Invest in Residential REITs
With favorable supply and demand metrics expected to continue, residential REITs are poised for further growth into 2018. Exposure to such REITs will allow investors to capture above-average returns.
Related tickers: Indices: DJUSRN, VGSNX, REZ; Manufactured housing REITs: ELS, SUI; Apartment REITs: AIV, AVB, CPT, EQR, ESS, MAA, UDR; Single-family housing REITs: SFR, INVH, AMG