The New Home Company Inc. (NYSE:NWHM) is an undervalued homebuilder set for growth going into 2018. According to extensive modelling, it appears that the company is undervalued by about 18% at the current market price.
NWHM was recently named the "Fastest Growing Public Company in Orange County" by the Orange County Business Journal, based on revenue growth of 208% over the last two years. Despite this growth, the stock has only returned 6% per year since the IPO in 2014. This lags the S&P 500 by about 4%.
New Home Company is setting itself up for future growth, with numerous expansion plans currently in place. It was recently announced that the company will open two neighborhoods at Esencia at Rancho Mission Viejo. The Azure neighborhood features 79 homes priced from the high $300,000s to the mid-$400,000s. The Cobalt neighborhood features 72 paired homes that are priced from the mid-$500,000s.
Additionally, New Home Company announced the acquisition of 53 Single-Family Homes in Gilbert, Arizona. The homes will offer three to six bedrooms, three and one-half to five and one-half bathrooms, three- to four-car garages and up to 5,028 square feet of floor space. Pricing is expected to start in the $700,000s.
While it is still early in the sales process and there are still a few details that need to be finalized, it looks like the two projects could contribute $110 million to NWHM's revenue by next year. The company recently issued $325 million in 7.25% Senior Notes due 2022 to fund this expansion process.
This news is all indicative of future growth, which is what the financial model is predicated on. With three quarters of 2017 already over, it looks like NWHM will have another good year. Revenue from home sales has increased by 14.08% for the 9 months ended September 30, 2017, from the same period last year. If this trend holds, NWHM will finish with $584 million in Home Sales Revenue for 2017, which will represent a growth rate of 118% from 2014 to 2017. Smoothing this down to 30% for 2018 and 2019 will result in $759 million in 2018 and $987 million in 2019.
Fee Building Revenue has been much more steady, as the 2014-2017 growth rate is 34%. Smoothing this down to 20% will result in $269 million in 2018 and $322 million in 2019. Total revenues are projected to be $1,028 million in 2018 and $1,309 million in 2019.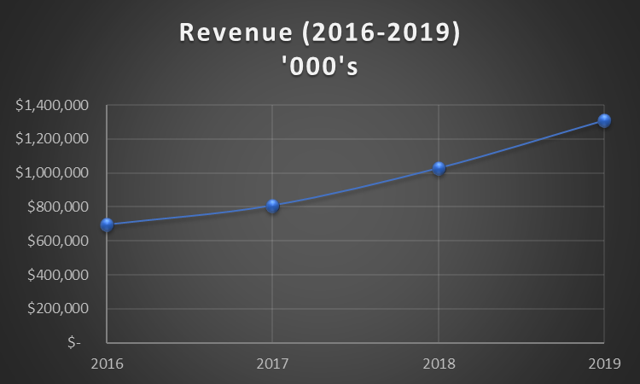 Home sales and fee building expenses account for over 99% of total expenses and have grown at a nearly identical rate as the corresponding revenues. This trend is expected to continue, and the result is an improvement from 11.42% gross profit margin in 2016 to 12.06% gross profit margin by 2019.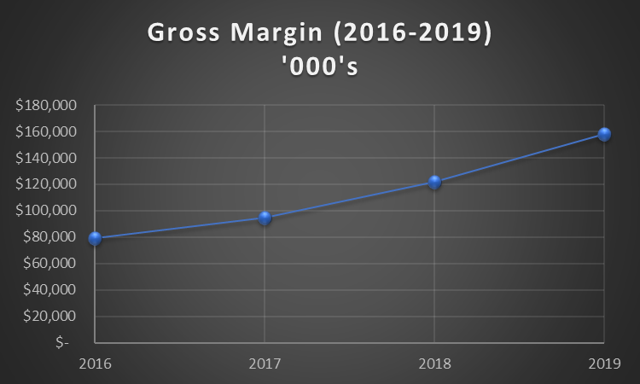 Finally, net income is expected to see a noticeable improvement as a result of the increased revenues and NWHM's ability to keep general and admin expenses low. A modest improvement from 3.01% profit margin in 2016 to 3.45% in 2019 would see Net Income increase by 116%. Economies of scale are also expected to have a positive effect on Net Income as NWHM surpasses $1 billion in sales and enters the top 20 largest homebuilders in the country.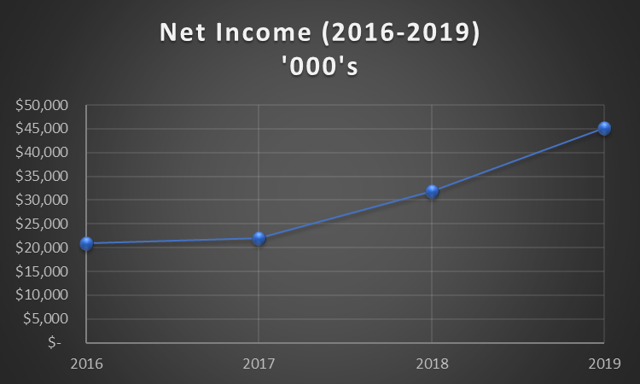 All of this indicates that the stock is undervalued. Larger homebuilders typically command higher P/E multiples in the market. The 17 largest publicly traded homebuilders have an average P/E ratio of 19.32x. Currently, NWHM is smaller than these firms, so this multiple is not justified for valuing their shares. A simple average of 19.32x and the larger US real estate market multiple of 9.06x gives us a justified multiple of 14.29x. Applying this multiple to expected EPS for 2017 of $1.06 equals an intrinsic value of $15.15. Taking the projected EPS of $2.17 for 2019 and the industry average P/E multiple of 19.32x gives a price target of $41.92 by financial year-end 2019.
| | |
| --- | --- |
| Homebuilder P/E Ratios | |
| Company Name | P/E |
| D. R. Horton Inc. (DHI) | 18.47 |
| Lennar Corp. (LEN) | 18.13 |
| NVR Inc. (NVR) | 25.39 |
| PulteGroup Inc. (PHM) | 16.92 |
| Toll Brothers (TOL) | 18.89 |
| CalAtlantic Homes (CAA) | 16.68 |
| Taylor Morrison (TMHC) | 39.12 |
| TRI Pointe Homes Inc. (TPH) | 16.10 |
| KB Home (KBH) | 22.95 |
| Meritage Homes Corp. (MTH) | 14.37 |
| M.D.C. Holdings Inc. (MDC) | 10.98 |
| LGI Homes Inc. (LGIH) | 15.72 |
| M/I Homes Inc. (MHO) | 14.95 |
| William Lyon Homes (WLH) | 19.14 |
| Century Communities Inc. (CCS) | 14.39 |
| Beazer Homes USA (BZH) | 21.66 |
| AV Homes (AVHI) | 24.57 |
| Average | 19.32 |

This is all good news for investors who can buy the stock for $12.43 today. There is a lot of upside for the company in terms of solid fundamentals and expansion plans that indicate continued growth going forward. Two potential challenges are a stock market or real estate market collapse. The stock market may not be much of a concern, as NWHM has a -29% correlation with the market. The real estate market appears to be healthy, as the S&P/Case-Shiller CA-Los Angeles Home Price Index was at 266.46 as of September 2017. This is still below the heights of the market in the pre-Great Recession era, and the practices of sub-prime lending have been greatly reformed since then. The current prices are generally believed to be more reflective of economic reality than in the past. This price target is a "best-case scenario," as it is widely believed that the stock market is in a bubble that may be about to burst. If this is the case, the market could potentially lose 30% of its value. If we apply this scenario to NWHM's share price, the result is a $29.35 price target by financial year end 2019.
Conclusion
NWHM shares have gained close to 30% in the past 3 months, but investors can expect more growth from the company going forward. The explosive growth seen from 2014 to 2016 has slowed for 2017, but the next two years are expected to be a continuation of the past based on the extensive modelling and expansion plans the company is putting into place. Analyst coverage on the stock is light, and the consensus is currently "Hold." I stand in opposition to this opinion for the reasons already outlined, and I would rate the stock a "strong Buy."
Disclosure: I/we have no positions in any stocks mentioned, and no plans to initiate any positions within the next 72 hours.
I wrote this article myself, and it expresses my own opinions. I am not receiving compensation for it (other than from Seeking Alpha). I have no business relationship with any company whose stock is mentioned in this article.