Taubman Centers (TCO) is one of the best mall REITs. They have the highest average sales per square foot (one quick way to rough ball park quality). The malls are generally dominant assets ranking first in their area for sales per square foot. I've owned a large position in the common before but harvested some for a large gain. I am contemplating harvesting more of the gains to offset the extra exposure from buying more Simon Property Group (SPG).
I will be going over the TCO preferred shares for an investment opportunity. The common stock's strength will be taken into account when looking into the preferred shares.
Liquidity Warning
Beware liquidity when trying to enter these preferred shares.
TCO preferred shares
For investors following my preferred share ratings, here is my guide to preferred shares.
TCO has two series of preferred stock that you can find trading: TCO-J and TCO-K.

Source: CWMF's subscriber spreadsheet (subscription required)
There is a third series, TCO/PRB, but it isn't like normal preferred shares. It was created to allow the founding members to maintain their voting rights after the REIT was launched. Since TCO-B is not a viable investment, we're just going to talk about the J and K series.
TCO-J has a coupon rate of 6.5%. TCO-K has a coupon rate of 6.25%. The J series has only the standard 30-day call notice for protection from calls and the K series has call protection out to 3/15/2018.

Source: CWMF
Call Risk
I don't expect either to be called immediately. The company has much better uses for capital. For instance, buying back common stock would be dramatically superior. They might be able to issue a new series of preferred stock at a low enough rate for a redemption, but it seems like it would be very marginal for returns.
Perhaps most importantly, the yield to call would be around 5.8% by my estimates (beware, estimates) on TCO-J based on that last closing price of $25.35. Why isn't it worse with no call protection? TCO preferred shares generally go ex-dividend around the 15th or so of the third month in the quarter with dividends payable right about 2 weeks later. I'm expecting the next dividend to be announced shortly and an ex-dividend date in the middle of December.
The dividend accrual is giving the investor some call protection by ensuring they don't get screwed on a call. The call could happen, but they would still be making a reasonable return for the time invested.
Two Ways to Invest in TCO-J and TCO-K
TCO-K's price currently makes it unattractive for new positions. TCO-J, on the other hand, looks very attractive. It works for either a trader (dividend capture) or a buy-and-hold investor who is willing to go without call protection on the calendar when they can get a stripped price under $25.00 (accounting for dividend accrual). Due to the way the REITs will calculate dividend accrual (using payment date rather than ex-dividend date), I believe they would reduce dividend accrual by about $.06 to $.07 in a call situation.
All in all, for a buy-and-hold investor who is comfortable with the 5.8% yield to maturity and 6.52% stripped yield, this is a great security. TCO may run their debt to EBITDA a little higher than some peers, but their properties have exceptionally high value on the private market. That means the debt is thoroughly covered by strong asset values. I'm not concerned here at all, as evidenced by the significant position I had in the common when it was hitting fresh 52-week lows.
Prices
You may notice that the current price is higher than it was in early October. That's true. However, in early October the yield to call would've been worse. Remember that each month of dividend accrual is about $.13. The stripped price now is actually slightly lower due to that accrual adding up.
Ex-Dividend
I would also point out in this regard that investors should be wary of buying at that price immediately after the ex-dividend date because the call risk would be much higher without that dividend. The first dividend is used either for a dividend capture (for traders who don't mind being stuck in a security for weeks waiting for enough liquidity to harvest gains) or to recover the premium paid for any buy-and-hold investor.
Limit Orders
Just a reminder here: Investors should only use limit orders on these preferred shares. Market orders should never be used. The investor should also double check the number when they type it in. $26.27 would probably get execution, but it would also lead to immediate regret.
Final thoughts
The two TCO preferred shares are now under coverage. These preferred shares have two major types of risk, call risk and interest rate risk. Since the coupon rate is lower, if interest rates roared higher it would have a larger impact on the value of lower-coupon preferred shares. Compared to preferred shares from National Retail Properties (NNN), I see these as having slightly more credit risk. It still isn't enough for me to be remotely concerned. I'm happy owning the common, so I'm clearly not too concerned with that issue.
Interest rate risk is higher here than on some of the other issues I'm covering (since TCO has a lower coupon rate), but it isn't too bad. TCO preferred shares still have a pretty solid spread compared to any longer-dated Treasuries.
Call risk is often the biggest factor. These can be good shares for traders or buy-and-hold investors. Getting in all depends on the right price. I'll generally be suggesting buying these at a premium to call value, but I'll be watching the amount of the accrued dividend.
Subscribers to The REIT Forum get access to a continually (real time) updated spreadsheet of every preferred share and baby bond I cover. Subscribers get access to my most actionable buy and sell target prices. It can take several days for my preferred share articles to go public which results in potentially lost alpha. If you're looking for the best research on preferred shares and REITs, come join us today. You will get access to all of my spreadsheets with stable dividend yields over 7%. For many of my most actionable trades, subscribers get instant actionable SMS alerts. I have 61 perfect reviews for 305/305 stars: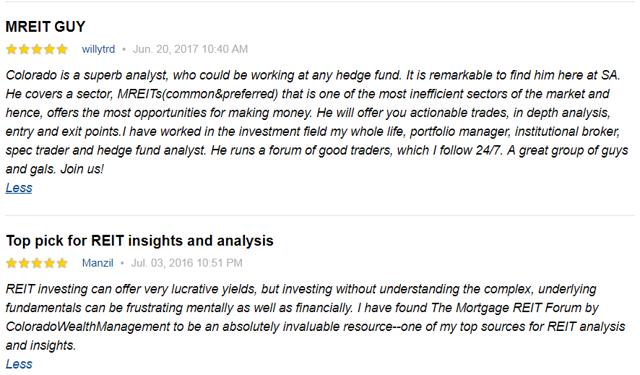 Leave a note in the comment section
I was asked by a reader to put more information about the yields in the preferred share articles I've been writing. If there's anything you'd like to see, please leave a comment.
Broker and preferred share tickers
Almost every major broker in the United States has their own method for referring to preferred shares. I put together a spreadsheet that cross-references each of the major brokers along with the symbol they use for each preferred share. Here are the different tickers for the preferred shares by broker.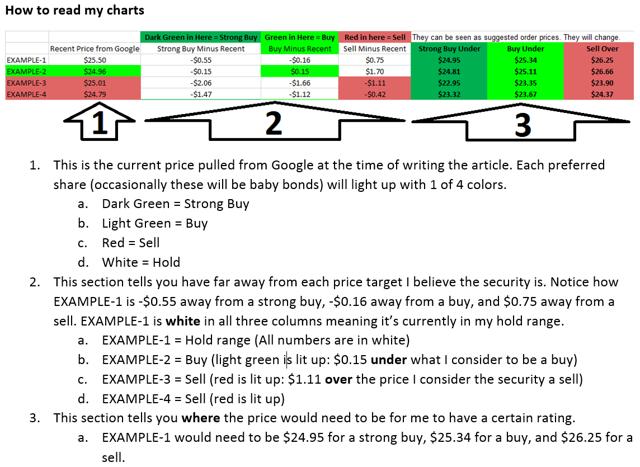 Source: CWMF
Disclosure: I am/we are long SPG, TCO. I wrote this article myself, and it expresses my own opinions. I am not receiving compensation for it (other than from Seeking Alpha). I have no business relationship with any company whose stock is mentioned in this article.
Additional disclosure: No financial advice. Investors are expected to do their own due diligence and consult with a professional who knows their objectives and constraints. CWMF actively trades in preferred shares and may buy or sell anything in the sector without prior notice. Tipranks: No ratings in this article.