The U.S. Economy
The current bull market rolled on in the month of November as the S&P 500 kept rising, closing above 2,600 for the first time ever. The U.S. large-cap equity market is now up over 350% since the trough of the financial crisis, marking one of the longest bull markets in American history.
Supporting this historic run has been the post-Global Financial Crisis (GFC) economic recovery, which has become one of the longest economic expansions on record. For many investors, the length of the economic recovery, as well as the current bull market, is a source of consternation and angst. Some believe that a downturn is imminent. While we understand this concern and agree that another bear market is eventually inevitable, we also do not believe that bull markets die of old age. Nor do we see a worrisome number of excesses that suggest the economy is currently at risk of collapsing under its own weight.
Full valuations and a general sense of investor complacency are also contributing to market anxieties. Valuation ratios are at levels beyond the typical bull market peak across a wide swath of common metrics, as presented in the sample below. While valuations are a weak near-term predictor of market performance, they are much more reliable at forecasting long-run returns, with high valuations suggesting that long-term returns may be muted. Investors should prepare for this possibility.
Low volatility across domestic financial markets is also enabling complacency and a false sense of security for many investors. While volatility can remain low for extended periods of time, it will eventually return. The long length of the current expansion, high valuations, and general investor complacency add a sense of vulnerability to the market. Despite these concerns, the fundamentals supporting the market today suggest that a synchronized global expansion is ongoing, and that economic conditions are arguably the best they have been in years.
Investment spending appears to be turning a corner and moving higher, driven by deregulation, easing lending standards, and renewed investment by the energy and mining industries. Additionally, domestic consumer spending continues to track in a healthy range, supported by employment growth and modest wage gains. Though skepticism on the U.S. policy front persists, particularly regarding tax reform and fiscal stimulus, both still remain possibilities in the near future. Finally, low inflation levels have provided cover for the Federal Reserve to embark on policy normalization at a slow, gradual pace, further supporting asset prices. Though, we do see signs that inflation pressures are building.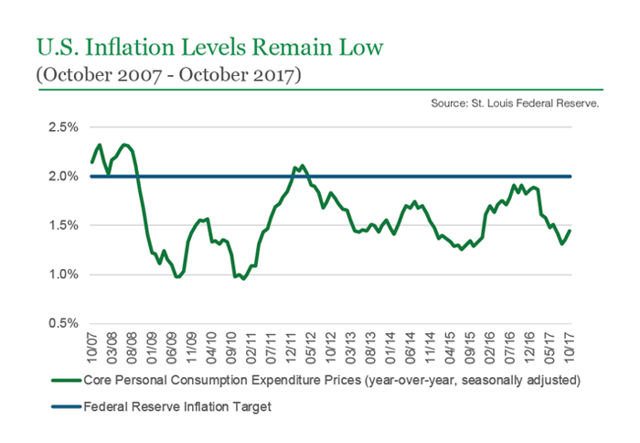 The fundamental strength in the economy is working through to the corporate sector as well. Earnings growth has significantly aided equity market returns over the year, and cyclical sectors are showing notable improvement. Additionally, secular growth sectors have also performed well as investors remain in favor of companies capable of generating their own growth. In this environment, we continue to believe owning secular growth companies, alongside a selective allocation of economically sensitive businesses, will position investors for success as the later-cycle U.S. economy moves further along.
The Global Economy
Similar to the domestic economy, global growth is skewing incrementally higher, and it is well-synchronized across regions. International confidence measures remain solid, and corporate earnings are shifting higher. Business investment is showing signs of health, supported by low real rates, improving lending standards, and stable default rates. Alongside better growth and healing labor markets worldwide, inflation has remained subdued, aiding in the continuation of accommodative monetary policies by global central banks.
One risk factor, however, is the path forward for inflation and interest rates across global regions. We see signs in commodity prices, producer price measures, and other indicators that suggest that some of the recent inflation weakness is transitory. As inflation levels slowly pick up, global central banks will be led to continue to normalize monetary policy at a gradual rate.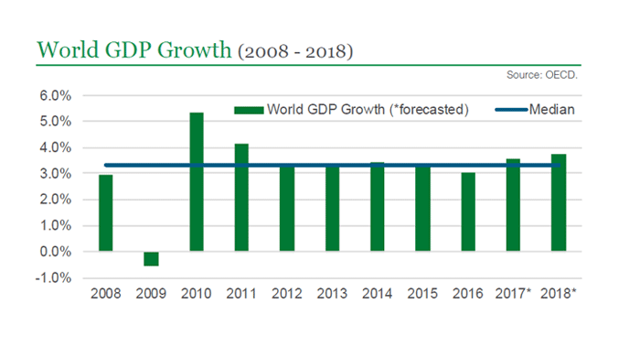 In the U.S., the Federal Reserve has already begun the process of monetary policy normalization, gradually raising interest rates and shrinking the size of its balance sheet. Elsewhere, the European Central Bank is just in the early stages of normalization, having not yet raised its negative policy rate and still conducting asset purchases, albeit at a slower pace. Meanwhile, the Bank of Japan has been steadfast with its ultra-accommodative monetary policies, maintaining both its asset purchase program and negative policy rate. The impact of global inflation trends, interest rates, and these diverging central bank policy decisions will be key monitoring points as the ongoing post-GFC economic expansion continues to carry on.
Our Perspective
Despite the uptick in economic activity, global growth remains slow. Therefore, in portfolios geared toward capital growth, we are focused on targeting investments in fundamentally strong businesses with unique growth drivers, although we have become incrementally more comfortable owning economically sensitive names. In general, we continue to believe that the key to generating attractive returns in today's slow-growth environment is through owning innovative companies that achieve growth by creating new markets or disrupting old ones.
Regarding fixed-income, we recently trimmed our corporate allocations and marginally increased duration. These changes were driven by an increase in yields and tighter credit spreads. Although credit spreads are tight, they are relatively attractive on a fundamental basis, and we remain constructive toward credit. As such, portfolios maintain a sizeable allocation to investment-grade corporate bonds, although some portfolios may contain high yield exposure as well. As we are in the later stages of the economic cycle, we continue to monitor corporate credit allocations to determine if further action is warranted. Portfolios also have a notable allocation to U.S. Treasuries and Agencies, as well as pass-through securities, including asset-backed securities. Generally speaking, portfolios are underweight non-agency mortgages.
We continue to believe a modest duration remains in clients' best interests, despite the recent marginal increase in duration. Over the intermediate term (which we define as the next 12-18 months), we expect that there will be continued pressure for interest rates to gradually move higher. We think the Fed will remain opportunistic, looking to hike the Federal Funds target rate when economic conditions allow, while also remaining sensitive to domestic and global market conditions, particularly as they reduce the size of their balance sheet by decreasing reinvestments of principal in Treasuries and Agency securities.
In our view, short-term and income-oriented investors should also explore equities that display stable fundamentals and are trading at attractive valuations. We believe companies that generate strong, stable cash flows and pay an attractive dividend could be compelling options for these types of investors in the current environment.
Sources: Thomson Reuters, FactSet, St. Louis Federal Reserve, and OECD. Analysis: Manning & Napier Advisors, LLC (Manning & Napier).
Manning & Napier is governed under the Securities and Exchange Commission as an Investment Advisor under the Investment Advisers Act of 1940.
The S&P 500 Total Return Index is an unmanaged, capitalization-weighted measure of 500 widely held common stocks listed on the New York Stock Exchange, American Stock Exchange, and the Over-the-Counter market. The Index returns assume daily reinvestment of dividends and do not reflect any fees or expenses. S&P Dow Jones Indices LLC, a subsidiary of the McGraw Hill Financial, Inc., is the publisher of various index based data products and services and has licensed certain of its products and services for use by Manning & Napier. All such content Copyright © 2017 by S&P Dow Jones Indices LLC and/or its affiliates. All rights reserved. Neither S&P Dow Jones Indices LLC, Dow Jones Trademark Holdings LLC, their affiliates nor their third party licensors make any representation or warranty, express or implied, as to the ability of any index to accurately represent the asset class or market sector that it purports to represent and none of these parties shall have any liability for any errors, omissions, or interruptions of any index or the data included therein.
All investments contain risk and may lose value. This material contains the opinions of Manning & Napier, which are subject to change based on evolving market and economic conditions. This material has been distributed for informational purposes only and should not be considered as investment advice or a recommendation of any particular security, strategy or investment product. Information contained herein has been obtained from sources believed to be reliable, but not guaranteed.