The stocks of major video game publishers such as Activision Blizzard (NASDAQ:ATVI), Electronic Arts (NASDAQ:EA), and Take-Two Interactive (NASDAQ:TTWO), have suffered from a sharp drop over recent months. For instance, on December 4, the stocks plummeted by 5.4%, 4.9%, and 7.9%, respectively. As a result, an average return for these three stocks amounted to about -10% for the period from November 1 to December 4.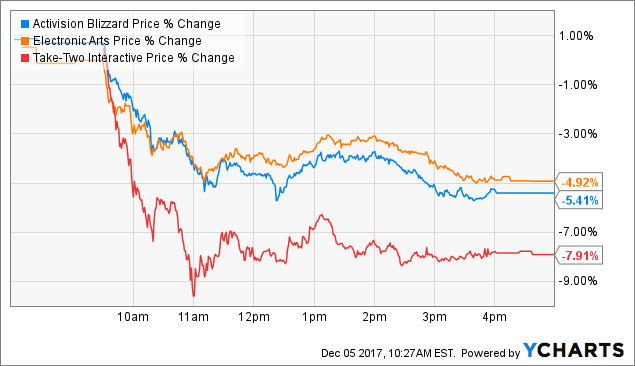 ATVI Price data by YCharts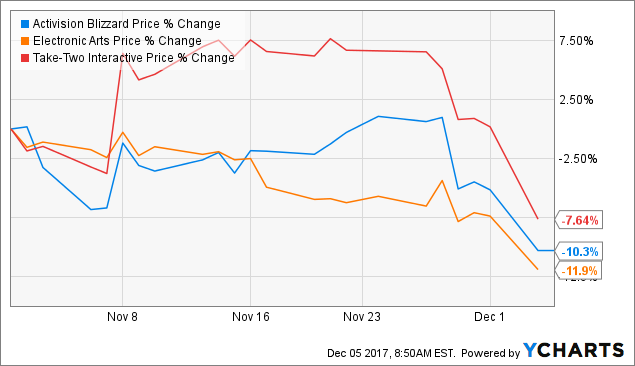 ATVI data by YCharts
Why EA, ATVI, and TTWO have not performed well recently? In short, because of monetization concerns
There are several possible explanations for the recent not-so-good performance of these companies. The main reason from my point of view is the scandals related to the monetization strategies of the video game publishers.
For instance, the loot-box saga of EA's Star Wars Battlefront II has continuously made headlines since the first beta, and the story is not over yet. What exactly was the problem about? Electronic Arts implemented a new type of progression in the game based on skill cards which can be obtained from loot boxes. These cards can include such character features as faster health regeneration and increased weapon capacity, therefore providing some advantage to players. In turn, the initial idea of the company was that the boxes could be bought using real money, thus establishing a pay-to-win culture. Notably, EA and DICE (the developer of the game) turned off all in-game purchases for the final version of the game, after loot crates have drawn widespread criticism from players and the games press.
Two other corporations, Activision and Take-Two, are in a similar situation. Hence, Activision's best-seller Destiny 2 has also drawn a lot of attention due to the publisher's monetization strategy. It is claimed players do not like the new loot box structure that "makes them pay for something that used to be free."
It's clear that there's still a lot of anger out there about the shaders controversy, with 20% of responses giving Destiny 2's customisation system a one out of ten.
As regards Take-Two, the publisher stated earlier in November it would rely on post-launch monetization in all of its future titles. Here is what Take-Two Interactive CEO and Chairman Strauss Zelnick said about this:
We've said that we aim to have recurrent consumer spending opportunities for every title that we put out at this company. It may not always be an online model, it probably won't always be a virtual currency model, but there will be some ability to engage in an ongoing basis with our titles after release across the board. Recurrent consumer spending is 42 percent of our net bookings in the quarter. It's been transformative for us.
As a result, it is still unclear how the whole industry will deal with the issue, which is why the players' and investors' concerns have risen over last months. This was likely to lead to the drop in share prices of game publishers.
In turn, the costs associated with the game development have risen sharply over last years. Thus, it is estimated that budgets for AAA games usually reach the level of $10,000 per person per month, without taking into consideration marketing and administrative expenses.
In order to hit the graphical fidelity that your fans expect, you need a staff of at least 400, and you need to give them three years (36 months). 400 * 36 * 10,000 = $144,000,000. And that's before the inevitable delay, not to mention the marketing. Many big games have development staffs across multiple studios, and if you go into the credits and count up everyone on a game like Destiny 2 or Assassin's Creed Origins, you might get into the thousands. Multiply that $144 million budget accordingly.
Therefore, it is understandable, from my point of view, why all major publishers are trying to implement post-launch monetization. And while some reputational damage can influence the companies' positions in short term, it can be expected that in long-term the video game publishers will find a viable way to monetize the content successfully.
The three major video game publishers perform better in January-February than in November-December
An interesting point is that ATVI, EA, and TTWO tend to perform much better in January and February than in November and December. This assumption has been confirmed by the statistical analysis performed by me using R language.
Several notes should be made here:
1. The analysis is based on the daily price data between 2010-2016 for November-December and 2011-2017 for January-February downloaded from Quandl. The stocks are ATVI, EA, and TTWO.
2. The returns are measured as daily logarithmic returns for individual stocks. This makes the results more comparable and applicable for analysis. In this case, the log returns can be treated as usual daily returns for a stock.
3. Each two-month period is comprised of about 40 daily observations, reflecting 40 trading days.
As a result, it was revealed that the average daily return in November and December is much less than in January and February for the analyzed stocks. The only major exception was Activision in 2010-2011, which seems to be irrelevant for the analysis. In other words, in the last seven years, an investor could have earned more investing in the gaming stocks at the beginning of January than at the beginning of November.

(Source: The author's calculations in R. Source of data: Quandl)
The average return for the whole period (seven years for EA and TTWO and six years for ATVI) is presented by the table below: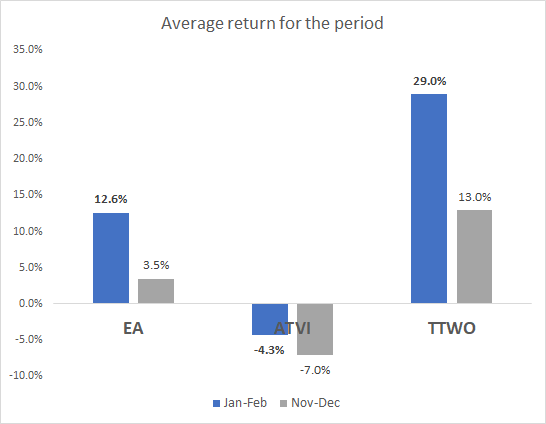 (Source: The author's calculations in R. Source of data: Quandl)
Why is it important? The primary reason is the fact that investors should not panic because of the recent selloff in the gaming stocks, as the situation seems to be normal in light of historical data. As the broad market continues to be in good shape, it is likely the major publishers will return to growth next year.
The video game industry continues to be attractive for investment due to a number of reasons, including the increasing popularity of esports, digitalization, and other factors. More about the topic can be found in my previous articles.
The yearly returns remain solid. The drop provides a better margin of safety
Despite the fact that the prices of ATVI, EA, and TTWO stocks have decreased from the beginning of November, the yearly results remain to be decent. Thus, the prices increased by 62.3%, 28%, and 107.2% YTD, respectively, outperforming the broad market.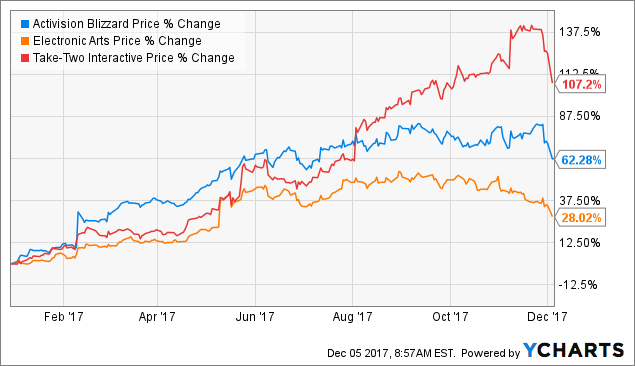 ATVI data by YCharts
Overall, the controversy related to the video game publishers' monetization strategies has drawn a lot of attention. The reputational damage will influence the companies' positions in the near future, but it is not likely to have a long-term impact. Moreover, statistical analysis shows that all three corporations mentioned in this article tend to underperform in November-December while growing in January-February. Therefore, the recent pullback provides a good opportunity to invest in the gaming stocks, as the price drop increases the margin of safety for cautious investors and also decreases P/E ratio, providing room to grow.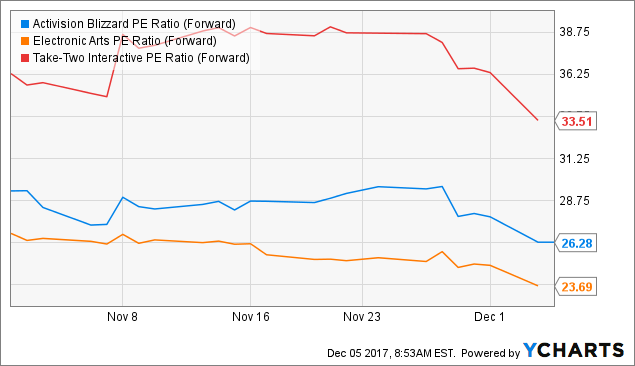 ATVI PE Ratio (Forward) data by YCharts
My detailed analyses of Electronic Arts, Activision Blizzard, Take-Two, and other gaming and tech companies can be found on my profile page. If you like my article and would like to stay up to date on the next one, you can click the "Follow" button next to my profile.
Disclosure: I/we have no positions in any stocks mentioned, and no plans to initiate any positions within the next 72 hours. I wrote this article myself, and it expresses my own opinions. I am not receiving compensation for it (other than from Seeking Alpha). I have no business relationship with any company whose stock is mentioned in this article.