As my followers knows, I keep a close eye on the significant short interest in Tesla (NASDAQ:TSLA) in order to understand how high it can go in a short squeeze, and the potential has increased in recent weeks.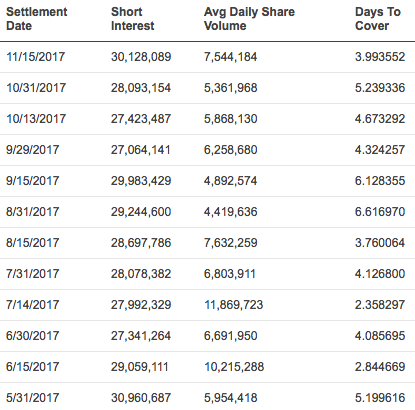 The above table from Nasdaq shows that short interest has increased. Since bottoming in late September, shorts have added more than 3 million shares, or nearly $1 billion, substantially increasing their positions.
For future reference, readers should note that more than 90% of the new short position was added following the news that the Model 3 production ramp was delayed. In other words, the most recent $1 billion addition to the short interest was opened in prices below $320 per share. This piece of information will prove useful in the coming months.
I also find this interesting, because one would think that bears would have added to their position at higher stock prices in June, instead of the current lows of the last eight months. Sell low, buy high, I guess...
Furthermore, according to the following tweet from S3 Partners' Ihor Dusaniwsky, shorts continued to add to their positions in recent days as well: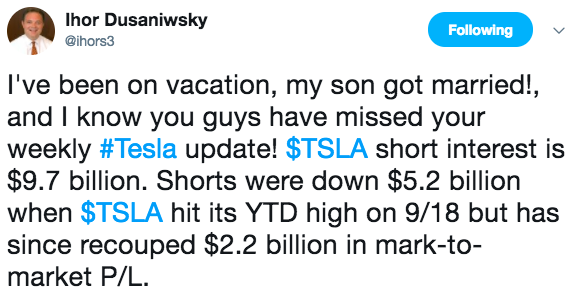 Ihor, I think I speak for all Tesla bulls and bears in congratulating your son. We wish the newly weds a happy life together. Please send them a share of TSLA for me.
After that brief moment of unison, I must say that I'm impressed by how resilient Tesla bears have proven, leading up the production ramp of what may become one of the most popular consumer products in history. If Ihor's estimate is correct, then the short interest today is more than 31 million shares. That's a big bet.
What's Next?
Many have asked my thoughts on the Model 3 production ramp delay, and my response has been consistent: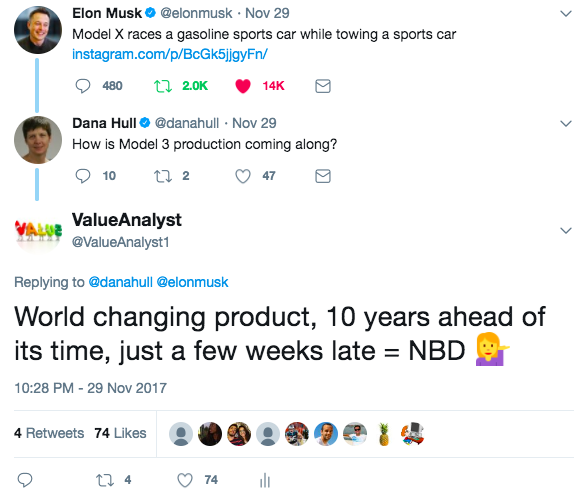 According to reports, Tesla will start non-employee deliveries, which was originally scheduled for end of October, next week, so approximately five weeks late. For a long-term investor, this is a non event. For bears, however, it seems to have been reason enough to pile on more than $1 billion into a crowded traded.
Bottom Line
Bears are betting that Tesla will not be able to achieve volume production of its Model 3 on time, and/or that Model 3 will never be as profitable as Elon Musk has predicted: 25% gross margin in the quarter after achieving the production rate of 5,000 units per week, which is currently scheduled for March. Given Elon Musk's repeated over-promises and late deliveries, I do not blame the bears for the former, but the latter matters more to the valuation.
Bulls have it right: Even if the Model 3 production rate of 5,000 per week lags for several more weeks than the current guidance of March, today's stock price of $311 per share already incorporates substantial further delays. If, on the other hand, Tesla achieves 5,000 units per week some time in March, or even in 2Q18, and comes close to a gross margin of 25%, I would expect the stock to rise substantially in the remainder of the year. Once I see clear signs of an accelerating production ramp, I will be updating my Price Target for Tesla Forum members.
One thing is certain: neither bulls nor bears are ready to give up, yet. One side will be proven very, very, very wrong.
Follow For Free Articles
If you enjoyed this article, please scroll up to the top of the page and click the "Follow" button next to my name. Your support will allow me to invest further time and resources into creating proprietary research for you.
Premium Research
If you're interested in learning about my investment methodology as well as high-quality fundamental research on Tesla, supported by detailed financial projections by product and service line, including years 2019 and beyond, as well as timely price target alerts and weekly Live Chat community discussions, join Tesla Forum. I'm confident that you will find my research to be very insightful, and I look forward to discussing ideas with you.