By Bob Ciura
Value stocks are hard to find. The S&P 500 sits near a record high, and the index trades for a lofty price-to-earnings ratio of 25. It seems investors have to make a difficult choice—either pay high valuations for quality companies, or settle for lower-tier businesses to find cheap valuations.
The good news is, there are still strong companies trading for reasonable valuations. This list includes five stocks that hold low valuations, and offer dividend growth. The first two stocks are Dividend Aristocrats, an exclusive group of 51 high-quality stocks with 25+ consecutive years of dividend growth. You can see all 51 Dividend Aristocrats here.
All 5 stocks pay dividends, and appear to be significantly undervalued, which could make them strong picks for 2018.
Value & Dividend Stock #1: Walgreens Boots Alliance (WBA)
Price-to-Earnings Ratio: 13.6
Dividend Yield: 2.3%
Walgreens Boots Alliance is an attractive stock for dividends and value. Walgreens is one of 350 dividend-paying stocks in the consumer staples sector. You can see the full list of all 350 consumer staples dividend stocks here.
Walgreens trades for a price-to-earnings ratio of 13.6, which is arguably too low, for a company with a leading brand and growth potential. Demand for pharmacy products continues to grow in the U.S.
In fiscal 2017, Walgreens increased comparable-store sales by 3.3%. Adjusted earnings-per-share increased 13% for the year. In the most recent quarter, pharmacy sales and prescriptions increased 6% and 9%, respectively.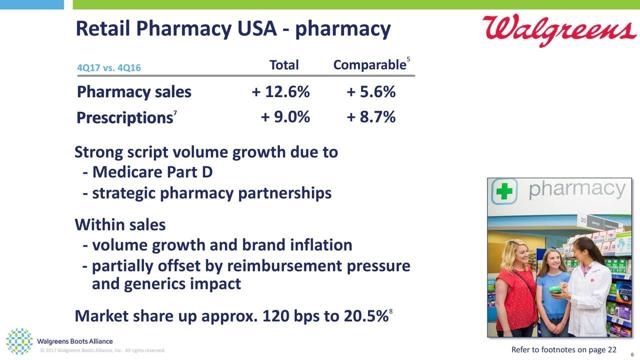 Source: 2017 Earnings Presentation, page 6
Over the past 10 years, Walgreens held an average price-to-earnings ratio of 17.3, meaning it is currently valued at a 20% discount to its 10-year average valuation.
After the merger with Alliance Boots in 2014, Walgreens is the largest retail pharmacy in the U.S. and Europe. It has more than 13,000 stores in 11 countries.
Walgreens' valuation has compressed, from fear of elevated competition in pharmacy retail. In the aftermath of Amazon (AMZN) buying Whole Foods for $14 billion, the online retail giant now has a platform to enter brick-and-mortar pharmacy.
As a result, Walgreens is turning to acquisitions to fight back against the Amazon threat. The recent transaction with Rite Aid (RAD) will fuel growth for Walgreens. The company acquired over 1,900 Rite Aid stores, three distribution centers, and related inventory, for $4.375 billion.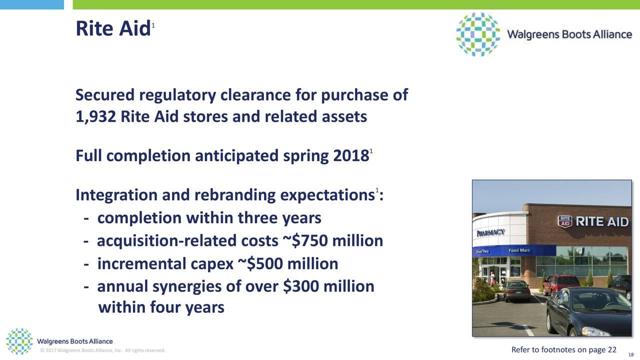 Source: 2017 Earnings Presentation, page 18
The Rite Aid transaction will immediately increase sales growth, and earnings will benefit from cost savings. Since the two companies have nearly identical businesses, the acquisition offers significant cost synergies. Walgreens expects to realize more than $300 million in annual cost savings by 2021.
International expansion is another growth catalyst for Walgreens. The Alliance Boots merger gave Walgreens a huge presence in Europe, and now Walgreens is targeting China for growth. On December 6th, Walgreens acquired a 40% stake in China-based pharmacy chain Guoda Drugstores, for $416 million. GuoDa operates more than 3,500 retail pharmacies across around 70 cities in China, and gives Walgreens exposure to a key emerging market.
For fiscal 2018, Walgreens expects adjusted earnings-per-share of $5.40 to $5.70. At the midpoint of guidance, the company's earnings would increase 9% in fiscal 2018. This would be more than enough room for Walgreens to continue increasing its dividend next year.
Walgreens is a Dividend Aristocrat. It has increased its dividend for 42 consecutive years, including a solid 6.7% raise in 2017.
Value & Dividend Stock #2: Cardinal Health (CAH)
Price-to-Earnings Ratio: 11
Dividend Yield: 3.1%
Similar to Walgreens, Cardinal Health is an undervalued Dividend Aristocrat. Cardinal Health trades for a price-to-earnings ratio of 11. This is a very low valuation, especially for a time-tested Dividend Aristocrat.
Cardinal Health has increased its dividend for 32 years in a row, including a 3% hike on May 3rd. Cardinal Health is one of 203 dividend stocks we track in the healthcare sector. You can see all 203 dividend-paying healthcare stocks here.
Price deflation in the pharmaceutical industry has compressed Cardinal Health's margins. Last quarter, revenue increased 2%, but adjusted earnings-per-share declined 12%. As expected, the pharmaceutical business was the biggest area of weakness.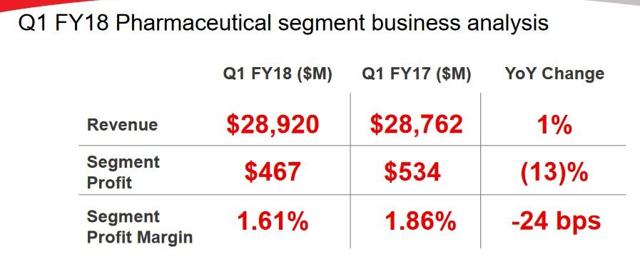 Source: First-Quarter Earnings Presentation, page 5
However, there has been significant progress on this front, in recent months. Price deflation in pharmaceuticals has eased as of late. There are many factors at play, helping to stabilize drug pricing. One is Cardinal Health's joint venture with CVS Health (CVS), called Red Oak Sourcing. Joining forces helps the two companies negotiate better generic pharmaceutical prices.
In addition, Cardinal Health also recently acquired the Patient Recovery business from Medtronic (MDT) for $6.1 billion, which will broaden the company's product offerings. Cardinal Health management expects the Patient Recovery acquisition to add $0.21 of earnings-per-share in 2018.
It is true that Cardinal Health operates in a low-margin industry, but Cardinal Health has many competitive advantages, particularly its massive distribution capabilities. Cardinal Health distributes its products to nearly 85% of U.S. hospitals. It also serves more than 24,000 pharmacies. Its home healthcare business serves 2 million patients.
Another major factor contributing to Cardinal Health's low valuation, is the opioid crisis in the U.S. In Cardinal Health's most recent 10-Q filed with the SEC, the company stated it was included in lawsuits against pharmaceutical distributors, filed by 98 counties and municipalities, one state attorney general, and one tribal entity.
While it is not certain how this will play out, it seems likely that a potential punishment will take the form of a one-time fine, or perhaps a small change to how Cardinal Health distributes opioids. The company is also taking an active role in addressing the opioid issue. On November 16th, the company launched its Opioid Action Program, which is designed to help prevent opioid abuse and support first responders in many of the states that are most heavily affected by the opioid crisis.
Nevertheless, above all else, the market loathes uncertainty. Skittish investors tend to sell first, and ask questions later. However, we believe the long-term fundamentals of the business remain healthy. The short-term valuation compression is likely to ease with time, and as the matter is resolved. If anything, it serves as a buying opportunity for long-term investors.
Value & Dividend Stock #3: Macy's (M)
Price-to-Earnings Ratio: 8.4
Dividend Yield: 6%
With a single-digit price-to-earnings ratio, and a high yield, Macy's is an attractive value and income stock. Macy's has a dividend yield of 6%, placing Macy's on our list of high-yield stocks with 5%+ yields. You can see all 413 stocks with 5%+ dividend yields here.
Department stores like Macy's (M) are under extreme pressure from online retailers. E-commerce retailers, led by Amazon (AMZN), are generating huge growth and taking market share, all at the expense of brick-and-mortar retailers. Department stores are among the hardest-hit retailers from the rise of Amazon.
Macy's earnings-per-share declined 38% in 2016. Things haven't gotten much better to start 2017. Over the first three quarters, adjusted earnings-per-share declined another 14%. For the full year, management expects comparable sales to decline 2% to 3%. Adjusted earnings-per-share are expected in a range of $2.91 to $3.16. At the midpoint of guidance, earnings are set to decline 2.4% in 2017.
However, there are reasons to view Macy's as a bargain. First, the declines are quickly moderating. Fiscal 2017 will be a much better performance than the previous year. It is possible Macy's will return to growth next year, as it is still doing many things right.
Specifically, Macy's Backstage and Bluemercury are compelling growth catalysts. Last quarter, Macy's opened eight new freestanding Bluemercury stores, bringing the total to 135. It also opened seven new Macy's Backstage stores within existing Macy's, for a total of 45 locations. These store openings will help Macy's expand in the beauty and off-price channels, which are growing categories.
In addition, Macy's is still highly profitable, with a huge amount of real estate value on the balance sheet. Activist investor Starboard Value once pegged Macy's real estate value at more than $20 billion. Starboard is no longer an investor, but even if its real estate valuation was too aggressive, Macy's could still be a bargain. The company has a current enterprise value of just $13.5 billion.
Macy's 6% dividend appears secure. The current annualized dividend payout of $1.51 represents a payout ratio of 48% to 52% for 2017. As a result, Macy's is appealing for value, and income.
Value & Dividend Stock #4: Bed Bath & Beyond (BBBY)

Price-to-Earnings Ratio: 7.7
Dividend Yield: 2.6%
Bed Bath & Beyond is in similar territory as Macy's. It is a big-box retailer, with a large number of brick-and-mortar stores. Bed Bath & Beyond is a specialty home furnishings and merchandise retailer. It operates a variety of brand names, including its flagship Bed Bath & Beyond, as well as Christmas Tree Shops, Harmon, Face Values, buybuy BABY, and World Market.
As of the end of the most recent fiscal quarter, the company had 1,550 stores, including 1,023 Bed Bath & Beyond stores, 277 World Market stores, 114 buybuy BABY stores, 81 Christmas Tree Shops stores, 55 Harmon, and a small number of Face Values stores. Its stores are spread across all 50 U.S. states, the District of Columbia, Puerto Rico, and Canada.
Home furnishings are an area increasingly being threatened by Amazon and other e-commerce players like Wayfair (W). Bed Bath & Beyond has been slow to adapt, as its e-commerce presence is still small in comparison to its physical stores.
As a result, Bed Bath & Beyond performed poorly in 2016. Comparable sales declined 0.6% for fiscal 2016, compared with a 1.0% increase the previous year. While digital channel sales rose 20% for the year, comparable sales from physical stores fell in the low-single digit range. Earnings-per-share declined by 10% in 2016.
Earnings-per-share fell another 37% over the first half of fiscal 2017, as the company is investing heavily in its turnaround. Despite all of its challenges, Bed Bath & Beyond is still highly profitable. The company expects earnings-per-share of $3.00 in fiscal 2017. This means the stock has a price-to-earnings ratio of just 7.7, based on 2017 earnings.
Bed Bath & Beyond's strong profitability will allow the company to continue investing in redeveloping stores, building its e-commerce platform, buying back stock, and paying dividends. Cash returns are particularly compelling.
Over the first half of 2017, the company reduced its share count by 7.2%. There is still $1.6 billion left on the company's share repurchase program, which amounts to roughly 48% of the current market capitalization. Plus, the stock has a 2.6% dividend yield, and a payout ratio of just 20%.
Value & Dividend Stock #5: Enterprise Products Partners (EPD)
Price-to-Earnings Ratio: 9.8
Dividend Yield: 6.8%
Last but not least is an MLP, Enterprise Products, which is one of 131 MLPs in the Sure Dividend database. You can see the entire list of all 131 MLPs here.
Enterprise Products has an attractive valuation. The company generated distributable cash flow of $2.51 last year, which means the stock trades for a price-to-DCF ratio of 9.8, which is low for a high-quality company. In addition to a low valuation, Enterprise Products has a strong 6.8% dividend yield, and a secure distribution. Enterprise Products generated 20% more cash flow than it needed to pay its dividend over the past year.
It can pay such a hefty yield, because of its excellent assets. Enterprise Products has a large network, which consists of nearly 50,000 miles of natural gas, natural gas liquids, crude oil, and refined products pipelines. It also has storage capacity of more than 250 million barrels.
Source: RBC Capital Markets MLP Conference, page 6
Another differentiating factor is that Enterprise Products has one of the strongest balance sheet among the midstream MLPs. It has a high BBB+ credit rating, and a low debt-to-adjusted EBITDA ratio of 3.8. It does not have a General Partner, which means no Incentive Distribution Rights to pay.
Its high-quality assets generate more than enough cash flow to sustain the dividend, and grow the dividend over time. Enterprise Products grew its cash flow by 3% in 2016, to over $4 billion. It is off to a good start to 2017 as well. Distributable cash flow increased 5.6% over the first three quarters, to $3.2 billion.
The company has ample growth opportunities moving forward, one of which is exports, particularly for liquefied petroleum gas. LPG consists of gases like propane, butane, and methane. Demand for LPG is rising at a compelling rate, particularly in under-developed areas of the world.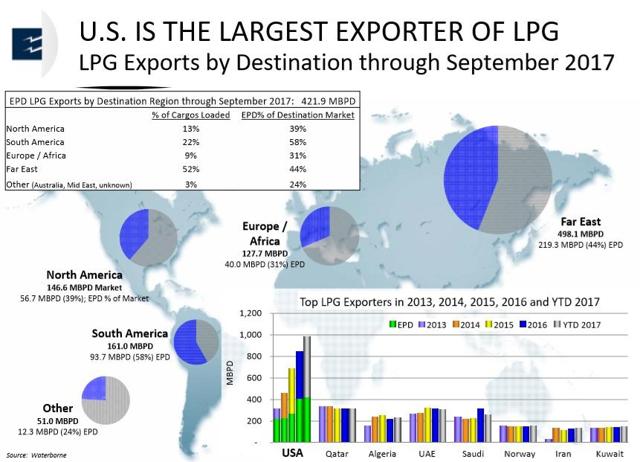 Source: RBC Capital Markets MLP Conference, page 22
Emerging markets like China and India represent huge long-term opportunities for LPG, especially from rising residential demand. According to the International Energy Agency, LPG demand in China and India will rise by 250,000 barrels-per-day and 350,000 barrels-per-day, respectively, by 2022. Enterprise has 1,150 LPG cargos contracted from 2017-2020.
Enterprise Products not only has a nearly 7% yield, but it has increased its dividend for 53 quarters in a row. It is a Dividend Achiever, a group of stocks with 10+ consecutive years of dividend increases. You can see the entire list of all 264 Dividend Achievers here.
Final Thoughts
Most market sectors appear to be at least fairly valued, if not overvalued. Even defensive corners of the market, such as utilities, look expensive. With markets racing to record highs, investors have to dig a lot deeper to find bargain stocks. Finding bargains among companies with strong business models, is even more difficult.
The good news is, there are still stocks that provide the combination of low valuations, strong business models, and dividends. These five have all of these qualities, making them attractive stocks for value and dividends in 2018.
Looking for value stocks with long histories of dividend increases? Our service Undervalued Aristocrats provides actionable buy and sell recommendations on some of the most undervalued dividend growth stocks around. Click here to learn more.