We are about to witness the tug-of-war between fiscal and monetary policy.
From the St Louis Fed - What is Potential GDP and Why Does It Matter?
Potential gross domestic product (GDP) is a theoretical concept that means different things to different people. To some, it reflects a world in which every worker is matched with the perfect job, every good idea is implemented, and the bad ones are ignored. In this world, resources are allocated optimally with no distortions from the tax code, information frictions, or suboptimal government policies.

But this theoretical "perfect world" is not the real world, and the scenario just described is not the concept of potential GDP monetary policymakers typically use when setting monetary policy. Instead, they estimate potential GDP by constructing measures of the trend in actual GDP that smooth out business cycle fluctuations. Looking back in time, potential output is relatively easy to measure because we have reliable methods to extract smooth trends from historical data. However, measuring potential output in real time is more difficult because only past data are available to estimate the trend. We cannot be confident about the estimate of potential GDP for 2012 until several years have passed and we see how GDP evolves - the accuracy of our estimate depends on the accuracy of our long-term forecast.

But why does potential GDP matter? How do we use it? Potential GDP is important because monetary policymakers use the difference between actual and potential GDP - the output gap - to determine whether the economy needs more or less monetary stimulus.
The current situation is that actual GDP is above potential GDP.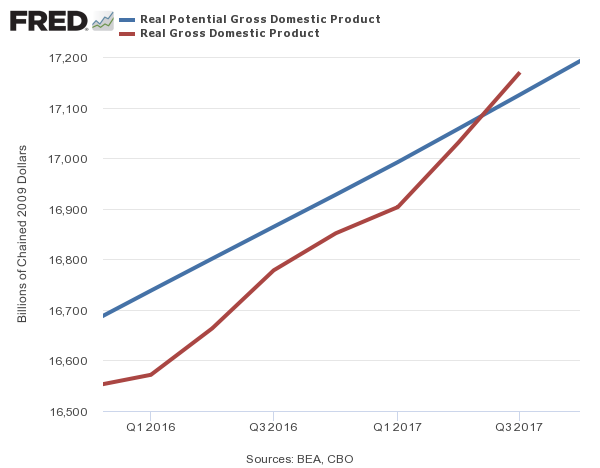 With actual now above potential GDP, a whole slew of questions is raised. Historically, the economy goes into a recession within a few years of actual GDP nearing or exceeding potential GDP. I do have reservations that this historical relationship is valid in the New Normal following the great economic shock of the Great Recession - but I cannot discount this historical relationship.
1) Is the Federal Reserve behind the eight-ball on Federal Funds Rate Increases?
If one uses potential GDP as the yardstick, monetary policy would have dictated the the Federal Funds Rate (green line in graph below) should have been raised at least one year earlier than it was. And with actual GDP now above potential - one would expect the Fed to tighten more.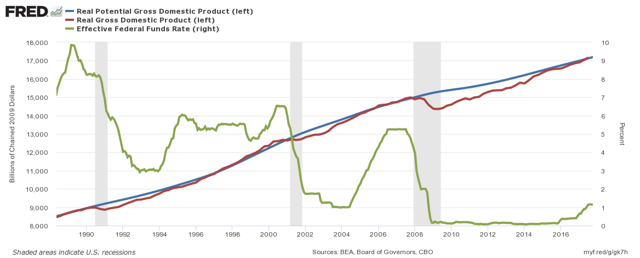 It seems the lights are green for the increased braking affect of a higher Federal Funds rate.
2) How does this square with the GOP tax plan which is "designed" to stimulate the economy?
It does not square. Too much historical evidence shows little good comes from pushing actual GDP above potential. And it is more than likely that the Federal Reserve will be working to slow the economy whilst the tax plan's design is to do the opposite. The potential GDP for the next 10 years does NOT exceed annual growth of 1.9% - whilst actual GDP is currently 2.3% and trending up.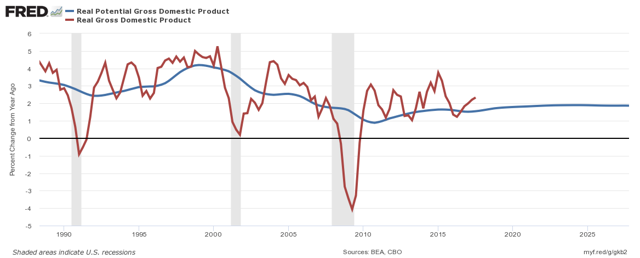 3) The Great Tug-of-War Between Fiscal and Monetary Policy
This all sets the stage for an economic collision. There is no good which comes from fiscal and monetary policy dynamics in opposition. Will there be a recession? There is always a recession in the wings so discussing this point is moot. But there is little debate that the GOP tax plan is designed to put more money into the hands of the 0.1% so that there will be more private investment.
But if the economy is already running above potential - there will be few opportunities to invest in the economy and the "investment" will be to the immediate net worth of the wealthy.
My usual weekly wrap is in my instablog.
Disclosure: I/we have no positions in any stocks mentioned, and no plans to initiate any positions within the next 72 hours.
I wrote this article myself, and it expresses my own opinions. I am not receiving compensation for it. I have no business relationship with any company whose stock is mentioned in this article.