News of the Week
Auto sales dropped by 3.3% in November compared to October from an annualized rate of 18.1 million to 17.5 million units. This is really in line with what we expected since the last two months' sales were elevated temporarily due to replacement purchases for autos damaged beyond repair by the devastation of Hurricanes Harvey and Irma. Further declines are likely in coming months as the peak for this auto cycle is now behind us. The National Automotive Dealers Association expects 2018 sales of 16.7 million. We think that may even be a little high. We think that a forecast by Toyota (NYSE:TM) closer to 16.0 million is more realistic as reported by Bloomberg.
Inflation in EZ (Euro Zone) is up 1.5% over last year but still below the ECB (European Central Bank) target of 2.0%. This is positive news, especially when combined with improving employment reports in much of the EZ. The ECB will reduce its QE (quantitative easing) purchases beginning next month from €60 billion to €30 billion per month. We need to see if there is any impact from that adjustment before we can get a clear picture on the longer term trend.
Germany Factory Orders rose again for the third month sequentially, also above pre-financial crisis levels. But while orders rose, industrial output fell. This was blamed on worker time off (read: Octoberfest). The problem in Europe is that even though the main economic driver on the continent is doing well, it still does not always translate to economic well being for the rest of the EZ. We will continue to watch for broader geographic improvements. Spain was doing well until the Catalonia problem arose. Brexit could still have negative impacts on European economies as negotiations still seem to be bogged down.
Tax Reform is still the elephant in the room this week and it is still unclear what will be included in the bill. However, there are two things that we think investors should be aware of, neither of which is a done deal but either of which could impact the markets.
The first is a little talked about piece of the Senate bill that requires all retail investors to sell shares held on a FIFO basis. What this means, if it remains in the final version, is that investors will be forced to sell the oldest shares purchased first and will no longer be allowed to designate which shares held in an account (or in multiple accounts) at a brokerage are to be sold. This could affect those who like to trade around a core position. The answer may be in opening up a separate account(s) for different purposes with different brokers.
The other thing to keep in mind is that not all investors are treated equally. The above FIFO requirement may not apply to ETFs, mutual funds, or some other institutional investor categories. As usual, the retail investor may come in last. Along those same lines is how different even the current tax laws are for some institutional investors compared to retail investors. Many institutional investors (those that have permanent trading operations) may not benefit from the lower capital gains tax treatment for retail investors. According to Warren Buffett, in an interview with CNBC, it may be beneficial for such institutional investors and holding companies to sell positions with large losses before the end of the year to lock in the tax benefit at the higher rate before the income tax rates on corporations and pass through organizations (think in terms of LLPs, LLCs, S corporations and sole proprietors) which may pay far lower rates in 2018 compared to 2017. The tax loss could be worth far more to those entities if taken this year. Owners of IBM (IBM) and General Electric (GE), among others, beware.
It should be noted that those institutional investors hold a disproportionately large percentage of shares. If the selling spree became large enough, especially since it would likely come in the last week of the year (a typically of extremely low trading volume), it could have a temporary negative impact on the indices. If that were to occur (and we are not sure if it will or not), it could cause some panic selling on Wall Street from those that often react by selling first and asking questions later.
But assuming that this would come on the heels of a huge tax cut bill being passed, we would caution investors to not get caught up in the temporary swing by selling quality companies because any correction in the markets this might cause should prove to be short-lived. The tax cuts will create a very business friendly environment and should increase profitability for most U.S.-based corporations. That being the case, we would expect 2018 to provide continued strength to the economy and stocks in general.
So, bottom line, you may want to consider selling your losers before Christmas if it looks likely a tax reform bill is likely to be passed to avoid the holiday rush. Having that dry powder ready to deploy early in 2018 may allow us to take advantage of an opportunity if things unfold as Mr. Buffett thinks might happen. We think the Oracle may be onto something.
Government Reports
Our source for government reports is the economic calendar from econoday.com.
Factory Orders reported a decline in October of -0.1% due primarily to a temporary drop off in commercial aircraft orders. That will likely be reversed in the November report based upon a strong order month for Boeing. The consensus estimate was for a -0.4% decline, so this was better than expected and should strengthen further next month.
The International Trade report was worse than expected with the trade deficit widening to $48.7 billion for October, up from $44.9 billion in September. Below are some highlights from the report:
"Fourth-quarter net exports get off to a weak start as October's trade deficit, at $48.7 billion, comes in much deeper than expected and well beyond September's revised $44.9 billion. Exports, at $195.9 billion in the month, failed to improve in the while imports, at $244.6 billion, rose a steep 1.6 percent. Price effects for oil, up more than $2 to $47.26 per barrel, are to blame for much of the rise in imports inflating costs of industrial supplies including crude where the deficit rose $1.5 billion to $10.7 billion, but consumer goods are also to blame, imports of which rose $800 million in the month to $50.0 billion."
ISM Non-Manufacturing Index reported a slowdown in November from what appeared to be unsustainably high prior levels, coming in at 57.4 compared to 60.1 in October. Even though it was below consensus, it was still a strong report. For perspective, see the monthly chart below: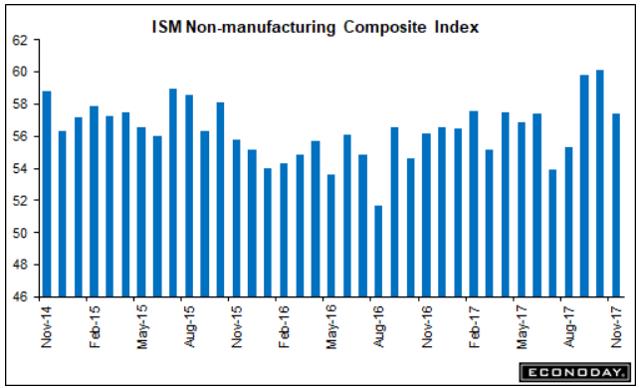 The ADP Employment Report came in above consensus on Wednesday for the month of November but still well below the October reading: consensus – 186,000, October – 235,000, November – 190,000.
Employment Situation Report for November came in at 228,000 jobs added to the economy, well above the consensus estimate of 190,000. Below is a table containing highlights from the report:

The economy is still adding jobs at a good clip, and with unemployment at 4.1%, we could begin to experience more upward pressure on wages in the coming year, good news for consumers and the economy. But the pressure has not been enough to forestall the Fed from raising its key interest rate a little later this month.
Productivity and Costs report shows strong improvement of 3.0% combined with slow wage growth contributed to an improvement in unit labor costs which generally translates into operating income growth for businesses. All in all, this was a good report for the stock market.
EIA (Energy Information Agency) Status Report came in mixed with a larger draw down (-5.6 million barrels of crude) but also larger than expected builds in refined products inventories; gasoline inventories rose 6.8 million barrels and distillates rose 1.7 million barrels. The net change in inventory was an increase of 2.1 million barrels overall. But the good news for producers is that all three categories of storage were below year ago levels which could provide continued price support.
Consumer Sentiment (preliminary) edged lower for December to 96.8 from 98.5 prior. Highlights from the report below:

Notable Earnings
AutoZone (AZO) beat on EPS (earnings per share) by $0.15 and also reported revenue growth of 4.9% Y/O/Y (year over year). Earnings for the quarter compared to the same period last year increased by only 1% but EPS rose by 6.8%, with the discrepancy due primarily to the company's aggressive stock buyback program. During the quarter, the company repurchased 597,000 shares for $353 million. It has only $471 million authorized in its current stock repurchase program. We would expect the board to vote to increase the authorized funding to extend the program into the future. AZO is fairly priced, according to our FCF (free cash flow)-based valuation model: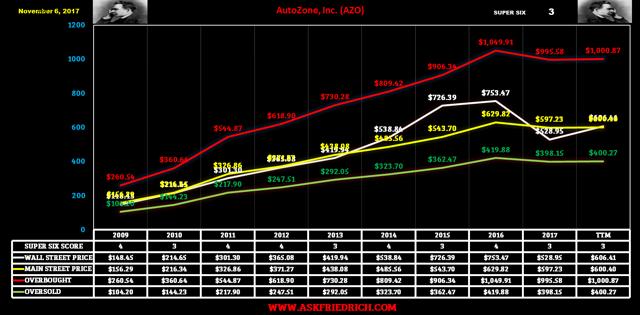 Bank of Montreal (BMO) missed on earnings by $0.05; quarterly earnings fell 9% Y/O/Y while full-year earnings rose 16%.
Dave & Buster's (PLAY) for those of you who like simulated sports while in drinking mode, beat on earnings by $0.03, reporting EPS of $0.27, while revenues missed by $5.8 million coming in at $250 million for the quarter, an increase of 9.3% Y/O/Y. The company also announced the introduction of a smaller store format for future growth.
Toll Brothers (TOL) missed on earnings by $0.02, reporting EPS of $1.17, and also missed on revenue by $50 million, reporting $2.03 billion for the quarter which represents a Y/O/Y increase of 9.1%. The stock is down almost 9% from prior to the press release.
Veeva (VEEV) reported an increase in revenue of 23.3% Y/O/Y and either a beat of $0.03 or miss of $0.01 on EPS, depending on which source you believe and whether you want to rely on adjusted or operating EPS. The only mention of GAAP results was to say that the company could not provide them at this time. Even the operating income was not GAAP. Does this trend of more and more companies not using GAAP concern anyone else?
American Eagle Outfitters (AEO) missed narrowly on earnings, reporting EPS of $0.37 for the quarter; revenue also missed by a small margin coming in at $960.4 million, representing an increase of 2.1% Y/O/Y. The one bright spot in the report was that comparable store revenue increased by 3.9%. The stock rose on the news. It is not a bad company, but we do not find any real catalyst for the advance.
Broadcom (AVGO) reported a strong quarter with EPS of $1.50 (GAAP) compared to a loss in the same quarter a year ago of $1.59 per share. Sequential quarterly EPS growth was 31.5%. Revenue grew 9% sequentially and 17% Y/O/Y. The company also reported an improvement in its gross margins. The biggest news for shareholders may have been the 72% increase in the dividend.
Brown-Forman (BF.B) beat on earnings and revenue this quarter and raised forward guidance, a hat trick in soccer parlance. EPS of $0.62 beat consensus by $0.09; revenue increased by 10.1% Y/O/Y to $914 million, beating consensus by $42.5 million. All in all, it was a very solid quarter. Our Friedrich algorithm agrees, giving BF.F a rating of 5 out of a possible 6: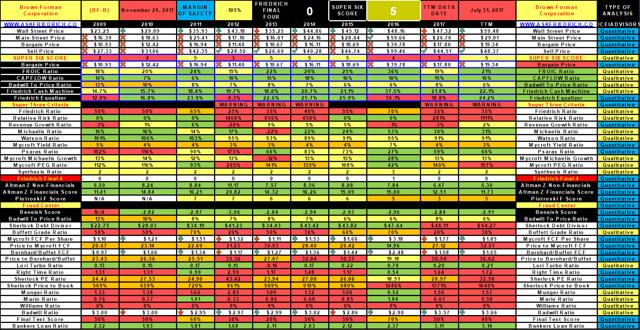 Lululemon (LULU) also reported strong results for the quarter with EPS of $0.56 beating consensus estimates by $0.04 and revenue increasing by 13.7% to $619 million, beating by more than $9 million.
Dell Technologies (DVMT) reported adjusted EPS of $1.57 (GAAP loss of $0.43 – notice any disparity?) on revenue of $19.6 billion, an increase of 21% Y/O/Y. The big disparity in reported earnings likely has its roots in the acquisition of EMC.
Dollar General (DG) beat on earnings by $0.04 reporting EPS of $0.98; revenue increased by 10.9% to $5.9 billion, also beating (by $100 million) consensus estimates. The stock is up about 2% since the report.
What it all means
The overriding story this week is one of continued economic strength with the one exception: auto sales. The auto industry, while being significant, is no longer large enough relative to the rest of the economy to be a significant drag.
The big news is still the tax reform bill.
If you have any questions, please feel free to ask them in the comment section below and don't forget to hit the "Follow" button next to my name at the top of this article. For those who would like to learn more about my investment philosophy, please consider reading How I Created My Own Portfolio Over a Lifetime.
DISCLAIMER: This analysis is not advice to buy or sell this or any stock; it is just pointing out an objective observation of unique patterns that developed from our research. Factual material is obtained from sources believed to be reliable, but the poster is not responsible for any errors or omissions, or for the results of actions taken based on information contained herein. Nothing herein should be construed as an offer to buy or sell securities or to give individual investment advice.
Disclosure: I am/we are long BF.B. I wrote this article myself, and it expresses my own opinions. I am not receiving compensation for it (other than from Seeking Alpha). I have no business relationship with any company whose stock is mentioned in this article.