The price action in Bitcoin, which is up 14x on the year, makes us wonder if we are analyzing the wrong asset class and investment structure but also reminds us of the story about Joe Kennedy exiting the stock market in 1929 when the shoeshine boy gave him a stock tip.
In DC, the government shutdown was averted with Congress voting to extend funding for two weeks until 22 December. The Senate also named eight members to the Conference committee tasked with the process of reconciling the two versions of the Bill.
Markets
The S&P 500 closed the week at a record high. The 2s10s Treasury yield curve neared 50bps - the lowest in more than a decade.
Macro
228k jobs were added in November, exceeding the 200k estimate, most likely on the back of hurricane activity. The non-manufacturing ISM declined from a 12-year high and was a touch lower than expectations. The US economy continues to grow at a decent clip, even as wage growth disappoints, suggesting to us (and the market where it is fully priced in) that the Fed will most likely raise rates at the next meeting.
Fund Space
Muni funds have held up surprisingly well with the most recent rise in yields. For instance, 10-year yields have risen 0.3% from September at the same time as Muni funds are flat to slightly up in net price terms.
In the chart below, we show the gross NAV trend together with the 10-year Treasury yield. The chart is fairly clear that NAVs take a hit whenever yields rise which makes sense given most Munis are fixed-rate bonds. However, what we have seen most recently is that as the 10-year yield has crept up to the one-year high, Muni NAVs have rallied.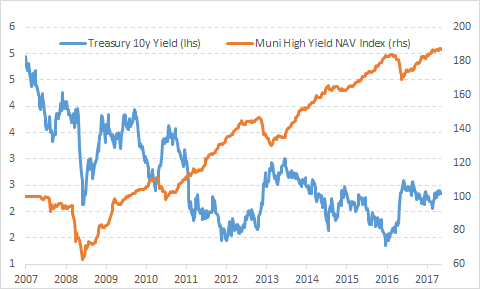 How come?
One reason is that

we've been here before. What markets hate most is surprise and uncertainty. The reason this time is different (and we use this phrase with caution) is that we have been here before - 10-year yields breached 2.60% this year, so a 2.40% level is not particularly novel or scary.

A significant number of Muni funds hedge their interest rate exposure, leaving them less vulnerable to a higher yield scenario.
The beta of Muni funds to rising yields has been fairly benign overall this year. Betas are typically negative as NAVs fall when yields rise; however, more recently the NAV sensitivity to yields has been very small.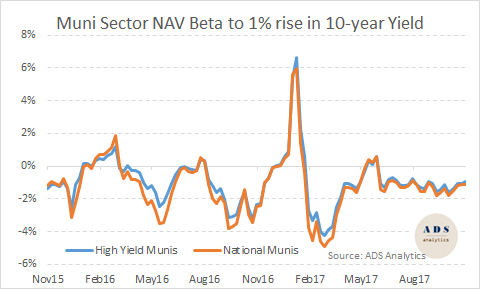 The recent move higher in yields has been benign and driven more by the recovering economy rather than an inflationary or fiscal shock. The fixed-income market doesn't like sharp moves higher in yields such as those during the Taper Tantrum or post the November election. Gradually rising interest rates is a consensus call in the market so moderately higher yields are unlikely to frighten the market and lead to Muni underperformance.
Why do we like Muni funds here?
Muni funds provide a natural hedge to a risk-off scenario. We have to be a little careful here because in case of a large unexpected shock we would expect all funds including the Muni sector to fall in price; however, unless that shock is inflationary, Muni fund NAVs should be supported by a risk-off driven drop in yields.
We think demand will continue to remain strong while supply will be more limited. The top tax rate will likely be cut only marginally leading to continued demand from retail and mutual funds. The full or partial elimination of SALT likely increases demand for Munis in the near term though the longer-term picture is less clear.
The 10-yield has risen more than 1% from the lows leaving more room for Muni outperformance than previously.
Discounts are still reasonable.
T.I.N.A. - There Is No Alternative - credit and mortgage spreads are tight and equities are expensive, leaving less room for outperformance in other asset classes.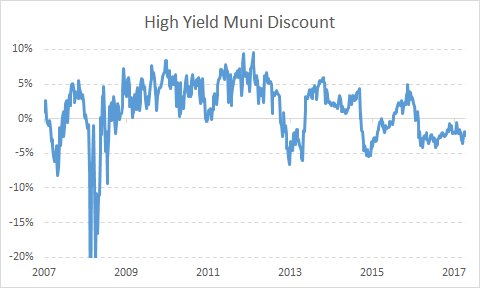 Where is the Alpha in the Muni sector?
Our measure of Alpha is Gross NAV Return adjusted by fund leverage and volatility. We prefer the 3-5 year measure as that gives a fund sufficient period to show that it's not a flash in the pan. We should keep in mind that this measure of Alpha tells us nothing about such important metrics as distribution sustainability and discounts both of which can make a fund vulnerable to a large sell-off.
For instance, the top-rated fund by Alpha in our table below, BBK, has distribution coverage of 60% whereas the third-rated fund MFM has coverage over 100%, so details such as these do matter. In the long term, however, it is all about gross returns so Alpha is important.

Source: ADS Analytics
Good Luck!