Investment thesis
Over the last two years, the share price growth of Chinese online travel agent company – Ctrip.com (NASDAQ:CTRP) – has stalled, but the company's outlook remains positive. The company's story is easy to follow and valuation models suggest that growth is underway.
Industry outlook is bright
Until recently, online travel agencies and so-called metasearch companies lived a completely separate but complementary life - with metasearch companies serving as an assistant to traditional OTAs. This, however, has changed and now both companies operate under converged form known as Online Travel Retailers. According to Allied market research, the online travel market is expected to grow at an annualized compound growth rate of 11.1 percent up until 2022, with the hottest age category being the young population from 21 to 31 old. From a regional perspective, the highest growth potential in the online travel market can be found in the APAC region, especially India and China, where Ctrip's business is concentrated.
Scientific management
Unlike most other organizations these days, Ctrip.com has adopted a specialized managerial practice known as scientific management, which is based on the application of rigorous academic approaches in the process of managerial decision making. One example of this practice in Ctrip's operations is an experiment on its 242 employees, which found that employees randomly assigned to work at home for 9 months were slightly more efficient in terms of labor output than the office-based control group. Basic principles of this practice, without a doubt, have been employed also in the company's rich acquisition history.
Accelerating revenue
A good sign that is quickly visible from Ctrip.com's financial statements is accelerating revenue which topped US$1.2B in the most financial recent quarter. According to Reuters financial statistics, 5-year revenue CAGR totals 40.6 percent, 3-year revenue CAGR totals 52.8 percent and 1-year revenue CAGR amounts to over 76 percent. From a revenue perspective, a key strength of Ctrip's business is also a relatively high exposure to large rapidly growing Chinese cities such as Beijing, Guangzhou, Shanghai and Shenzhen, which account for the majority of total revenue.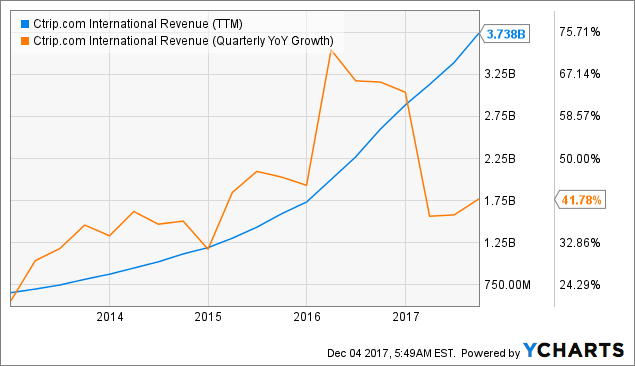 Source: Investor relations - 20-F filling
Considerable equity dilution
Without a doubt, one major concern all investors should bear in mind is substantial equity dilution which has accompanied the stock. As of December 31, 2016, the company had 513.2M shares outstanding compared to 380.7M a year earlier. This represents almost a 35 percent year-on-year increase. Assuming this pace of dilution will persist in the years to come, Ctrip.com could have over one billion shares outstanding by the end of 2019.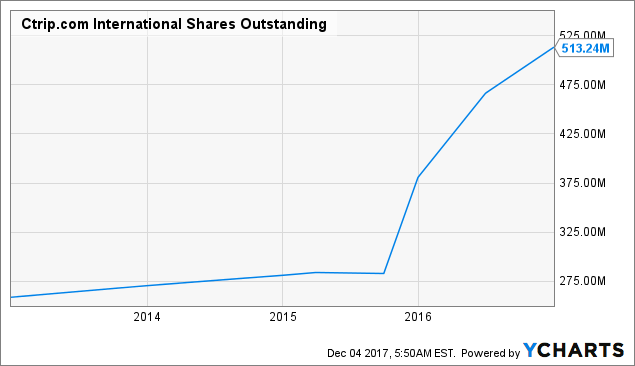 Valuation
Using the revenue variation of popular Peter Lynch's earnings line for the projection of intrinsic per share values of the company, Ctrip.Com seems to be trading with a healthy upside potential. According to my model, assuming 50 percent annual revenue growth, 35 percent annual growth in the number of shares outstanding and an unchanged current trailing 12-month price-sales (P/S) ratio of approximately 7x, the company's intrinsic value by the end of 2020 could reach $60 USD. Should the price-to-sales multiple rise to 11x, the company's intrinsic value, according to my model, could reach as much as $94 USD. With respect to the current share price, this implies an annualized rate of return potential of at least 9 percent in the following years.
The bottom line
Clearly, Ctrip.com's growth potential has not yet been fully manifested. Even though the stock has suffered from a considerable equity dilution, Ctrip's phenomenal revenue growth far outweighs the negative consequences of the continuous new shares issuance. Hence, I believe the company's best days are yet to come and investors should get ready not to miss out on this exceptional opportunity.
Author's note: To bring similar articles to your attention, please consider subscription of my SA feed by clicking on the ''Follow'' button at the top of this page.
Disclaimer: Please note that this article has an informative purpose, expresses its author's opinion and do not constitute investment recommendation or advice. The author does not know individual investors' circumstances, portfolio constraints, etc. Readers are expected to do their own analysis prior to making any investment decisions.
Disclosure: I am/we are long CTRP.
I wrote this article myself, and it expresses my own opinions. I am not receiving compensation for it (other than from Seeking Alpha). I have no business relationship with any company whose stock is mentioned in this article.