By: Lars Moffatt
Introduction
The Canadian cannabis market has exploded in value in the last year due to the upcoming legalization of marijuana that is expected to become law in Canada in July of 2018. Within this market, several large corporations are acquiring smaller production companies to increase their market share and prepare for the demand that will occur due to legalization.
Today's North Channel Investment article will look at Aurora Cannabis Inc. (OTCQX:ACBFF), and why they could be very appealing to any investor looking for a stock that has great potential for long-term growth.
Company Overview
Aurora Cannabis is a Canadian medical marijuana producer that is based out of Vancouver, British Columbia, Canada. The company specializes in the production and distribution of cannabis and cannabis oil. Aurora sells and distributes to patients who are legally entitled to medical cannabis in Canada, where the company offers secure delivery services. These services can be accessed by phone, online, and the company's innovative mobile application. There are numerous emerging cannabis sellers and producers across North America, however, Aurora is one of Canada's largest and fastest growing sellers of cannabis and oils. The company owns several subsidiaries that are located in Canada, United States, Germany and Australia. Some of the names of these subsidiaries are as follows:
CanvasRx Inc - Canada
Peloton Pharmaceuticals - Canada
Pedanios GmbH – Germany
Cann Group Ltd - Australia (Aurora owns 19.2% of the company's shares.)
Australis Capital Inc. – United States
Radient Technologies – Canada (Aurora owns 12.9% of fully diluted shares in company)
Larssen Ltd. - Canada
H2 Biopharma – Canada
Before I go into some of the growth prospects that Aurora has, it is imperative to understand how fast the company is growing their sales and number of registered patients. At the end of the first quarter in 2017, Aurora had 8,200 registered patients. By the end of the fiscal year, this number doubled to 16,400 and by September, the company released that this number grew to over 20,000. Alongside the growth in patients, the company also increased the amount of grams sold each quarter, while managing to increase the sale price per gram and decrease the cost to produce and sell (market) each gram. Lower marketing costs and increased sales is a great indication that the company is learning to use its marketing tools more efficiently, and indicates that the company is continuing to make a higher profit margin per gram. The following clipping taken from their 2017 fiscal year statements shows their fiscal year performance: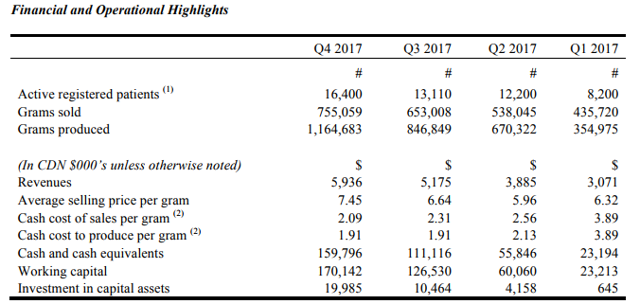 Source: 2017 Fiscal Year Financial Results – Aurora Cannabis Inc.
Despite the fact the company continues to increase their sales and number of patients, the company has struggled in creating any real earnings per share. There was yet another fourth quarter loss of $0.01 (NYSEARCA:CAD) per share and loss of $0.05 for the year, however there are several reasons why the company is not creating any real earnings. Much of what caused the losses were due to increased financing costs, acquisitions costs, project costs, as well as increased expenditures due to the scaling up of their operations in preparation for the legalization in July 2018. Once legalization hits Canada, there will be an influx in the selling to regular consumers that do not need a prescription. High marketing costs were also a factor in this loss.
Growth Prospects in Canada
There are many growth prospects that make Aurora extremely attractive. From a regulatory perspective, Canada is preparing to legalize cannabis by July 2018. Once cannabis becomes legalized, cannabis and cannabis oil sales are expected to boom as there is will be much more freedom for these producers to be able to sell and increase the distribution of their products across the nation. Currently, Aurora operates a 55,200 sq/ft facility in Mountain View County, Alberta, where there is another 7.7 million sq/ft available on the plot of land for future expansion. One benefit to operating in Alberta in comparison to other provinces is their low energy and tax costs.
Alongside the operations in Mountain View County, Aurora is currently working on the completion two additional facilities in Canada. The first location is in Edmonton, Alberta, which is an 800,000 sq/ft production site that is located at the Edmonton International Airport. This location is ideal as Alberta has low energy and tax costs, as well as the ability to transport the product with low cost due to close proximity to a major Canadian airport. This facility is expected to reach full production capacity by late 2018 after legalization. This facility is currently in operations, however as already stated, the construction is not completed. This location is estimated to produce 100,000 kilograms per year.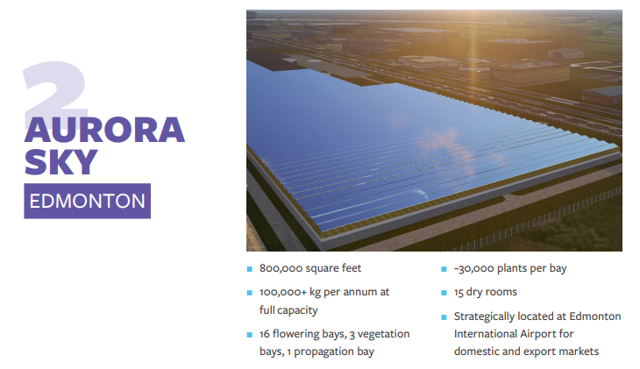 Source: 2017 Fiscal Year Financial Results – Aurora Cannabis Inc.
The second location (Peloton Inc) is in Pointe-Claire, Quebec, where a 40,000 sq/ft facility is also being built. This facility was created for the future operations in Quebec and the Maritime Provinces. The first harvests are to be planned before the end of the 2017.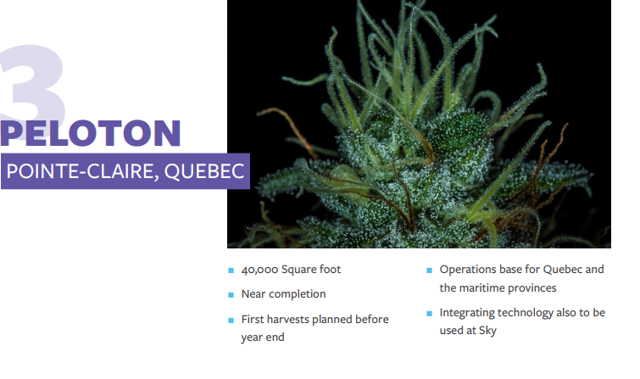 Source: 2017 Fiscal Year Financial Results – Aurora Cannabis Inc.
In regard to other expansion – Aurora has worked to aggressively grow their CanvasRx locations across Canada, where they increased the locations from 13 to 25 since the acquisition in June 2016. While Aurora works mostly on the distribution and production of cannabis, CanvasRx works more with patient outreach, which aids patients in education about cannabis as well as the connections and relations between doctors and patients.
Aurora is aggressively acquiring other companies and is doing it strategically. Recently, Aurora purchased Larssen Ltd and H2 Biopharma. Larssen specializes in the engineering of greenhouses and potted plant production, while H2 Biopharma is a 48,000 sq/ft building that was designed for cannabis production. This site is being built 1 hour from Montreal's airport, giving it easy and affordable access to distribution and transportation chains that are similar to what was being designed at Aurora's new site in Edmonton.
These acquisitions are not only aggressive but are also very smart, as they are locations that are ideal for future growth, but also allow to develop the company's technology and efficiency within their current and new facilities.
Growth Prospects on an International Scale
Alongside these excellent Canadian acquisitions, Aurora has acquired a few holdings on an international scale that will help build their future empire. In May of 2017, Aurora acquired Pedanios which is a German distributor, importer, exporter and wholesaler of medical cannabis. Pedanios is Germany's largest cannabis distributor, with distribution to over 1,500 pharmacies and also has access to other sales and exports through the European Union. Pedanios has seen steady and strong growth in their sales, and is expected to increase as they continue to supply to more and more pharmacies.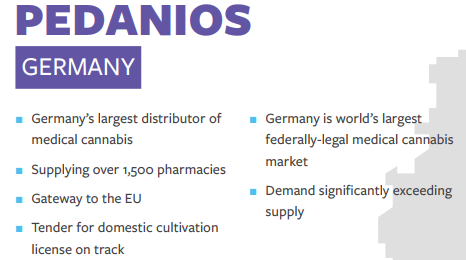 Source: 2017 Fiscal Year Financial Results – Aurora Cannabis Inc.
Aurora also has a significant stake (22.9% of shares held by Aurora) in Cann Group Ltd., which is an Australian cannabis distributor. Cann Group was the first Australian company to receive a license to research and grow Cannabis for medical purposes. Because they are the first, Cann Group will have few competitors for a significant period of time as long as regulations and licenses stay strict in Australia. This time ahead of everyone else in the Australian cannabis market will allow Cann Group (and Aurora) to reap a high level of market share and profits.
Overall, Aurora is growing aggressively across Canada and internationally, where they have strategically acquired several companies in the Cannabis and plant cultivation industry. These will help with future development with the company. I expected nothing but good things to come from Aurora in the future.
Competitive Advantage
The company has several advantages that will allow them to thrive against competitors. The first advantage is the company's subsidiaries, which are experts in various aspects of the production, sales, and connections between the company and patients. Aurora also has distribution across Europe, Australia, and North America, which allows them to have a larger potential market than other domestic cannabis producers. Many of Aurora's facilities that are being built will be/are state of the art, allowing for optimal production at lower costs.
Another competitive advantage for Aurora is their development of a cannabis mobile application that allows patients to order and choose various strains of cannabis with ease and convenience. This app is the first of its kind and will be crucial during the legalization of pot in Canada, as everyday consumers will be able to access and order product at their fingertips.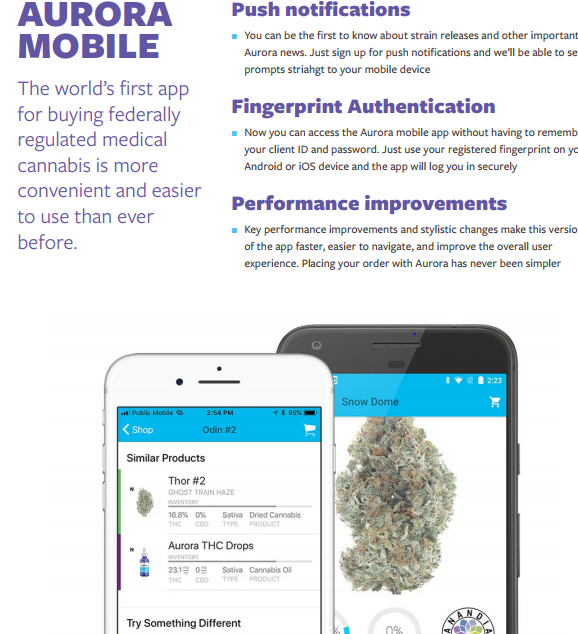 Source: 2017 Fiscal Year Financial Results – Aurora Cannabis Inc.
Comparison of Other Competitors & Russell 2000
Other Canadian cannabis company's and their price-to-book ratios will be compared to determine if Aurora is overvalued or undervalued against other competitors. Usually, I add in the price-to-earnings ratio as another tool of comparison, however most companies used for this comparison have produced losses in the last year. Due to this, we will use strictly PB ratio. All data was gathered from Y charts and were the closing numbers as of December 7, 2017.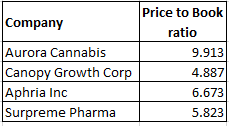 Source of Data: Y Charts
From this chart we can see that Aurora has the highest PB ratio, indicating that they are the most overvalued against other Canadian Cannabis companies.
As of the market closing on Dec 7, 2017, the Russell 2000 index's price-to-book ratio was 2.29. This indicates that not only is Aurora overvalued against other competitors, but it is almost 4x higher than the index's average. This indicates that the stock may decrease in price in the future due to overvaluation, indicating some level of uncertainty in their stock price.
Final Thoughts
Despite the fact that Aurora Cannabis is highly overvalued against the Russell 2000 and other competitors, they still pose high growth potential in the future, especially once legalization of marijuana occurs in July 2018. Here are some other summarized reasons of why Aurora will still grow in value over time.
Revenue, grams sold and number of patients have all increased in the last year, while costs per gram for production and marketing have all continued to decrease. Aurora has increased the price per gram, indicating that their profit margins have become more attractive.
Their strategic acquisitions will provide future earnings as they have subsidiaries that are skilled in various aspects of plant production. This will aid the company in continuing efficient production.
Acquisitions overseas will also provide a revenue boost, as they now own one of the largest Cannabis distributors in the EU, and one of the only producers in Australia.
Strategic new facilities in Edmonton, Alberta and Pointe-Claire, Quebec will allow for increased and efficient production in the future, to help combat the demand that will occur during increased market awareness and the legalization in Canada. Aurora's cannabis application for mobile phones is also an indication of their desire to develop technologically.
Overall, I would highly recommend purchasing Aurora Cannabis as they provide several reasons why they would be a great long-term growth investment. If the stock is purchased now, any buyer has a higher level of risk than if they waited for the stock to decrease to around $5.50-$6.00 CAD. This price would reflect similar PB ratios in the cannabis industry, where risk levels would be slightly lower. Regardless if the purchaser waits to buy until this dip or purchases now (current price is hovering just above $7.00 CAD), the growth prospects are still very appealing, especially the potential in Canada after legalization.
Disclosure: I/we have no positions in any stocks mentioned, but may initiate a long position in ACBFF over the next 72 hours.
I wrote this article myself, and it expresses my own opinions. I am not receiving compensation for it (other than from Seeking Alpha). I have no business relationship with any company whose stock is mentioned in this article.
Editor's Note: This article discusses one or more securities that do not trade on a major U.S. exchange. Please be aware of the risks associated with these stocks.