Positive Acceleration Momentum Stocks
This week I have selected 8 breakout stocks from the following sectors: 7 healthcare, 1 industrial goods. Healthcare pharmaceutical and biotechnology stocks were by far the largest representation of breakout stocks in my screener for this week. Detailed charts for each stock and the biotech sector are at the end of the article.

The new selections of positive momentum stocks for this week include:
Four additional long positions are available to subscribers.
Four Negative acceleration momentum stocks available to subscribers.
Live daily chart tracking and momentum updates for subscribers are available along with detailed portfolio performance of individual stocks.
Thumbnail images of the Positive Momentum Portfolio Week 50

Intro
Welcome to the Momentum Breakout Selection list for Week 50. This article provides the complete list of Breakout Stocks for subscribers only. The full performance results for all the different portfolios are linked in the 2017 YTD performance results with important descriptions of the different portfolio methodologies. A brief summary of the selection methodology for these momentum stocks can be found in my primer article on quick pick momentum accelerators.

Performance Summary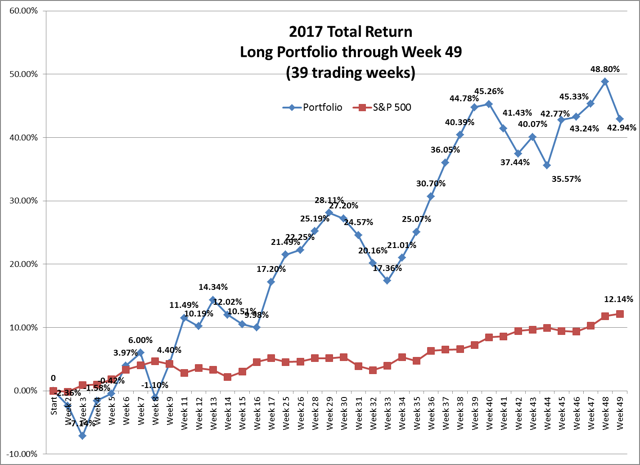 (Please see the paragraph on Indexing the Breakout Momentum Returns for questions regarding methodology, transaction costs, and breakout frequency benchmarks)

This past Week 49 saw a substantial short-term reversal in the energy sector. Unfortunately I had overly weighted the Oil & Gas sector based on the screening criteria that emerged for stock selections. A similar outcome has emerged for the Week 50 Forecast and I have tried to validate this high representation of pharmaceutical and biotechnology stocks for as much accuracy as possible in the coming week. A technical view of the healthcare biotech sector may be analyzed using the ProShares UltraPro Nasdaq Biotechnology ETF (UBIO) as shown in the chart below: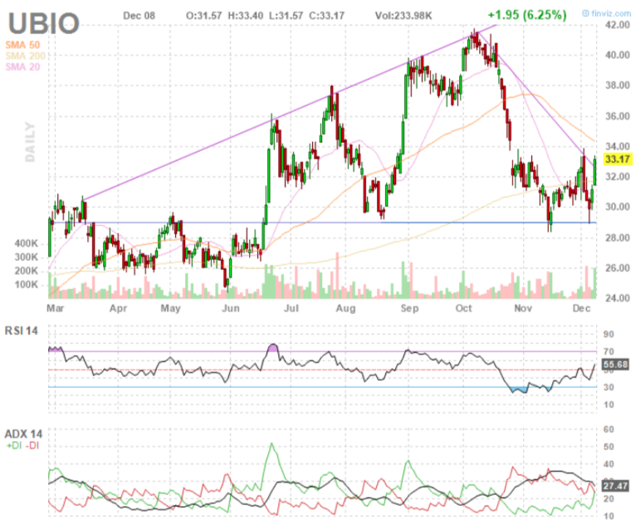 It would appear that this exchange traded fund of the biotech sector has all the characteristics of a stabilized price base that is about to breakout significantly to the upside. Some additional analysis in all my articles is available to subscribers. Furthermore, I have to go where my methodology leads me and this week appears to be quite a healthcare breakout week ahead of us.
Total cumulative long portfolio returns by week of the past 5 weeks (t-5) are listed below through the end of Week 49 to illustrate the rolling returns of prior top performers through Friday:

| | |
| --- | --- |
| Breakout Forecast | Long Portfolio Returns past 5 weeks / Top Performers |
| Week 49 (t-1) | -5.86% (PPHM) +1.15%, (SBLK) -2.12%, (CGNT) -3.28% |
| Week 47 (t-2) | +7.27% (EXPR) +45.53%, (NGVC) +32.00%, (SPWH) +16.45% |
| Week 46 (t-3) | -0.35% (SORL) +21.22%, (PIRS) +12.84%, (AUTO) +16.15% |
| Week 45 (t-4) | +4.88% (DNR) +31.82%, (IOVA) +12.18%, (OMED) +11.17% |
| Week 44 (t-5) | -6.15% (MRNS) +31.22%, (WLL) +7.99%, (ARAY) +1.03% |
As I continue my study, the typical optimum momentum holding duration from this analysis appears to be one to three weeks, but as the rolling 5 week table above illustrates, some of these stocks can carry positive momentum for many weeks and some may return to the selection list in the current week.
The breakout frequency of 5% and 10% gainers per week continues to outpace the broad market by 4-5 times higher rates of occurrence in the same population of stocks (non-OTC, non-ETF). As the chart below indicates through Week 46, the average number of breakouts above 10% in a trading week is 26% of the breakout portfolio compared to 3.42% in the comparable population of stocks in the US market exchanges. This is a frequency greater than 7 times the expected breakout rate of the greater market population.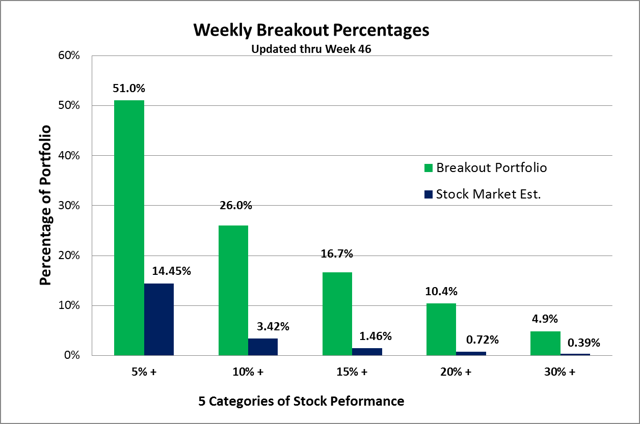 All past selections of individual returns are available on my list of articles by Breakout Forecast Week. This includes daily and weekly returns for all stocks selected since the beginning of 2017. These stock selections are intended to provide the highest probability of greater than 10% gains within the first week (5 trading days) by focusing on accelerating momentum characteristics detailed in my primer article linked above.

Positive Acceleration Momentum Stocks
BioCryst Pharmaceuticals (BCRX) - Healthcare / Biotechnology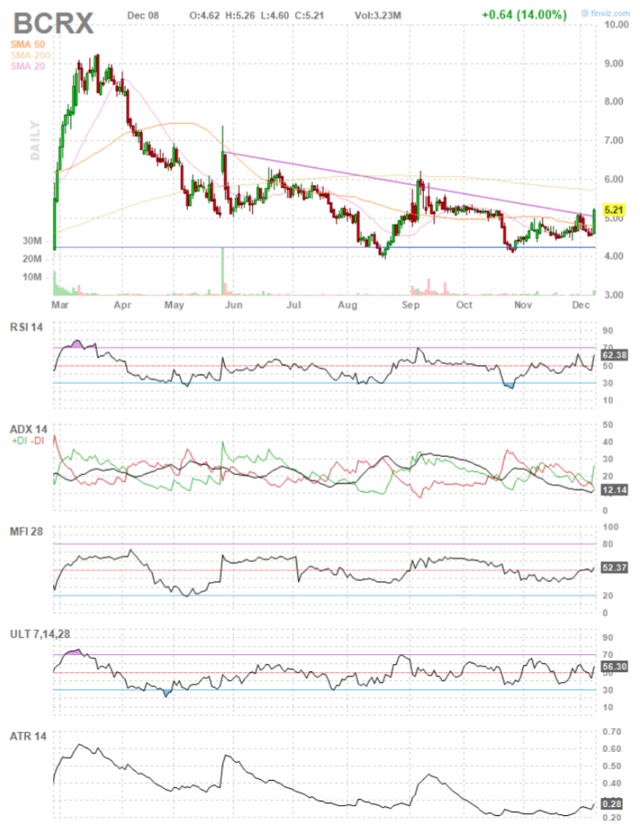 22nd Century Group (XXII) - Healthcare / Biotechnology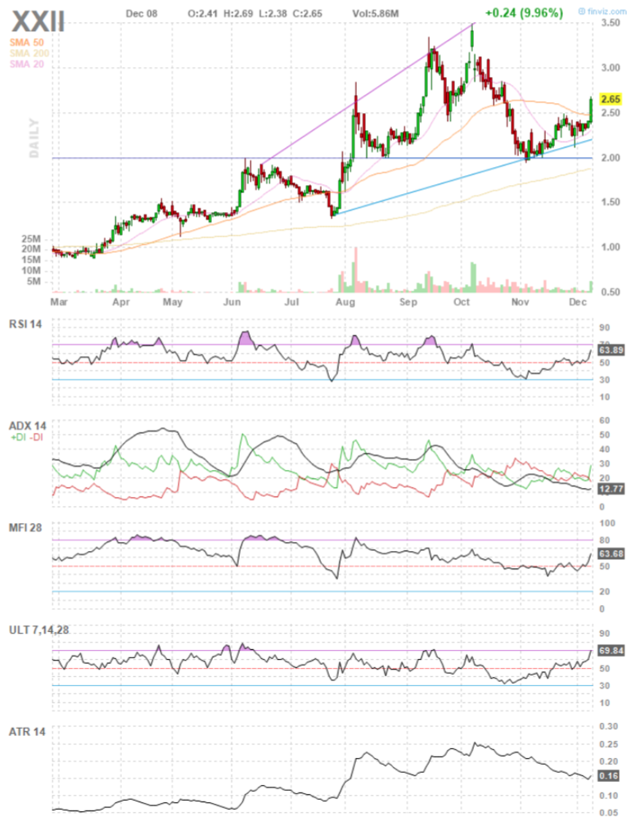 Caladrius Biosciences Inc. (CLBS) - Healthcare / Biotechnology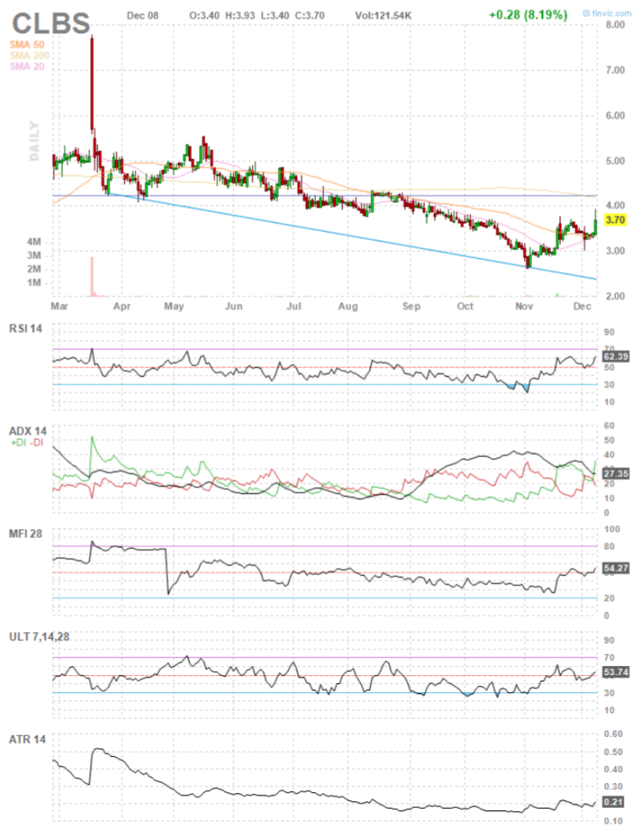 The Goldfield Corporation (GV) - Industrial Goods / Heavy Construction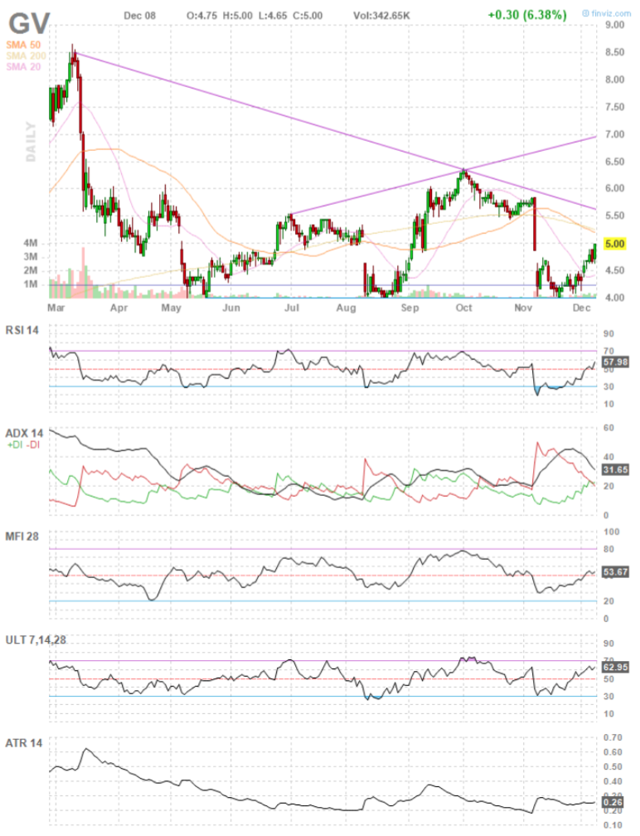 Value Portfolio Results through last Friday (Week 49)
The following are value portfolios generated each month and tracked in addition to the weekly breakout selections.
Forensic Selections with Adverse Scores
Returns YTD
Number of Periods
July (-) Forensic Portfolio 1
71.98%
5 months
Aug (-) Forensic Portfolio 2
38.38%
4 months
Sep (-) Forensic Portfolio 3
21.60%
3 months
Oct (-) Forensic Portfolio 4
-5.03%
2 months
Nov (-) Forensic Portfolio 5
3.35%
1 month
Dec (-) Forensic Portfolio 6
[6 of 6 Last (-) Portfolio until July 2018]
-0.09%
1 week
Forensic Selections with Positive Scores
Returns YTD
Number of Periods
July (+) Forensic Portfolio 1
15.99%
5 months
Aug (+) Forensic Portfolio 2
10.31%
4 months
Sep (+) Forensic Portfolio 3
4.15%
3 months
Oct (+) Forensic Portfolio 4
-3.55%
2 months
Nov (+) Forensic Portfolio 5
-5.00%
1 month
Dec (+) Forensic Portfolio 6
[6 of 6 Last (+) Portfolio until July 2018]
-1.05%
1 week
Further detail and charts of each of the Forensic Portfolios are available here.

| | | |
| --- | --- | --- |
| Piotroski Enhanced Value | Returns YTD | Number of Periods |
| August Portfolio | 5.57% | 4 months |
| September Portfolio | 8.33% | 3 months |
| October Portfolio | 4.04% | 2 months |
| November Portfolio | 0.08% | 1 month |
| December Portfolio | 0.10% | 1 week |
Further detail and charts of each of the Piotroski Portfolios are available here.

As always, I hope you capture the most beneficial returns of this small sample of the weekly breakout selections and have a profitable week of trading! Thank you for reading my articles. If you want free future updates just click the "Follow" button at the top of the page.

If you enjoy receiving my Breakout Forecast updates each week, please also consider receiving the complete eight long selections and four short selections every week with a subscription today! Subscribers also receive the full updates with more detail well in advance of this article prior to the market open every week.
Thank you!

JD Henning, PhD, CFE
Disclosure: I am/we are long DNR NGVC EXPR SPWH MRNS PPHM CGNT. I wrote this article myself, and it expresses my own opinions. I am not receiving compensation for it (other than from Seeking Alpha). I have no business relationship with any company whose stock is mentioned in this article.
Editor's Note: This article covers one or more microcap stocks. Please be aware of the risks associated with these stocks.