Earlier this year I posted World Stock Market Composition. It is one of my most popular articles, so as the year comes to an end I decided to take a look at how the U.S. stock market has changed during the past decade, as summarized in the following graph.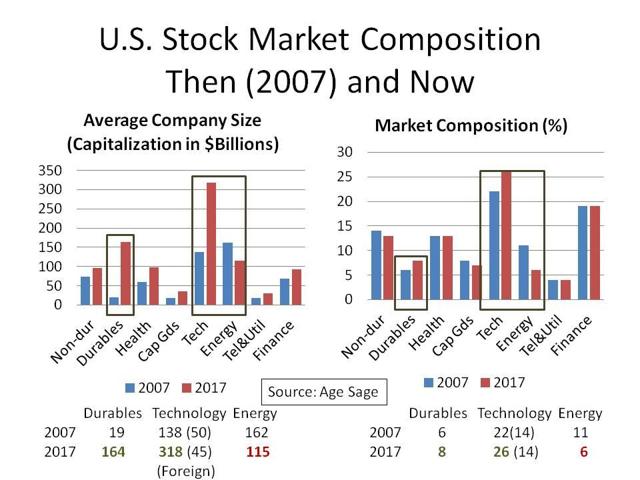 As you can see, only 3 sectors had much of a change. Consumer durable and technology companies became much larger and consequently became larger components of the market. By contrast, energy stocks decreased in size.
U.S. position in the world
The U.S. stock market is $22 trillion, compared to the rest of the world's $38 trillion capitalization. The U.S. is 43% of world market value, but it houses only 17% of the world's stocks. The U.S. is 5000 companies as compared to 25,000 non-US stocks. U.S. companies are much bigger.
The average capitalization of U.S. companies is $85 billion, whereas the average capitalization of foreign companies is less than half that at $42 billion. This disparity is most prominent in technology stocks. As shown in the tables in the graph above, U.S. technology stocks were 2.5 times as big as foreign stocks in 2007; U.S. tech stocks had an average capitalization of $138 billion, versus $50 billion for foreign tech. But this year U.S. tech stocks are 7 times bigger -- $318 billion versus $45 billion. U.S. technology dominates the world.
Who Cares?
It is indeed a world economy so it's helpful to know its composition. We have choices for our investments, and knowing the location and size of supply is important.
Disclosure: I/we have no positions in any stocks mentioned, and no plans to initiate any positions within the next 72 hours. I wrote this article myself, and it expresses my own opinions. I am not receiving compensation for it. I have no business relationship with any company whose stock is mentioned in this article.