Cash Flow Kingdom members were able to review and discuss this article early last week. They also have access to a tracker tool which contains rankings of various specific Natural Gas MLP equities according to valuation, management effectiveness, and risk.
Tax Reform:
Starting in April, a concerted effort to push tax reform promoted a divergence between those seen as winners, the Russell 2000 (+13%), and those seen as losers, MLPs (-17.5%). The MLPs were seen as losers because they already enjoy an advantaged tax status, something which becomes relatively less valuable to investors with tax reform.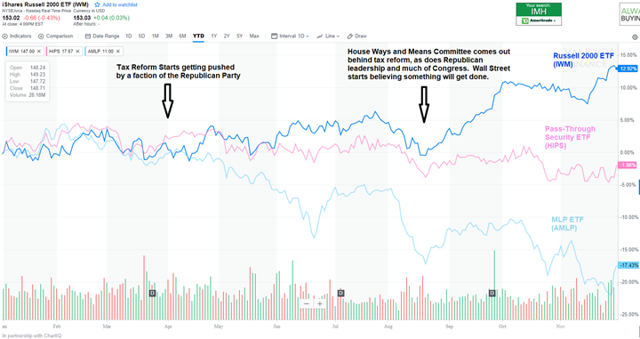 However, now that the bill is almost complete, we see it also includes meaningful benefits to MLPs unitholders. These include:
Establish a top marginal tax rate of 25% on limited partner's business income, or allow 23% of pass-through income to be deducted against other taxable income (Senate vs. House version)
Allow new businesses' capital investments (excluding structures) to be immediately expensed
Thus, a corporate shareholder indirectly benefits when a corporation they own pays 20% in taxes instead of 35%, 15% less. However, the shareholder only gets to keep 80% of that net benefit, the rest going to the IRS in the form of dividend or capital gain tax, so the net benefit is 12% (=15% *80%). If that person were in the 33% tax bracket, they directly profit from paying 25% on MLP business income instead of the 33% they otherwise would have, an 8% improvement. If in the 39% tax bracket, they get a 14% improvement. Whether the corporates or MLPs see more improvement depends on the tax bracket of the person, but either way, it is not so drastic as to justify a 30% relative swing in price.
Looking at this somewhat simplistically, initially for a high income corporate investor, under the new system, taxes claim 36% of EBIT (=20% corporate + (80% remaining * 20% dividend or capital gains tax rate)). For that same high income MLP investor, taxes initially claim 25% (= 0% business level + 25% limited partner level). So, while the corporate investor gained more from this particular bill, at least initially, the MLP investor remains the better off. This makes me think the 30.5% relative swing between the two (+13% Russell 2000, -17.5% MLPs) has been a bit overdone.
Additionally, towards the latter half of this year, energy prices (represented by DBE) began to increase.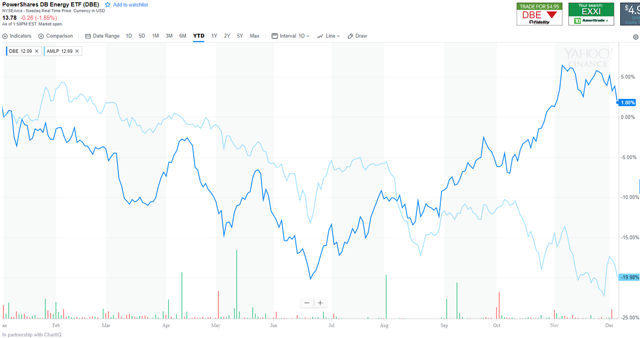 Most MLPs do not directly benefit from higher energy prices; however, they can encourage drilling, volume, and thus eventually support longer term MLP demand.
In North America, drilling counts have been relatively flat for the latter half of 2017.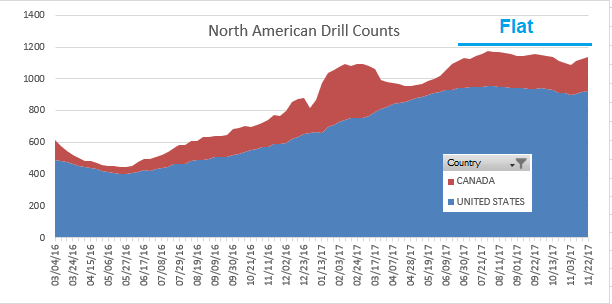 Source: Baker Hughes Drill Counts
Anecdotally, what I have heard is many drilling companies used up much of their 2017 approved capex budgets during the first part of the year. However, with the new year also comes new capex budgets and funding. Drilling budgets which are likely to increase, given the previously mentioned increase in energy prices which occurred in the second half of 2017. There are currently 1,151 rigs out there drilling new holes, a slight increase from last week's 1,138. With new budget approvals, that number may increase further.
As a result of these two factors, I believe going forward the advantage may lie with the MLP investor. But it is not just MLPs in general which I think have an advantage, but rather natural gas-focused MLPs specifically.
Worldwide LNG Demand:
Worldwide LNG trade is continuing to grow, up 7.5% in 2016 and a whopping 13% in the first half of 2017 according to the IEA (International Energy Agency).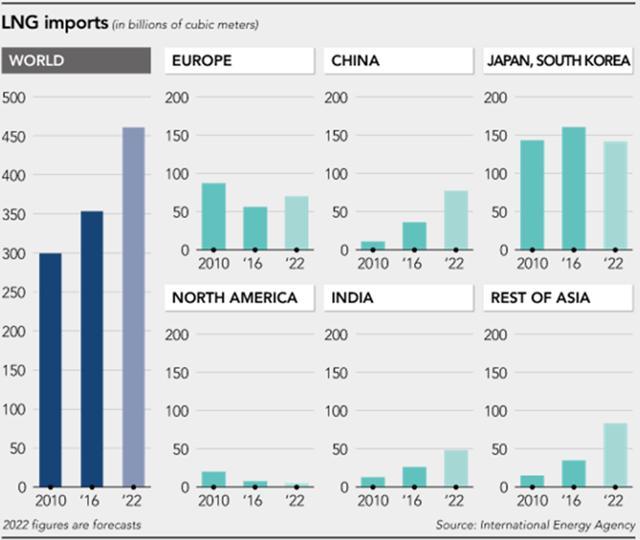 Source: International Energy Agency
This in turn is being supported by an increase in worldwide import and export facilities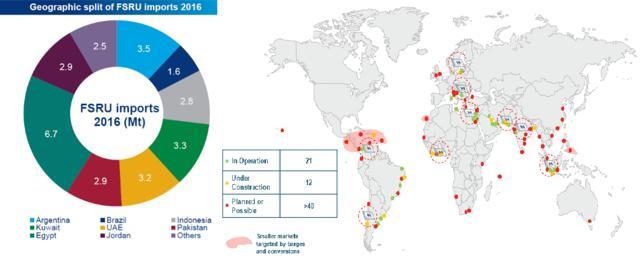 Source: Hoegh LNG Q2 Presentation
North America:
Additionally, the number of gas-focused rigs appears to be doing a little better than the overall rig counts already mentioned.

And thanks to efficiency gains, natural gas production volume continues to increase significantly across all major US regions: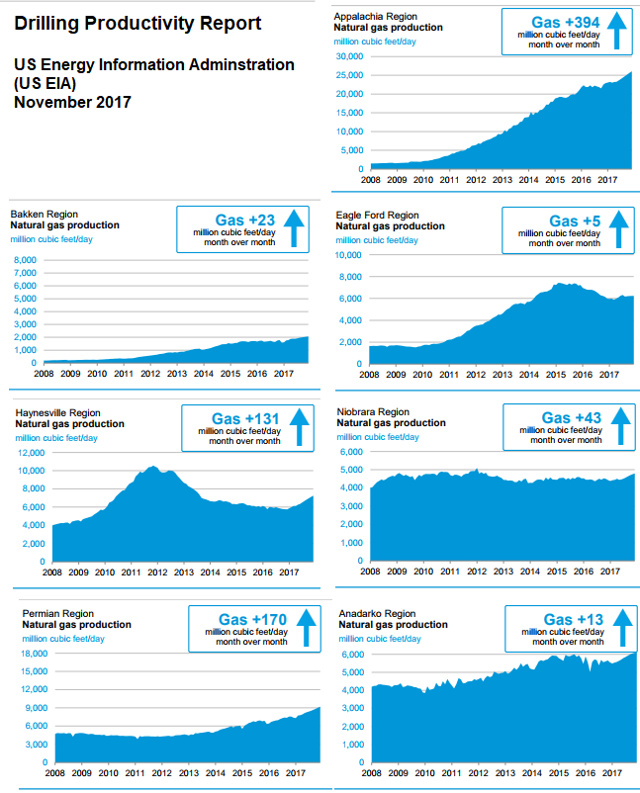 Source: US Energy Information Administration Drilling Productivity Report
Drivers:
The drivers for these ongoing volume increases are clear. New US-based multi-billion-dollar fertilizer, chemical, electrical generation, and other high natural gas use plants are coming online each year.

And there is significant incentive to increase exports.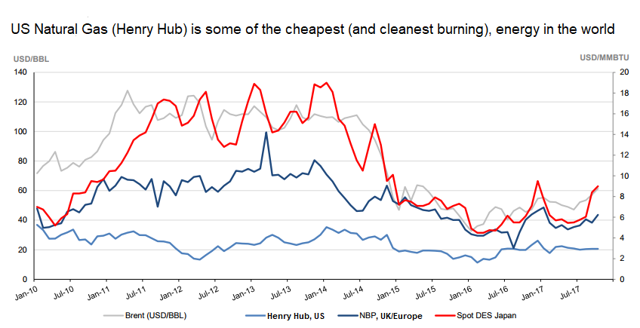 Source: Awilco and analyst
Much of this natural gas export volume is still done the old fashion way via pipelines to Canada and Mexico.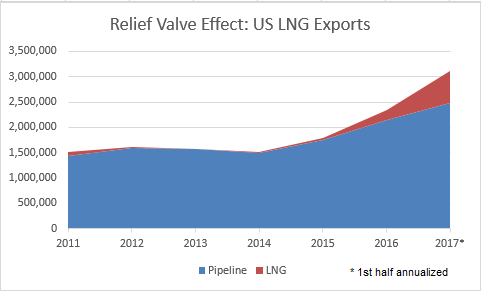 Source: US EIA data
However, increases in worldwide LNG shipping trade are also being seen in significant gains to US export capacity. By end of year, it is forecasted the Sabine Pass LNG facility will have double its capacity run rate (vs. 2016). In addition, the Dominion Cove Point, Maryland export terminal is scheduled to come online in Q4. The Cameron Parish Louisiana LNG project is expected to export 1 Bcf/d by July 2018. And Veresen (VSN.TO) hopes the "third application will be the charm" on its proposed Coos Bay, Oregon project. If we look at the figures, most growth in the international natural gas trade is being supplied either out of North America or Australia.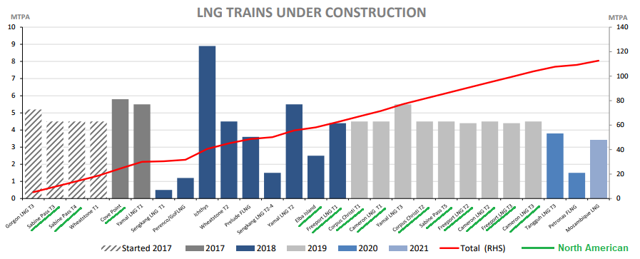 Source: Awilco and analyst
The US may one day have a major LNG export terminal (or two) on the Gulf, East Coast, and West Coast. Indeed, for the next five years, significant growth in North America based LNG export seems assured.
Whether this will cause US natural gas prices to go up or down depends on day-to-day supply and demand imbalances. However, it is pretty clear - increased domestic demand and increased export demand are causing overall volumes to go nowhere but up. These volume increases are all that is necessary for natural gas MLPs and a number of other Cash Flow Kingdom holdings to do quite well.
Investment:
Cash Flow Kingdom has a few specific securities which may benefit from these tidal forces. We also recently added a US Natural Gas MLP tab to the tracker tool and a new position in the UBS ETRACS Alerian Natural Gas MLP ETN (MLPG). This ETN represents 15 of the largest natural gas infrastructure Master Limited Partnerships, including many names popular on Seeking Alpha: Dominion (DM), DCP Midstream (DCP), MPLX LP (MPLX), Rice Midstream (RMP), Enable Midstream (ENBL), Crestwood (CEQP), Cheniere (CQP), TC PipeLines (TCP), Enterprise Product Partners (EPD), Enlink (ENLK), Williams (WPZ), Spectra (SEP), EQT Midstream (EQM), Western Gas Partners (WES), Energy Transfer Partners (ETP), Boardwalk Pipeline Partners (BWP), Anteros Midstream (AM). I think it is the only natural gas-focused MLP ETF or ETN in existence.
As an ETN, a note guaranteed by UBS, MLPG has some unique characteristics. First, it relies on the continuing good credit of the issuer, UBS, and currently pays 6% interest, not dividends. The payout is fully taxable at the holder's marginal income tax rates, and thus may be best held in an IRA. As a partial trade-off, however, there is no K-1 which the investor needs to deal with. MLPG has a 0.85% annual expense ratio. Trading volume is low, so a limit order should probably be used.
If you value the income stability a collection of large cap, natural gas focused, MLPs can deliver, you may wish to consider an MLPG investment in your IRA. It should benefit from a general increase in US natural gas volumes and may see a price rebound if, as I suspect, the MLP sell-off is overdone. However, in taxable accounts, I would still recommend holding the individual securities which continue to have significant tax deferral benefits. While most are larger than what I typically focus on, I may feature some of the natural gas MLP equities from the tracker tool tab in future articles. I don't honestly think I am going to be able to add a lot that isn't already priced in; however, readers do seem interested, and I wouldn't mind adding one or two to my own taxable account.