Nearly a decade after the financial crisis, the Federal Reserve (Fed) is taking clear steps to 'normalize' its monetary policy. In addition to raising rates, it is also reducing the size of its balance sheet by curtailing its bond buying program. Think of this as a good sign that economy is now healthier, and emergency accommodative action is no longer needed.
The bond buying program, known as Quantitative Easing (QE), was designed to lower longer term borrowing rates by buying U.S. Treasuries and agency mortgage-backed securities (MBS). Mortgage-backed securities are bonds whose cash flows are backed by individual mortgage loans. The bonds are issued by government-sponsored entities, such as Fannie Mae (OTCQB:FNMA), Freddie Mac (OTCQB:FMCC), and Ginnie Mae, which provide a government guarantee of the principal payments that the bonds make. The Fed chose to buy these bonds since they are considered safe from credit risk, and this decision directly resulted in lower mortgage rates. The QE program bought about 25% of the new MBS supply each year since 2009.
To avoid disrupting the bond markets, the Fed's normalization plan does not involve selling bonds. Instead, the Fed will decrease its reinvestment of the principal payments it receives and only reinvests when payments exceed its set caps. At first, it is capping the reinvestment amount at $6 billion per month for Treasuries and $4 billion for MBS. Then, every three months, these amounts will be increased by another $6 billion and $4 billion, respectively, until they reach $30 billion for Treasuries and $20 billion for MBS per month in September 2018. Meaning, the Fed will reinvest less and less as caps rise, allowing their holdings to decline. Transparency about the changes should allow both markets to continue to function smoothly.
Outlook for MBS
MBS are a large part of the U.S. bond market, representing about 30% of the Bloomberg Barclays US Aggregate Bond Index (source: Bloomberg, as of 11/30/2017). Chances are if you hold a core bond mutual fund or exchange traded fund (ETF), you have MBS in your portfolios.
So, should you just sell your MBS since the Fed will be buying less? Not so fast. First, consider the following factors.
It's true that mortgage rates could increase as the Fed continues to reduce its purchases, and there is no longer a buyer of the last resort in the market. But mortgage rates have already risen since the U.S. election and the market has since priced in the Fed's forward guidance on the normalization, as the chart below shows.
Yields on mortgage-backed securities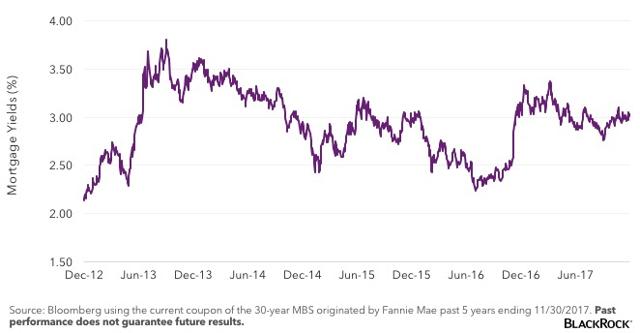 What's more, the Fed isn't the only buyer of these mortgage bonds. Other investors such as mutual funds, ETFs, foreign buyers, banks, and real estate investment trusts (REITs) could keep the demand for MBS high. Assuming the Fed allows about $168 billion to mature next year without reinvestment, it would represent only 3% of the total mortgage market of $5.6 trillion (source: Bloomberg, as of 11/30/2017).
Secondly, there's a strong long-term case for making mortgage-backed securities a core allocation to an investment grade bond portfolio. Mortgages have historically been less volatile and generated more income than similar duration Treasury bonds. And over the past five years, MBS offered a higher Sharpe ratio, a measure of risk-adjusted returns, than both Treasuries and investment grade credit. See below.

If you're looking to gain access to MBS, consider iShares MBS Bond ETF (MBB). The fund provides exposure to a broad range of U.S. mortgage-backed bonds in a single portfolio, with a net expense ratio of just 0.09%. (The gross expense ratio is 0.12%. BlackRock Fund Advisors ("BFA"), the investment adviser to the Fund and an affiliate of BlackRock Investments, LLC, has contractually agreed to waive a portion of its management fees through February 28, 2023. Please see the Funds' prospectuses for more information.)
This post originally appeared on the BlackRock blog.