Introduction
It appears likely that the House and Senate will reconcile their legislative differences and come up with a single plan that both the House and Senate will pass. It is almost a certainty that President Trump will sign the new tax legislation if Congress sends him a package. For 2018, US based corporations will likely see the top marginal tax rate fall from 35% to 20% - 22%. Whether or not you buy into the concept of general economic stimulus via reduction of Federal income taxes or not, it should be clear to everyone that some companies and sectors will benefit both absolutely and benefit relative to other companies from a lowering of the corporate Federal income tax rate. While far from a complete assessment of which companies will win and which will not (or not as much), this short article provides some insight into which companies or sectors will benefit under the GOP corporate tax plan.
Companies Paying High Rates
The first filter I used is the most obvious. What companies today have effective Federal income tax rates above 30%? The effective tax rates are not generally easy to find, other than by looking at individual companies financials. In addition, some company's effective tax rates have significant variation over time so it is important to look at a company's recent effective tax rate history. Maybe one of the readers can point out a better source for effective tax rates that can be sorted and searched. The list below are the companies I came up with after having spent the better part of Friday researching corporate effective tax rates.
The list includes Exxon (NYSE: XOM), Chevron (NYSE: CVX), Apple (NASDAQ: AAPL), Wells Fargo (NYSE: WFC), Walmart (NYSE: WMT), ConocoPhillips (NYSE: COP), JP Morgan (NYSE: JPM, IBM (NYSE: IBM), Microsoft (NYSE: MSFT), Philip Morris (NYSE: PM), Goldman Sachs (NYSE: GS), Proctor & Gamble (NYSE: PG), Johnson and Johnson (NYSE: JNJ), Intel (NYSE: INTC), Occidental Petroleum (NYSE: OXY), United Health Group (NYSE: UNH), AT&T (NYSE: T), Oracle (NYSE: ORCL), Verizon (NYSE: VZ), Coca-Cola (NYSE: KO), Home Depot (NYSE: HD), MacDonald's (NYSE: MCD) , and Alphabet (NASDAQ: GOOG).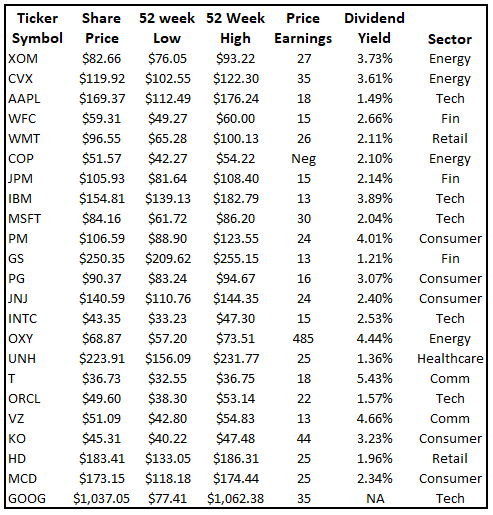 Source: Author
In the list above, there are six technology companies, five consumer non-durable companies, four energy companies, three financials, two communications companies, two retail, and one healthcare. These companies should benefit from a lowered income tax rate but several have price earnings ratios in nosebleed territory. For example, I can't see paying $24 for $1 of earnings out of a cigarette manufacturer or $44 for $1 of KO earnings.
Looking For Reasonable Valuations
In looking through the chart above, the price earnings ratios span a range from 13 to 485. While not generally comparable across sectors (e.g. Tech vs. Communications), we can make some relative judgment about the amount we are willing to pay for $1 of earnings. The financial stocks in the above chart appear to carry a reasonable valuation on a P/E basis and, in fact, financials have generally lagged the broader market this year. The two telecommunications stocks have likewise lagged the broader market and are sporting fairly reasonable valuations. Out of the technology stocks, APPL, IBM, and INTC have fairly reasonable valuations but the others in the sector are looking a bit rich. PG looks to be reasonably priced in the consumer non-durable sector. Beyond that, the balance of the list above, including the energy stocks look to be priced on the rich side. I'm not willing to pay $27 for $1 of XOM earnings even with the possibility of higher crude prices on the horizon.
Conclusion
In general, the technology stocks have had such a good run, I'm surprised at the reasonable PE ratios for both AAPL and INTC. I'm not a huge fan of AAPL but I think it is time to put that aside and take a hard look at this stock.
The only two sectors out of this search that appear to be fairly valued and should benefit from the lower tax rate working its way through the Congress are the financials (banks) and the two telecommunications stocks. While both T and VZ should see a boost in earnings and in cash flow due to the lower corporate tax rate, I don't see other drivers that would boost earnings. However, financials and banks in particular do have other potential drivers for earnings in addition to the lowered tax rate.
I fully expect the Federal Reserve to raise the Federal Funds Rate at least another 25 basis points next week. Rising rates generally favor bank earnings since banks make money off the spread between lending rates and the banks deposit rates. If there is a economic stimulus effect generated by the lower corporate and individual tax rates, this should further boost banks earnings as loan demand generally follows increased GDP.
In summary, I'm looking hard at US based bank stocks for new investment monies. Currently I only have Discover (NYSE: DFS) in my portfolio. I think it is time to add some additional exposure to the banking sector.
Disclaimer: This article is intended to provide my opinion to interested readers and to serve as a vehicle to generate informed discussion in the comment posting. I have no knowledge of individual investor circumstances, goals, portfolio concentration or diversification. Readers are strongly encouraged to complete their own due diligence on any stock, bond, fund or other investment mentioned in this article before making their own investments.
Disclosure: I am/we are long DFS, T, VZ. I wrote this article myself, and it expresses my own opinions. I am not receiving compensation for it (other than from Seeking Alpha). I have no business relationship with any company whose stock is mentioned in this article.