Although Cameco (NYSE:CCJ) shares have retreated somewhat from the highs we saw at the start of this month, the stock is still up almost 25% since Oct. 30. The main reason for the rise in the share price was the production cut announced by Cameco last month, which spiked uranium share prices. Kazakhstan followed suit last week with their own cut. These cuts have definitely put in the yearly cycle low for uranium.
I stated in a recent article before Cameco's recent earnings announcement at the end of October that the uranium market still had elevated risk, due to the space between where uranium was trading then and last year's yearly cycle low. Well, that risk seems to be firmly off the table at present. In fact, despite uranium's disastrous performance since 2011, the commodity has still been making higher highs since the bear market bottom in commodities in 2016.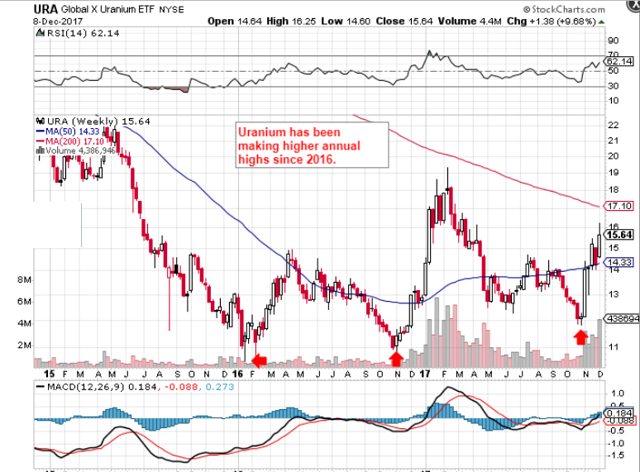 Cameco has made the right decision by leaving the commodity in the ground, which will enable it to work through its inventory faster. When mining companies cease or cut production at certain plants, their balance sheets really come into the spotlight. No advisor knows how long these production cuts will last, as production levels are all calculated off the price of the commodity.
I still maintain that the fundamentals for the nuclear industry remains strong. We saw this strength clearly last year, with the elevated number of fresh nuclear capacity that came online. Therefore, over time, rising uranium prices should boost the share price of Cameco. Yes, there is going to be a period of declining earnings, which is why balance sheet strength is key. Here's how Cameco's looks at present.
Cash reached $351 million in the company' most recent quarter. Cash has been on the decline since 2011, but so have receivables. What has changed, however, are the company's inventory numbers, which reached $1.12 billion in the most recent quarter. Inventory numbers have more than doubled since 2011. When the inventory number is coupled with the 3% dividend yield Cameco is currently paying out, it becomes apparent that continuing production at 100% capacity in present market conditions doesn't make sense.
From a liquidity standpoint, the elevated inventory levels have spiked the current ratio to 5.4. However, if we take inventory out of the equation and concentrate on the quick ratio (which came in at 1.7 in the company's most recent quarter), we can see that Cameco's liquidity is strong as it doesn't need to rely too much on its inventory to run the company.
In the most recent quarter, Cameco's debt/equity ratio came in at 0.3, which is more or less on par with where the metric was five years ago. Low debt (compared to its equity) is usually a requisite for long-term value plays. Furthermore, Cameco currently trades with a cash flow multiple of 9.9 and 2.4, respectively, which are well below averages we have seen over the past 10 years. However, the metric that has kept a majority of value investors at bay is the recent negative earnings numbers, which, of course, has spiked the dividend payout ratio accordingly.
Value investors usually look for dividend paying stocks. Cameco's payout ratio might look ugly from an earnings standpoint, but it remains solid from a cash flow perspective. In fact, in Q3 the payout ratio came in at 38% due to over $104 million of free cash flow being generated in the quarter. On the earnings side, one can't ignore the strong competitive advantages Cameco has in its locker, which are its assets and proven low production costs. Cycles can stretch, but Cameco -- due to its size and scale -- will outlast any sustained weakness in the uranium market.
What should help Cameco's fortunes going forward is sustained weakness in the U.S. dollar. If we look at the chart below, we can see that the last two intermediate cycles were left translated, which means they topped early in their respective cycles.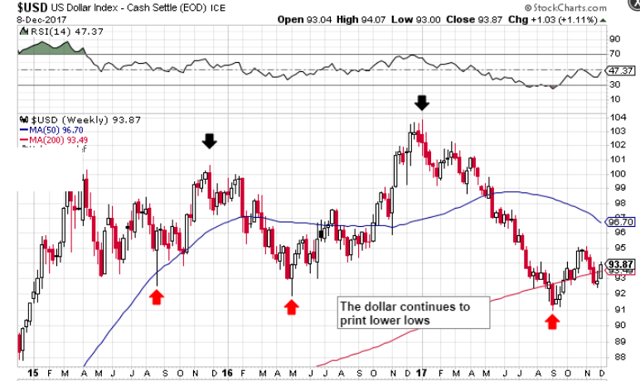 I expect the pattern of lower lows to continue, which should help uranium prices. In fact, precious metals should also get a nice lift once this present intermediate cycle in the dollar rolls over. Currently, we are on week 15 in this dollar cycle, but very late in the gold cycle. For commodity-related investors, all eyes remain on the U.S. dollar.
Disclosure: I am/we are long CCJ.
I wrote this article myself, and it expresses my own opinions. I am not receiving compensation for it (other than from Seeking Alpha). I have no business relationship with any company whose stock is mentioned in this article.