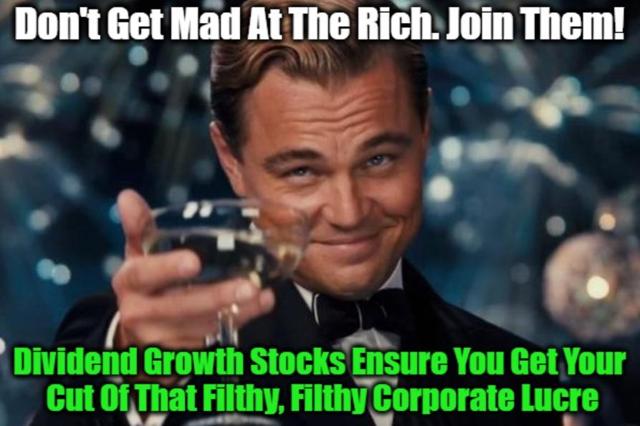 Source: imgflip
First, let me be very clear that this is my personal portfolio tailored to my specific financial situation, risk profile, time horizon, and personality traits. I am not recommending anyone mirror this portfolio, which is merely designed to show my unique, rule-based, methodical approach to value-focused, long-term, dividend growth investing.
My situation is unique, as, though only 31, I'm already retired (medical retirement from the Army), thus making this portfolio an income-focused retirement portfolio (though in a taxable account). I'm also working full time (self-employed), and thus have an external source of income to continually add to this portfolio. I do not plan to actually tap the portfolio's income stream for 20-25 years, when I plan to move my family (and help support my parents) to the promised land of my people...Sarasota, Florida.
What this portfolio can be used for is investing ideas; however, this portfolio includes high-, low-, as well as medium-risk stocks, so it's up to each individual to do their own individual research and decide which, if any, of my holdings are right for you.
For a detailed explanation of my methodology, please read my introductory article to the EDDGE 3.0 portfolio.
What Happened This Week
One of my new friends, (a fellow Army vet), recently told me his inspirational story that exemplifies how, with enough time, patience, and effort, financial independence is attainable by almost anyone.
My friend married a wonderful woman who is as passionate about savings and investment as he is.
In fact, over the past eight years the couple saved and invested 95% of post tax income. they put the money into a 50%/50% mix of the Vanguard 500 ETF (VOO), and quality tech stocks like Square (SQ), Alphabet (GOOG) (GOOGL), and Facebook (FB). Needless to say, his portfolio has done well and is now well in excess of $1 million, meaning that at 28, he and his wife are financially independent and only continue to work by choice.
Financial independence - specifically, the freedom from worrying about making ends meet, and being able to live life on your own terms - is how I define "being a plutocrat".
For me it means having a dividend growth portfolio that generates sufficient income that, on its own, would allow me to comfortably live off 50% of the post tax dividends (reinvesting the other half back into the portfolio to keep it compounding). This would ensure that my family and I never have to worry about job losses, unexpected medical emergencies, or any of the various "stuff happens" occurrences that cause tens of millions of people to fret about the future.
However, what struck me about my friend's story is that the key to his financial independence is not primarily from luck. For example, in finding a wonderfully financially literate and frugal spouse, and earning a high enough income to invest so much. Rather I consider his true key to success to be his overall world view regarding money.
Numerous studies of the rich show that the key to achieving success and wealth over time isn't found primarily in just earning a lot, but rather in an entrepreneurial mindset.
Specifically, whether or not these successful people actually own their own companies, they run their entire lives as if they were a business. That means: living beneath their means, minimizing their essential and discretionary costs, and maximizing savings. Those savings are then invested into income producing assets (like rental properties or stocks), and over time their wealth and income streams grow large enough to allow for exponentially rising standards of living. All without ever having to worry about running out of money or falling into debt fueled ruin.
In other words, to become rich you need to be: patient, frugal, disciplined, and have a dedication to "living off the interest, never the principle".
That's why I love dividend stocks so much: they allow anyone, even if you work for someone else, to also be their own boss. Specifically dividend stocks allow you to build a diversified business empire spanning the globe that brings in steady, safe, and growing income from every corner of the world.
It used to be only landed aristocracy that were able to live off passive income. But today anyone can save and invests in the Schwab US Broad Market ETF (SCHB). This is an ETF that owns the 2,500 largest US companies (and charges just a 0.03% expense ratio), and can help almost anyone achieve the American dream of financial independence.
For example, here's what various savings scenarios, invested over decades, can be expected to yield. This assumes you invest only in SCHB, and it earns the 9.04% market's historical return (net of expense ratio).
| | | | | | |
| --- | --- | --- | --- | --- | --- |
| Monthly Savings | Portfolio Value After 10 Years | After 20 Years | After 30 Years | After 40 Years | After 50 Years |
| $100 | $19,917 | $67,243 | $179,692 | $446,878 | $1,081,729 |
| $250 | $49,794 | $168,108 | $449,230 | $1,117,194 | $2,704,321 |
| $500 | $99,588 | $336,216 | $898,459 | $2,234,387 | $5,408,640 |
| $1,000 | $199,176 | $672,432 | $1,796,919 | $4,468,776 | $10,817,281 |
| $2,000 | $398,352 | $1,384,864 | $3,593,840 | $8,937,552 | $21,634,564 |
| $3,000 | $597,529 | $2,017,297 | $5,390,760 | $13,406,328 | $32,451,845 |
Sources: Dave Ramsey Investment calculator, Moneychimp.com
Even if you can only afford to save $100 a month, given enough time, and the discipline to buy and hold no matter what the market is doing (2,500 of America's biggest companies can't all go to zero), you can become a millionaire.
If that money is in a Roth IRA, you can then sell that $1+ million stake in SCHB (tax free), and put it into a low risk 5% yielding portfolio. This would then be generating $54,086.45 a year in dividends. If combined with the average Social Security benefit of $15,216 (taken at age 70 to maximize benefits), this results in a total annual income of $69,301.45, or $5,775.12 a month.
Even assuming 3% long-term inflation, a 50 year strategy that I just described would result in annual dividend income (in today's dollars) of between $18,719 and $561,585. Or to put another way, you too can become a dividend plutocrat, if you're willing to adopt the proper "my life is a cash flow based business" mindset.
Of course the key to this strategy is to build a low risk, high-yield dividend growth portfolio in the first place.
When I started out I went way overboard with risk. In fact, I started with only five holdings, all mid to high risk, (GEL, GMLP, DLNG, NRZ, and UNIT). In the past 13 weeks I've learned many valuable things including from my followers, friends, and further research and experience.
Most importantly is that the key to achieving my dividend plutocrat goals, (such retiring with my family to a 3 bedroom, 2 bathroom rental home in Sarasota, Florida) is to adopt a lower risk, longer-term, more growth oriented approach.
That is why, after Dynagas LNG Partners' (DLNG) disastrous Q3 earnings, and a conference call in which management was, in my view, telegraphing a potential 25% to 50% distribution cut in 2018, I decided to sell DLNG. In addition I also decided to exit the entire LNG (liquified natural gas) tanker MLP industry entirely.
I used to think of LNG tankers as "pipelines of the sea", backing a massive growth in LNG exports and imports. However, I now realize that the long-term bullish thesis is unlikely to play out as investors had hoped.
While LNG production is indeed booming, and will likely grow strongly for decades, tanker companies have built way too many of these ships. This has resulted in short-term (spot) charter rates being highly volatile, and declining strongly in recent years.
While they have recovered a lot in the past 12 months, they remain below the average levels that most of these LNG tanker MLPs have on their current long-term charters. The same problem exists for FSRUs (floating storage and regasification units), which were seen as a potentially great way for these MLPs to diversify their risk. However, FSRU charter rates have also been disappointing.
Dynagas management pointed out that, while the new orders for tankers has slowed significantly in recent years, the majority of these new builds are coming in 2018. Which is likely to cause spot charter rates to either remain flat (new ships soaking up new LNG production supply coming online), or potentially decline further.
Dynagas says that the cash flow breakeven charter rate for its tankers, that covers it common and preferred distributions, is about $70,000 per day. Management has spent all year renegotiating lower priced rates for longer-term charters, and its average tanker rate is now $66,000 per day. With its distributable cash flow (DCF) savaged by half its fleet undergoing five year maintenance surveys this year, and the other half facing the same situation next year, things looks bleak for Dynagas. In fact, I believe there is essentially no way that DLNG's coverage ratio rises above 0.5 or 0.6 (management states it will rise slightly above its current 0.42) in 2018.
In other words, as far as I'm concerned Dynagas's thesis is broken, the payout is no longer safe, and a major cut is likely inevitable.
However, the reason I'm planning on exiting the entire industry and selling Golar LNG Partners (GMLP) this coming week, is this: even for larger LNG tanker MLPs (with fleets big enough to provide more stable DCF), the overcapacity has basically invalidated the long-term payout growth thesis.
Theoretically the sponsors of these MLPs would obtain long-term, fixed rate charters, and then drop them down to the MLPs in accretive deals that would increase DCF/unit over time. This would allow generous, secure, and growing distributions that result in strong capital gains as well as excellent income.
While GasLog Partners (GLOP) has managed to start doing aggressive drop downs, and Golar LNG Partners has also started acquiring new assets, the problem is that both MLPs are facing contract cliffs in 2018 and 2019. At current spot market tanker rates, this means that the new income producing assets are likely to merely offset the decline in DCF from rechartering at lower day rates (and potentially not).
In other words, the best case scenario is now that LNG tanker MLPs will be able to keep their payouts secure, but with little to no long-term growth prospects, and with far more risk than I had previously assumed.
The bottom line is that tanker MLPs are not "pipelines of the seas" because there is no regulatory body overseeing the industry and ensuring that day rates don't fluctuate wildly (as FERC does with US pipelines).
Or to put another way, pipelines MLPs are more like regulated utilities, while tanker MLPs are like merchant power generators. This means far more volatile cashflows and higher risk, which is why most regulated utilities have sold off their merchant power businesses in recent years.
In addition, after further contemplation of the mREIT industry's struggles with compressing lending margins (flattening yield curves), I've decided to modify my dividend risk ratings for all mREITs. This includes commercial mREITs who I consider to have far superior business models to their residential mREIT cousins.
I now consider all mREITs, even gold standards names like Starwood Property Trust (STWD) and Ladder Capital (LADR), to be high risk. This is because no commercial mREIT I know of has been able to maintain its dividend during an economic downturn.
I'm taking the same approach to BDCs, in which any BDC that has yet to prove its capability of sustaining, or better yet, growing, its payout during a recession, will be classified as "high risk".
In other words, only Main Street Capital (MAIN), who kept growing its dividend during the financial crisis, is a low risk SWAN stock. I'm confident that its regular dividend (though not the supplemental dividend which is paid for with capital gains on equity investments) is highly dependable, and will likely survive the next economic downturn.
Now don't get me wrong: a high dividend risk doesn't mean that you can't necessarily own STWD, LADR, or other promising BDCs, such as Goldman Sachs BDC (GSBD). Just remember that they are in cyclical economy sensitive industries, with unproven ability to preserve their payouts during a recession.
Thus I'd recommend investing no more than 2.5% of your portfolio in any of individual mREIT or BDC, and no more than 15% in any combination of BDCs or mREITs. Main Street Capital, as the only SWAN in the BDC industry, is an exception to this rule, due to its low dividend risk.
I've also decided to heed the advice of my readers and better organize my market crash list. That means splitting it up into a correction buy list, and a bear market/crash list.
Correction List (in order of priority)
Because corrections usually only last one to three months, I have decided that I will only maintain a list of five correction buy list stocks. Any more would be pointless since I likely won't have time to buy them before the downturn ends.
Everything that doesn't make the correction list is thus shifted to the bear market/crash list.
Bear Market/Crash List
Bear markets (20% to 39.9% declines from all time highs) and crashes (40+% decline from all time high), usually only occur during recessions and last from one to three years. Thus they offer longer, and stronger chances to load up on Grade A blue chips and dividend aristocrats/kings that are currently at frothy valuations.
My goal during a bull market is to buy stocks yielding only 4% or higher. This might sound counter intuitive but it's actually not. That's because there is always something of quality on sale in some beaten down industry, such as retail REITs, or pipeline MLPs. Only during a market crash will I allow myself to go as low (but no lower) than 3% yield.
That will allow me to pick up some truly high-quality and legendary dividend growth stocks. Those in other sectors that are now closed to me due to high market valuations and low yields.
Buys And Sells Of The Week
What I Plan To Buy Next
So this week I'm planning on selling Golar LNG Partners and using the proceeds to pay down more margin (deleveraging is steadily proceeding). I'll also be buying the last low risk, pipeline MLPs I plan to purchase for the time being; EQT Midstream Partners (EQM), and EQT GP Holdings (EQGP).
In the coming weeks I hope to eliminate the last of my medium risk MLPs, specifically Delek Logistics Partners (DKL), and PBF Logistics (PBFX). In addition I hope to trim my positions in Uniti Group (UNIT), Omega Healthcare Investors (OHI), and New Residential Investment Corp (NRZ), so that they make up just 2.5%, 5%, and 2.5% of my portfolio, respectively.
The goal is to get the portfolio "right-sized" by dividend risk, while paying down a further $5,000 in margin debt ($7,000 by the end of February). I'll be redeploying the capital to diversify into yieldCos. That means finishing off my TransAlta Renewables position, and also adding Brookfield Renewable Partners (BEP), NextEra Energy Partners (NEP), and Algonquin Power & Utilities Corp (AQN).
Once I've bought those I plan to target low to medium risk hospital REITs like: Medical Properties Trust (MPW), Global Medical REIT (GMRE), and Community Healthcare Trust (CHCT).
Basically the idea is to deleverage, diversify, and de-risk so that when the next correction hits, I have strong confidence in the dividend safety of each of my holdings. That will hopefully give me the ability to execute on my correction buy list plan.
Going forward my new lower risk approach will mean that I likely can't achieve my 7% long-term yield goal. However, I believe that I'll be able to achieve a 6% low risk, highly diversified (200 stocks in all sectors) portfolio that is capable of 7% long-term dividend growth.
The Portfolio Today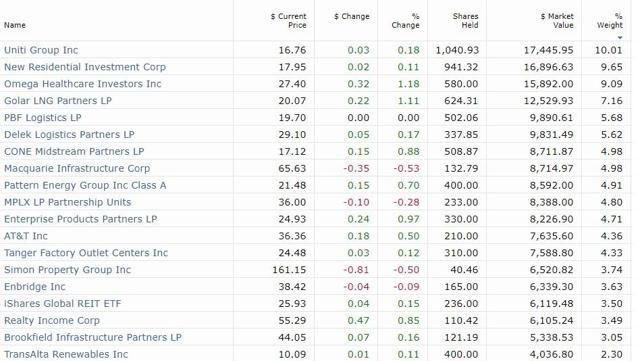 Source: Morningstar
The top three holdings continue to represent overweight holdings which I'll correct in the coming weeks and months. My goal is to have GMLP, DLK, and PBFX sold and UNIT, OHI, and NRZ properly weighted before the next market correction.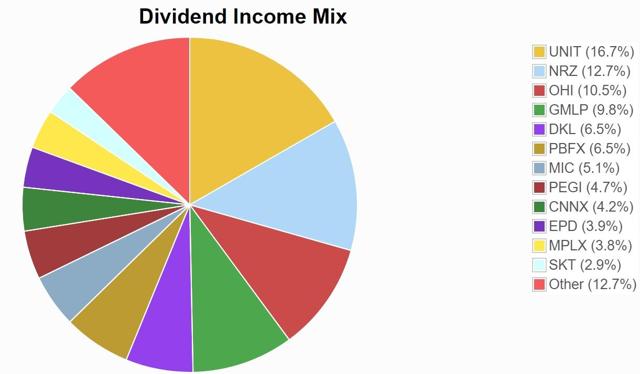 Source: Simply Safe Dividends
As I continue to sell off or trim riskier stocks the income concentration actually increases (since the overall portfolio size shrinks due to deleveraging). However, within a few weeks no stock will represent more than about 5% of my total annual income.
Over time I plan to use Trapping Value, the Canadian high-yield guru, as a source for lots of Canadian high-yield investments. Combined with some quality Canadian banks I will have plenty of exposure to non US holdings.
However, when it comes to more widespread geographic exposure that's tougher. Foreign stocks generally tend to have variable pay dividend policies, which is why my only true foreign exposure is from international blue chip REITs, courtesy of the iShares Global REIT ETF.
That being said I am always on the lookout for good international yield opportunities and so will be watching the AAM S&P Emerging Markets High Dividend Value ETF (EEMD). It was pointed out to me by Dave Dierking, SA's ETF expert this week. I find it an intriguing proposition with a 5% net yield (net of expense ratio), and lots of big global blue chip names.
However, the issue I have with buying right now is mainly that volume is very low, with just 209 shares traded the first day. This means spreads are wide, and getting a full $6,000 position might be challenging.
Next, with just $2.5 million in assets under management at the start (seed money provided by AAM), the ETF is far from secure in terms of proving its longevity. The AUM break even for most ETFs is about $50 million, meaning that if this ETF fails to attract enough investor interest the ETF won't make money for AAM and will be shut down.
In other words, EEMD is a "wait and see" ETF. Hopefully it can stand the test of time, and more importantly show about 5% to 6% long-term dividend growth, since emerging market companies should theoretically grow faster and raise their dividends over time (though in a cyclical fashion).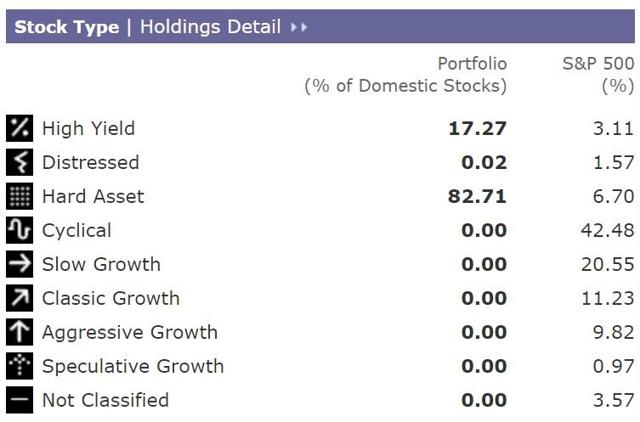 Source: Morningstar
Apparently utilities like PEGI and TransAlta are categorized as "high-yield" stocks, which I don't disagree with. However, it's important to point out that both also offer strong long-term income growth potential.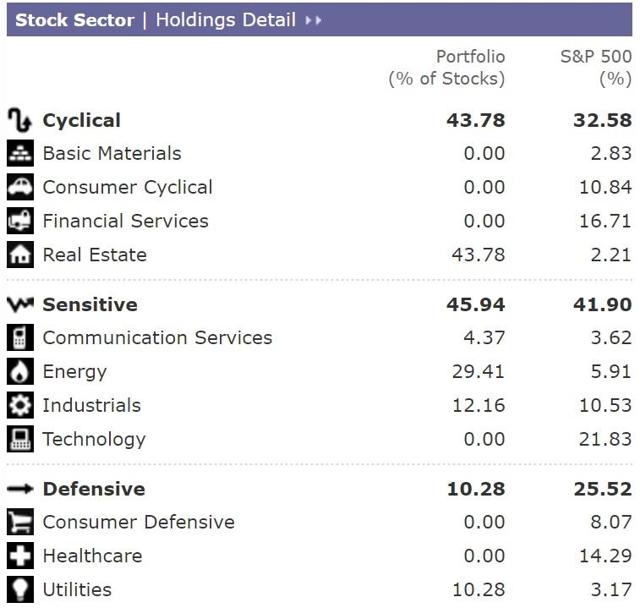 Source: Morningstar
With my sale of DLNG this week MLPs are now down to my second largest sector (after REITs). That will briefly rise back up as next week I add full positions in EQGP and EQM. But as I sell off GMLP, DKL, and PBFX and replace them with yieldCos like TransAlta, BEP, NEP, and AQN, I estimate that my utility exposure will rise to 25% or so. That will make my portfolio roughly balanced between REITs, pipeline MLPs, and utilities/yieldCos.
However, after that I plan to go after hospital REITs and potentially Spectra Energy Partners (SEP), depending on whether or not it remains undervalued at the time. So basically the portfolio will continue to be pipeline MLP and REIT centric, since those are the sectors that meet my income needs.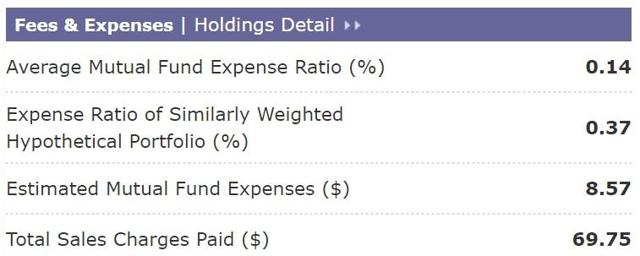 Source: Morningstar
It's still going to be a while (likely February or March) before I can hit $100K in equity and finally get away from the $10/month minimum maintenance charge (commissions subtract from that figure) that IBKR charges.
Thus far commissions have come to about 0.0291% or essentially free. However, next week the Fed will almost certainly raise interest rates which means my blended interest rate will rise to 2.91%, and increase my annual interest expenses by $192.50. Fortunately I will be paying down the margin over time, which should help keep my dividend/interest ratio high.

Source: Morningstar
I no longer believe my lower risk approach (avoiding most BDCs, mREITs, refiner, tanker MLPs) will allow me to hit a 7% total portfolio yield. However, 6% is doable so that's my new long-term goal.
The good news is that a focus on lower risk, lower yielding stocks does allow for potentially faster dividend growth rates.

Source: Simply Safe Dividends
Note that the longer-term growth figures are incorrect. They don't take into account that many of my holdings didn't exist five or 10 years ago, and thus they make the dividend growth appear much faster than it really is. However, the organic dividend growth of the past year is factual and represents the most recent annual payout hikes provided by my holdings.
Thanks to the faster growth rates of the recent additions (as well as eliminating higher-risk and slower growers), the 1-year organic growth rate is up from 7.6% last week to 9.2% this week. It's also way up from 4.2% from when the portfolio was launched.
In the coming weeks I expect this might rise even higher as I trim UNIT and sell GMLP.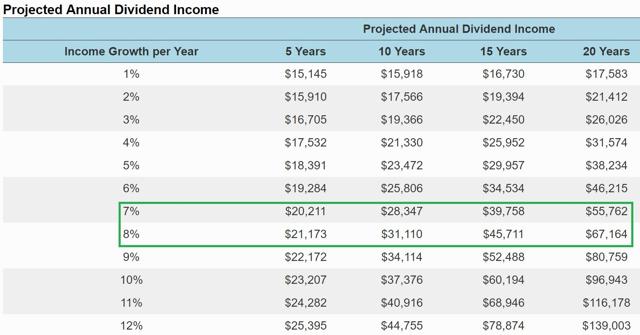 Source: Simply Safe Dividends
Keep in mind that this projection table only indicates how much the current holdings would be paying if I didn't add any cash to the portfolio or didn't reinvest the dividends. In other words, it's a highly static, non-compounding figure. One, however, that still shows the awesome cash-minting power of the business empire I'm building here.
Also note that the above estimate assumes I maintain the current portfolio, with no changes. In reality I'll be selling three MLPs in the coming weeks or months, as well as drastically trimming two high-yield moderately fast growers (NRZ and OHI), and extremely high-yield UNIT.
That means there will be a lot of volatility to these growth figures in the coming weeks. My overall goal for the entire portfolio (when it's finished and holding 200 stocks) is 6% yield with long-term 7% dividend growth.
In perspective the S&P 500's 20 year median annual dividend growth rate has been 6.1%. So the goal is triple the market's yield, with 1% faster dividend growth. That should result in approximately 13% total returns compared to an S&P 500 ETF's historical (since 1871) total net return of 9.0%.
Portfolio Stats
Holdings: 19
Portfolio Size: $173,154
Equity: $92,081
Leverage Ratio (portfolio/equity): 1.85 (compared to max of 2.25 in week 5)
Debt/Equity: 0.84 (compared to a max of 1.25 in week 5)
Distance to Margin Call (portfolio wide drop): 35.1% (compared to a minimum of 20% in week 5)
Margin Cost: 2.66%
Margin Debt: $77,054 (compared to max of $98,000 in week 5)
Remaining Buying Power: $191,183
Dividends/Interest: 7.13
Yield: 8.7%
Yield On Cost: 8.7%
Net Yield On Equity: 13.7%
Total Return Since Inception (through Dec 8th, 2017): -3.18%
Annual Dividends: $14,621
Annual Interest: $2,050
Annual Net Dividends: $12,571
Monthly Average Net Dividends: $1,048
Simply Safe Dividend Safety Score: 37 (up from 22 at the start)
Simply Safe Dividend Growth Score: 46 (up from 20 at the start)
Portfolio Beta (volatility relative to S&P 500): 0.79
Projected Long-Term Dividend Growth: 7% to 8%
Projected Unlevered Total Return: 15.7% to 16.7%
Projected Net Levered Total Return: 26.9% to 28.8%
Worst-Performing Positions
It was a great week for my losers this week as UNIT, and OHI both had strong weeks. DKL and PBFX increased a bit as MLPs rallied in general. With a bit of luck and market cooperation I should be able to sell or trim these four in the coming weeks to continue my ongoing de-risking, de-leveraging, and diversification plan.
Best-Performing Positions
Tanger Factory Outlet Centers (SKT): 10.2% (cost basis $22.76)
New Residential Investment Corp (NRZ): 9.1% (cost basis $16.44)
AT&T (T): 8.9% (cost basis $33.71)
Brookfield Infrastructure Partners (BIP): 5.3% (cost basis $41.75)
Simon Property Group (SPG): 4.1% (cost basis $155.79)
CONE Midstream Partners (CNNX): 3.7% (cost basis $16.42)
MPLX (MPLX): 3.5% (cost basis $34.60)
Enbridge Inc (ENB): 2.2% (cost basis $37.53)
iShares Global REIT ETF (REET): 2.0% (cost basis $25.51)
Enterprise Products Partners (EPD): 1.8% ($24.49)
Golar LNG Partners: 1.2% (cost basis $19.71)
Realty Income (O): 0.9% (cost basis $55.08)
Pattern Energy Group (PEGI): 0.2% (cost basis $21.39)
Not that much movement in the winners. NRZ continues to trade near all time highs due to excellent earnings and dividend growth. Tanger and AT&T have recovered nicely since their recent plunges, and Simon Property is starting to slowly show signs of life. Realty Income remains the only retail REIT I own that remains stuck in the mud, though of course that's to the benefit of those looking to add this low risk, high-yield retirement dream stock. Golar remains positive and gets sold this week as I complete my exit entirely out of LNG tanker MLPs.
Undervalued Dividend Stocks On My Radar (And Buy List)
While I may be tapped out of additional buying power, that doesn't mean I'm not always on the hunt for quality, undervalued, dividend growth stocks.
So here are the ones I recommend you check out. They are all near 52-week lows, and I would buy them (if I had the capital) at this time because I am confident they can generate long-term 10+% (unlevered) total returns.
Note: Buy indicates I believe a stock is a good investment right now, while Strong Buy means I consider the company to be a Grade A industry leader (and a safer company) trading at particularly excellent levels.
I also include the risk ratings for each stock:
Low-risk - Good dividend safety and growth predictability for next 5+ years, suitable for up to 10% max position size (core holding)
Medium-risk - Good dividend safety and growth predictability for next two to three years, suitable for up to 5% max position size
High-risk: Good dividend safety and growth predictability for just next year, suitable for 2.5% max position size
The stocks are in order of highest to lowest yield:
Bottom Line: Plutocracy Isn't About Obscene Riches, It's A State Of Mind That Allows You To Become Financially Independent
The road to financial independence is a long, and winding one. It requires great commitment, and determination. But most of all, an ability to learn and adapt, while always remain dedicated to one's core principles and long-term financial goals.
I look forward to continuing down this road with all of you, in the coming months, years, and decades.
Editor's Note: This article discusses one or more securities that do not trade on a major U.S. exchange. Please be aware of the risks associated with these stocks.